Now Dennis is a pretty unique and unusual guy. He's a Morgan nutcase (the one pictured above lives in his garage), has a deep affliction/addiction for touring places like The Alps and the Appalachians on BMW motorcycles and collects things like old, turn-of-the-century-and-slightly-beyond driving/motorcycling goggles and between-the-wars British Railway travel posters. He's also a hell of an artist and has enjoyed a lot of success with it, doing everything from posters for major motoring events to the handsome, motorsports-history inspired ties I own and love to wear but haven't had out of the closet for about a year now. Hopefully one or two of them will be back around my neck in March for our "Buddy Palumbo Award" presentation at the 2021 Amelia Island Concours. We'll see...
In any case, if you'd like a wee browse through some of his excellent, eclectic and occasionally astounding work, just click the link below:
On another front, I've been fooling around with some of my videos (turns out I really enjoy the editing and production process) and want to tip you off to a few new ones on YouTube. Just click the title to view:
This covers the background and creation of our radio-play audiobook, and I think it came together pretty well. Hope you enjoy it!
This is a whole bunch of interviews with fans, friends, fellow racers and motorsports movers and shakers that have been recorded over the 25+ years since The Last Open Road debuted at Road America in July of 1994. A lot of it is old and virtually all of it is shamelessly and even disgustingly self-serving. So what else would you expect? It's also a bit sad in spots in that some of the folks interviewed are no longer with us (Porsche North American Motorsports Director and friend Bob Carlson, charming ex-pat Brit friend, MGB star racer/stalwart and serial ride-mooch enabler John Targett, etc.), while others have happily moved onward and mostly upward in their careers. Might be worth a watch.
This runs just under a minute and is basically me trying to make you jealous by showing off some of the wonderful cars I've managed to mooch rides in (and none of which I own). Fellow racers: eat your hearts out.
MR. RIDE MOOCH PARTS 1 & 2:
These were done a long time ago and were to be the first two hopefully entertaining installments about my journey to becoming whatever the heck it is that I've become. The editing work is a bit, umm, "technically challenged," but I think they're still pretty good fun. In spite of good intentions, never got around to following up with a 3rd, 4th, or even umpteenth installment. Which reminds me: gotta get back to that new book I'm supposed to be writing. Been a bit of a slacker through the holidays (and no excuses, since I've been putting in a LOT of time here at the old screen & keyboard), but now the nose goes back to the well-known grindstone and, I promise, progress will be made!
My very best wishes to all of you for a better and even blessed New Year. I see the light at the end of the tunnel, and no question it's coming from the same set of Lucas Flamethrower driving lights that I installed myself in my dad's new Corvair Spyder convertible and, in the process, set the front-end wiring loom on fire.
Really I did...
and I don't want any condescending, know-it-all e-mails from my fellow New Trier High School Corvair addict & friend David Miller telling me the shot below is of a '65-'67 Corvair Corsa front end, not a '63 Spyder like my dad had or the '64 (that's the one with the camber-compensator rear leaf spring that vastly improved the car's handling...take THAT, Ralph Nader!) that his dad bought just to shut up his whining about the Spyder I was driving...
OK, Christmas is over and now you've got a stack of bills to pay. But, what the heck, a little more debt won't make any difference, right? Why, just take your lead from all those "gee, I'd really like to get re-elected" bozos in Washington. On BOTH sides of the aisle, no less...
Hell, we can always print more, right?
So head on over to Finzio's Store on the website and buy some more stuff. Or become a sponsor for the new book. Why, you'll hardly feel it at all.
Take my word as a onetime used-car salesman...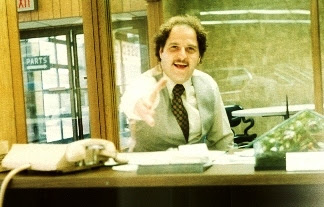 And now, a word from our sponsors: