Don't ask me why these things happen, because I'm too stupid and trusting in the generally benign nature of your average human being to figure it out. But I can tell you the story. Started out a few weeks back when I did the usual ritual of checking my website to see if I was still one of the great undiscovered driving talents/literary geniuses of this or any other century. But instead of getting the expected face-full of ME (well, okay, Jay Leno's in there too along with some other folks who get to park right in front of upscale restaurants) I was redirected by some malicious little bi-lingual cyber-gremlin to an ominous, "Page Not Found" error message in both English and Japanese. The address line at the top had mysteriously changed from "lastopenroad.com" to something like "seyama.co.jp" all by itself (accompanied by a "don't worry, we've got it covered" virus warning that the good folks at Microsoft floated up my screen. Thanks for nothing.
As you can imagine, it was all very puzzling. Throw in aggravating and infuriating, too. Which quickly morphed into frustrating and discouraging as my wonderful webmaster Rebecca, her techno-whizbang computer geek husband Craig and I tried to figure it out. Long sessions with the tech support people at Earthlink followed, and our initial attempts (which included emptying the site--twice!--scanning all the files for viruses--nada! all good!--and re-installing them) met with what appeared to be success. For a couple hours, anyway. After which the rat-bastard, Anglo/Japanese "page not found" re-direction would reappear. Aarrrggghhh.
The goofy part was that it only seemed to affect attempted access to the home page, and you could still get into the site without problems by going in through the other pages (such as http://www.lastopenroad.com/reviews098.html, the "review" page) and navigate from there.
In any case, we're hopeful that we've fixed it (seems to work without re-direction or virus alerts on all of our computers now) and I'd like to reach out for a little assistance from the few folks out there who are still reading this and haven't flipped over to the stock market report or a porn site or something: If you would be so kind, try accessing the website through your browser (search for "the last open road on Google, Earthlink, Bing, whatever) and let me know if you have any problems. If everything works as it should, please also try it by inserting the URL in your address bar or clicking right here on www.lastopenroad.com.
Would appreciate a little feedback from anybody who has a problem, and thanks much to those of you who advised us the thing had gone wonky in the first place.
IN OTHER NEWS: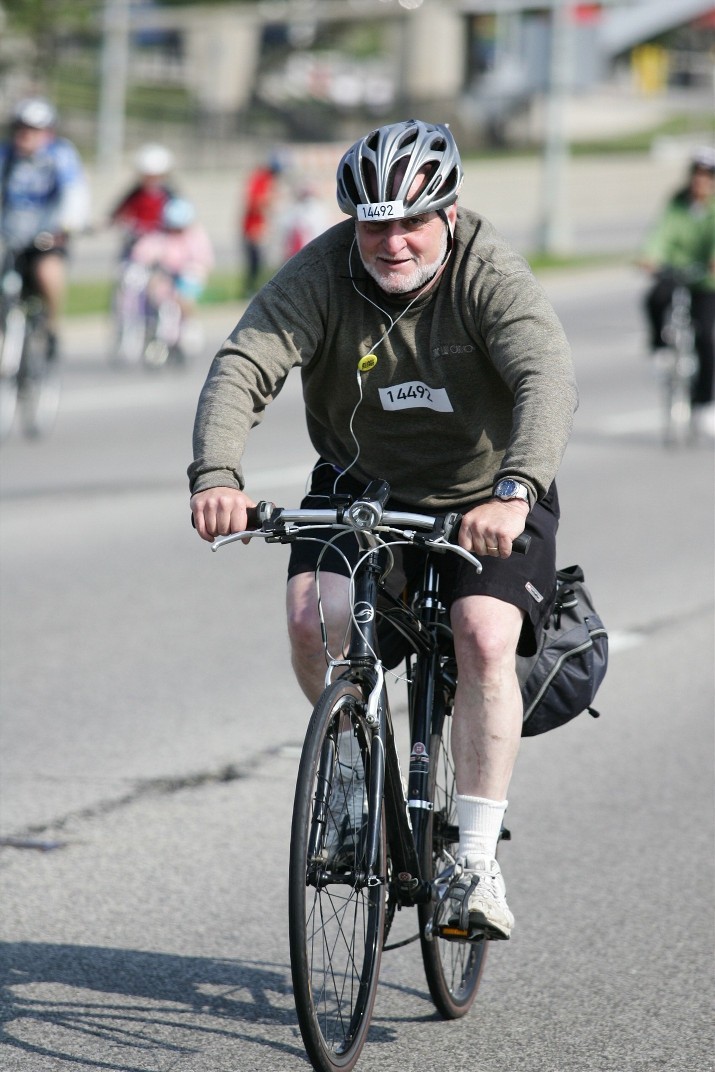 While I was busy pedaling my way up and down Chicago's scenic Outer Drive on May 26th, other important activities were afoot in Speedway, Indiana. Including the annual AARWBA (American Auto Racing Writers and Broadcasters Association) media breakfast, which is followed by some sort of motor race. In any case, the annual AARWBA writing awards were passed out and, well, it's not really nice to brag, is it?
Especially when you can get someone else to do it for you!
So here's the blurb Editor D. Randy Riggs put at the very top of the News Room page in the brand-new (July/August) issue of Vintage Motorsport magazine (ahem):

Oh, pshaw....
Mid-Ohio Moochin' 
Spent last weekend dodging between the raindrops (and there were a LOT of raindrops), mooching rides, hawking books and helping out over the PA at the SVRA's traditional, midsummer Mid-Ohio gathering, and it was a good show in spite of torrential, Old Testament "round up two of each critter" storms that washed out all of Friday afternoon, a little of Saturday afternoon and the beginning and end of Sunday. But I did get out for a few laps in a mild spatter of rain on the Thursday test day in Chris Zappa's delectable TVR Tuscan. I'd just picked it as "Pick of the Liter" in my report on Summit Point (no, he wasn't paying me off!) and as many of you know, I've got a real soft spot for TVRs. Probably in my cranium. But my wife and I courted in one (a "mooched" one, of course...see the story in my POTSIDE COMPANION) and I must admit her father was less than pleased when I tooled up to his house in this evil-looking little coupe with the build of a hunch-backed bell-ringer and a wicked, raspy exhaust note. But then he looked inside and observed the deep, high-sided, form-fitting bucket seats and the tall, wide, thoroughly insurmountable console in between and his nervous uncertainty melted into total approval....
Fill in the blanks any way you like there.
I also tried to race a TVR once (what turned out to be a stolen car, in fact...see the story "The Car That Never Was" in the POTSIDE) and I have many fond TVR memories along with all the dreary, desperate and dismal ones. Chis's car was genuinely immaculate, demon quick and wonderfully prepared (it's got a 300hp English Ford V6 under the hood) and I really enjoyed the way it scooted around the track. Even in a little bit of rain. Chris ran in a tight, scrappy, 4-car bunch at the very front of Saturday's Group 8 race (look for the full story in the next issue ofVintage Motorsport) but our enduro got washed out and there were some graunchy gearbox problems, too. I'm hoping to get a rain check!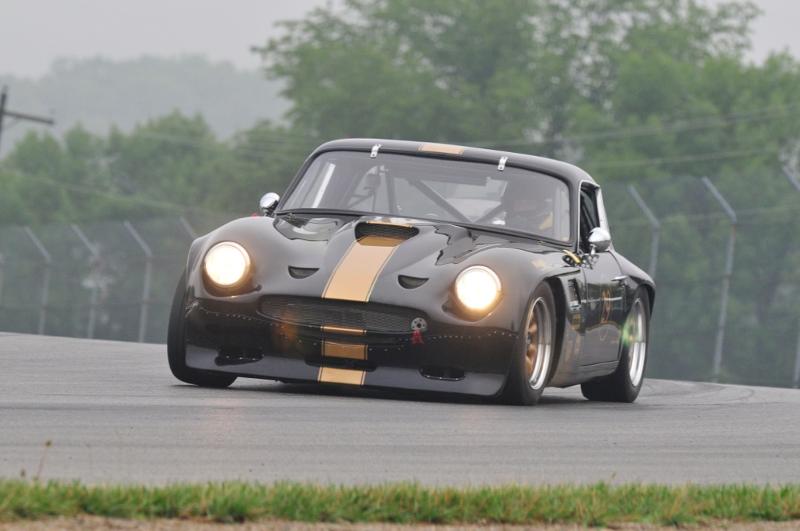 Also got to spend some quality time with new SVRA owner Tony Parella, and I both like him and a lot of the things he's trying to accomplish (like putting a little "PC", as in "Period Correctness", back into the sport) but wonder why he wants to take on such a Herculean and, let's face it, unpopular task. No rulebook is ever any better than the enforcement mechanism behind it, and the last thing our sport wants or needs is protests, teardowns and appeals. We've already seen what that can do to "amateur racing" with the SCCA. At the same time, do you really want dry-sumped, roller-rocker V8 engines twisting to 8800rpm and producing considerably more power--and reliability--than they ever did back in the day? Or how about straight-cut, no-lift-to-shift transmissions with infinitely changeable gears? I don't envy Tony his task, but I wish him luck and I'll be there to help if I can.
UPCOMING "BS" SIGHTINGS & BOOK EVENTS: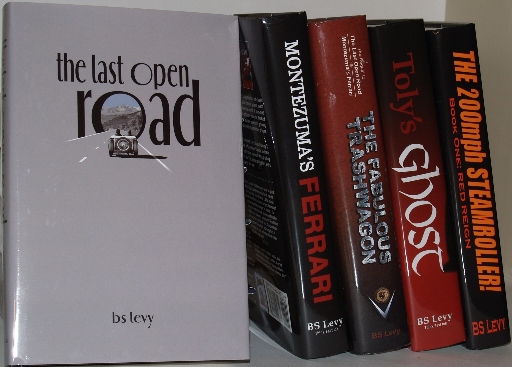 7/5: A little coaching and instructing duty at the local Alfa Club track day at Blackhawk Farms Raceway (I did my first-ever race weekend there back when tubeless tires were the hot new thing).  
7/8: More of same (and maybe some book sales?) with the HOOKED ON DRIVING folks at Autobahn. Hope I get some good students again (I hate riding with those other ones....) 
7/11 (Thursday) 6-9pm: Book Signing at the Cruise Night on Burlington Rd. in Riverside, IL. A relaxed, eclectic and community-supported, once-a-month local summer event that really impressed me when I dropped by a few weeks ago. Everything from MGTCs to Model As to Ferraris to Fifties Cruisers to Hot Rods & Detroit Musclecars. Good food, great people, lotsa fun. Would like to get a few "Last Open Road" types out to show off their cars & help spread the "Gospel according to Buddy."
7/12-7/13 (Fri-Sat): Millers at Milwaukee, State Fair Park, Milwaukee. If you haven't been, you need to go. Proper old front-engined Indycars filling pit lane & out on track having fun. Offies bark, Millers wail, alcohol fumes fill the air, lotsa wizened old USAC geezers with fabuloous memories...a great time!
7/14, 11am-4pm: Book booth at the excellent Barrington Concours at the Makray Memorial Golf Club in Barrington, IL. Fabulous cars, including the rare and magnificent French Voisons from the Mullin collection courtesy of my friend David Cooper at Cooper Technica.
7/19-7/21: The HAWK vintage extravaganza at Road America. Signing books at the Vintage Motorsport magazine booth, mouthing off again on the PA (the statute of limitations has apparently expired) judging at the racecar concours Friday evening and maybe even a little driving (I hope).