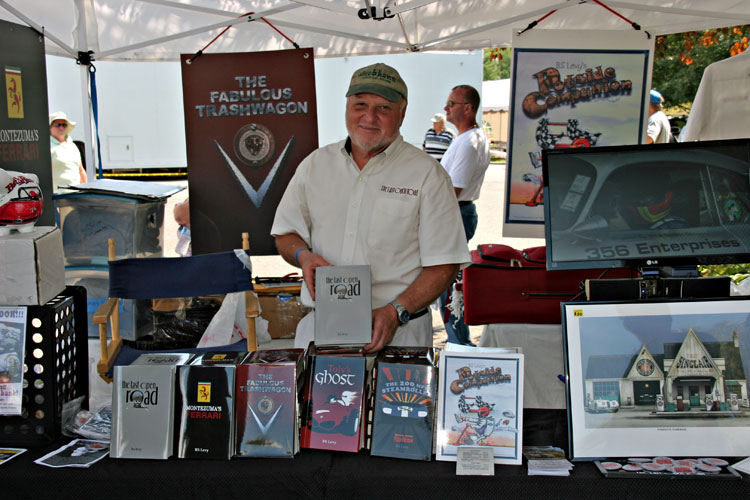 7/11 (Thursday) 6-9pm: Book Signing at the Cruise Night on Burlington Rd. in Riverside, IL. A relaxed, eclectic and community-supported, once-a-month local summer event that really impressed me when I dropped by a few weeks ago. Everything from MGTCs to Model As to Ferraris to Fifties Cruisers to Hot Rods & Detroit Musclecars. Good food, great people, lotsa fun. Free, too! Would like to get a few "Last Open Road" types out to show off their cars & shill for me by spreading the "Gospel according to Buddy."
7/12-7/13 (Fri-Sat): Millers at Milwaukee, State Fair Park, Milwaukee. If you haven't been, you need to go. Proper old front-engined Indycars filling pit lane & out on track having fun. Offies bark, Millers wail, alcohol fumes fill the air, lotsa wizened old USAC geezers with fabulous stories to share & you might even get a ride around the track in an old racecar...a great time!
7/14, 11am-4pm: Book booth at the excellent Legends & Legacies Barrington Concours at the Makray Memorial Golf Club in Barrington, IL. Fabulous cars, including a couple rare, flamboyant & magnificent French Voisons from the Mullin collection courtesy of my friend David Cooper at Cooper Technica.
7/19-7/21: The HAWK vintage extravaganza at Road America. Signing books at the Vintage Motorsport magazine booth, mouthing off again on the PA (the statute of limitations has apparently expired), judging at the racecar concours Friday evening and maybe even a little driving (I hope) on the Thursday test day. And why the heck do they have the HAWK and the similarly unmissable Pittsburgh Vintage Grand Prix on the same blessed weekend????? Whoever's in charge, let's FIX that!
7/28: 9am-12 noon: Book signing with Round Table Books (572-B Lincoln Avenue, Winnetka, IL.) during the highly informal Coffee & Classics street show promoted (more or less) by Fuelfed. This is essentially a flash-mob assemblage of nifty old sports cars and classics and their owners (most of whom are old classics in their own right). I've never been, but I grew up in Winnetka and it comes highly recommended.
8/2-8/4, Road America: Book signing with my longtime friend Bob Woodman of Bob Woodman Tires along with "guest instructing" for Team Stradale at the three-day, track-day portion of the 50th-anniversary Ferrari Owners' Club National Meet in Elkhart Lake. This is going to be the biggest and best Ferrari Owners meeting EVER, and I'm really thrilled that I'm going to be part of it. Good news is that I'll meet a lot of new people who've never heard of my books (and can certainly afford to buy them!) and I also may get to drive some REALLY neat cars. Downside (hey, I've coached at Ferrari meets before) will be sitting in the passenger seat trying to get somebody who's already scaring the crap out of me to go faster!
Is this any kind of occupation for a nice Jewish boy?
8/15-8/18: In California for Monterey Historics/Pebble Beach. I'll be hawking books in the Vintage Motorsports booth (except when Bob Bondurant is there...that's one too many schmoozers in a small space) and maybe dropping in on the PA booth. Should be a biggie (Corvette's 60th, Porsche 911's 50th). See you there?