Burt, Brian Redman & Bill Hollingsworth at The Jefferson 500!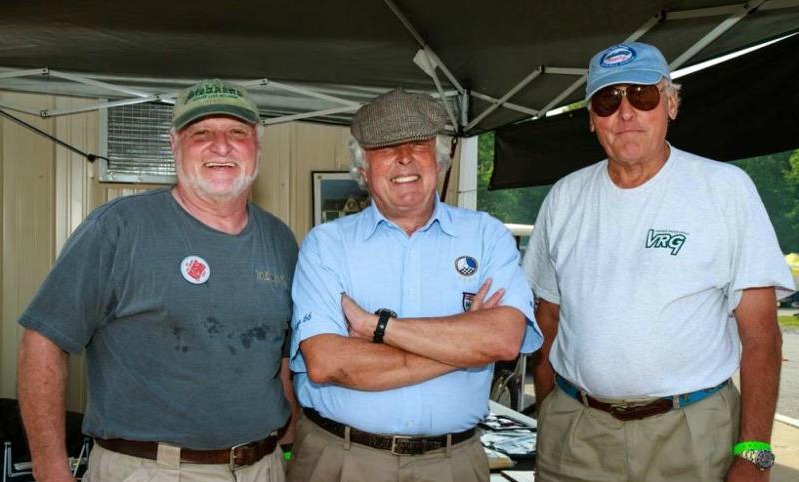 Fendered Fun at Summit Point!
May 16-18 found me at the VRG's excellent Jefferson 500 at Summit Point, WV, and believe it or not, this was a first time for me as the date always clashes with the spring vintage event at Road America, which is more or less my home track. But I'd raced at Summit before at the old SVRA Blue/Gray Challenge (complete with a fabulous and tasty North/South cookoff, some great gimmick races and even some of those nutty, muzzle-loading Civil War Re-Creationists taking and re-taking the bridge into the paddock at various times during the weekend) and always loved the place. Late track owner/caretaker/enthusiast Bill Scott was both an accomplished pro-level driver and a true ambassador for the sport, and his wife and staff have carried it all on beautifully. My full report is coming up in the next issue of Vintage Motorsport magazine so I don't want to give too much away here (buy a damn subscription, already!) but I sold some books and also was awarded a truly "fitting" shirt by my good friend and VRG stalwart Bill Hollingsworth (see pic above) at the banquet on Saturday night. My "retired" photographer friend Walt Pietrowicz obviously approves.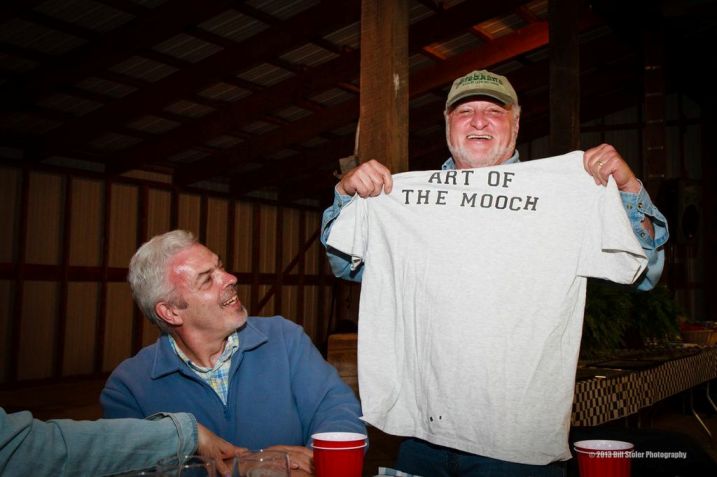 As you can imagine, there was some ride-mooching involved, and in this case it was a couple nifty sedan drives in an attempt to finally fulfill a promise I made many moons ago to my Pinto-infected buddy Brian Walsh.
Now Brian is a bit of a wild man and one hell of a second-generation driver, and he still campaigns the same unlikely, Baboon's-Ass Purple/P.O.S. Ford Pinto that his dad raced in the IMSA RS series back when Brian was but a wee tad. I co-drove with him once at VIR under the usual ruse of "writing a story about it," but what with the car's history and lineage and all (not to mention that Brian is kind of the de facto Prime Mover behind the current spate of Under 2.5 Trans-Am/RS Sedan Reuinions taking place at racetracks all over creation) the concept ultimately expanded into a full histoic/current overview of the entire North American small-sedan series phenomenon. Which would of course involve more "research" (read: more mooched drives in more neat tin-tops).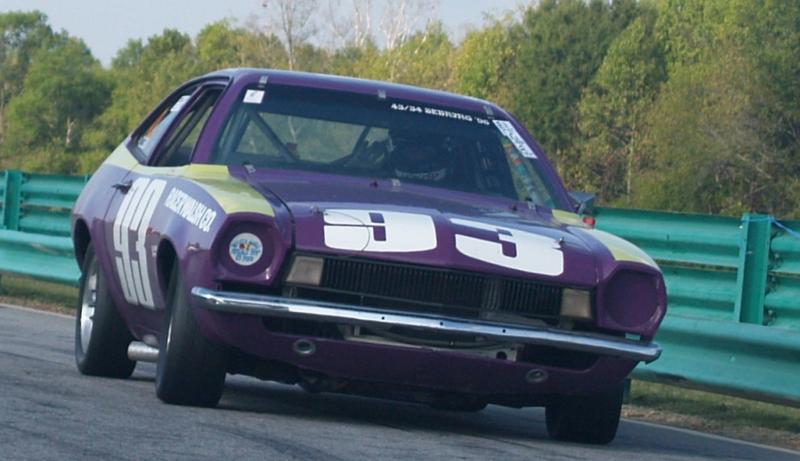 You'd have to say my co-drive with Brian all those summers ago at VIR didn't go exactly swimmingly. I had a good practice session in the Pinto and my times weren't overly humiliating, and I was at-the-ready in the pits as the Enduro began with Brian at the wheel and making time. Until the motor blowed up, that is. See pics below:

In any case (or should that be "crankcase?") and despite bushels-full of promises and good intentions, I was never able to complete the necessary, umm, "research" and the story never got writ. But Brian is nothing if not persistent, and he helped arrange a couple neat ride mooches at Summit to poke the story along. So I got out in Larry Doll's frisky and well-prepped Datsun 510 (always one of my favorite Japanese cars, and it's a short list) and Krisjan Berzins' very friendly (if not overly powerful...Krisjan likes enjoying his racing more than putting up with hand-grenade motors and paying for expen$ive tweaks) BMW 2002. Good fun! Still need to do a little more "research" (Alfa GTV, etc.) but I do love those cars and especially the way some of our very top drivers (John Morton, Gene Felton, Jim Downing, Roger Mandeville, etc.) got their starts racing the hell out of each other in these highly competitive "little sedan" series.

The following week I spent two what-should-have-been-glorious days at Road America flogging around the racetrack in some wonderful new cars thanks to the good offices of the Midwest Automotive Media Association. Unfortunately we had intermittent and occasionally semi-torrential rains on the Wednesday, but like they always say, the show must go on. Was impressed by the cars you'd expect (Porsche's latest 911, pick any BMW, the thundering 6.3 Mercedes, Mazda's new 6, the Miata as always, the lightweight Roush Mustang, etc.) but the biggest surprise was the current-issue "sporty" Cadillac sedan. What a fabulous handling car! Even at 130+ heading towards the crest into the braking zone for 5 in the streaming rain! Wow. Equally impressive was a full-lock-sideways, drift-style ride in the latest hot 4WD Bentley coupe (in bright stinkbug green and toting something like two tons of "ground-hugging weight") with one of their Brit pros at the wheel. It was full wet outside, but he didn't even seem to notice. He said you have to drive "in the dry spots between the raindrops". Hmmm. Also had a humbling fast lap in a 4WD Jeep Wagoneer with Tommy Kendall plus one in a Porsche 911 with David Donohue. Puts a little fresh perspective on your so-called "driving technique" when you see the real pros do it. And especially in adverse conditions....
I had a last-minute chance to go to Indy on May 26th, but took a pass in order to participate (for my third time) in the marvelous Bike The Drive event in Chicago. They shut down Chicago's storied and scenic Outer Drive and turn it over to umpty-thousand bicyclists of every imaginable type and description. Biked to the "L" station at 5:30am, took the train downtown, biked to Grant Park, registered in minutes and rode all the way south to the Museum of Science and Industry, back north to the end of the Outer Drive at Hollywood, then back south again to Grant Park where green-tinted festivities were in full swing. Good fun. Good band in the band shell, too. Got home in plenty of time to watch the 500 on TV, and put in over 40 miles by the time the bike was safely back in the old home garage.
Friday the 31st I filled in as a coach/instructor for the local Hooked on Driving bunch at Gingerman Raceway, and I had some good students so it was a lot of fun. In particular this very nice retired machinery engineer with the bright red Corvette he'd bought for himself as a toy. It was his first-ever track day, and I have never seen anybody enjoy it more. Same for his wife. Got to flog a couple neat cars around, too! When you have good students, track-day instructing can be almost as much fun as driving.
When you have lousy students, however, it's the Worst Day on Earth!

June 12th found me serving as guest speaker for an event at Autobahn that involved some folks & special customers from Northern Trust Bank, Porsche and my friends from the Barrington Concours. Got to drive the North track "under semi-controlled conditions" & do a little autocrossing in all the latest Porsche kit. Impressed as always with the latest 911 edition (how can a car celebrating its 50th birthday still be state-of-the-art?), loved the hot new Cayman (handier that the 911 as I see & feel it), totally surprised & excited by the Cayenne's track manners and left thoroughly unimpressed by the highly touted Panamera. The Porsche folks on hand were really talking it up (methinks they have a lot of them to sell) but regardless of what the numbers may say, the car just feels clumsy and heavy to me. Then again, the North circuit at Autobahn is a bit tight for a big car. Although the Cayenne SUV felt absolutely great there....
Next weekend I was torn between the SCCA's storied (but not anything like it useta be) June Sprints at Elkhart Lake and the VSCDA's annual Fathers'-Day Vintage bash at Blackhawk Farms (where I took my first driving school back when dinosaurs roamed the earth) but caught a case of the Creeping Crud (chest-congestion variety) and decided to stay home and lay low. Or not excatly low, since biz partner Karen was on vacation last week, so whether I liked it or not, I had to slog in and put in a full day for a change. In fact, five of them in a row! Is this how real people live? Really????