OK, I admit it. I've been kinda preoccupied, devoured & distracted by our new The Last Open Road audiobook project. It's been three full years since I started this thing with a tiny little germ of a notion (hey, seemed like a good idea at the time) and over that time it has evolved, mutated, enlarged in both scope and cost and turned into something of a personal Frankenstein's Monster. It is also developing into, I truly believe, maybe the best thing I've ever done (except for marrying Carol and siring and occasionally--on non-race weekends--helping to raise our wonderful son/B.F.F. Adam and, by extension, his equally B.F.F. wife, Tara).
But don't take my word for it. Click the link under the radio icons below (one for you effete, sit-down-to-pee Europhiles, one for you muscular, Detroit-Iron Types) and listen to a few little snippets from the first couple chapters. I think they'll make you smile.


There's good news on the horizon, too. Really there is. With the able help of our production/editing crew from Concept One Media. See pics below. That's me in the first one pretending to direct Jim Pittacora in one of the supporting roles and then me pretending to be helping with the editing alongside Concept One partner/project spearhead Scott Baker and Ben Matthews--he's the furry one on the left, who has actually done most of the real editing & mixing work while I plan lunch and shout orders--and the good new is that we're just about done. Honest we are.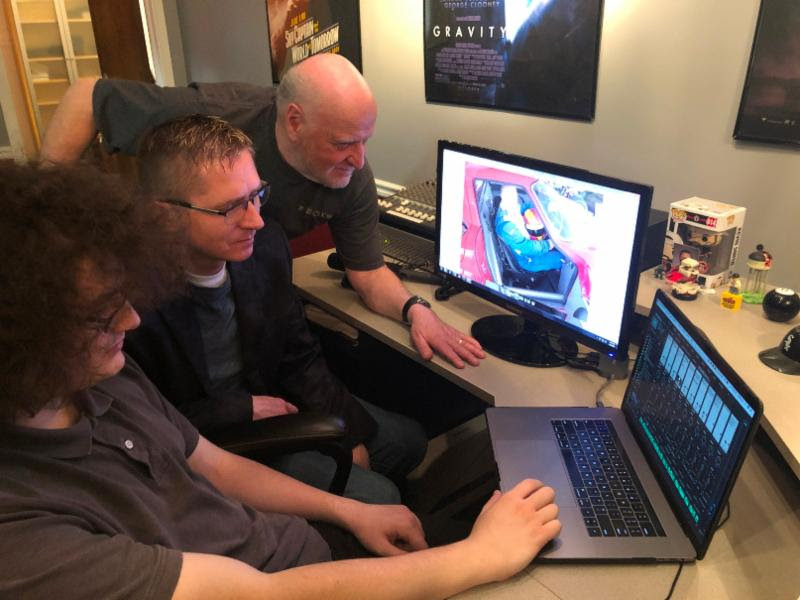 Want to holler "WHEW!" and "HALLELUJAH!!!" at the same time! Turns out each chapter has taken at least four separate run-throughs--spread over many, many months--to get it down to the final, fine-grit sanding & soft-cloth polishing. But we wrapped up Chapter 17 (of 19 total) on Friday last, and I'm confident we'll start shipping pre-orders by early July and launching, as promised, at the big W.I.C. vintage meet at Road America July 18-21. We'll be in our usual spot in the spacious, gorgeous, gracious and moreover air-conditioned Road America Paddock Shop, and the track is  pitching in on both the end-product & the promotion. 
In the meantime, we've been working in the studio with Ben pretty much non-stop for months on end. And that's after all the months and then years of re-writing the book into a radio-play script, auditioning talent (the guy we ultimately picked the main narration, professional voice actor Greg Beastrom, has been nothing less than excellent), traipsing all over hell-and-gone recording authentic car & engine sounds (special thanks here to Fred Simeone of the Simeone Museum in Philladelphia, since real Cad-Allards and Cunningham C4Rs aren't exactly thick on the ground), not to mention recording Mystery Celebrity Guest Voices like David Hobbs, Brian Redman, Ray Evernham, Tommy Kendall, Patrick Long, Skip Barber, John Morton, Bill Warner, Mike Silverman, Andy Reid, Greg Rickes, Mark Greene, Alex Doonan, Richard Fisher, Dan Scanlan and more (Dario Franchitti said he'd do one, but we haven't been able to record him yet). You may well recognize one or two of them on the excerpts linked above. Plus all the fiddling & listening finding the exact right sound effects and period music (and, more importantly and expensively, finding out whose palms we have to cross with greenbacks--LOTS of greenbacks!--to secure the rights to use said sounds and music) and pitching sponsors (hey, it's a great deal...really it is...see shameless sponsor pitch  below!) since our budget has blown clear through our bank account and is now about the size of Godzilla!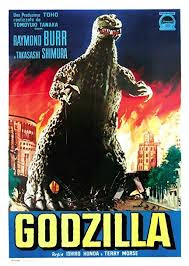 Bottom line is this: If you like what you hear on the link, consider becoming a sponsor. For a measly $250 American, you get your name (or the name of someone you want to honor, surprise or flabbergast) in the credits, plus an audiobook copy, plus a signed & personalized copy of the new, numbered, leather-bound, hundred-buck collectors edition of The Last Open Road (where the sponsor list will also appear) plus a nice track shirt that identifies you as a The Last Open Road   audiobook sponsor. Wear it anywhere and instantly become the target of panhandlers, card sharps, get-rich-quick scammers and cold-call life-insurance salesmen. Don't have the two-fifty in disposable discretionary income right now? Izzat yer problem? You can still place a pre-order for the new audiobook. Or one of those snazzy, numbered, PRE-ORDER ONLY 25th Anniversary Collectors' Editions! Click the link below for more information on all the many ways we hope to relieve you of your money:
One more thing: We're soliciting corporate chapter sponsors ("Chapter so-and-so brought to you by") plus a tag line, a full-page ad in the new (and all subsequent) print editions of 
The Last Open Road 
and a 60-second ad in the video disc or folder that will accompany copies of the new audiobook. It's three grand ($3000) and, considering the potential market, impressive audience demographics and the proven, near-endless shelf life, it's a hell of a good deal. So if you have a brand, product or service that could use that sort of unique and near-everlasting exposure, reach out for some highly personal schmoozing & buttering up. Email 
thinkfast@mindspring.com
 or call me at the Think Fast office at (708) 383-7203. I thank you.
But enough pitching. Let me tell you what ELSE I've been up to of late. Inquiring minds want to know...
NEWS UPDATE
Right from the mooch's mouth, Pt I: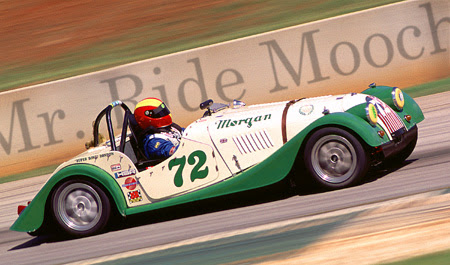 So it's been since before Christmas for a real e-blast update but, as explained ad nauseam in block one above, I been busy. But not so busy as to have not enjoyed a few escapades & adventures. So let's bring you up to date. And, speaking of dates, February 14th always looms large chez Levy. That's on account of Carol and I were married on February 14th (yeah, I know, it's Valentines Day) way back in 1974. I clean up nice, don't I. She always looks great: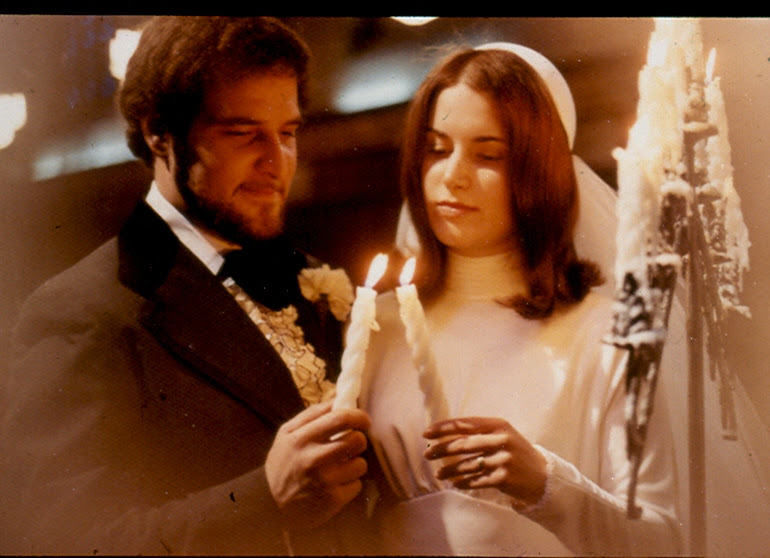 It also happened to be her birthday (hey, if I remember February 14th and Christmas, I got the whole blessed year covered...and I got Hallmark and Fannie May to remind me!). In any case, this year makes it a rather amazing 45 years with her by my side, occasionally (usually when richly deserved) in my face and backing me up whenever I need a little encouragement, admonition, attitude adjustment, support or spine-stiffening.
Can't say much more than "thanks from the bottom of my heart" and "never could've done it without her." Plus she's funny as hell and wonderful company. We spend so blessed much time together (home stuff, going to the health club, cooking, traveling, shopping, bicycling, watching old black-and-white movies in bed, etc.) and it never gets dull. Irritating, maybe. Even infuriating (ask her if you don't believe me!) but boy, did I ever luck out on this deal!
She also, somehow, puts up with all my crazy ideas and projects (see top section above), crabby, "leave-me-ALONE!" attitude when I'm writing (insert menacing growl here), incurable racing addiction & petrol poisoning, occasionally obnoxious behavior and know-it-all opinions (which I am always ready to share, even when I should probably keep my mouth shut), far-flung solo travels and shameless self-promotion, sponsor searching & ride mooching. Like fr'instance:
RECENT TRAVELS & TRAVAILS
PART THE FIRST
Lessee now, first up should be my extended, 10-day, up-and-down the state of Florida sojourn southward to instigate the long-lead press announcements on the upcoming audiobook (not to mention enjoying various events, occasions and side adventures) starting with my friend Bill Warner's Amelia Island Concours. I was fortunate to once again have a wonderful place to stay thanks to friends Greg and Debbie Rickes, who rent a lovely little house there right around concours time. They volunteer at the concours every year and also do a lot of biking and walking and finding tasty local food (did you know you can get freshly sliced, more-than-ample take-home portions of excellent prime rib with potatoes of your choice & fresh green vegetables for less than ten bucks just a couple miles down the road at Harris Teeters every Friday night? Less than nine bucks if you're on the senior-citizen plan!). To balance such excesses out, they exercise a lot and Greg runs a lot of 5Ks and 10Ks and such, where he's regularly up at the sharp end of the arthritis-medication/two-ayem-runs-to-the-bathroom class. But Greg's better known as the lead PA announcer at Lime Rock Park, where he has repeatedly invited me up to the booth to offer sage comments on the cars and the racing and pimp the living crap out of the books I'm trying to sell up on the Lime Rock deck. For which I am forever grateful. He also does one of the Mystery Celebrity Guest Voices on the audiobook, but of course I'm not going to tell you which part he plays. You figger it out.
And while on the subject, Bill Warner, the aforementioned creator, chairman and prime mover behind the Amelia Island Concours, also plays one of our Mystery Celebrity Guest roles. And again, you figger out which one. In any case, Bill's event is always something special. Particularly if you enjoy the odd little backwaters of automotive history as well as the obvious icons. Not to mention things that go fast. Bill's a racer first (used to run against him in the old Firestone Firehawk, SCCA Playboy/Escort series when we were all young and eager and fooling ourselves into thinking that it was really "pro" racing rather than amateur racing with a tax dodge built in) and his show reflects his lifelong involvement in and love for the world of motor sport.
We sponsor and award down there every year (The Buddy Palumbo Award, which goes to an owner--or owners--who restored the blessed car themselves). This year we once again had great friend, renowned race-engine builder (Savannah Race Engineering, if you ever need a dose of horsepower), ace racing driver and ad-hoc sculptor Ted Wenz doing the trophy. Think it's his third time, including the very first one way back in 2007. Here's a look at it:
As you can see, it's a perplexed mechanic (played by a deep valve-relief pocket V8 racing piston with roller cam followers for arms) scratching his head while looking down at a terminally busted gear. Below is the plaque we added:
This year, in kind of a back-flip into the past--at least compared to previous Buddy Palumbo awards--it was awarded to the excellent, just-completed, salmon-colored 1917 Locomobile 48 Type M Series 7 (want to be accurate about such things or we get insufferable corrective e-mails from anally constricted types like Bob Allen) belonging to John and Mary McAlpin. Well done!
But it was just one of so many magical & magnificent cars on display and hidden away in the nooks and crannies of the Amelia Island Concours weekend. I'm usually busy with hawking books, spreading Press Releases and buttonholing prospective sponsors. But I make a point of sneaking out early Sunday morning well before the gates open (it's always the day after the clocks stumble forward into Daylight Savings Time, so although the cars look wonderful in the dew and emerging Florida sunshine, their owners & attendants tend to look a bit bleary). Here are just a few of the highlights that caught my eye: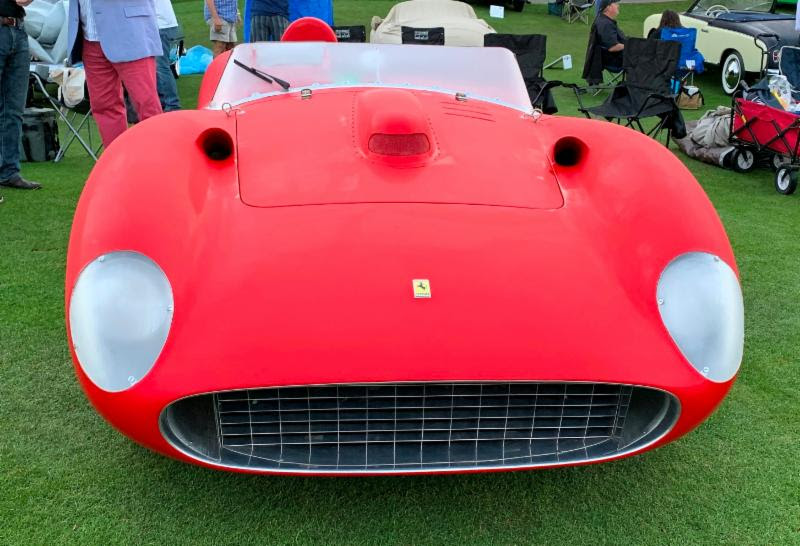 What's a concours without a Ferrari's sexy and organic contours, curves and orifices. Do I need to be any more explicit?
OK, I will: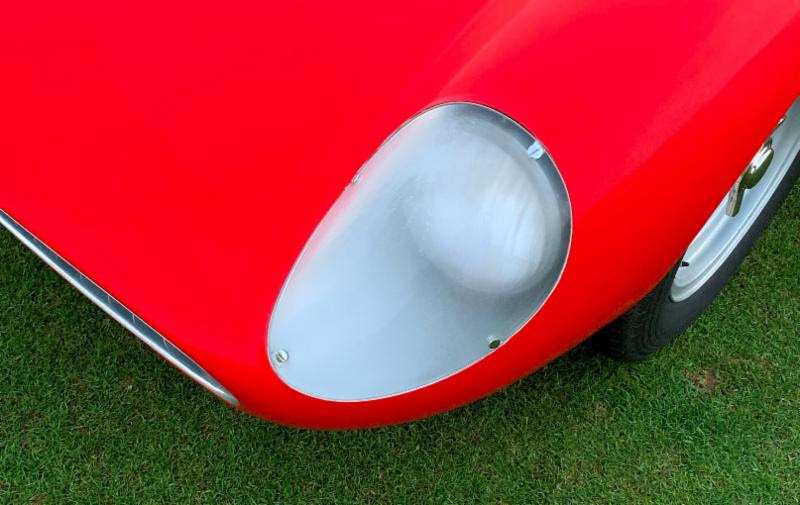 WOW. Speaking of Ferraris, here's a whole lineup of wonderful 250 Short Wheelbase Berlinettas.
Always about my very favorite Ferrari model on account of:
1) They were about the last true, dual-purpose, drive-it-on-the-highway/race-it-on-the-weekend (and if you could drive, you could win with it!) GT car from just about anybody on the planet.
2) When I was but a wee pup, I saw my late, great friend, world-class racer and even more world-class writer Denise McCluggage use her well-traveled, electric-blue example to put the hurt on the top two race-prepared Corvettes in the country atone of the very first road races I ever saw at the old Meadowdale track outside of Chicago.
3) Famous Chicago restaurateur, Road America vintage weekend creator, Ferrari trader, style icon and irrepressible motorsports impresario Joe Marchetti, whom I knew a little and had written some stuff for, decided that, rather than writing me a very small check for my efforts, he'd simply plunk my ass down in one of his Short Wheelbase Berlinettas and turn me loose on a racetrack. Can you believe it? Here's the car: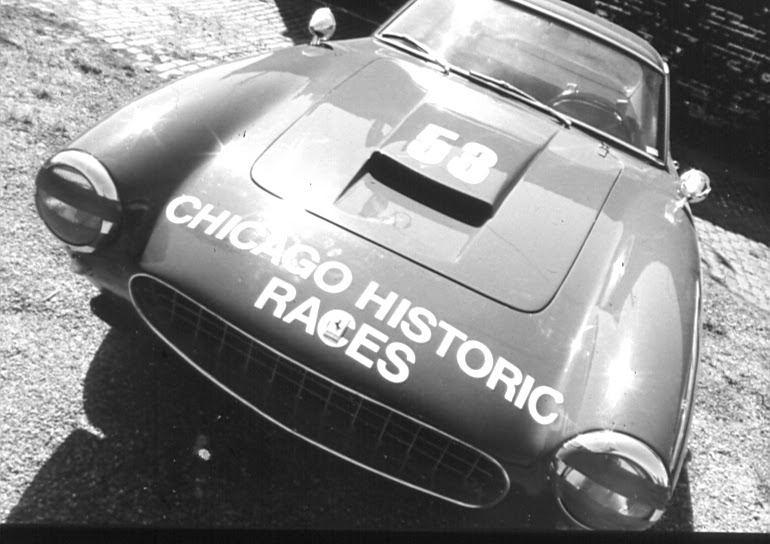 And here's my very first ride-mooch story, which appeared inAutoWeek shortly after dinosaurs roamed the earth:
Amazingly enough, a career was born. Or two-thirds of a career, anyway. Maybe five-eighths? BTW, the red #22 SWB Belinetta shown in the color concours photo above is a pretty famous car. None other than NASCAR stock-car ace Fireball Roberts drove it in the very first big international road race at Daytona (The Daytona Continental 3-Hour on February 11th, 1962) and he did pretty damn well with it, finishing a stout 12th overall and second in the GT category to none other than top road-racer on the planet at the time--Stirling Moss--in what was essentially the prototype for Ferrari's new and soon-to-be-all-conquering GTO.
Or at least it was until Shelby's Cobras finally hit their stride a few seasons later...but that's another story.
Here's some other neat stuff that leaped out at me on my early morning stroll at Amelia Island:
Here's a really nice A.C. roadster. Beautiful car! These were based on a highly successful, one-off racing special with 6-cylinder Bristol power that English designer/builder/tinkerer John Tojeiro built for a flamboyant but very quick London car dealer named Colin Davis. He pretty much mopped up the 2.0-liter class with it throughout the 1953 British racing season, and the car was subsequently demonstrated in a private track test to the Hurlock brothers who ran A.C. cars (which made mostly stodgy old sedans at the time). The special essentially became the design/DNA donor for their handsome new A.C. Ace and A.C. Bristol sports cars. The top-of-the-line Bristol-powered car was the superior performer, even though the Bristol 6 was essentially a retread version of the prewar BMW 328 motor that was essentially brought back from Germany (along with its designer) as "spoils of war" following WWII. Later on, when that engine supply dried up thanks to Bristol deciding to get out of the car-manufacturing business (where they were doing poorly) and re-focus on their core business designing and building airplanes, a handsome, lanky and charm-the-birds-out-of-the-trees Texan named Carroll Shelby stepped up with the idea of shoehorning one of Ford's new, light, thinwall-cast 260/289 smallblocks into the selfsame A.C. chassis and, well, the rest is history, isn't it?
And if you already knew all that stuff (I'm talking to you, Bob Allen) why haven't you skipped ahead to the next bloody paragraph?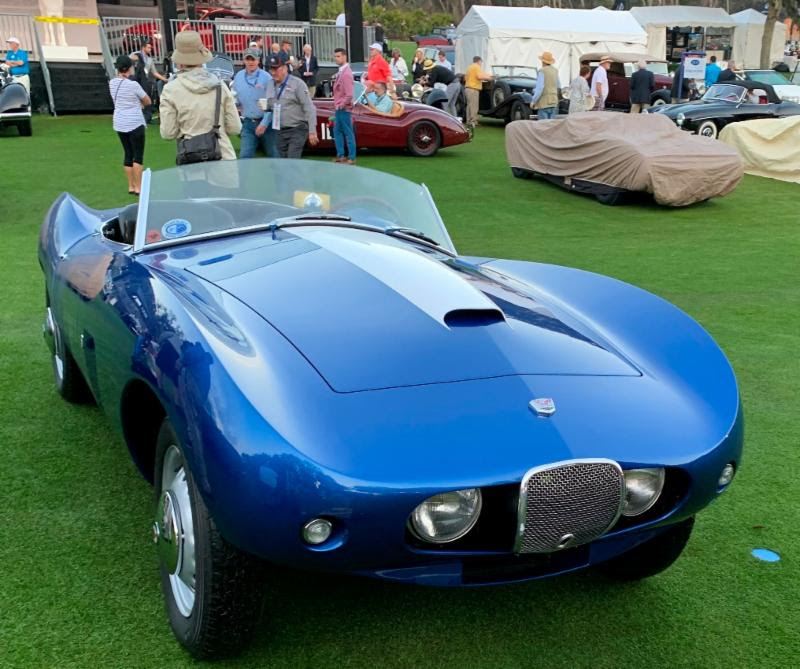 While we're looking at Bristol-powered cars, here's one of my personal, all-time favorites: the unusual Anglo/Italian/American Arnolt-Bristol. It's a convoluted story. Six-foot-tall, Stetson-and-cowboy-boots-wearing, cigar-smoking, one-time outboard-motor salesman and force-to-be-reckoned-with middle-American entrepreneurial powerhouse S.H. "Wacky" Arnolt rose through the business, manufacturing and military contract worlds to become, I believe, the largest non-governmental employer in the state of Indiana. His companies made all sorts of stuff, from lawn furniture and spitoons to landing gear for carrier-based aircraft. He also liked sports cars and started importing and selling MGs and such, and also developed a successful line of accessories to go with them. Then he pretty much single-handedly saved the legendary Bertone coachbuilding firm from bankruptcy by ordering up a couple hundred of the last-gasp, special-bodied MGs they had on their little, back-corner display stand at the Turin auto show. The Italian carrozzeria had spent their last few lira for the show space and, according to legend, the "show cars" were actually lashed up on a couple wrecked MG chassis they were able to buy on the cheap.
In due time, "Wacky" hatched this plan to buy complete Bristol running chassis in England (Bristol were still building some very advanced cars in 1952), ship them to Bertone's body shop in Italy to have these incredibly striking bodies put on them. The great majority of tthe cars came stateside and were sold out of the existing S.H. Arnolt showrooms...particularly the one on Ohio Street in Chicago.
And this is where it gets personal.
As a wide-eyed, car-crazy 13-year-old, I thought the Arnolt-Bristol was about the most modern, beautiful, outlandish and exotic car design I'd ever seen. Plus Wacky had formed a team and wasRACING the damn things. And winning their class repeatedly at places like The 12 Hours of Sebring! WOW! And so I'd take the "L" downtown on my own and go visit that showroom on Ohio Street. Just to hang around. And then one of the salesmen let slip that there was a warehouse just a few blocks east on Erie Street where there were dozens of the damn things. Oh, it was dark and dingy inside, but for me it was nothing less than magical! There were all these fascinating shapes covered with fitted, elastic-bottom twill car covers. They'd let me wander around in back after about the second visit, and I'd lift up the corners of those car covers to find Arnolt-Bristol Bolides and Deluxes and even a coupe in all sorts of trend-setting metallic colors...and this when most of our domestic Detroit autos were mired in dull beiges and creamy pastels. Plus there was a lot of other neat stuff I'd never seen or even heard of before. Like this taut little orange-over-black Nardi coupe. And a metallic maroon Moretti sports car. And a sinister black Bristol 405 coupe with it's cyclops-style driving light right in the middle of where its grille would have been if it had such a thing.
And then one day, as I was peeking under covers and pointing the cataract lens of my cheesy little plastic 620 camera at whatever wonder I found underneath, I pulled one of those twill covers back and unveiled the ONLY ONE IN THE BLESSED UNIVERSE Bertone B.A.T. 5 show car! It made me damn near swoon!
So I've got a lot of history with Arnolt-Bristols. Even got to mooch a drive in one at Lime Rock a few years back thanks to vintage racer/collector/Arnolt-Bristol nutcase John Schieffelin: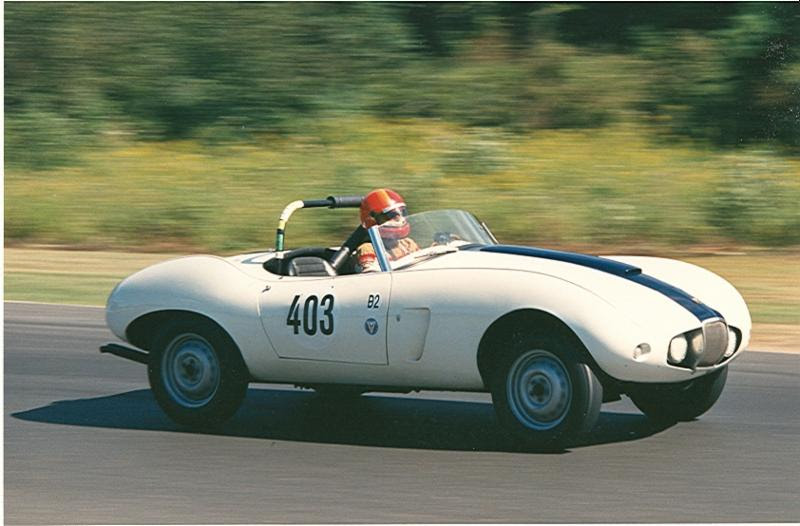 But I digress. And HOW I digress! But it's a good story and sometimes you just gotta get this stuff out. Think of it as a sort of enema for my brain.
Sorry about that stain on your carpet...
BACK TO AMELIA ISLAND (remember?)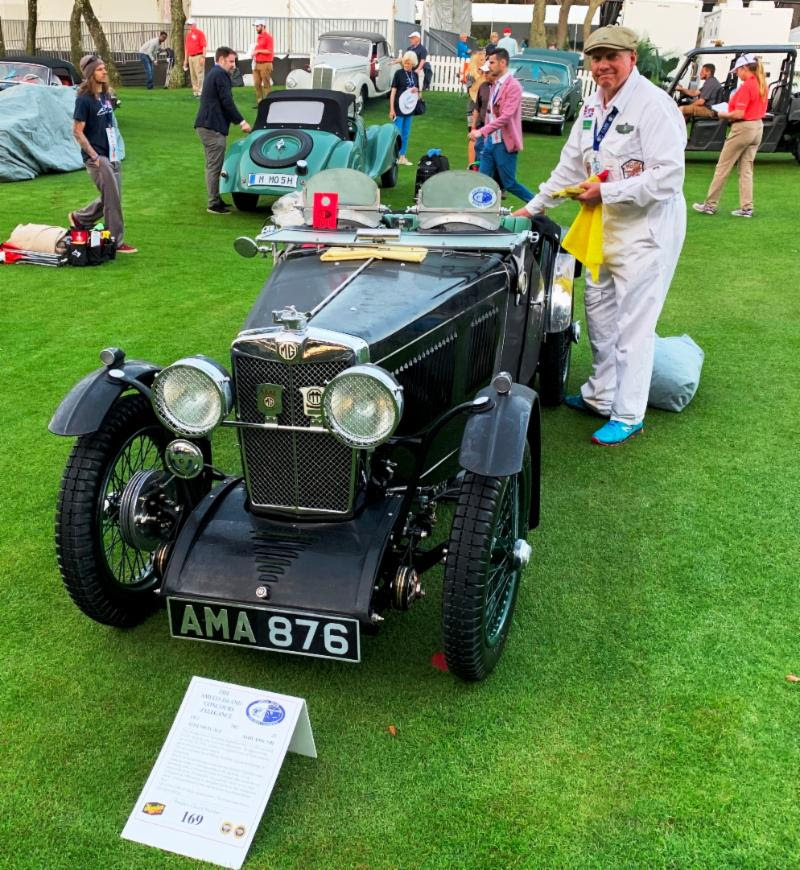 Here's an old MG and an old MG guy to go with it. Love it when the owners really get into the spirit of the occasion.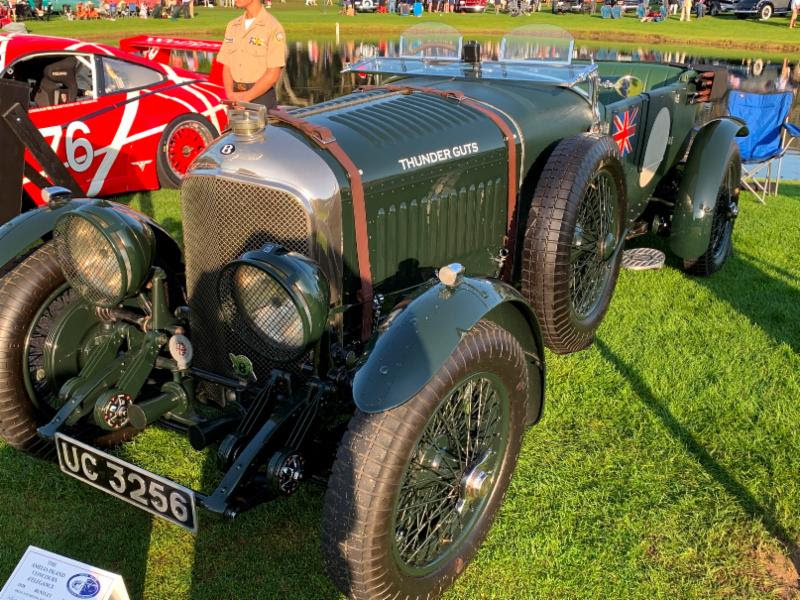 This is Brian Johnson's (yeah, the lead singer from AC/DC) 4-1/2 liter Bentley Le Mans Tourer. Nickname "THUNDERGUTS" is a typical Brian Johnson touch. Believe it or not, massive (but STURDY!) Bentleys like this won the 24 Hours in 1924 and then for four years on the trot from 1927-1930. Ettore Bugatti, whose cars ran against the Bentleys at Le Mans, supposedly once sniffed that Bentley built "The fastest racing lorries in Europe."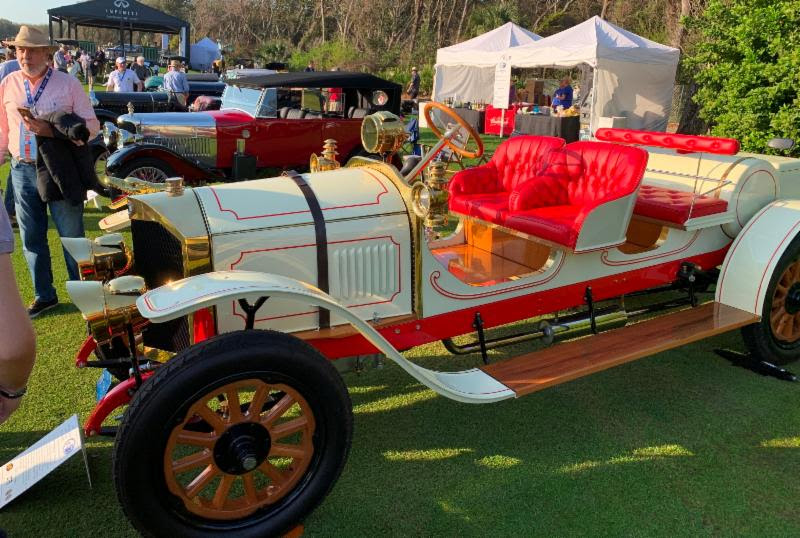 Don't know much about this one except that it's kind of a high-end Parisian Whorehouse color scheme on a lovely early Mercedes.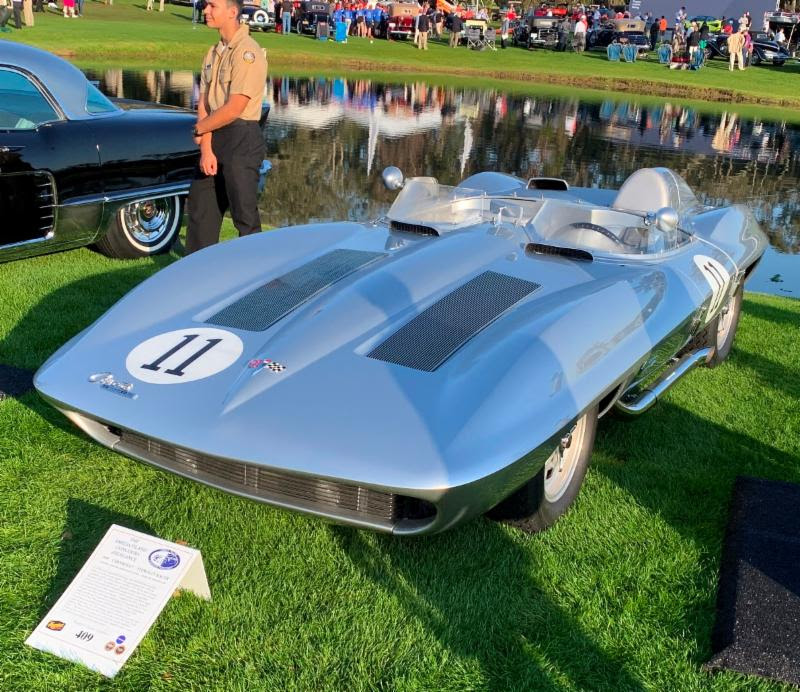 Here's a favorite. The Bill Mitchell Stingray racecar of 1959. Bill was the stylish, flashy, flamboyant and borderline notorious Head of Styling at General Motors, and he had young stylist Pete Brock and Larry Shinoda design the body, which quite obviously foreshadowed the striking new Sting Ray Corvette series that debuted in 1963. It was based on Corvette's earlier and less-than-successful SS racecar, and went pretty damn well with well-known Washington dentist/proven Corvette hotshoe Dr. Dick Thompson behind the wheel. I saw it run once at Meadowdale, and was struck by the lines and show-car level detailing. Compared to contemporary Ferraris, Maseratis and Jaguars, it looked like it'd been beamed down from Outer Space.
Ahh...the Bill Thomas Cheetah. One of the wickedest-looking racecars ever built, but one with an even wickeder (and, to be honest, not entirely deserved) reputation. Bill Thomas ran one of Chevrolet's clandestine, back-door race shops when GM "wasn't involved in racing," and he'd done well with some Chevy stock cars and hopped-up Corvairs. The Cheetah was intended to be Chevrolet's "Shelby Cobra," and, if Chevy had truly supported the project and they built enough cars to get it homologated as a GT contender, there is no doubt in my mind that the Cheetah would have run rings around the 289 Cobras. It was lighter, had a bigger engine with far more potential power and a chassis that was, well, at least no worse than the original Cobra's.
But of course it never happened, Thomas never built enough cars (and couldn't sell all the ones he did build) and it all ended with a semi-suspicious shop fire and a subsequent Sheriff's sale. Sad end for one of the most evocative cars ever built.
I've actually driven no less than four of these things (pix below):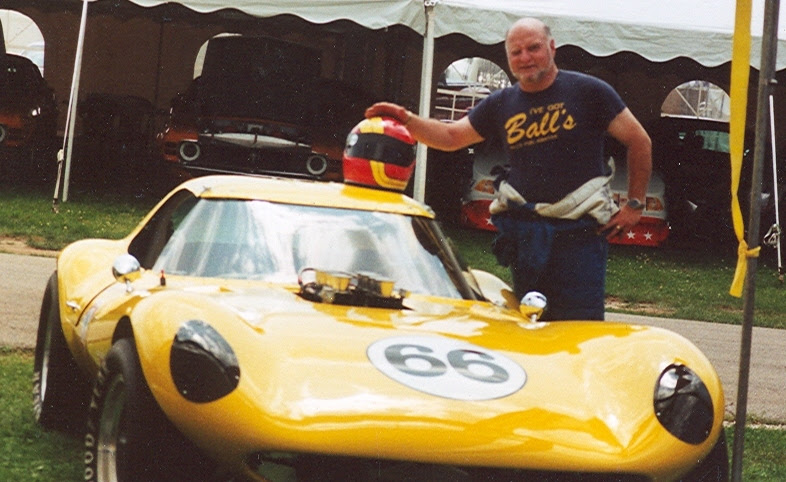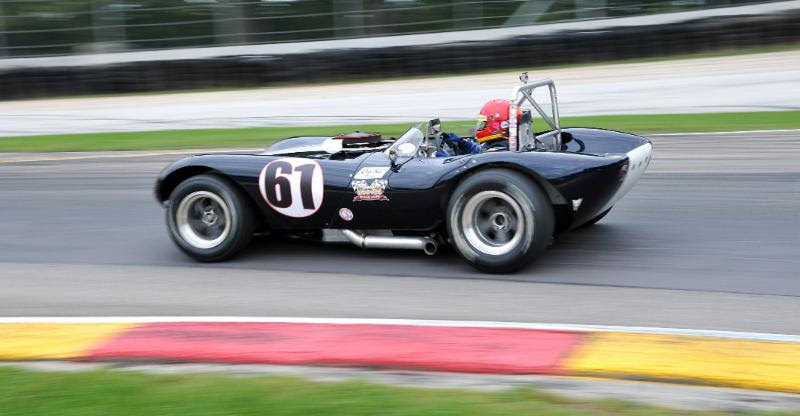 And they're really not as bad as their reputation. But then, what could be? The top two (yellow 66 and red 58) were problem children that never had proper sorting when I drove them. But the #61 (Owned by Ron Keck and usually driven by Brian Garcia) has been turned into a really effective racecar and has won a lot of races. Big problem is that it's short and powerful and all the weight sits right in the middle (you're essentially sitting on the rear axle and the motor is right in your lap!) and you get the feeling that if you ever lose the rear end, the damn thing is going to spin like a top. Plus is it ever HOT inside! Especially the coupes.
But I wrote a big, six-page story about it for the magazine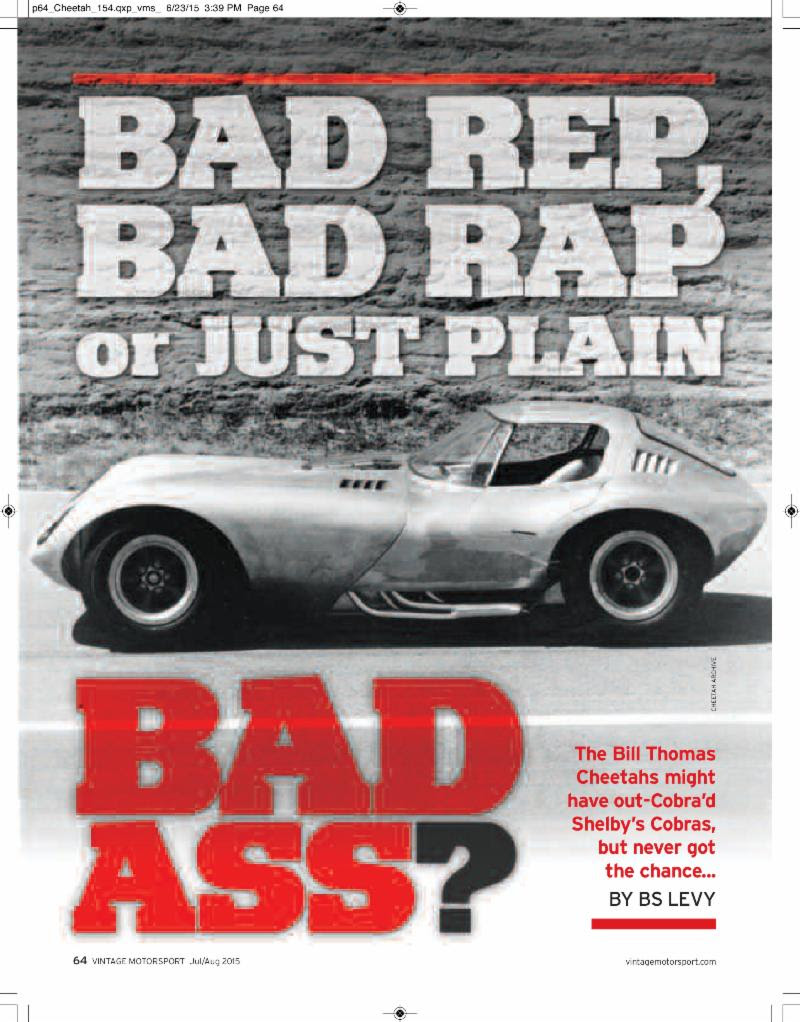 and the story won an award, so that was cool.
Gotta run to the sound studio now, but look for Part 2 of the Florida story over the weekend. And do think about becoming an audiobook sponsor (we need the $$$$, blah-blah-blah). And do pass the audio sample link along. We're trying to develop a little buzz here, see...