OK, so that's a bullshit headline right off the bat. There are no actual Ferrari Testa Rossas in this story. And if you don't know what a Testa Rossa is, you are probably reading the wrong blessed car blog. See footnote at the far bottom below (*) if you need to be enlightened. ButI simply couldn't resist the onomatopoeia or whatever (most people won't even know what that is) of the headline. Besides, as most writers of historical fiction surely know, you never want to let the actual facts get in the way of a good yarn.
Joe and I had to travel damn near the entire length of Florida to get to our next destination, but it had already been a very long day (as you may recall, it was the morning after the time change, and I'd been on my way to the show field before dawn) but we lucked into a perfect--not to mention perfectly priced!--stopover point on Merritt Island, which was just about halfway down. Seems Joe's older brother lives there (lovely place right on the water, and with a pool, a hot tub, my own room and cold beer in the fridge!) and he and his kids were out of town for the weekend. So we were welcome to stay. For free.
But Larry is more of a driver and racer than a car collector, and heunderstands that any wonderful sports car, race car or sporting sedan makes for a pretty damn dull static display. Without the noise and the speed and the feel of the car though your fingertips and the seat of your pants, it's just a shape hewn out of metal with some history and mythology attached. Plus Larry knows that cars atrophy if they just sit. And racecars twice as much. So Larry threw out a kind of open-ended invitation to come down and help "give his cars some exercise."
And this was going to be the day!
He even claimed to be eager to have me abuse some of his cars. And he welcomed friend/shotgun-seat fellow-traveler Joe Gearin to join in the fun. As did lovely English couple Peter and Carol Hewitt, who were in the process of buying Larry's Cosworth BDG-powered Royale RP17 (wonderful racecar, see pic below) to take back home and race in the U.K. Made me a little blue, though, since I was hoping to get a little track time in it myself.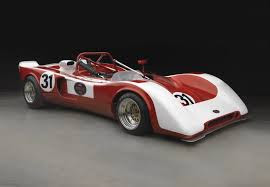 You would not believe the day we had!!! And fortunately longtime friend and ace lensman Chuck Andersen was on hand to record it all for posterity. Otherwise you would simply not believe me...
We started out with a tour of the facility, which includes several large, long, orderly display rooms (in the main hall, the cars are stacked two high, ranked by make and country of origin and flanked down either side like soldiers in dress-parade formation) plus spacious, cool-stuff-everywhere-you-look rooms like the one shown below.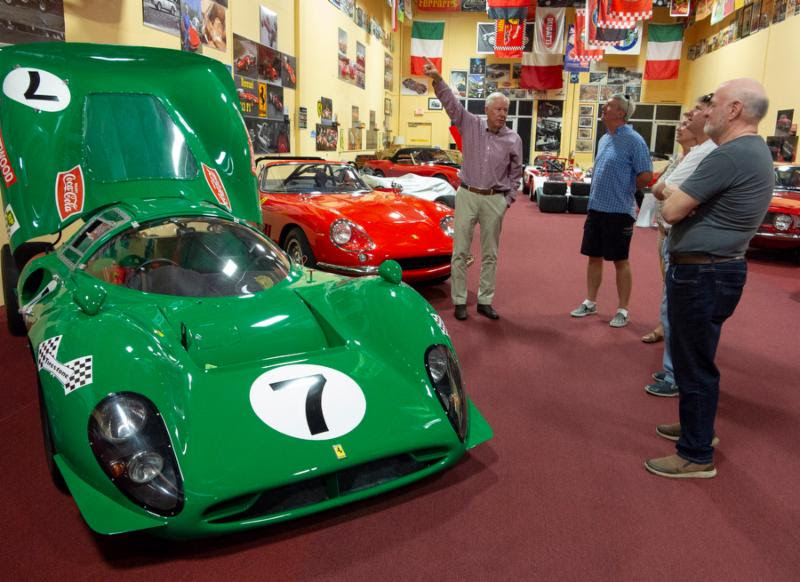 I was particularly taken by the signature green, ex-David Piper Ferrari P3 above and the utterly delectible little Maserati A6GCS (one of Larry's favorites, BTW) shown below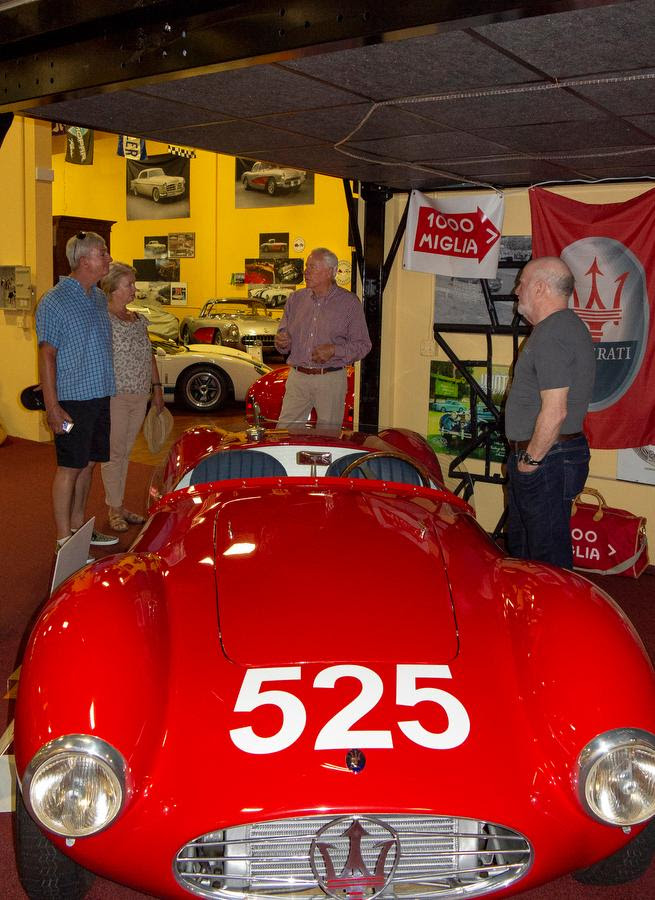 And here we are looking at a Bugatti (L to R: me, Larry, Joe Gearin and Peter and Carol Hewitt)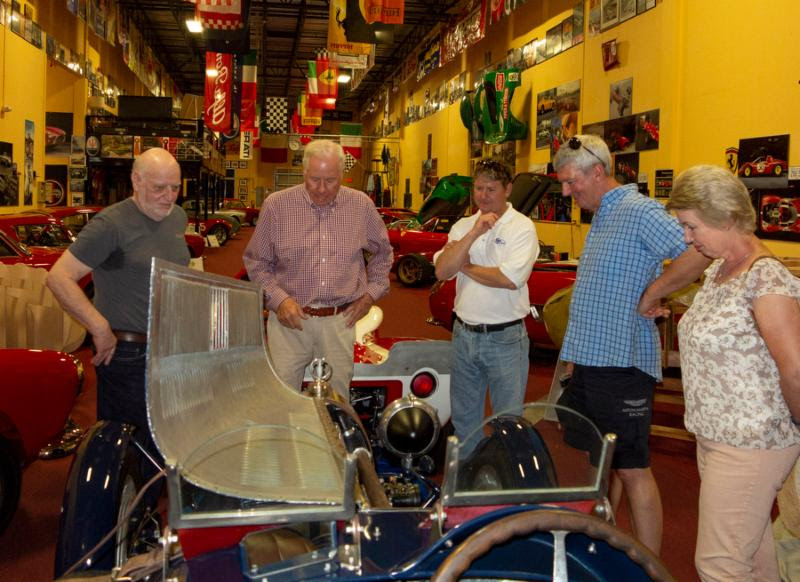 In the race shop, we gathered around a fascinating ad-hoc re-creation of the Porsche 804 Grand Prix car that Dan Gurney drove to Porsche's only Grand Prix victory in the French GP at Rouen in July of 1962. Gurnery also won the non-championship F1 race at Solitude with the 804 that year, and might well have won the German GP at The Nurburgring--he put it on pole--but, in terrible conditions with heavy rain and patches of fog, he was scrapping at the front with Graham Hill and John Surtees when the battery broke loose down around his legs and he had to drop back while he figured out how to brace it against the frame tubes with his leg and still drive! He took 3rd at the end, with the top 3 cars covered by the proverbial blanket. Make that a wet blanket.
In any case, there were only three 804 race chassis ever built (plus a fourth, never-raced chassis that I believe is displayed in the Porsche museum these days) and the other three are in museums and private collections. They'd be horrendously, astronomically expensive if one ever made it to market. Plus the purpose-built, air-cooled, 1.5-liter flat-8 motor used in the 804 is virtually unobtainable.
But Larry's a big Porsche fan and, as a racer, kind of wondered what it might be like to wheel an 804. So he and his guys (many of whom came through the exceptional auto-restoration major program at 
McPherson College
...click for more info) decided to BUILD themselves a Porsche 804. I mean, it's just a welded-up tube frame with some fabricated tube suspension bits...not much more than an up-market Formula Vee, right?
Of course it's far more complicated than that. But Larry managed to get his hands on  some specs and drawings and they laid the car out and began welding it up. But what about the motor? So I guess it says a lot about Larry and his approach to life as well as his cars that he decided to put a hotted-up, flat-6 Porsche 911 motor in where the unobtainable 8-cylinder would go.
Heresy?
Fake?
Sacrilege?
Hey, you purists, pundits and full-orthodox Porschephiles can go suck an egg. Mumble and mutter all you want. Meanwhile Larry (and, hopefully, a few of his racecar-nut buddies...hint, hint) are going to get a pretty close approximation of what it might be like to drive Porsche's only GP winner. Not to mention the car that gave Dan Gurney his very first GP victory. I think that's pretty damn cool.
After the shop tour, we went upstairs for a light lunch and to get to know one another a little better, and then it was time to go outside and see what Larry had on tap for us to drive:
First up we had English cars, featuring an Austin-Healey 100S (perhaps the very first of the manufacturer "Factory Hot Rods?" back in 1955), a just-completed Lister-Jaguar "Knobbly" racecar, a lovely little yellow Lotus Elan (not in the picture above) and a fine-running Jaguar XK140 roadster. Naturally I wanted the fastest car first (the Knobbly, of course) and, as you can see, I'm all smiles:
Chuck hopped in the so-called passenger seat to shoot some pictures and the lot of us took off.
Turns out there are a lot of mostly vacant roads around Larry's place (plus some better-than-decent corners if you know where to look for them) and the plan was that we'd drive for a bit, then stop and swap cars, then drive a bit more, stop and swap cars again...you get the idea. Only that went down the drain about eight minutes in when Chuck (who is not exactly tiny and was more-or-less wedged into the Lister) realized his left leg felt like it was on fire. Sure enough, the Lister's fabulously noisy exhaust pipes were right on the other side of a handsome (but very thin) aluminum panel.
Me: "Think I ought to pull over?"
Chuck (pretending to smile but actually grimacing): "I kind of wish you would..."
So we pulled over and Chuck hopped out (literally) and he had indeed suffered a bit of a grill sear on his left calf.
Hmmmm.
So we waited for the others to circle back and find us and we swapped cars. To be honest, I was just as happy to get out of the Lister. It was hot and windy and noisy and...well, one of the things you learn over time is that race cars don't make very good touring cars. And visa versa. And all you punks with your hatchback rice rockets slammed down to the bump stops (on 20" wheels with  35-series tires, no less) will figure that out one day, too. Just about the time you're trying to find out how to get rid of unsightly tattoos. 
Anyhow, Chuck and I piled into the Healey and I felt at home immediately. I've still got that old 100/4 in the garage and the 100S has always been about my faorite all-time Austin-Healey. And this one ran beautifully. Lovely car.
Then we stopped and swapped again (this time I got the XK140, which turned out to be a regal and refined sort of ride) and all was going swimmingly until we noticed that Peter and Carol (and the 100S) had gone missing from the back of our caravan. So (and not for the last time that day) we doubled back and found them parked at the side of the road at the end of a long swath of oil. Couldn't see the cause down in the engine compartment (there didn't appear to be any holes in the block or connecting-rod fragments laying about) but Larry just called for a couple of his guys to come over with a trailer and cart it back to the shop.
You got the feeling this was hardly a first-time thing...
I got the yellow Elan for the last leg, and as a guy who has spent a LOT of time in, around and (it goes without saying) underneath Lotus automobiles, I've got to say this was one of the sweetest-running examples I've ever experienced.
So we get back to home base and, what do you know, here's a second set of cars for us to try, abuse and enjoy. In all, we did four (or was it five?) of these "flights" of amazing cars, and rather than bore you with a blow-by-blow dissertation, let's just cut to the highlights:
OK, so the Ferrari SWB California Spyder (the "Ferris Bueller" car...even if the movie one was a fake) is on everybody's drool list. I remember as a wee tad journeying up to Evanston where a highly exclusive (if short-lived) exotic-car and motorcycle dealership had opened. You knew the kind of place it was by the merchandise on display and the way the proprietor strode around in an ascot and jodhpur riding pants, and smoked Dunhill cigarettes through a holder as long as a concert conductor's baton. He always had interesting stuff on the floor, including a delicious little Fiat-Abarth 1000 coupe on an elevated platform and the very first Honda Hawk motorcycle I'd ever seen. A few years later, they were everywhere. Hell, I even owned on in college But the thing I remember most is wandering in one day at about age 15 to find an alloy-bodied Ferrari California Spyder painted the color of arterial bleeding (similar to the car shown above) occupying the center of the floor. I walked around it until I damn near burnished a trail on the tile flooring. Then finally, with immense trepidation, I approached the owner and, my voice cracking just a little, asked what such an other-worldly machine might cost? He sniffed at me just a little, but then, quite casually, allowed as how it was "around fifteen thousand dollars..."
FIFTEEN THOUSAND DOLLARS!!!!
I couldn't believe it! Why, nobody on earth would pay that much for an automobile! Not even a Ferrari!
How times have changed, eh?
But the point is that, although I've been fortunate to drive a lot of Ferraris, never a California spyder. So this was a treat. But the car was just out of the resto process and there were a few little things that still needed to be sorted out. Even so, it was quite an experience! Notice the shit-eating grin below: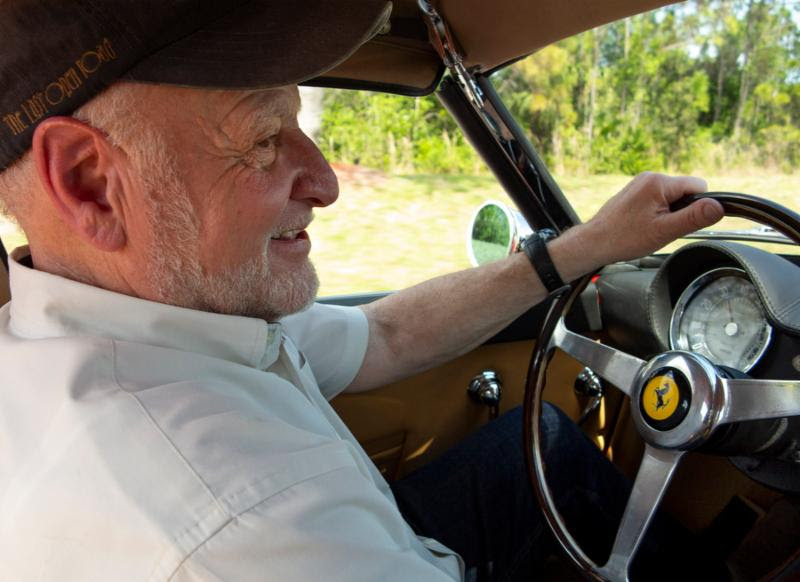 And now we head to the other side of Modena for a ride in Larry's Maserati 3500 GT. Life is good, no?
The 3500GT is a car I've always admired but had never driven, and I've got to say it did not disappoint. The silver example above felt taut and well-broken-in at the same time, and although the steering seemed unnervingly light at first, it got better and better as I became more acclimated. This thing is a real Gran Tourismo,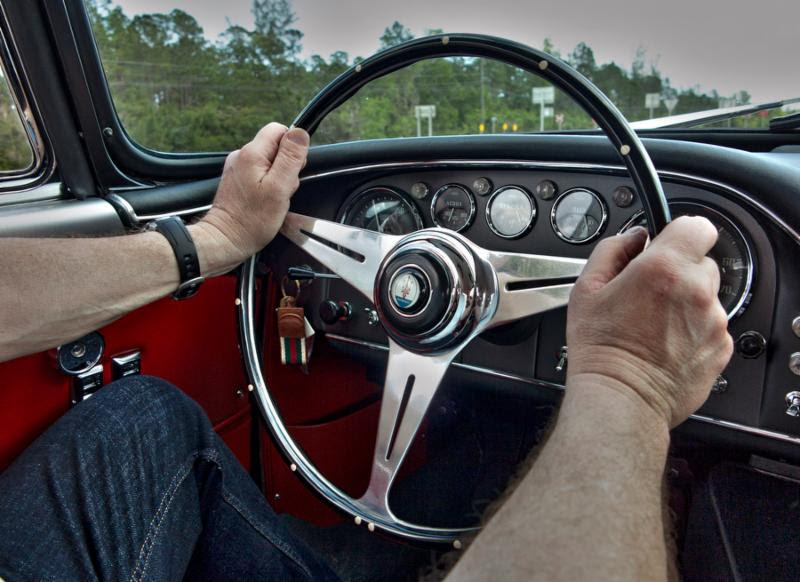 and just perfect for those weekend trips down the cote d'azur with, oh, say, somebody who looks like Ingrid Bergman (or maybe Gina Lollabrigida?) in the passenger seat. What a lovely, composed and elegant car. Although Maserati built many successful racecars, the 3500 was strictly refined, high-speed transport for a gentleman of means, taste and leisure time. Absolutely loved it!
For contrast we had Larry's 1955 Chrysler 300, which boasted a dashboard like a Wurlitzer jukebox and a turning radius that just about required tugboats to get it maneuvered around tight quarters. And yet this was the epitome of Detroit's take on the "Gentleman's Express" theme in the mid-fifties, and you have to remind yourself that Karl Kiekhafer's team of Chrysler 300s dominated American stock car racing (mostly thanks to that powerful Hemi-head V8, great drivers and world-class preparation).
It wouldn't be a Larry Miller Production without Porsches, and here's a car I'd always wanted to sample: a Porsche 356 Carrera mit the ultra-rare, 4-cam Fuhrmann engine in back.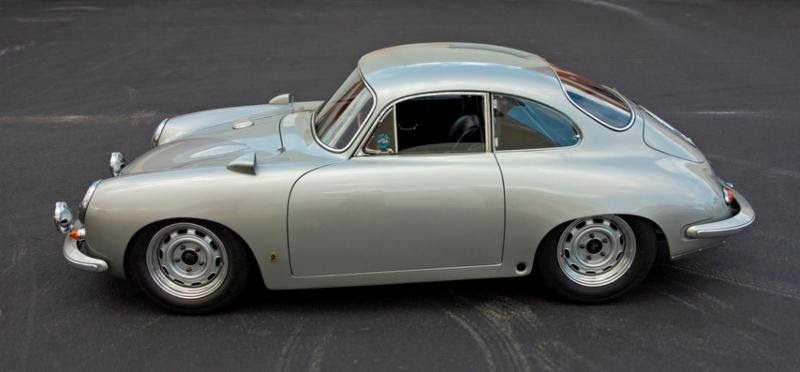 These things absolutely dominated the 1600cc and even under 2-liter racing class, and regularly humbled monsters like solid-axle Corvettes here in the states. Plus they were brilliant over distance. Only this one was experiencing a wee carb problem (I think) and wasn't at its best. Even so, it was a treat. Besides, that's why Larry wants to run his cars: to see what they need and what needs to be done to make them even better.
The 911S "lightweight" below was one of my favorites. It just did everything so well. There's nothing as unique or instantly recognizable as the feel and sound of a good 911. And, typically, it felt like it could keep running strong for as long as you'd care to thrash it.  That's Joe at the wheel, wondering if he's gonna wake up and discover it was all a dream...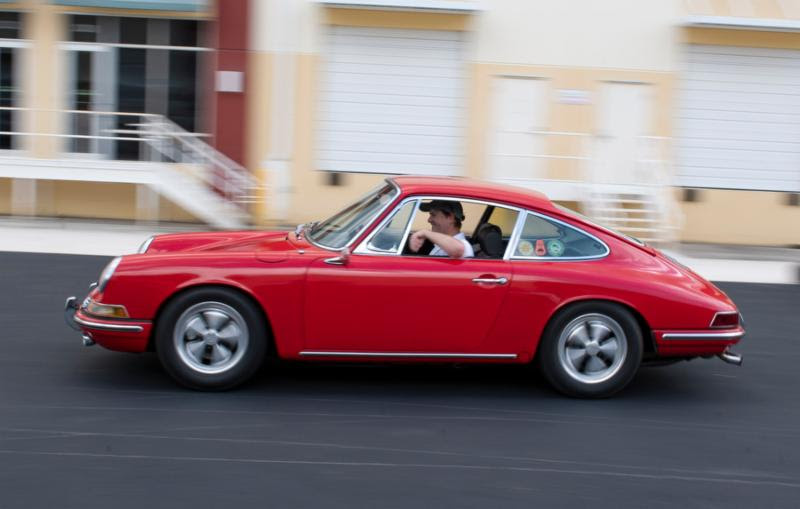 Just to cap it off, Larry let us try a far more recent top-of-the-line 911: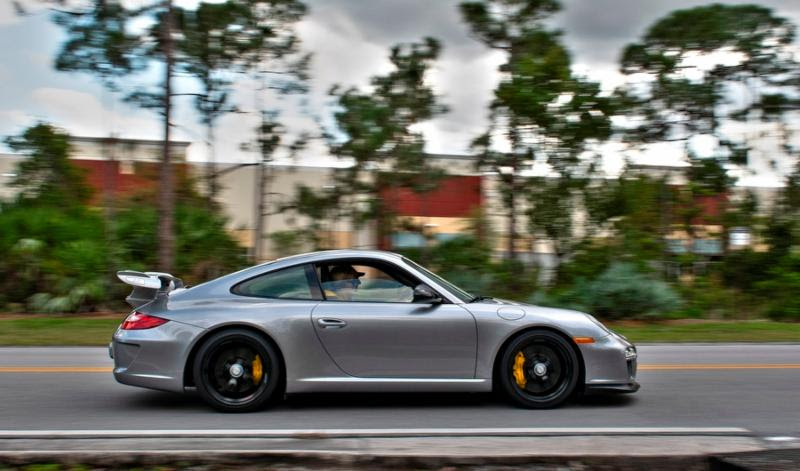 Jesus, was that thing ever FAST! Not to mention solid. And easy to drive. And beautifully sorted out. And did I mention FAST?
I could go on, but Porsche types are already convinced their cars are better than anything else on the planet. And who wants to pour gasoline on that particular fire?
For contrast, here are a couple more marvelous Italian cars: a real Alfa Romeo GTA (loved it...felt like home to me):
and a Ferrari 246 Dino:
When I instructed at the Ferrari National Meet at Grattan many years ago, I got to drive all sorts of Ferraris. But a slightly scruffy 246 Dino (they hadn't yet ascended into the stratosphere price-wise) was my favorite. You could throw it around and hang the tail out and have all sorts of fun that you simply wouldn't dare attempt in a big, heavy car.
Unfortunately, Larry had to call for the trailer for the Dino after a hose clamp or something came undone and all the coolant blew out. Oh, well.
Then it was back to Germany for two very special Gentlemens' Express sedans:
For their "factory hot rod" 6.3 (1968-1972), Mercedes took the hulking, 6.3 liter motor out of its huge and heavy "Grosser Mercedes" 600 limousine (which was often burdened with even more weight thanks to the armor-plating and bulletproof glass ordered by diplomatic corps, despots, dictators, oil shieks and gangsters) and shoved it into a composed and refined (but far smaller and lighter) 300 SEL sedan. It's kind of an M-B take on the American musclecars of the mid-sixties (Pontiac GTO, Olds 4-4-2, Mercury Cyclone, etc.) but done so much better. Albeit for much more money. It's always been my favorite all-time sedan, and it drove exactly like I knew it would!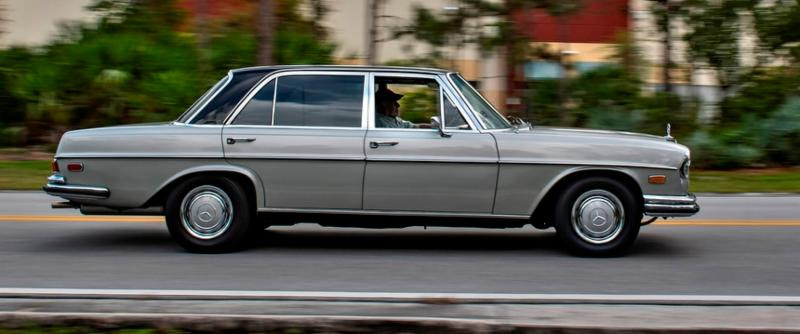 Had a pretty good run chasing the living shit out of Larry on a twisty can't-tell-you-where access road while he was at the wheel of his M-B 280SE coupe (the last of the coachbuilt Mercedes) only this one has a six-speed floor-shift stick added. You get the idea Larry can't resist fiddling with things.

For contrast, we had a similarly warmed-over and "modernized" Jaguar  Mk. II sedan. That's me (below) surrounded by leather and burl walnut as I approach the redline in 2nd gear:
But I've saved the best for last. See, Larry has a very nice 289 Cobra. And although I've driven 289 Cobras before on a ractrack, I've never really had my hands on a good, unmodified street example. Or a good street to drive one on, come to that. And Larry's car feels like it just rolled off some forward-thinking Ford dealership's showrrom floor in 1962. Or maybe '63.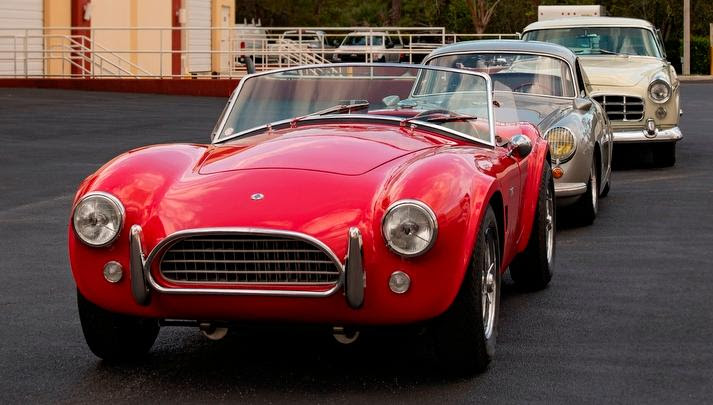 And was it ever a hoot to drive!
You'd get it all squirrelly in back if you tromped on it hard in first or second gear, and the sense of something primal, lean and muscular bursting out of its cage accompanied every upshift.
Hairy?
You bet!
Irresponsible?
Of course!
Fun?
The grin goes earlobe to earlobe...
You can almost see the poor salesman from the Ford dealership cringing in the passenger seat while you balst through the gears, his fingers just about leaving dents in the little chrome grab rail over the glove box.
Guess you'd have to call that a pretty damn good "day at the office," and I'm not quite sure I can find the right words to put a wrapper on it. About the best I can come up with is: "Okay, Larry, when can we do it again?"
And now the promised footnote on Testa Rossas:
*Testa Rossa is the name applied to certain famous Ferrari racing cars (starting with the 1984cc, 4-cylinder 500 Testa Rossa in 1956, and soon followed by the fabulously successful, 12-cylinder 250 Testa Rossa of 1957-1962...which, BTW, is one hell of a long run for ANY racing car!) and refers to the baked-on, crinkle-finish (think of a pair of binoculars) red paint on the cam-box covers. See illustrative pix below:
The name was much later (1984-96) applied to a fast but rather large and lardy Ferrari road model that usually assured its owner right-by-the-front-entrance, center-stage parking in front of even the latest toney, A-list restaurants (and, to be fair, was also well suited to long, mile-devouring high-speed runs on the autostrada, autobahn or interstate). But its immense size and near two-ton curb weight put it at, shall we say, a bit of a disadvantage on a twisty road or racetrack. I remember instructing at a Ferrari Club track day at the tight Gingerman road course in Michigan, and my reaction, after hot laps in a few of them, was that they reminded me of the blessed Starship Enterprise.