Road Atlanta has always meant a lot to me...

I remember going there back in the 70's to watch my friends and heroes race in the SCCA National Championships and dreaming that someday maybe I could afford (and that was the operative word..."afford") to race there myself. With a little help from a LOT of people, I finally did my first and only season of SCCA National racing in 1983, won four out of eight races and qualified for The Runoffs at Road Atlanta. And that was a really big deal back then! And the track proved every bit as thrilling, daunting and magnificent as I'd imagined. That's me up above in the ivory Alfa Spider at Turn Five. Unfortunately, I'd decided to build something a little bit "special" for The Runoffs (instead of going with what got me there in the first place!) and wound up ruining my "special" cylinder head thanks to a "you-can't-blame-anybody-but-yourself-asshole" assembly error. As I result, I spent The Week From Hell staggering around in mid-pack while guys I'd been running with all year long wound up on the podium. Phooey! But there was a lesson in it. And I flat fell in love with Road Atlanta!
Thanks to one of those little twists of fate that wind up changing your life, I was back at Road Atlanta the following spring doing a story for AutoWeek on The Walter Mitty Challenge and the emerging vintage phenomenon. And I fell in love with that, too....
And a year after that, I was back at The Mitty at the wheel of one of my sponsor, friend and benefactor Joe Marchetti's 250 SWB Ferrari Belinettas (quite a switch from a showroom-stock Alfa and the real beginning of my ride-mooching writing career) and I wrote a story about that experience for AutoWeek, too (see below).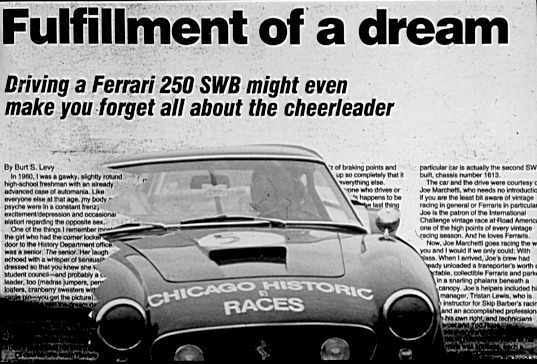 Thanks to a legion of trusting and perhaps gullible people, I've been fortunate enough to drive a lot of fabulous and not-so-fabulous cars at Road Atlanta over the years. And the track has never failed to reveal their true character. The late David Whiteside and I took his tiny, 1460cc/950-lb. 1959 Lotus 17 to a couple outright wins (and, eventually, a pair of season championships) in the HSR's Rolex Vintage Endurance Challenge. That's David on the left leading away from the start at Road Atlanta plus a shot at the bottom of the esses of one of our many epic Rolex battles with our friend Jack Boxstom's mighty Aston Martin DB4!