Yeah, it's been a long time between e-blasts. Three-and-a-half months, in fact. But we been busy, see?And a lot has happened. So we'll do this in a trio of shorter, bump-stop, rapid-fire, serial-offender e-pistles just so's you don't nod off to sleep ("doesn't this guy ever stop rambling on about stuff?") or give up in disgust from the sheer length, pith and weight of it or simply run out of available data space on your hard drive.
Not to mention that this will give me THREE golden opportunities during the current, pre-holiday gift-pitching season to remind you about all the fine (and, okay, not-so-fine) books, logo merchandise and stocking-stuffer geegaws we have available for holiday giving. And getting.
IMPORTANT COMMERCIAL NOTICE!!!
Carol and I will be skedaddling out of town to spend the holidaze with our kids in (hopefully) warm and sunny Southern Californy, and that means, since this is a small, cheaply budgeted, sorely under-staffed, we-do-most-everything-ourselves sort of business, that there will be nobody around to ship last-minute orders for those who procrastinate, prevaricate or fail to plan ahead when it comes to holiday gift-giving.
Or, in other words, people like me...
Enuf said, eh?
Now the above may sound crass commercialism, but this is, after all, a nation with a fine, revered and well-entrenched free-enterprise system (and thank God for it!) and I am of course descended from a well-documented mercantile tribe. Mind you, I love doing this stuff, but there is no cash drawer on a laptop computer, and if you don't find a way to put a few bills or a little loose change in your pocket at the end of the day, you wind up driving for Uber.
Enuf said once again.

And now comes the expected litany of excuses:
As you can see from the graphic above, we've been kinda busy. Long-suffering and endlessly game wife Carol and I have been schlepping all over the freakin' map for the past several months, setting up our book pushcart, schmoozing the heck out of anybody and everybody within earshot (usual opening line: "are you familiar with my books?")and doing our best to inveigle, beg, cajole, hoodwink or browbeat passers-by into buying that first book...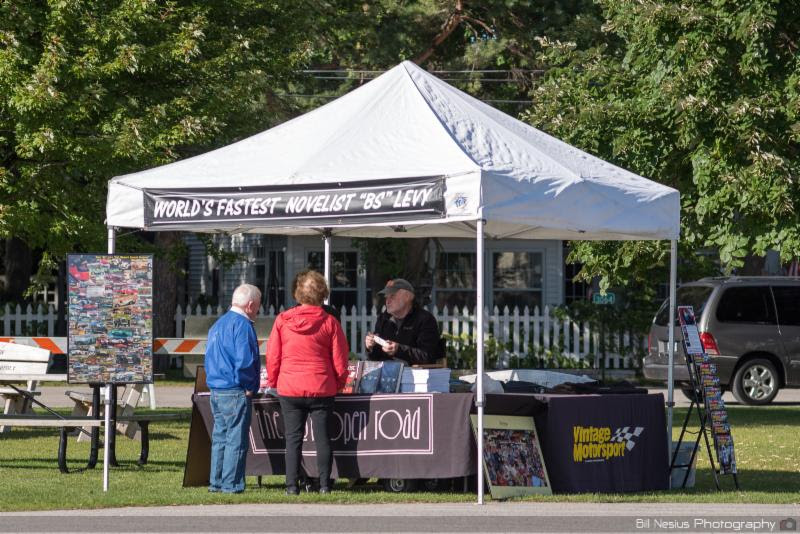 (above): "...And we'll throw in a complete set of Ginsu knives and a Popiel Pocket Fisherman..."
(below): Carol somehow manages a smile while I pontificate (so what's new?) and Buddy lacks only a nice scrap of leftover sirloin for complete contentment...
I like to think we're out there spreading "the garage gospel according to Buddy." Plus trying to make a few bucks. Only then we have to tear it all down again and pack it back into the van while all the fancy cars are being loaded up and their trailers start trundling out of the paddock...

Not sure this is what Carol had in mind the day we got married (Valentines Day, 1974, which was also her birthday, BTW) but you've got to give her max points for gumption, grace, good humor in the face of difficulties and disappointments and Alamo-grade commitment.
So we been kinda preoccupied all summer and fall with travel and book-signings and a bit of racing and instructing whenever the opportunity presents itself plus writing columns, feature stories and race reports for the magazine (
VINTAGE MOTORSPORT
) click for a subscription if you want the best damn vintage racing & motorsports history magazine on the planet) plus working on the new book and the geez-this-is-more-complicated-than-I-ever-imagined audiobook project and (insert dramatic drum roll-and-brass-section-fanfare, please):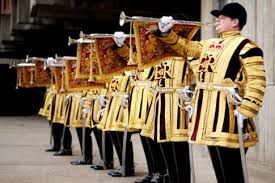 THE BIG MOVE!!!
After thirty-six years in our beloved Oak Park offices, with nicely landscaped, leafy-green, lousy-with-squirrels Austin Gardens park just next door, Frank Lloyd Wright houses (including his own) right up the street and surrounded by great places to eat & get coffee, my publishing & packaging biz partner Karen and I came to a difficult but unavoidable conclusion. Thanks to the marvels, magic and occasional blind-side miseries of cyberspace, we could do 99.9% of everything we needed to do in both businesses from a cell phone, a computer, a lunch counter, an occasional desk, a PO box and a UPS account. Plus our lease was coming up for renewal, they've built all these impressive but also overpowering & intrusive new high-rises nearby (as if traffic on Lake Street wasn't bad enough!) and neither of us was getting any younger...
Bottom line is that, following a very long and dreary final moving day this past 
Monday
, we have officially transferred our flag(s). Thanks to wife Carol's class and taste, I already had a far-nicer-than-you-would-believe writing office at home. To that we have added a nicely appointed (or at least it will be once I get it all my crap squared away), heated-and-insulated storage and shipping department in what used to be the garage. Plus a brand-new shed on the back of it for our bikes and Carol's gardening stuff and whatever else doesn't belong in a shipping department.
It looks like it's gonna work out fine.
Or at least it will once I sort and organize 36 years worth of accumulated files, news clippings, magazines ("Hey, don't throw that out! I had a story in that one..."), voluminous steno pads of research notes, even more voluminous stacks of pictures, slides and graphics, marvelous wall art I have no walls for, notes on never-finished story ideas, press proofs and computer discs for all the book printings since the very beginning (remember when floppies and then Zip discs were all the rage?), old editing manuscripts with my own, barely legible red-ink scribbling all over the margins (including a couple unfinished non-car novels that never saw the light of day...yet) etc. etc. and etc. The plan is to have it all neatly and logically filed away so's I can put my finger on anything I want whenever the mind or mood strikes. Right...
What I should do is put it all on ebay and sell it by the pound.
Anyhow, here's the pertinent new contact into:
Burt "BS" Levy
Think Fast Ink
PO Box 7488
Westchester, IL.
60154
Think Fast Ink phone & e-mail stay the same:
Wish us luck. Especially Carol, who will now have me underfoot as pretty much a full-time proposition. And that means she will have to somehow resist the urge to punch me in the nose, stab me with a carving knife or crush my skull with a fry pan whenever I get too loud, pushy, impatient, insensitive, bullying, bombastic, careless, self-involved (I do that one a lot!), messy (ditto) or thoughtlessly demeaning.
And I'm sure I've left a few out...