Hey, it's me again. And it's only been a couple weeks. Okay, maybe three weeks. Plus a day or two. But I been busy, see, what with moving my office home and getting things more-or-less organized (Jeez, where did all this crap come from???) plus a few days off to scoot down to Florida to cover the HSR's rather amazing 24-hour classic at Daytona (look for my full report in an upsoming issue of (trumpet fanfare, please) 
VINTAGE MOTORSPORT
...click on it and buy yourself a blessed subscription already). It was quite an event, and you would not believe the current pros, past stars, outright ringers and assorted luminaries from the "real" racing world who were there to have some wheel-to-wheel fun with the fudpucker hobbyists and semi-serious amateurs. You'd see famous, familiar faces like Jochen Mass, Patrick Long, Ron Fellows, Joao Barbosa, Andy Wallace, Dieter Quester, Gunnar Jeanette, Eric Van der Poole, Didier Theys and on and on wandering through the paddock in their driving suits, enjoying the schmoozing and sumptuous, delicious eats (!!!) in the big "Driver's Lounge" tent in the fan zone or out on track refining and re-defining the premise, as Dave Wallins once put it, of "Pros vs. Schmoes."
The cars were pretty neat, too, and included a lot of high-tech prototypes and GT cars that were scrapping for a spot in the Winners' Circles not all that many years ago. I must say I personally prefer the aesthetics, history, heritage and tail-out, "slideways" motoring of hoary old, skinny-tire Jag D-Types, Ferrari Testa Rossas, Lotus Elevens, Maserati Birdcages, Listers and Porsche RSKs that were popular when I first got involved in the vintage end of the sport. But time marches on, and those cars are more often horded by collectors or hidden behind velvet ropes these days while later, faster (and, arguably, less noble) generations of racing cars have taken their place. And you can't blame the racers, seeing as how:
1) Motorsports is all about going faster
2) These newer cars are MUCH safer and more user-friendly...even at speeds that flirt with 200mph (and beyond)
3) The Daytona International Speedway didn't open for business until 1958 and the first major-league sports car event didn't take place until February of 1962, so none of the cars mentioned above have real history here.
Oh, well...
There was lots of great (and, OK, not-so-great) racing, many European racers and teams on hand and a couple real surprises. Like while the Red Bull Formula One team was occupied with some sort of race meeting down in Brazil, here was their chief designer/aerodynamicist Adrian Newey, flogging around Daytona's high-speed tri-oval & snaking through its claustrophobic little infield course in an evolution of the very first complete racecar he ever designed: a March 83G IMSA prototype with Chevy power:
I happened to be covering the midwestern rounds of the IMSA series for now-defunct tabloid ON TRACK back in 1984 (how they went broke is still a mystery based on what they paid their writers) and March 83s were very much in evidence with both Detroit V8 and Porsche turbo power. In the end, the Chevrolet/drug money-powered "Blue Thunder" March of the somewhat unsavory Whittington brothers and Randy Lanier wound up winning the championship over honorable, straight-as-an-arrow, born-again Christian Al Holbert & co-driver Derek Bell in the factory-backed, Lowenbrau-liveried Porsche 962. And maybe I wasn't getting paid much, but it was worth it to cover what amounted to a medieval morality play in 200+mph racecars! Good stuff. And the reason I was covering races that summer instead of racing myself was on account of someone dear to me who shall for a change remain nameless since I have already heaped more than enough shame on him borrowed my beloved and previously pretty successful (4 wins out of 8 races the previous season) SSB Alfa Romeo Spider (below) to go through drivers' school. With me as his instructor, no less.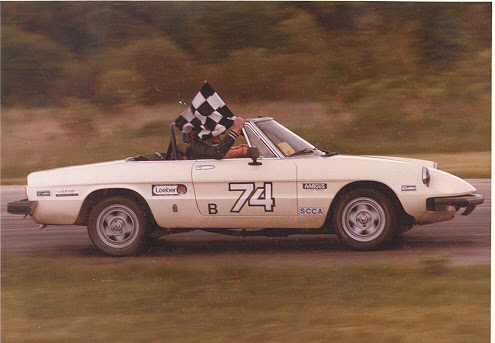 Below is photographic evidence of his exit line through Turn Six at Blackhawk on his first solo lap:
As you can imagine, this set my personal racing program back a bit, as I had naught but moths in my wallet following a "damn the torpedoes (not to mention credit-card balances), full speed ahead" season of SCCA National racing the previous year. So I turned to writing about racing as a way to stay involved while I--how should I put it?--"re-evaluated my options..." But back to Daytona. The aforementioned Adrian Newey was racing the March/Chev (looked after by my great friend, accomplished racer, Savannah Race Engineering proprietor, engine-builder par excellence and occasional Amelia Island "Buddy Palumbo Award" sculptor Ted Wenz) as part of a self-admitted "mid-life crisis." Only he had a RR tire blow on the banking in one of the early practice sessions, and although he was able to gather it up (albeit with every orifice on his body likely choked down to f22), the wall and the flailing tire carcass had done no good at all for the RR suspension, and the March was done for the weekend. But Newey stayed around for a well-attended/not-to-be-missed Q&A session (moderated by mainline racing geek, genial master of ceremonies, diehard racer, longtime friend and Amelia Island Concours founder Bill Warner) alongside stock car legend & soon-to-be NASCAR Hall of Fame inductee Ray Evernham (who really likes my books, by the way). Ray is best known as the Hendrick Motorsports crew chief/tech maven who wrenched, organized, figured and wizarded (is that a real word?) Jeff Gordon to three NASCAR championships. He was on hand at Daytona to co-drive Dave Roberts' Porsche Cayman, but he was not about to miss a chance to share some stage time with Adrian Newey. And it was a real treat to hear two of the top technical and, umm, "rules interpretation" minds from two polar-opposite ends of the sport swap stories and opinions. Also on hand at Daytona was my old, old friend, motorsports addict and impresario extraordinaire and master shooter Jack Webster. When I first started out with THE LAST OPEN ROAD (can it really be 23 years ago?) Jack believed in it, and I wound up signing copies out of his "Classic Impressions" booth at racetracks all over the country. To be honest, we never could have made it without him. And I still remember how he'd find time to sneak away during the weekend to shoot pictures. He's got a hell of an eye. And a hell of a passion for the sport, too. So now, finally, he's put it all together with a brand-new book of his motorsports photography. And it's wonderful. But rather than bore you with a lot of BS about "how marvelous my good friend's book is," let me just show you a couple images and let you judge for yourself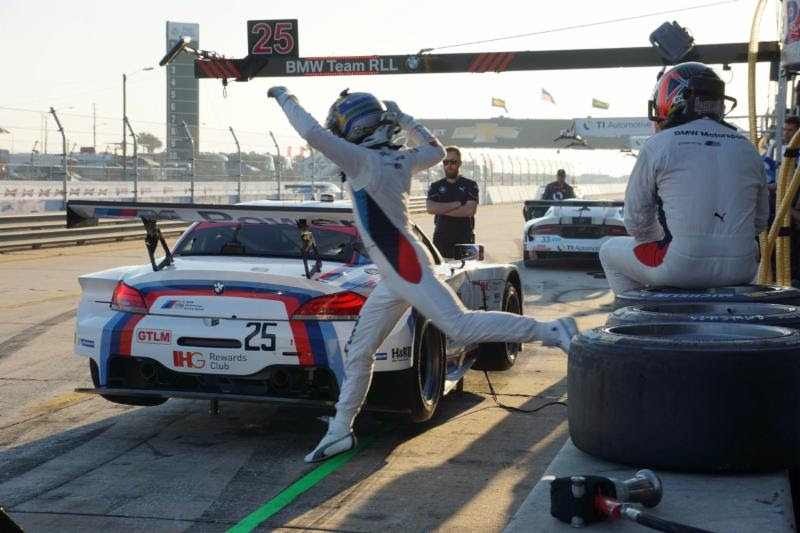 This is like ballet, right? Brazilian pro driver Augusto Farfus leaping off the pit wall to take over the Rayhal/Letterman BMW at Sebring. There's a whole section on manic pit activity and the waiting and worrying that happens in between the frenetic--but often beautifully choreographed--stops. Also some revealing portraits of F1 drivers like Stewart and Cevert from the old F1 days at Watkins Glen, lots of racing history, great action stuff (Jackie Oliver's Shadow trying a through-the-blessed-dirt double-pass around his teammate George Follmer and Brian Redman in the Porsche 917/30 at Mid Ohio and a whole bunch of fabulous "Racing in the Rain" photos like the one below:
There are a few words, too, plus a forward by Sebring and Le Mans winner Dindo Capello. Good stuff. Here's a pic of me & Jack with out respective first books at Daytona: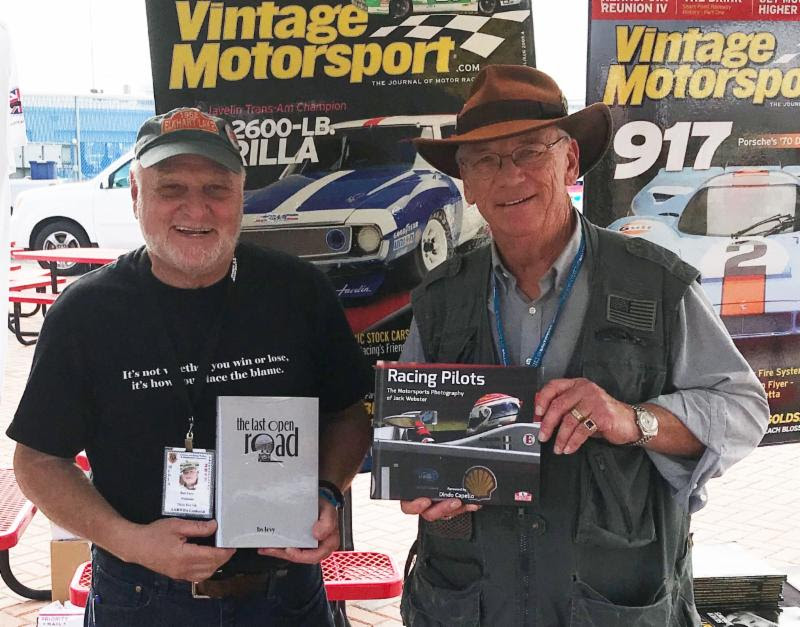 Jack's book contains over 400 images on 328 pages and you can see more of them and order signed or even personalized copies direct from him for holiday giving ($69.95 plus ten bucks shipping) by clicking on the link in yellow below. Heartily recommended! RACING PILOTS BOOK By the way, Jack hails from Dayton, Ohio, and served as team manager for the Dayton-based Fabcar/Porsche effort that came home 2nd in class and 12th overall at the Daytona 24 Hours in 1987. They let me drive it once at Mid-Ohio (for a story, of course) and it was neat to see the car and many of the original cast of characters back for the HSR Classic 24 (note Jack on the far right and original drivers John Higgins in the driving suit and Charlie Monk next to Jack).
They did pretty good, too. Higgins is an old friend (in fact, we're both old these days...see below)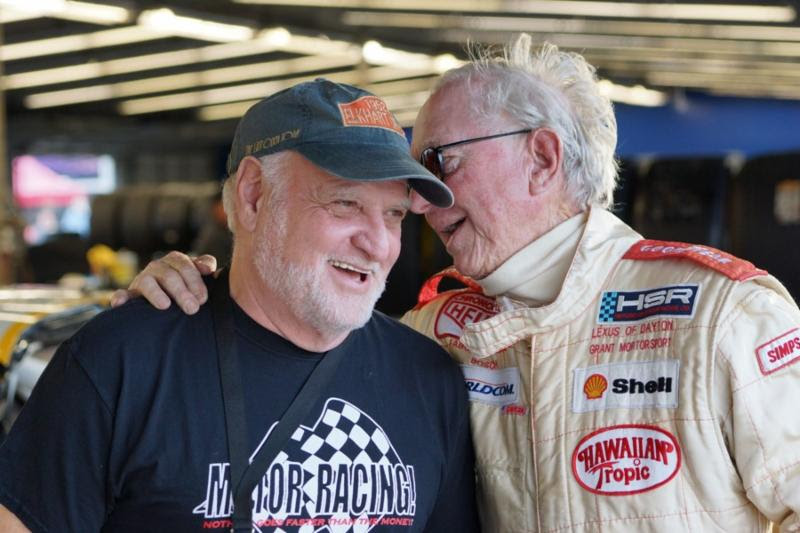 but he's still a lot of fun and can still kind-of drive. Plus his sense of humor, well, just see the pic below of the Fabcar's dashboard:
Speaking of Holiday Gift Giving, we still got lots of great books, art prints, logo clothing and stocking-stuffers available at FINZIO'S STORE on the website at www.lastopenroad.com So click on it and buy something already! And remember that Carol and I will be out of town during the holidaze, so don't let it wait until the last freaking minute to order.