Latest News from writer/racer/ride mooch and
World's Fastest Novelist
Burt "BS" Levy
(or...so where's the new book already?)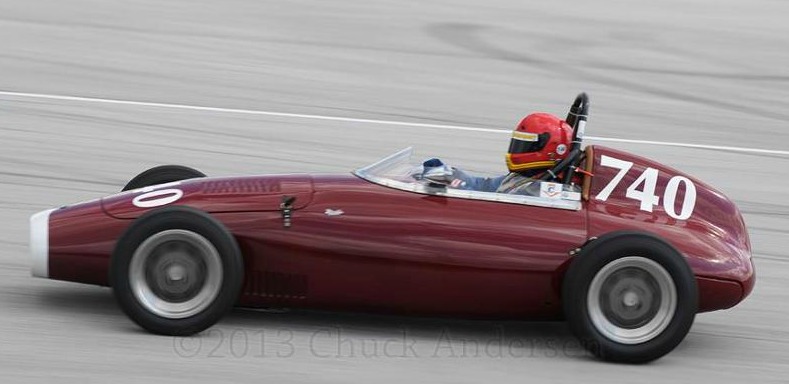 Yeah, I should probably be chained to my computer finishing up the new (and last) book in THE LAST OPEN ROAD series. But when a chance to drive something really neat comes along (not to mention a quick trip to Florida when the snow is still piled up around Chicago) you've gotta look yourself in the eye and say: "I have no character at all...did I remember the suntan lotion?" So that's me in having all sorts of fun at Brian Redman's Targa 66 track event at Palm Beach International Raceway Feb. 22-23. Got to do a session in the Ross Bremer/Karen Perrin FVA-powered Ford Escort (good tin-top fun!) and, thanks to Hayes Harris of www.wirewheel.com, some hot laps in a Lotus 211 track-day toy. Great, fast, nimble little car! The car above is Mitch Eitel's marvelous and evocative little jewel of a 1959 OSCA Formula Junior (built by the Maserati brothers, if you know your history) and an absolutely fabulous thing to drive. And that's me below, something like an hour later, in the thoroughly modern, up-to-the-last-minute Dyson Racing Lola/Caterham track-day berserker. So from less than 100hp, 4 speeds, open wheels, drum brakes and drifting blithely around on tall, skinny Dunlops to 300 supercharged horsepower, fat racing slicks, 1275 lbs. all-up weight with 990 lbs. of wing and underbody downforce, a clutchless, no-lift, 6-speed paddle-shifter, 0-60 in 2.9 seconds (!!!), genuine, track-usable 165mph top speed and brakes that'll suck the eyeballs right out of your skull. Can you say "Time Warp?" How about "WOW!"
Full report in my next column in Vintage Motorsport magazine!



Come Sunday I hawked and signed a few books at the Boca Raton Concours d'Elegance. See, it was a business trip, after all! And, no, that's not me holding the copy of A Potside Companion.
If you haven't read any of my books, they're a hopefully funny and entertaining series of novels about a 19-year-old New Jersey gas-station mechanic who gets sucked into the world of racing during the Eisenhower fifties. Just google "The Last Open Road" to see what people have been saying about them (the first book is in its 8th printing now and is on the recommended reading list at many libraries, high schools and colleges). Or 
click here
to see the Jay Leno interview (done in his garage, which is a VERY cool place to spend a few hours!). Also, the first three books in the series are now available as e-book downloads at a paltry $9.99 each from Amazon Kindle and B&N Nook. Plus the new e-versions of  
MONTEZUMA'S FERRARI
 and 
THE FABULOUS TRASHWAGON
 are revised, edited, improved and even expanded editions. Such a deal!
If you've never read the utterly hilarious 
A POTSIDE COMPANION short-story
anthology, click the link below to read
one of the stories, "The Lift from Hell",
in its entirety. It's been posted complete
on my friend Peter Bourassa's useful and
well-produced MMR website.
He'll be hearing from our lawyers shortly.