It's that time of year again. Icicles cling to the eaves, well-worn looking folks in well-worn looking Santa hats cling-clang-cling their little charity bells in front of every blessed grocery, drug and discount store in America 
("I'll catch you on the way out...really I will") 
while little kids dream of expensive flying drones that terrorists would covet and equally dear virtual reality goggles that will make them thoroughly oblivious to their parents. Meanwhile, countless hapless suburban homeowers with more than enough holiday cheer already coursing through their veins will struggle to untangle last year's strings of holiday lights just so's they can climb a damn ladder on a bitterly cold, bleak December afternoon (and the damn League Championship college football game is on live TV!) to put the damn things up just so they can take them down again on an even colder, bleeker 
Saturday
 or 
Sunday
 in January.
Or maybe March...
Bah, humbug is what I say!
Then again, I'm maybe a little bit bitter. Or maybe it's just bitterly cold? Wife Carol and I just returned from two fine weeks in Californy with our kids, and it's tough going from biking along the so-called LA River (translation: "drainage ditch") Bike Path in shirtsleeves every day to sub-freezing temps and snow on the ground. Hell, even the hapless homeless types in LA (and there are many of the poor souls...do remember them at Christmas) sport year-'round tans.
Remind me again: why, exactly, do I live in Chicago?
TAKING A TIP FROM TYPICAL HOLIDAY TELEVISION PRACTICE,
WE NOW BREAK FOR OUR FIRST COMMERCIAL MESSAGE:
Friends, do you agonize over what to get that Special Someone for Christmas? I mean, why give a fine silk tie to someone who will either never wear it or get gear-oil stains and globs of silicone gasket sealant on it? Or get it caught in a spinning fan belt while looking for the source of that underhood electrical-fire smell whilst heading for the family Christmas party on a cold, snowy evening in that just-finished-restoring-and-want-to-show-it-off MG, Alfa, Triumph, Healey, Jaguar or [fill in favorite missing marque-relic here]?
And why the hell isn't the damn heater working?
But I digress. The point is that you should REALLY get them one of our fine books (suitably autographed and personalized for the occasion & complete with one of our famous decals)!
As almost all of you surely know, 
The Last Open Road 
series is now up to six volumes (with number 7 on the way...I was working on it at 
4:00
 this morning, honest I was!) and has developed quite a fine following of racers, gearheads, people who don't usually read novels and, believe it or not, actual BOOK people who simply like the stories. 
The Last Open Road 
is proudly (and somewhat amazingly) headed into its 10th hardcover printing (!!!), has become a bit of a cult classic on the motorsports and collector-car scenes, is on the recommended reading list at many libraries and has been part of the reading curriculum in several high school and college-level English classes. I kid you not. And, if you like the first one, you can just peel off into Book Two (2000 Benjamin Franklin "Book of the Year" award-winner 
Montezuma's Ferrari) 
and onward from there. You can still get signed, personalized copies of any (or all) of the books in time for Christmas, and we have SPECIAL HOLIDAY DEALS on full sets! And the 
A Potside Companion 
short-story anthology will make you laugh out loud (especially if you're a racer) or you get your money back. 
Just 
CLICK HERE
 to get to the book-ordering page on the website!
Speaking of books, we can also get you a SIGNED & PERSONALIZED copy of my friend and longtime hero Brian Redman's spectacular new autobiography. Rave reviews everywhere, a fabulous read about about a megastar driver's career during a dangerous and even deadly era and, most especially, a rare, honest and disarmingly introspective look inside a driver's head, heart and psyche back when driver fatalities were the norm rather than the rare exception. I HIGHLY recommend this book!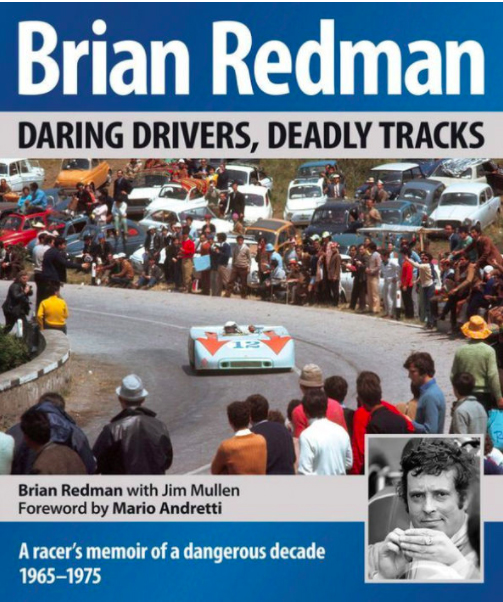 AND NOW, BACK TO OUR REGULARLY SCHEDULED "BS
Must say we had a grand time with our kids in Californy. I cooked a nice Thanksgiving turkey (with all the trimmings, natch) and wife Carol insisted on one of those free-range, college-educated ORGANIC turkeys. People have subsequently asked me what the difference is and, far as I can tell (at least judging from the price) this particular turkey's giblets must've been studded with semiprecious gems.
But it was a wonderful time biking and hiking the scenic Fryman Canyon trail overlooking the San Fernando Valley and visiting son Adam's wonderful trainer at Chain Fitness in Studio City 
(CLICK
HERE FOR THEIR WEBSITE)
, where husband-and-wife team Taylor and Maria Ramsdell (he trains a bunch of mixed martial arts fighters) will kick your ass and make you love it!
Great people, great workout and well-deserved plug.
And I needed all that exercise because the following weekend we celebrated my 71st birthday (how the hell did THAT happen?) and, like many of my generation, I'm fighting advancing age the same way the British, French and Germans fought trench warfare yard-by-grudging-yard during World War One.
All you folks from my high school graduating class (GO NEW TRIER!) know exactly what I'm talking about...
Our trip was almost (but not quite entirely) devoid of car-guy stuff. I did get out to Jay Leno's marvelous garage for a quick, entertaining test-drive in Jay's Stage II Yenko Stinger (under the thoroughly transparent excuse of "doing field research" for a Stinger story I'm working on for VINTAGE MOTORSPORT magazine). Many thanks to Jay for providing the wheels and riding shotgun while I fished for gears and winced at the noises the limited-slip diff made (imagine a large crow caught in a bench vise) while I attempted tight-radius turns during full-lock parking maneuvers.
Really neat car, BTW, and makes you wonder where GMs unique, advanced and quite European Corvair concept might have gone if GM hadn't folded up its tent following Ralph Nader's Chicken Little act and given up on it.
Full story coming up in the magazine, of course.
For my birthday, the four of us had an excellent brunch at a trendy little restaurant (The Tasting Kitchen) on an oh-so-trendy street in Venice in company with our friends John Morton (yes, that one) and Sylvia Wilkinson (ditto), after which the wife and kids took me to the much-revamped Petersen Museum to look at all the wonderful cars on display. They've really turned it into a showplace and now there are lucid themes, fine settings and room around the cars to peer, peruse and marvel. I recommend it highly.
OK, HERE'S ONE LAST COMMERCIAL BREAK:
If you're looking for something a little different for Christmas giving, may I recommend one of our most excellent FINZIO'S SINCLAIR track jackets?
Yeah, they're a hunnert bucks ($15 more if you want your name--or anybody else's name--on the front instead of The Last Open Road logo) but they look really cool and are the perfect weight. We also have our ultra-cozy Embarcadero logo pullovers for half that much if three digits seems a little steep for your holiday budget.
GOTTA RUN NOW...MORE TO COME THIS WEEKEND!