Yeah, Florida is a treat in the middle of a Chicago winter, and even moreso when two of my very favorite events are crammed into a ten-day, two-weekend stretch with a nifty little cross-state side jaunt to the Revs Institute in Naples stitched in between. It all started a week beforehand when we drove up to my longtime car buddy and occasional Ride Mooch enabler Lou Natenshon's house to load some book cases into the trailer he and a bunch of other old car-guy farts were towing down to Amelia Island so's he could sell his Cunningham of Unusual Lineage for a large wad of cash at the Bonham's auction the Thursday before the justly famous Amelia Island Concours. Which he did, by the way. So all you life-insurance salesmen and "unbelievable-return-on-investment" hucksters should call him right away before he buys another stupid car. And, no, this time I'm definitely NOT going to mention how his "junk-formula," Ford-powered 1932 Indianapolis racer tried to kill me and my just-engaged bike-class instructor Corrine when the damn pitman arm broke and left the steering wheel connected to not much more than the effing dashboard (the sucking sound you may hear is the seat upholstery being deeply inhaled into my undershorts....)
But, like I said, I'm not going tell that story again...
Back to Florida. I flew into Orlando, picked up an Avis minivan and drove over to the CRUISE AMERICA shop in nearby Kissimmee to pick up the books that Cruise America kingpins/fellow-racers Bob and Randy Smalley had kindly hauled for me following Brian Redman's excellent Targa 66 deal in West Palm Beach (see last e-blast...or maybe it was the one before). See free and well-deserved plug below.

Speaking of Brian Redman, his new book is out, "Daring Drivers/Deadly Tracks," done in collaboration with IMSA racer-cum-writer Jim Mullen, and it's a chilling but thoroughly entertaining and engaging firsthand journey through some of the most thrilling cars, iconic teams, incredible characters and most dangerous venues this sport has ever seen:
I recommend it highly and you can order it direct from Brian at:
He might even autograph and personalize it for you if you ask real nice....
But back to my Florida trip. By this point I've got my books loaded up and am driving up to the not-quite palatial "suite of rooms" old cheapskate Lou has rented for six of us in a "something-less-than-five-star" motel in Fernandina Beach. But at least it's fairly clean (at least if you don't count the filter element on the air conditioning unit, which looks like a sisal doormat woven out of those big, furry caterpillars you used to have nightmares about when you were a kid). There was a very lively (not to mention noisy) on-site, semi-open-air bar-cum-restaurant right outside our doorway featuring all sorts of deep-fried ocean critters of endo-skeletal, exo-skeletal and no damn skeletal at all varieties. Not to mention live music and dancing and whatever well into the night. Just what you need when the combined ages of the gentlemen occupying said suite handily exceed the total time passage since the freaking pilgrims landed at Plymouth Rock.
And that brings us to the real downside of our Fernandina digs, in that there was but a single, small bathroom and, with five old geezers plus a geezer-in-training sharing the space, the line at the bathroom door could get both long and occasionally frantic. Even at 3 in the morning.
Or maybe that should read "especially at 3 in the morning?"
But the company was good and we had a grand time, and I made a typical fool of myself dancing with a portly but highly motivated middle-aged lass (with the full approval of her quite-obviously exhausted husband) and the following night there was karaoke singing that made all of us wish we'd brought a nice set of racetrack ear plugs.
We also had a mystery visitor later on that night (I am not making any of this up) when a thoroughly over-served young lady wandered through our open front door and explained out of nowhere that her husband/boyfriend/old man or whatever had already gone to bed (read: "passed out") but she was still up for some sociable conversation. And then it turns out (again, I am not making this up) that she and her husband/boyfriend/old man/whatever have been to Elkhart Lake and Road America and are moreover familiar with and love THE LAST OPEN ROAD and so she wobbles over and gives me a big, sloppy-drunk hug. 
So now I guess I'm officially a celebridude!
And if I can just start attracting a little higher class of fan in a LOThigher-class sort of place, well, then I'll really be on to something, won't I?
Maybe I won't even have to lug 
my own
 damn
 book ca
ses anymore?
Speaking of which, I got all set up in the "pre-function" hallway of the Ritz-Carlton for Friday and Saturday along with several other authors (my friends Tom Cotter and Michael Furman with their latest books, the aforementioned Brian Redman with his new autobiography, etc., etc.) and schmoozed the heck out of every fresh ear I could find for two solid days (see below, where I'm actually giving a freebie copy of the first book to GM VP of Global Design Ed Welburn...sure hope he likes it!)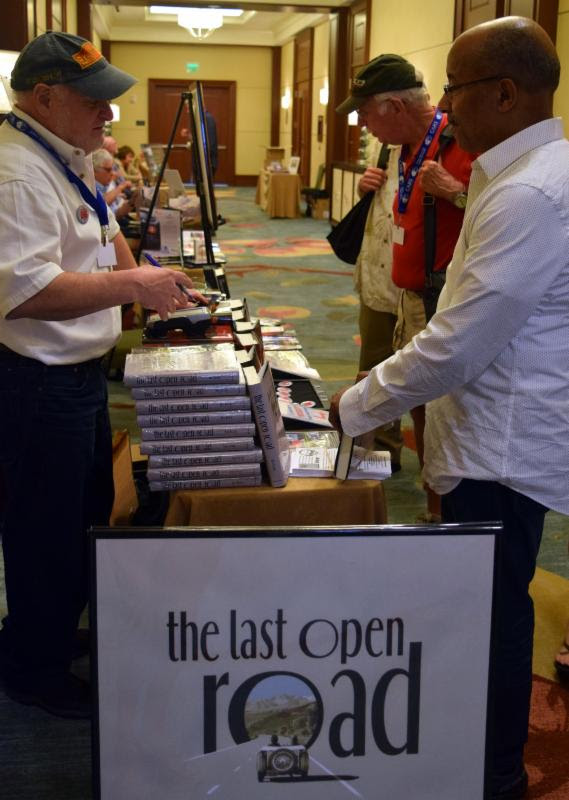 Must say I sold a lot of books, but the downside was I didn't get to see much of the rest of the goings-on. Which included the R&M auction, where a few much-ballyhooed Jerry Sinefeld Collection Porsche racecars went across the block for appropriately large sums of money (although I believe he took a slight bath on the 917K/30 Can-Am juggernaut that was the presumptive star of the show). An utterly exquisite AC Bristol (but still just an AC Bristol, mind you) changed hands for a cool half-mil (as did a fairly special but by no means unique to my eyes Porsche 930 Turbo) and the star of the weekend was certainly the lovely and properly bright red 1961 Ferrari 250GT SWB California Spider convert (see Ferris Bueller's Day Off, only I think the one in the movie was a Chevy-engined fake) getting hammered sold at the Gooding & Co. auction for an eye-rolling/jaw-dropping 17 mil and change.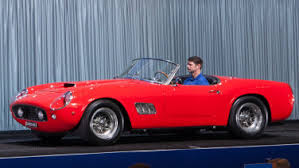 No, I don't get it either.
But it was an awfully nice car.
Sat. night it was out for dinner with serial Ride-Mooch Enabler Gordon King, wife Sue and a bunch of mostly Porsche types (Alfa forgive me!), but we had a great time anyway at one of Fernandina Beach's many wonderful little bistros.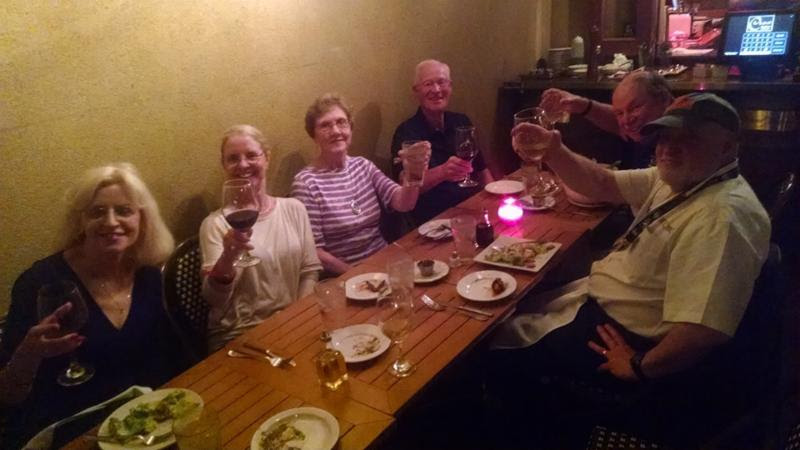 BTW, I believe Gordon is on the hook again as ace driver and prep-artist Andy Greene and I are entered in Gordon's lovely Royale RP4 for the HSR's annual motorized Mazola party at The Walter Mitty Challenge at Road Atlanta April 22-24 (I'll also be hawking books up on the hill on the vendor row...do stop by and buy a few dozen for the friends you may someday have!). Really looking forward to it as I flat LOVE that Royale (me in it below):
Am also supposed to be getting a test drive (for journalistic research purposes only, of course) in the 1974 Can-Am Championship-winning Shadow DN4.
What with something like 800 fuel-injected, big-block horsepower and just 1600 lbs. to haul around, it figures to be a real e-ticket rude.
Yeah, I'm excited.
And maybe just a little bit terrified....
But back to our Florida story:
Come Sunday I re-established my literary beachhead in the Authors' Tent on the furthermost corner of the Amelia Island Concours show field (we were just about in a different area code from the awards tent) but it was very convenient for hastily loading up with a nasty storm threatening later on in the day. Sold & signed a few more books, but also made time to wander around and gawk, which was, as always at Amelia, truly spectacular.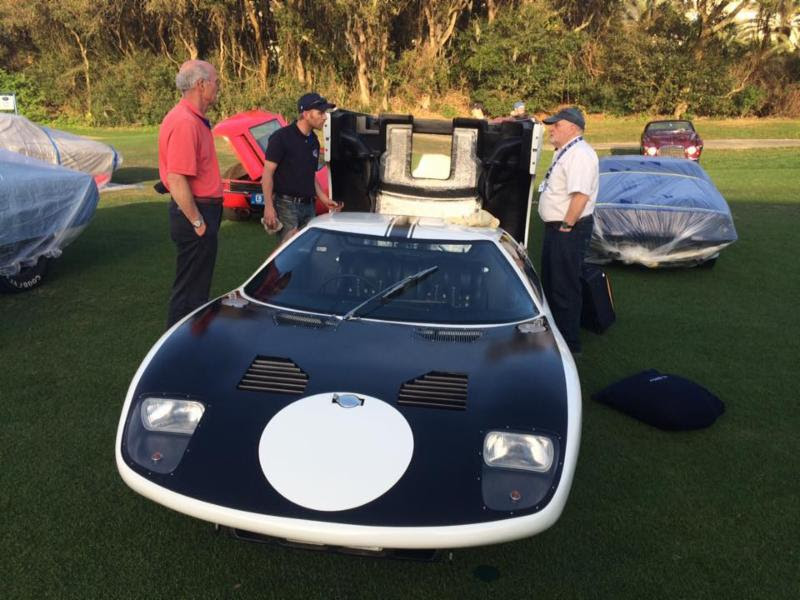 Above: Exceptional re-creation of one of the original, somewhat flight-prone Ford GT40s of 1964. I'll be writing all about it (sort of) in the next and final
200mph Steamroller book.
Below: Grand Marshal Hans Stuck with some of the cars he raced and won with over the years.
 If you like the unusual as well as the beautiful and the gizmo- and gadget-ized as well as the glamorous and gorgeous (and especially if you have a dose of the old motorsports disease), Amelia Island isTHE lawn show.
If you haven't been, I don't suggest that you go...I INSIST on it!
Your head, heart and eyeballs will thank you.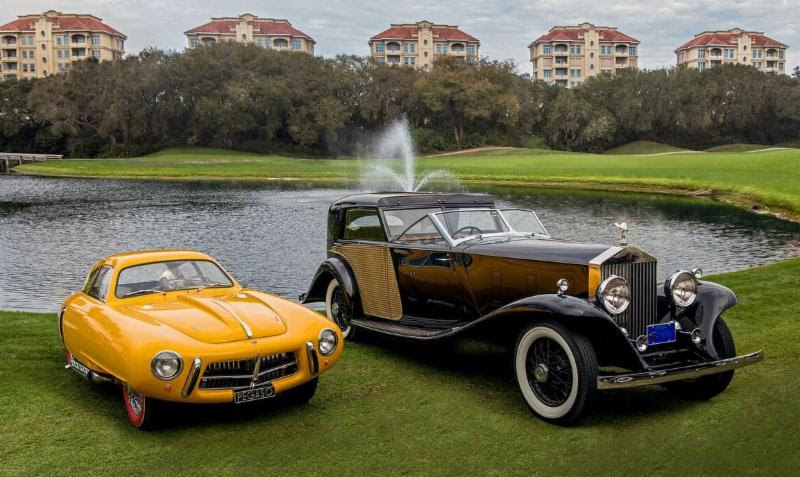 Best in show winners this year (above) were the Nethercutt family's oozing- noblesse-oblige 1930 Rolls Royce Phantom II (Concours d'Elegance) and, believe it or not, the selfsame, one-off and totally over-the-top 1952 Pegaso Z-102 (Concours de Sport) featured in our motorhead trivia question a few e-blasts back and likewise included in thesection on the 1953 New York International Motor Sports Show at the Grand Central Palace in MONTEZUMA'S FERRARI (pgs. 301-310). Where, you may recall, it was displayed on an elevated turntable on the Pegaso stand and sold right off that stand--just as you see it here--to infamous "retired" Dominican Republic dictator and still military strongman Rafael Leonides Trujillo. For (ahem) TWENTY-NINE THOUSAND FIVE HUNDRED DOLLARS! Which was more than DOUBLE what a top-of-the-line Ferrari or Maserati cost at the time!
Wow...
Even so, it looks like a blessed chipmunk with its cheeks full of nuts.
But do note the oh-so-subtle-and-understated mandarin red "whitewalls"!
Highlight of the day for me was handing out our 10th annual Buddy Palumbo award (which, if you haven't been paying attention, goes to someone who both worked on the restoration with their own two hands and moreover DRIVES the bloody car once it's done) and this year's worthy recipient was the rare and beautiful, Chevy-powered 1966 Bizzarrini 5300 S.I. prototype (they only built three of the ragtops) rebuilt and brought to Amelia by Mark and Allison Sassak of Plymouth, MI.
Pretty, ain't it?
And I love the story behind the car, since part of it is covered in some detail in my Steamroller books. Very briefly, Giotto Bizzarrini was one hell of a designer, engineer and hands-on builder who worked at Ferrari during its glory days (he's credited with a lot of the design & development work on the iconic 250 Short Wheelbase Berlinetta competition cars and the even more iconic and legendary Ferrari GTO). But he left the armpit of Enzo's wing with the rest of the unhappy insurgents in the Oct/Nov 1962 "Defection of the Brains," and wound up designing the first V12 engine for disgruntled/pissed-off/"I'll-show-you!" Ferrari customer and Italian industrial magnate Ferruccio Lamborghini. After which he developed the exotic, Chevy-powered/Italian heart Iso Rivolta and Grifo sedan and GT models for Renzo Rivolta, and then went off on his own to build his own, highly similar Bizzarrinis. Like most small and underfunded but insanely passionate Italian supercar builders, it ended with a whimper rather than a bang, but the cars are wonderful to behold.
Just look at the graceful, elegant detailing: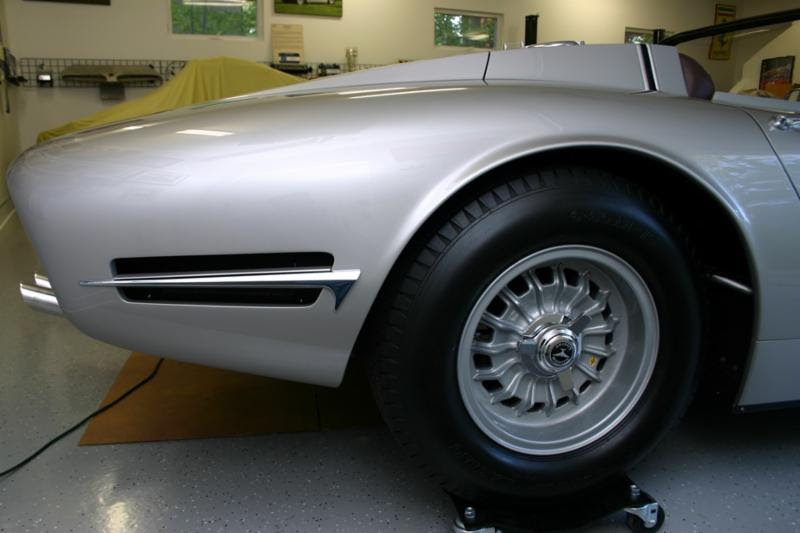 They went like stink, too. And you can get all your engine parts at the local NAPA store...
It's exactly the sort of machine, story and personal effort I had in mind when we came up with the Buddy Palumbo Award ten years ago. Here's hoping 
we can
 keep it up.
Next day (Monday) I visited my great racer friend Ross Bremer's amazing prosthetic devices business in Jacksonville (the guy has several patents and has actually found a way to both make money and do some good in this world) and even more amazing race shop and hobby garage. Ross, wife Karen Perrin and ace wrench and fabricator Roper field a team called "A Little O.F.F. Racing"  ("O.F.F." in this sense meaning "Old Fast Fords", although other interpretations are both possible and plausible), and they campaign a variety of period-correct, beautifully prepared and generally over-stimulated English Ford sedans from underpowered but nonetheless rollover-prone Anglias (see left below...Ross at the wheel and right side up for a change) to the potent ex-Paul Newman, ex-John Buffum BDA-powered Escort on the right. 
Fascinating tour, lots of fun and lots of stories, capped off with an excellent local barbecue lunch that didn't even have me reaching for my roll of Tums afterwards.
Then I took a little 6 hour drive down the central spine of the state (seeing a little of the countryside and neatly avoiding the perpetual traffic mess that is Orlando in the process) and arrived at my motorhead/authoress friend Susann Miller's "downstairs" condo in Naples a little after dark. Susann has written several car-person books (mostly about Porsches) and she was staying in the "upstairs" condo with guest and friend Judy Stropus. You may recognize her name, as she was the go-to timing and scoring expert for many teams (including Roger Penske's), does a lot of PR and Press Release work for several car- and racing-related businesses and handles a lot of stuff for the International Motor Racing Research Center in Watkins Glen. It was a real treat getting to know both of them better, and Susann was kind enough to borrow a bicycle for me and I spent most of one day pedaling around Naples gawking at the gracious and amazing homes around Pelican Bay, the phalanx of upscale condo high-rises along the water, the fancy, high-end shops and restaurants, etc. Now I know where old, white money goes to wither away and die.
Didn't see many "Bernie" signs on any of the lawns, though...
But the real centerpiece of the Naples leg was an evening at the Revs Institute (nee "Collier Collection") which is now open to the public again and is one of the most incredible motoring museums you will ever find anywhere. I got a personal tour with good friend and Revs Institute VP Scott George, who oversees the restoration and race prep on all the cars along with a truly bewildering assortment of additional responsibilities. But he's a mainline gearhead at heart and knows hell's own amount about all the cars on display and their history. There's really more than you can possibly absorb in a single visit, but my favorites included:
The one-and-only, brutally menacing and Chrysler Hemi-powered  Cunningham C4RK coupe that I wrote about in The Last Open Road.