This is a tough one. Four days after my joyful Alfa romp at Road America in a car that struggled to top the magic "ton," I was in the paddock at Road Atlanta, nervously cleaning my helmet visor as I got ready to slide into the cockpit of the fastest damn racing car I have ever driven. 9oo+hp. 1650 lbs. Well over 200mph top speed.
Gulp.
The car in question is the championship-winning, ex-Jackie Oliver Shadow DN4 that utterly dominated the 1974 Can-Am season. See pic of the car and the team below: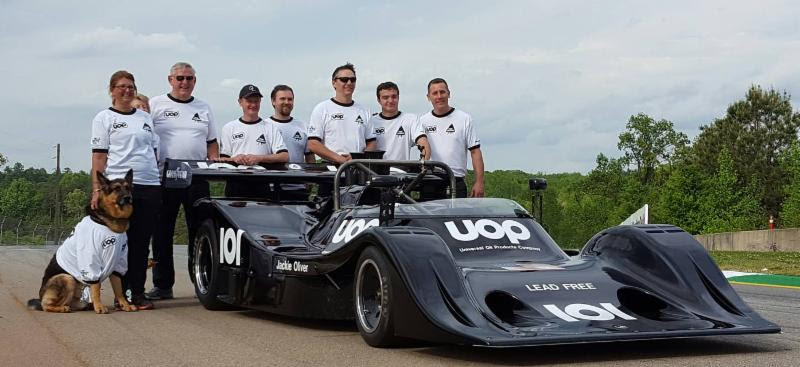 For those of you without a basic motorsports background, the Can-Am was a totally unlimited, run what'cha brung, all-American monster-car series where the only rule was that there were no rules. McLaren ruled the series for years followed by Porsche's 1000+ horsepower 917/30K Panzerwagen fielded by Roger Penske Racing. But the lack of competition at the front failed to keep the spectators away, because the cars were just so freaking AWESOME!
For 1974 (the last year of the series), a "fuel mileage" rule was added (if you can call 3 miles-per-gallon a "fuel mileage" rule!) in an effort to blunt the Porsche's dominance, and the car you see here (along with its sister car, driven by George Follmer) absolutely steamrollered the opposition.
As you can see, it's low and wide and wicked-looking, with tires a foot-and-a-half wide, lots of swoopy aero, not much weight to push around and a 494 cubic-inch fuel-injected V8 producing something like 900 horsepower to do the pushing.
Gulp again.
The whole deal came about because of a fascinating gentleman named Jim Bartel, who has had a pretty incredible career as both an engineer and an entrepreneur (his current company supplies something like 90% of the "kneel-down" buses used to transport people in wheelchairs). Jim's son-in-law Craig Bennett is one hell of a racing driver with a ton of experience in hairy, Big Power racing cars, and Craig and his dad, Bud Bennett, run RM Motorsports, a highly expert and respected restoration/race-prep shop out of Wixom, Michigan, that specializes in big V8 sports/racers and Formula 5000 cars.
All three of them were much intrigued by the Shadow cars and their convoluted and occasionally dark and mysterious life story (full 2-part report by Pete Lyons & Yrs. Trly. coming up in Vintage Motorsport) and Jim managed to locate and aquire both the prototype DN4 and the actual championship-winning car driven to the '74 title by Jackie Oliver. Which, BTW, was in a kazillion pieces and in need of a complete restoration.
But that was just the beginning. Jim and his crew/family decided they would not only restore the Oliver car, but take both cars on a Shadow Summer Tribute Tour of four races--The Mitty at Road Atlanta, HSR at Mt. Tremblant in Canada, The Hawk at Road America and the Monterey Historics--with Craig in one car and friend/experienced Can-Am driver/Sasco Sports owner/tire supplier Dave Handy in the other car. Everybody even remotely involved in the sport was excited about it. I mean, Shadow was a freaking AMERICAN team that ran at the front in both Can-Am and Formula One. Including race wins in both and an outright Can-Am championship!
As part of all the heralding and hoopla, Jim Bartel kindly agreed to give me a session in the freshly restored championship car during the
Thursday
 test day at Road Atlanta, so I could at least 
try
 to explain the experience and sensations to 
VM 
readers.
And now the time had come.
To be perfectly honest, I was more than a little nervous about it.
Oh, sure, I'd driven some pretty fast cars before. But nothing quite like this.
Plus they were still buttoning the back end of the car together--still up on jackstands--even as they were strapping me into the cockpit.
"You're on old tires," Craig advised, "and they'll patter and chatter some because of the rubber build-up."
"What should I use for a redline?"
"It'll take 8,000 easy, but you won't need that much."
I was pretty certain of that.
The car dropped down off the jackstands and two crew members wrestled the nose section into place. Craig nodded and I fired it up. The sound and shake and sheer presence of that monster engine were, if not frightening, then the next thing to it.
I clunked the brutal Hewland LG into gear--the shifter feels like it came out of a blessed earth-mover--and made my way haltingly to pit lane. At which point there was nothing left to do but flip my visor down and roll out onto the circuit in the fastest damn racing car I have ever driven... 
WOW!
You'll read the full story in the magazine, but the bottom line is that, while the rest of the car worked the way you'd hope an on-old-tires/not-yet-fully-sorted racing car would work, the power and speed of a Can-Am champion were simply beyond my comfort zone. Oh, I've driven some pretty fast cars that accelerate hard, but nothing really prepares you for the way a Can-Am car just keeps accelerating. Keeps pushing your helmet visor back into your nose even on the far side of 150!
To put it simply, that car intimidated the living hell out of me. It was ahead of me and I knew it, and I likewise knew that only seat time and familiarity could make things slow down enough to seem reasonable and controllable.
And I was shifting at just 6500rpm!
There was a lot more shake than swagger in me when I climbed out afterwards.
The guys who drove--and drive!--these things in anger have some mighty big...what does David Hobbs call them? Ah, yes...attachments.
I thought it over in bed that night, trying to wrap my brain around the whole experience. Could I learn to handle a car that fast? I supposed that I could, given enough seat time and familiarity. And I suppose I'd do it in a heartbeat if I was ever offered the chance.
But did I really want to?
If I'm brutally honest about it: No, not really...
I just don't need that much excitement.
And all of that came into agonizingly sharp focus during the third Can-Am qualifying session 
on Saturday
 morning. The Shadows were up at the top of the time sheets where they belonged--Dave Handy in the fully sorted prototype DN4 just ahead of Craig in the still-under-development championship winner--when Craig had a serious and in some ways inexplicable accident. He was "shadowing" Dave as they came out of the tight left-right chicane at the end of the backstraight and charged uphill towards Road Atlanta's famous crossover bridge. It's not really a "turn" anymore--not like it was in the old days--but you want to go under that bridge over towards the righthand side of the road so that the track "comes back to meet you" on the opposite side approaching the entry to Road Atlanta's daunting Turn 12. For sure you NEVER want to be over to driver's left of the centerline unless you're attempting an iffy outside pass or planning to enter pit lane. But that's where Craig and the Shadow were. At speed. We may never know what took him over there. Driver error is simply out of the question for a guy of Craig's skill level and experience. Steering failure? Stuck throttle? Air packing up under the nose causing it to lift and lose traction over the crest? Turbulence from the other Shadow making the front end wash out?
Whatever it was, Craig's Shadow went straight off on the grass strip that separates the racing surface from pit lane (and once you're on grass at that speed--especially after a morning rain--the brake pedal and steering wheel don't have much effect). The black car plummeted downhill at high speed and went straight off into the barriers. Head-on.
It was one hell of a hit.
The safety crews scrambled immediately as they're supposed to and began expertly cutting Craig out of the crushed chassis, and although he was in bad shape and terrible pain, he told his wife and crew people, even as they were extracting him from the car, that no matter what, Dave should run the other Shadow in that afternoon's Can-Am feature. Which he won, by the way.
That's the way real racers are...
They can't help it.
The track was shut down for the better part of an hour while they extracted Craig from the wreckage and Medivac helicoptered him to the hospital, and the report was simultaneously grim and encouraging. The worst of it was a crushed L5 vertebrae, but there was no apparent nerve damage, so prospects for a full recovery, while guarded, were good. But that still left two broken legs, two broken ankles, two broken wrists, a badly fractured shoulder etc. etc.
Craig has been in the hospital under various levels of sedation for a week while undergoing an extensive schedule of surgeries to repair his various injuries. He was in excellent shape and hopes for his full recovery are still high, but it will be a long, difficult road for both Craig and his family.
Updates on Craig's condition can be found on the UOP Shadow Tribute Facebook page, and anyone wishing to send a card or other form of encouragement can write to Craig and his family care of RM Motorsports, 28294 Beck Rd., Wixom, MI. 48393
There isn't much else to say, is there?
So let's just take a break for awhile, OK?