OK, so the sky isn't really falling (although, if you've been listening to the overheated & downright apocalyptic political rhetoric flying out over the airwaves lately, you might well think it is!) but I did want to get your attention for a couple unusually brief reminders:
1) We're gettin' to the business of casting actor voices, hammering out contract language & provisions (a bunch of useless bullshit as far as I can see for a little niche pushcart operation like ours, but I've been advised by far smarter people than myself that y'gotta do all that legal stuff in front so you don't hafta worry about it later) and setting up our budget for the Last Open Road audiobook, and that calls for another round of unseemly groveling on my part to fill up sponsorship commitments for the remaining chapters. Click herefor more info:
www.lastopenroad.com/audiosponsor.html
Or refer to the flyer below: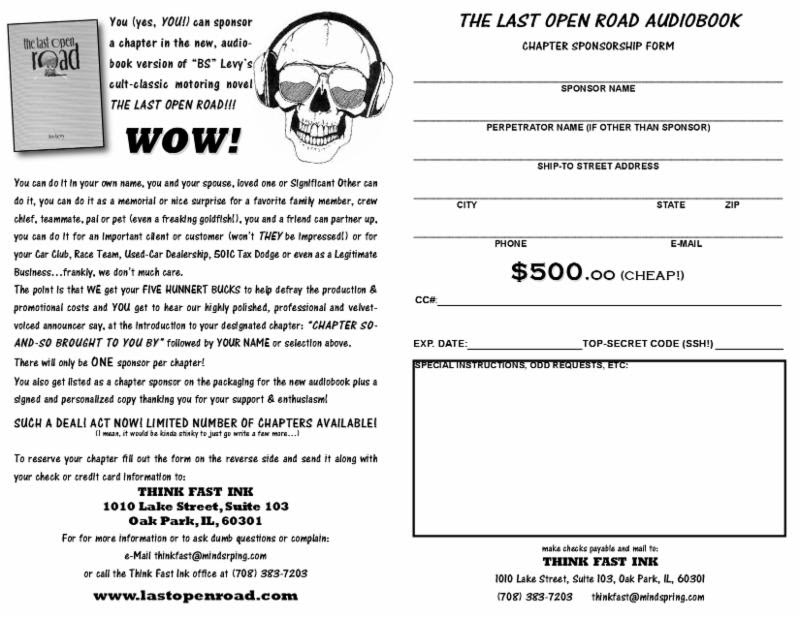 Speaking of putting YOUR money in MY pockets (or, more correctly, OUR pockets since wife Carol is certainly entitled to a piece of the action in return for 42 years of putting up with me) and so let this serve as a reminder that we will be placing an order for surely the coolest piece of action outerwear since:
Pop Quiz: what movie is this (easy) and what did it say on the back of Marlon's jacket (a little more hardcore film-geeky). But the point is that our order is going in shortly for our fabulous Finzio's Sinclair jackets shown in the last e-blast (see below) and the response has been better than expected by about half. They're $100 each (including shipping unless you live outside the U.S. of A. (contact us if you do and we'll figger something out) and the ONLY way you can get one is via pre-order, as I'm not about to be carrying a bunch of hunnert-buck jackets in inventory in all the wrong sizes (would you?). So email us atthinkfast@mindspring.com or call the office at (708) 383-7203 and get your order in. The clock is ticking. The end is near. And, like I said at the very beginning: "THE SKY IS FALLING!!! THE SKY IS FALLING!!!"
UPCOMING SIGNING & SCHMOOZING
SCHEDULE in FLORIDA!!! 
THIS IS JUST A REMINDER (in case you weren't paying attention last time) but I also thought you might like to see the official, 20x24 "On-Site Mockup" of the 10th annual Buddy Palumbo Award we'll be presenting at this year's Amelia Island Concours: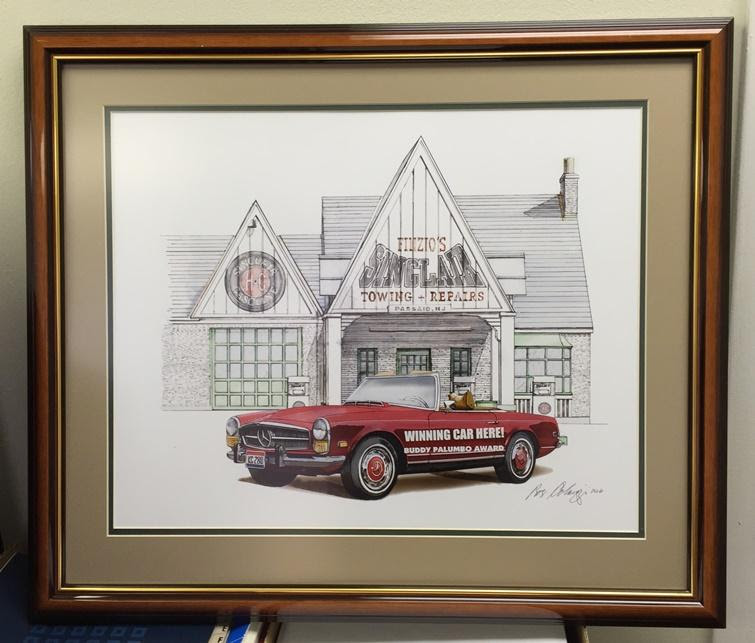 Pretty cool, huh? Heck, the frame cost more than a nice pair of shoes. Well, reasonably nice, anyway. At least if you shop at DSW or someplace like that. Anyhow, look for Burt & the Buddy Palumbo Award at:
March 11-13

 The Amelia Island  
Concours d'Elegance
Look for Burt schmoozing potential book buyers and signing books for those who succumb. You'll find him in the Talbot pre-function hallway in the Ritz-Carlton daytime Fri-Sat and the authors' tent on the Show Field
on Sunday
. May have Finzio prints and some logo Embarcadero pullovers as well.
MARCH 17-19

: The 12 Hours of Sebring:
Burt will be signing and selling his usual snake oil in the Sebring Hall of Legends Museum at the west end of the paddock behind Pit Lane and not too far from Sunset Bend 
Thursday
 afternoon before before night practice and every hour on the half-hour 
Friday
 and 
Saturday
 until there's nothing left but drunks and security guards. Hope to see you there.
LAST, a ray of hope! The spring & summer racing season is coming. Carol & I (and Buddy the Wonder Dog) took a nice stroll along the river by the Grau Mill near us last Sunday, and you could certainly feel--through the chill, anyway--that the warm seasons are surely on the way. We even ran into a small but apparently VERY hearty swarm of gnats who have been comepletely bamboozled by this apparent global warming thing.
SEE YOU AT THE RACES!