Latest News from Burt "BS" Levy & Think fast Ink
(or...so where's the new book already?)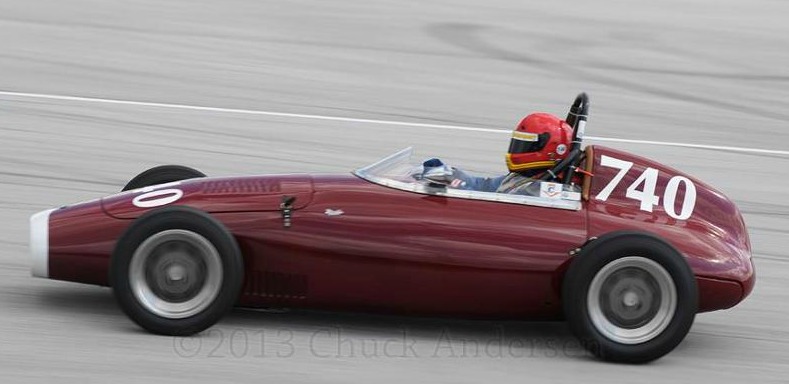 Yeah, I should probably be chained to my computer finishing up the new book. But sometimes an opportunity comes along that you just can't miss. Like great people, all kinds of track time and some really neat stuff to drive at Brian Redman's relaxed & entertaining Targa 66 event at Palm Beach International Raceway Feb. 22-23. That's me above in Mitch Eitel's absolute jewel of a 1959 OSCA Formula Junior. Wonderful car! And that's me below, something like an hour later, in the thoroughly up-to-the-minute Dyson Racing Lola/Caterham track-day berserker. So from less than 100hp, open wheels, drum brakes and sliding around on tall, skinny tires to 300hp, 1275 lbs./990 lbs. of downforce, a clutchless, no-lift, 6-speed paddle-shifter, 0-60 in 2.9 secs., 165mph top speed and brakes that'll suck the eyeballs right out of your skull.
Can you say "Time Warp?" How about "WOW?"
Full report in my next column in Vintage Motorsport magazine!



Come Sunday I hawked and signed a few books at the Boca Raton Concours d'Elegance. See, it was a business trip, after all! And, no, that's not me holding the copy of A Potside Companion.
NEWS FLASH! I will be sneaking out to schmooze and hawk some books at the annual Ferrari Art, Literature and Model Expo 9am-2pm on Sat., March 23rd at the excellent Continental Autosport store at 420 E. Ogden Ave., Hinsdale, IL, 60521
Don't Forget our piggy banks!

The perfect gift for the well-heeled gearhead.
Just $75.oo and an e-mailed picture of YOUR chosen car gets you a hand-painted, one-of-a-kind racing or restoration project piggy bank done by gifted character artist (and also our friend) Carolyn Johnson. Dad's Day is coming!

FOR MORE INFO,
CLICK HERE TO VISIT THE WEBSITE