OK, this e-blast we're going to lead off with where-all I'm a-goin' instead a'where-all I been on account of I do tend to ramble on and some folks either doze off or lose interest. So, looking ahead, I'll be visiting the (hopefully) sunny state of Florida over the next couple weeks as follows:
MARCH 11-13

: The Amelia Island Concours d'Elegance.
Look for me schmoozing potential book buyers and signing books for those who wilt and succumb to my usual con-job. You'll find me in the designated author areas (the Talbot pre-function hallway in the Ritz-Carlton daytime Fri-Sat and the authors' tent on the Show Field 
on Sunday
). I'll have all the books there to sign plus a special, low low (so low we can't mention it on TeeVee!) price on the entire, 7-book set. And, as always, we can ship so you don't have to schlep!
We'll also be presenting our 10th annual BUDDY PALUMBO AWARD at the Amelia Island Concours, which is thoroughly unique in the Lawn Show world in that it recognizes an entrant who worked on the car with their own blessed hands and moreover drove it to the bloody event. "Glass-Case Jobs" and "Trailer Queens" need not apply.
The awards are done by a different talented artist each year. The image below is the very first Buddy Palumbo award (2007), sculpted by my great & gifted friend and racecar engine builder extraordinaire Ted Wenz of Savannah Race Engineering. As you can see, it's a perplexed mechanic looking down at a busted gear, and all of it made up of used-up race-engine parts (of which Ted seems to have a near-inexhaustible supply).
And here's a sample (from 2009, sculpted by McPherson College Auto Restoration Technology student Miles Birch) of the accompanying plaque that goes with each year's award:
This year's award is an original painting by my good friend, genius graphic artist, all-'round excellent companion and fellow diehard vintage racer Bob Colaizzi, who will be rendering up THE ACTUAL WINNING CAR in the position currently held by the Mercedes 230/250/280SL shown in the display mockup shown below:
As you can see, it will be parked smack-dab in front of the highly fictitious Finzio's Sinclair station in Passaic, NJ, where The Last Open Road series begins in the spring of 1952. Cool beans, eh?
I also have it on good authority that a complete set of our unique, leather-bound sponsor/advertiser Special Editions will be on offer in the Amelia Island Concours d'Elegance charity auction the same weekend. A similar set went for a whopping $2000 (yeah, you read that right...two grand!) in the VSCDA charity auction at their Road America event last fall, and another set fetched $2400 at a charity auction near VIR a few years back.
Who'd a-thunk it?
MARCH 17-19

: The 12 Hours of Sebring:
I'll be selling, signing and schmoozing my freaking lips off all weekend long in a very privileged spot inside the Sebring Hall of Fame Museum at the west end of the paddock behind Pit Lane and not too far from Sunset Bend. Look for me there 
Thursday
 afternoon and early evening (but NO WAY am I gonna miss Night Practice!), most of the day between race groups 
on Friday
, 
Saturday
 morning until a half-hour before race time (scheduled for 
10:40am
 it sez here) and then every half-hour on the half-hour (
11:30am
, 
12noon
, 
12:30pm
, etc.) until it gets dark. See you there?
Truth is, I just got myself BACK from sunny Florida. Really I did. Although, to be honest, this hasn't been a particularly fierce winter up here in the frozen wastes of Chicagostan. We've only had a couple heavy snowstorms and just a handful of days laced with bitter, brutal cold. In fact, it was 60+ degrees yesterday (and we're not even out of February yet!) and Carol and I took Buddy the Wonder Dog for a nice, long walk in the woods [see SHAMELESS JACKET PITCH below]. So, if this is Global Warming, I'll take all you've got. And so what if all the crops fail and New Jersey turns into a parched, barren desert (might be an improvement?) and the polar ice cap melts and we all drown...at least we'll drown in warm water!

In any case, last weekend found me playing ride-mooch-scribe/hanger-on again at Brian Redman's marvelous TARGA 66 track-day weekend at Palm Beach International Raceway. Full story upcoming in my next Vintage Motorsport column, but suffice to say there were some pretty interesting people wandering around the paddock. Like Brian himself (shown below with yrs. trly, guest speaker Dennis Gage from the My Classic Car TV show, Dennis's production guy--he's the tall dude with the non-gray/non-scruffy beard--and my great friend Greg Eliff (face hidden on right), who currently finds and race-restores old Indycars and such for a living, but used to be a damn good and accomplished crew chief for some top pro racing teams. He took care of several of the cars that Brian drove, as well as nurse-maiding the Paul Newman/Dick Barbour/Rolf Stommelen Porsche 935 that finished 1st in class and 2nd overall at the 24 Hours of Le Mans in 1979. And has HEgot some stories to tell...
Also wandering through the paddock were familiar racing faces like Bill Adam, Gunnar Jeanette, Gil deFerran and Helio Castroneves (he's gotta stop copying my dance moves) and there were an abundance of cool cars to drool over, too. Including an ultra-rare and jewel-like 1965 Ferrari 1512 Formula One car. Powered by a 1500cc (1489.6, actually) flat-12, it made a noise like a swarm of man-eating bumble bees backed up by an entire orchestral string section of angry sewing machines.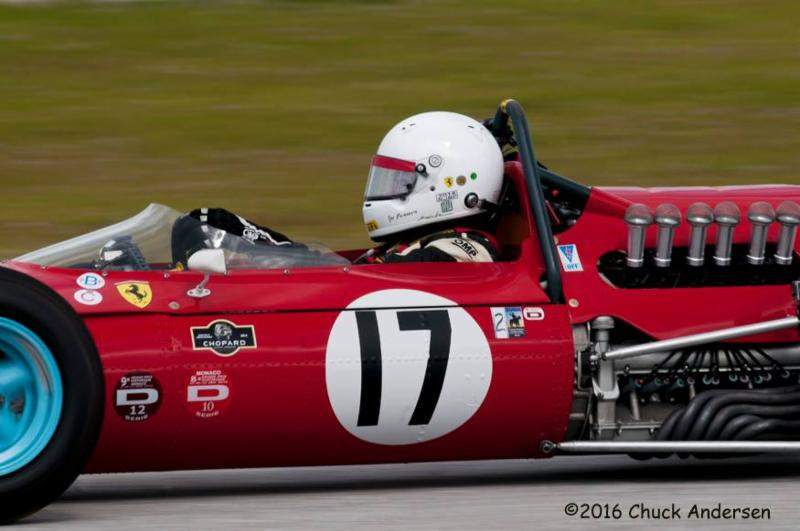 Wow! Say, wasn't the very first Ferrari a 1.5 liter 12 cylinder back in 1949?
Also on hand were the Revs Institute GT40 and Ford Mk. IIB I drove last time I was at Targa 66
a 908 Porsche, a couple late-issue Indycars, a Jagermeister Porsche 962 (now there's a sponsor!) and a UOP Shadow Can-Am car of the type that won the very last unlimited Can-Am championship (and that I might actually get to drive later on this summer...whoo-eee!)
and here's Joe Nastasi's lovely, V8-powered Alfa Type 33 prototype. Take notes, there may be a quiz later on....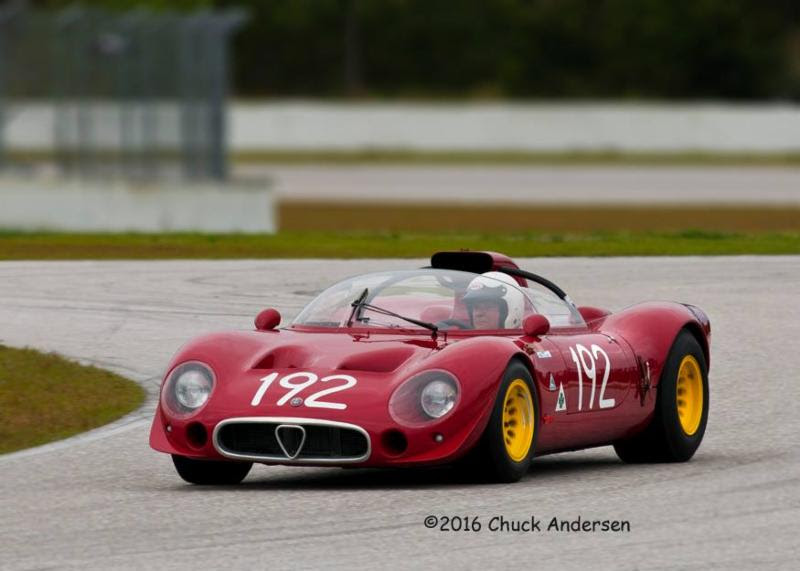 They were all part of a virtual cornucopia of cool stuff from priceless classics to track-day berserkers to the latest, bucks-up supercars from Ferrari, McLaren et al. Hell, it's worth dropping by just to purge the excess drool out of your system... And, as if that wasn't enough, we got a Targa 66-style tour and pizza party at benevolent racer/collector Larry Wilson's ultra-incredible garage (see utterly gob-smacking pix below). His is among the most amazing Garage Mahal setups I've ever seen (yeah, Jay Leno's is bigger and has more stuff, but Larry's is packed tighter...plus it's also a race shop, and that's always good for a few brownie points):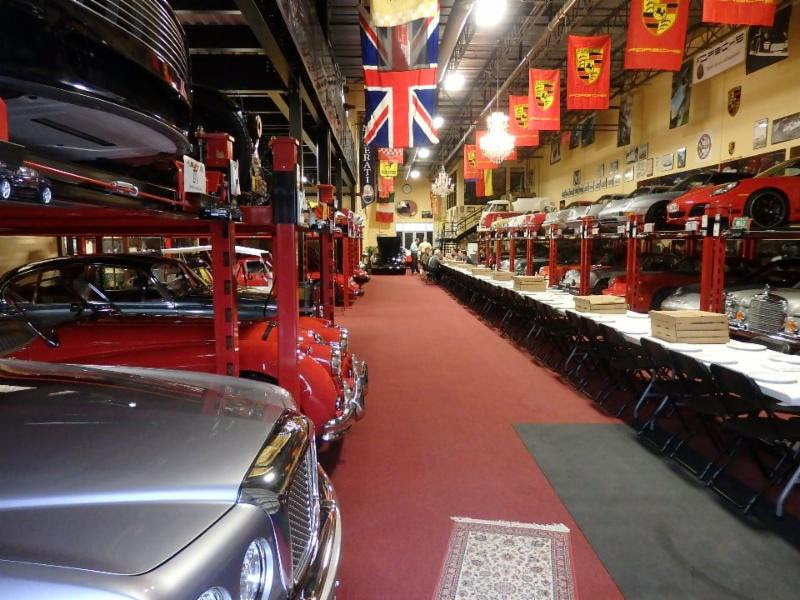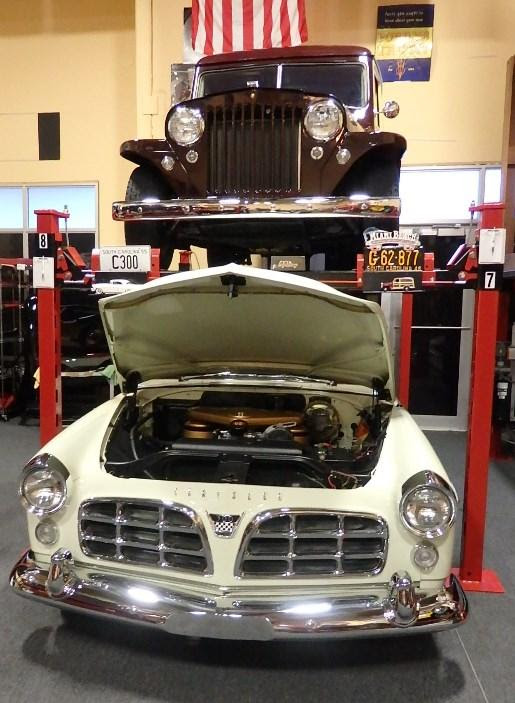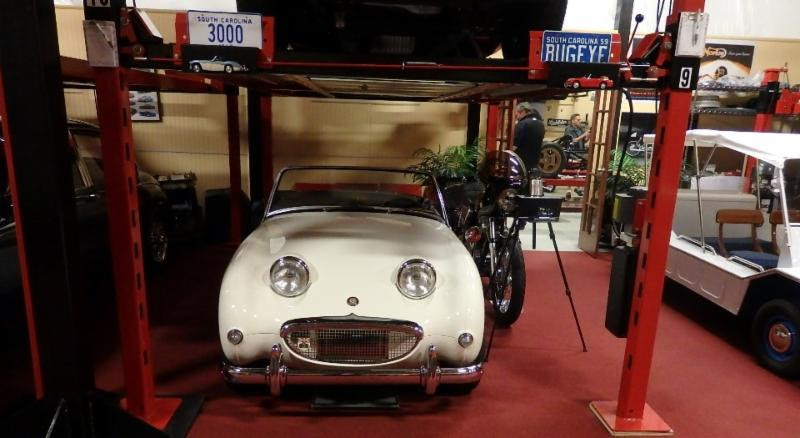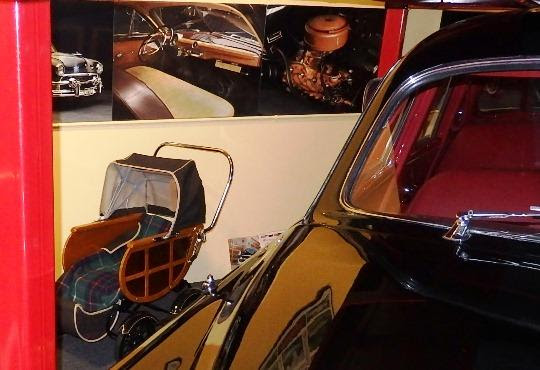 What more could I possibly add?

On the ride-mooching front, the two early-issue Revs Institute Coopers I'd hoped to drive failed to make it to the track, but I did get some welcome laps in my friend Mitch Eitel's Elva Mk. 7S mit 2-liter BMW power. Always one of my very favorite racecars (and this one was restored and race-prepped by my friend Lee Chapman, so it was really "on the button") so it was huge fun to drive! Full story upcoming in the magazine, but believe this: if you could see my face inside the blessed helmet, I'd be smiling!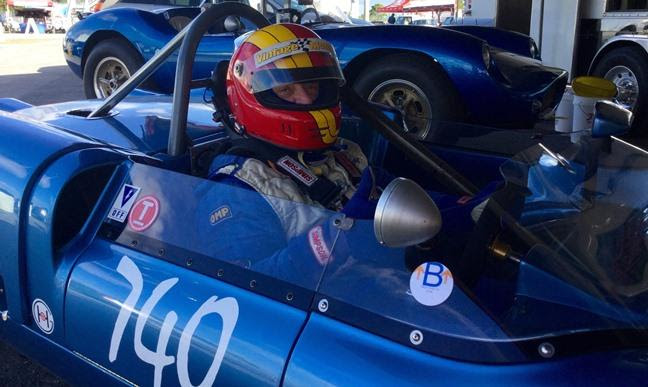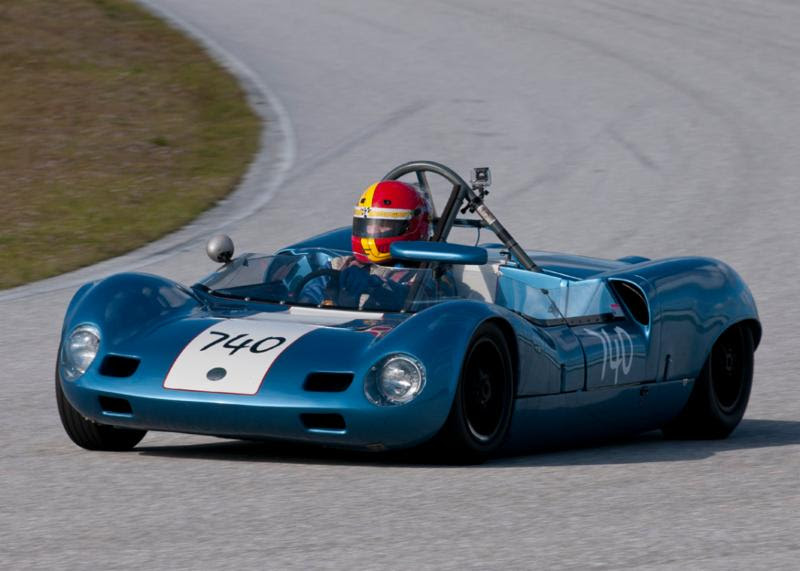 Action photos by ace lensman & longtime friend Chuck Andersen