SUNSHINE IN SAVANNAH!
Got back from Cal via a VERY bumpy plane ride the Monday after my birthday, spent Tues. and Wed. at the office signing & shipping the living shit out of my books (thank you thank you thank you, and I PROMISE your Christmas order is on the way!) and then hopped on another plane ride to Savannah to attend one of my very favorite events: The VDCA ("Vintage Drivers' Club of America") always-fabulous "Pig Pickin' and Oyster Roast" weekend at Roebling Road Raceway! I last attended this thing back in 2013 and loved it so much (even though it's not a particularly large event or draws much in the way of iconic, mega-dollar racecars) that I wrote a report on it for the magazine. And what do you know? That report won the AARWBA (American Auto Racing Writers & Broadcasters Assn) award for Best Magazine Event Story of 2013 (see below). And that's up against entries from EVERY type, breed, class and phylum of American racing. See suitable-for-framing certificate below:
Not that I'm bragging or anything....


Now you need to understand here that the VDCA was the brain-and-heart child of my great friend/amazing, live-each-day-like-it-may-be-your-last character/superb racer/inveterate Scotsman & all-purpose southern-fried Carolina gentleman Alex Quattlebaum the Second, who was also one of the initial founders of the now-Big League & omnipresent SVRA (which was back then the relatively small and clubby Southeastern Vintage Racing Association and later evolved, through a soap-opera succession of owners, co-owners and ego-stew partnerships into the huge, hardly recognizable and now-monarchical mega-organization it has become today).
In any case, the VDCA was Alex II's attempt to re-create the simple, relaxed, basic, "y'all come on down now, y'heah? And bring y'all's cars! And let's play hard, but let's play nice. And enjoy some good food and each others' company along the way...." ethos and ambiance of the original SVRA.
Only it didn't take Alex II long to realize--once again--that while he wanted to be 
IN 
on 
the party, he really didn't want to organize or manage it. Or have to listen to all the effing questions and suggestions and lame excuses from drivers who had somehow succumbed to the Red Mist and accidentally scythed a few corners off some poor Innocent Bystander's ex-Hap Sharp Lotus 18.
None of that was really in Alex II's wheelhouse. Except for the party hosting part. He had the Good Times and Food Ordering down to an art form. Which is how the VDCA's "Pig Pickin' and Oyster Roast" season finale really started. And it continues, with vigor and enthusiasm but without any phony, hallowed or reverential status, to this very day. And it's wonderful.
Only downside is that the VDCA--like most vintage clubs--is mostly aging greybeards and silverbacks these days, and the VDCA board of directors meets once every year (usually for about 15 minutes) to take the pulse of their bank account and worry a little, as we all do, about the future. My great racer friend Mike Jackson (who wasn't smart enough to run like hell in the opposite direction when Alex II essentially handed-off the entire VDCA operation to him several years back and thereby accepted what appears to be a life sentence as president) told me the board of directors has ruminated long and hard over the future of the club (sometimes as long as the entire 15 minutes of their annual board meeting) but ultimately came to a conclusion. If not necessarily a solution. As Mike puts it through his usual, wry grin: "You ever see the ending of Thelma and Louise?"
In any case, this turned out to be a wonderful event, and for a change the early-December Savannah weather cooperated in spades, what with warm temps, lots of sunshine and some lovely sunsets, too. And you have to love the Roebling Road racetrack. It's a club-level facility--think Blackhawk Farms or Hallett if you've never been--and it's pretty much flat. But it sits in a lovely pine forest so there's plenty of shade plus this plush, "padded-carpet" layering of long pine needles underfoot. And it's fast for a club-level track--we were averaging well over 90mph in our class--with two really quick, check-your-ball-size corners, some tricky, braking-while-turning, decreasing-radius segments and a magnificent flow and rhythm like some kind of monster downhill ski run.
But the best part was that my longtime Morgan friend and sometime Ride Mooch-Enabler "Super Dave" Bondon offered me the use of his excellent Sports 2000 Royale RP 42 (which is for sale, BTW) for the weekend as kind of a 70th birthday present. See pic below:
I'd co-driven it with Dave once before at the HSR Mitty this past April at Road Atlanta, and people who actually read all the way through these missives may recall that we took a lucky (but nonetheless honorably-earned) 1st in class in the well-subscribed Historic Enduro at The Mitty mostly thanks to a perfectly-timed, full-course-yellow pit stop.
Anyhow, Super Dave has decided that he's really more of a Morgan kind of guy (most of us already knew that) and brought his newly purchased, ex-Dave Draper/Bob Shaw Morgan 4/4 (see below) for its first-ever track shakedown run in his hands.
Also on hand were (L to R below) ad-hoc crew guy, great friend and serial past Ride Mooch Enabler Gordon King, longtime friend and Dave's regular right-hand-man George Wolf, Dave hisself and his wonderful PhD/High School Principal (and HELL of a damn race driver!) daughter Dr. Stacey Schepens (nee Bondon).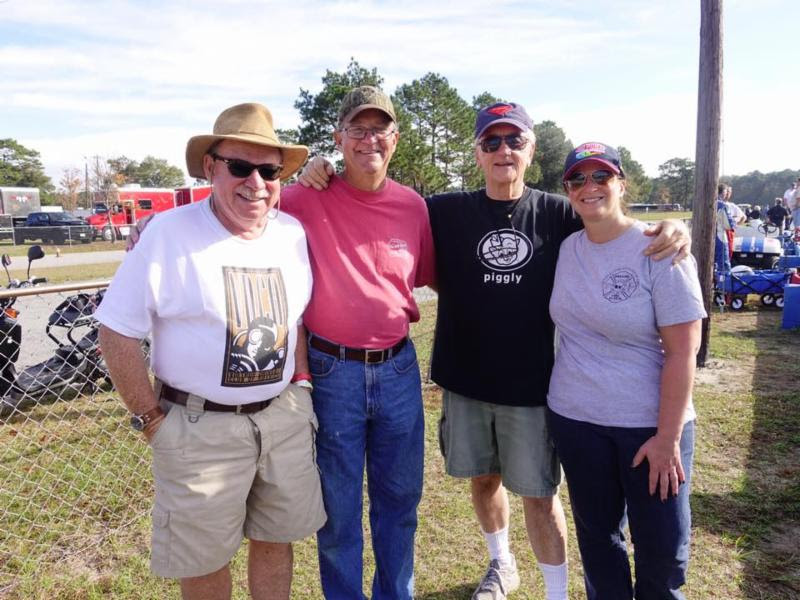 There were four S2000s entered in our group (our Royale and three Swifts) plus Larry Wilson's very nice Brabham FAtlantic and a representative assortment of Formula Fords, and the weekend got off to a pretty good start in the very first practice session when we discovered: a) The S2000s were among the quickest cars on hand (as they should be) b) With the exception of longtime friend/Sasco owner Dave Handy and his Swift (which had us all pretty much covered) the rest of us were right in the mix with something like a half-second covering all three cars. Also as it should be. Now I need to mention here that I put Dave Handy in that highly exalted pantheon (actually, it's more the size of a large sports arena...say, the Rose Bowl) of drivers I know are better than me. Besides his undeniable skill and raw talent, Dave's been at this a long time as a driver, car preparer and tire purveyor and has a hell of a lot more experience than I when it comes to both chassis setup and how to best hustle one of these projectiles around a damn racetrack. He and late longtime friend & Sasco partner, the ever-smiling but flinty-eyed Charlie Gibson (a past SCCA National Champ, not to mention a champion when it came to attitude, behavior, sportsmanship, fair play & integrity) used to race the living shit out of each other in matched pairs of Sasco-liveried, white-with-orange-trim Lola Mk. 1s and Lotus 23s and Formula Atlantics and there was even a wingless, early McLaren CanAm car that they both drove like it was a damn Bugeye Sprite. Sadly Charlie is no longer with us following a tragic trailer-unloading incident several years back (he would have been the first to call it "dumb and stupid") but Dave has persevered through that and other adversities and remains the smiling, friendly, guile-less and generous guy he has always been. Which has helped make him a go-to guy (and Sasco a go-to place) on the vintage scene when it comes to both tires and car prep. I've known both he and critter-loving wife Robyn what seems like forever (and it probably is closing in on that long!) and I think I've said enough nice things and made enough freaking excuses that you can understand why he was 2 seconds or more quicker than me all weekend. And the bastid never put an effing wheel wrong, either. But it's not like I didn't have anybody to play with, seeing as how longtime Morgan racer/new friend Greg Miller's Swift (which, to be fair, was pretty much a new car to him at Savannah) was right thereall weekend, as shown in the pix below from Saturday's feature race.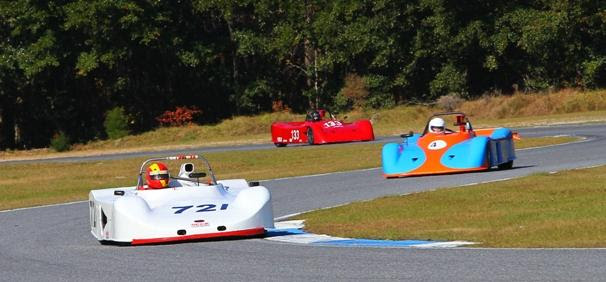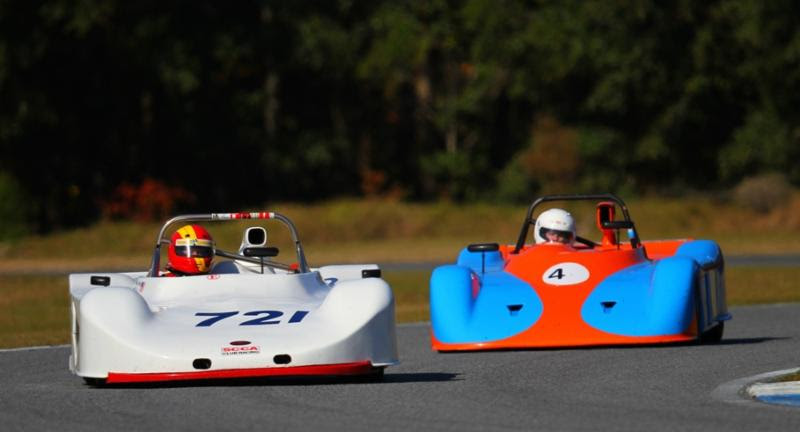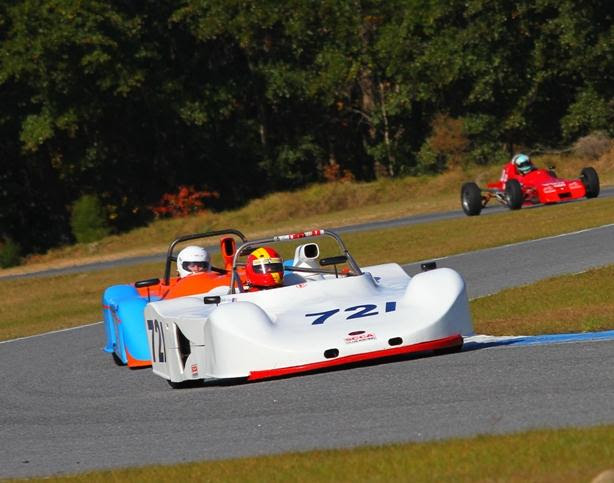 We had one hell of a scrap! But I discovered during practice that the Royale was a little stronger on the top end (although Greg was eating me alive going into the decreasing-radius buttonhook of Turn 5 shown above). He was running a ducktail spoiler on the back of his car that might account for both those things, but the bottom line was that he couldn't get close enough to dive-bomb me into Roebling's Turn One, and that's really the only textbook overtaking spot (at least in equal cars) on the circuit. So all I had to do was play cork-in-the-bottle the rest of the way around and not screw up. Which I somehow managed to accomplish. And felt pretty damn happy about it afterwards!
Saturday night brought the aforementioned Pig Pickin' and Oyster Roast (see pix below)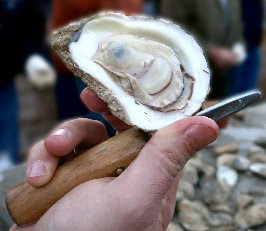 and it was much fun with many old & new racing friends as Super Dave and I entertained & enlightened a small group of folks with tales, lore and memories from the old, week-long, hangover-spiked and hell-on-your-liver Bahamas Vintage Grand Prix extravaganzas in the mid-1980s. One wonders how we all survived it, as the organization was haphazard, the crowd-control iffy, the street-circuit track was hazardous in the extreme and the nightly parties--at a different venue every evening--were even moreso.
Anyhow, we managed to avoid over-serving ourselves at the Pig & Oyster party (which comes under the heading of "Self-Preservation" once you reach a certain age) and we capped the weekend off with Sunday morning's one-hour enduro. Super Dave and Stacey elected not to run the new Morgan as there were some issues with the handling (which I'm confident Dave and his guys George & Mitch will sort out), so it was just me in the Royale gridded up 3rd in a 40-car field (see below) and we had a pretty damn good race of it.

Dave Handy in the #59 car and Larry Wilson in the Brabham open-wheeler pretty much disappeared into the distance (as expected) but I once again had Greg Miller in the #4 Swift all over me. I'd get a break in lapped traffic and couldn't even see him in my mirrors anymore, and then traffic would break the other way and he'd be right there again. Damn. But we made a killer, instant-decision pit stop on a full-course yellow (see below, with Stacey counting off the seconds until our release):
and, come the end, we wound up a very satisfying 2nd overall (see result sheet below and, yes, I'm bragging):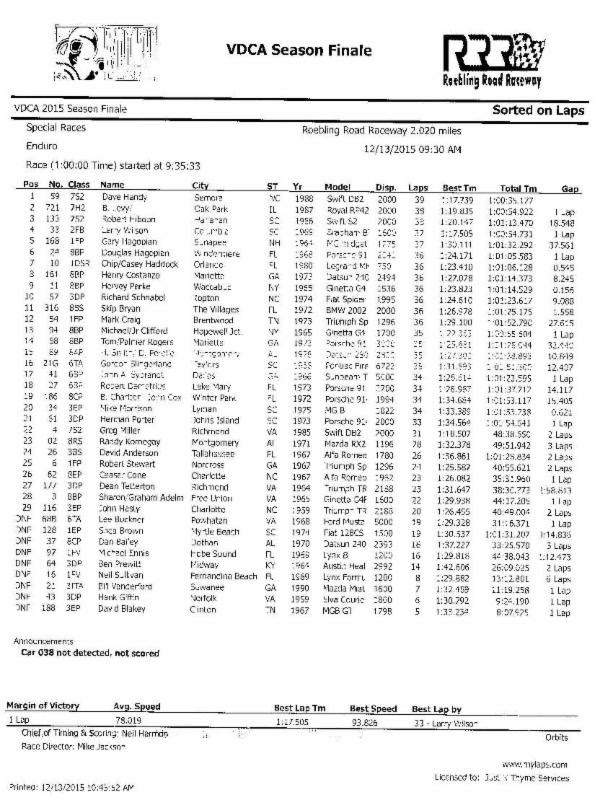 much to the delight of our entire crew, including perhaps one of the ugliest team cheerleaders you will ever see:
So that was a pretty damn nice birthday present and a hell of a nice way to end the season. Sold some books down there, too. And, speaking of books, it's time to get back to Steamroller III. I meanright now (or after the Holidaze, anyway). And I think I have some good news for a lot of you: thanks to a Friday-evening-at-the-racetrack restaurant dinner with Super Dave and George, I suddenly realized/figured out how to bring Buddy back as something more than a peripheral character in the new book. I can say no more but, if you like Buddy, I think you're really going to enjoy it....