OVERWHELMED, HAPPY & HUMBLED
Well, I can't really say I was expecting this. Or not this much, anyway. But yesterday morning, in the wake of my previous e-blast, I started getting e-mails. Well over 600 of them (and I bet Mr. TP's e-mail in-box was bulging a bit as well). And that's not even mentioning the phone calls. And facebook posts. And they were, with one grouchy and nit-picky minor semi-exception, ALL supportive of my position and wondering why Tony P.'s SVRA wanted to keep me from writing what I witnessed with my own two eyes. And, just to put a fine point on it, my ace snapper friend John (last name withheld so he can still get SVRA photographer credentials) just happened to catch exactly what I saw. In glorious stop-action, no less: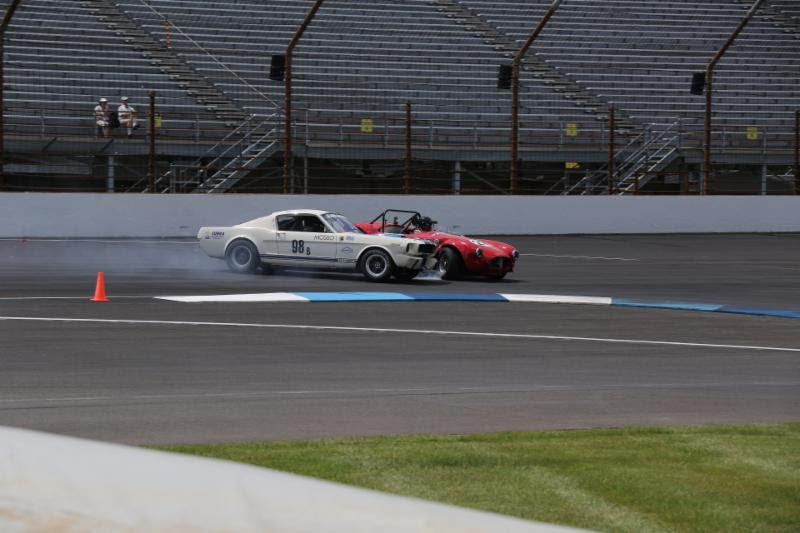 You will note that Mr. Salazar has the rear tires lit in a magnificent, California Drift burnout literally milliseconds after the cars came spinning to an awkward halt (if that long) in a desperate effort to Get Outta Dodge as fast as humanly possible following his, ahem, "unfortunate indiscretion."
Now I don't really want to single Eliseo out, as I've called Indy's road-course Turn One a disater magnet before and I will do again, because that's what it is. The wreck in last year's SVRA Pro-Am occurred in exactly the same way and at exactly the same place. A wreck I most incorrectly credited to Bob Lazier (sorry!) when it was actually his son, Buddy Lazier, at the wheel. Here's a link to a really good in-car You Tube video of it  www.youtube.com/watch?v=hiH1iDy_OiI and, as you can see, there's a bit of a Bull in a China Shop nature to this particular corner. Especially in big, hulking SVRA Group 6 Thunderwagons with a lot more power than brakes or handling.
But back to Elesio, whom I have never met but who I know is a committed and dedicated racing driver who, like a lot of us, absolutely loves the sport and the hands-on thrill, art and challenge of racecar driving.
But he has had a bit of a checkered career. His total career stats are listed here:
www.racing-reference.info/driver/Eliseo_Salazar
And, sadly, he's probably best remembered in Europe for being punched and kicked by Nelson Piquet after their coming together in the German Grand Prix in 1982. Then again, Nelson WAS leading the race and coming up to lap Elesio and...well, why don't you just take a look for yourself: 
www.youtube.com/watch?v=EFky8hpVolg
And that resulted in a bit of cheeky press coverage:
web.archive.org/web/20120218025706/
www.f1rejects.com/hall/tyson/index.html#1
His Indycar, IRL and Indy Racing League career was also punctuated by quite a few crashes (but what driver at that level's isn't?) and you can find plenty to keep you occupied through your coffee and doughnuts if you just google him.
Again, I've never met Elesio and I bear him no ill will whatsoever. I have never come close to doing the things that he has done in the world of motorsport, and I respect his accomplishments.
But I do wonder who vetted him for the SVRA's Pro-Am?