THROTTLE MASHED TO THE FIREWALL, KNUCKLES WHITE ON THE WHEEL, HURTLING PELL-MELL TOWARDS THE FINISH LINE...
This one is gonna be short on account of I'm in the final stages of the correcting/editing process right now (and, thanks to the hard work of my four wonderful editors, Bill Siegfriedt, Jolinda Cappello, Sam Smith and Don Trantow) it's going pretty quickly. But it's tedious as counting snowflakes and I just HAD to take a break. I have to say I'm pretty happy with the new book overall and think most of you will like it as well. Although if you thought I left you dangling at the end of STEAMROLLER 1, let me assure you that STEAMROLLER 2 will be even worse. Much worse, in fact. But fear not, as it all comes magically back together & gets tied up with a swell of organ music and a tricolor silk ribbon at the end of STEAMROLLER 3. It's almost like the end of "Rocky" before you found out what a jerk Sylvester Stallone is.
Did you know his first starring role was in a soft-core skin flick?
Look it up if you want to under "Party at Kitty and Stud's."
But I digress (so what's new?) and the real point here is to make this short so I can get back to work. So let's start off with a blatant, shameless, irritating, unseemly, PBS Pledge Week-style/why-do-you-keep-doing-this-to-me last-minute grovel for cash. Now I'm not crying poor here, but let me just say that publishing is a lousy business model. That's why so many of them merge or go broke. You lay out 10 or 15 grand to print your book, and then you try to make it back 35 bucks at a time. While giving huge, non-negotiable discounts to wholesalers (whom you need if you want to be in the book stores) not to mention taking back whatever they can't sell for a full refund. And you pay the freight both ways.
Did I mention they pay in 90-120 days?
And then you've got your book-tour travel expenses and your booth space at the races and car shows and...
The point is that we figured out early on that the publishing business is best suited to optimistic, well-meaning folks who wind up jumping out of tenth-story windows.
So, starting with MONTEZUMA'S FERRARI (and long before anybody ever heard of Crowd Funding) we began adding full-color, themed, hopefully entertaining and fully in-context sponsorship and advertising sections bound into my books. Hey, it's what racing teams have been doing ever since they discovered that speed costs money (although, as Carl Haas once noted: "racing isn't expensive, it's WINNING that's expensive...."
I should add here that MONTEZUMA'S FERRARI won a Benjamin Franklin "Book of the Year" award from the Publishers' Marketing Association back in 2000 for that "novel" idea. Although the award didn't come with any cash as I recall.
And not only do we have the new book to put together and print right now, but we have reprints looming on THE LAST OPEN ROAD, THE FABULOUS TRASHWAGON and the POTSIDE COMPANION. All within the next month or two. And, although I'm not crying poor here, that's a pretty big nut to crack all at the same time.
So here's the deal: we only have a couple weeks left  now (there's that PBS Pledge- Drive voice again!) and I want you to read the pitches below and think very seriously about either becoming a sponsor (it's $250...you can afford it!) or forking over $300 to put a picture of your car (or somebody else's car, or you and your spouse, or your family, or your racing buddies, or anything else that isn't disgusting, in poor taste or obscene) in the full-color gallery section of the new book. And if you have merchandise or services to sell, think about placing an ad. It's competitively priced with a magazine ad, goes to a great audience and lasts effing forever! Once you're in, you're in every reprint! And THE LAST OPEN ROAD is now heading into its NINTH hardcover printing with over 50,000 copies sold.
SHAMELESS PITCHES BELOW:
1: Sponsorship @ $250
2: All of the above PLUS a picture of your car (or whatever) in the new gallery section for $300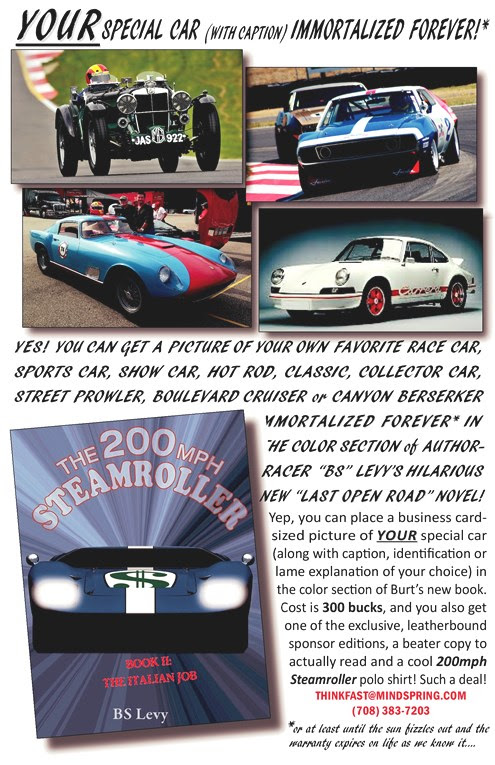 3. Publicize your not-for-profit club or
special event for $300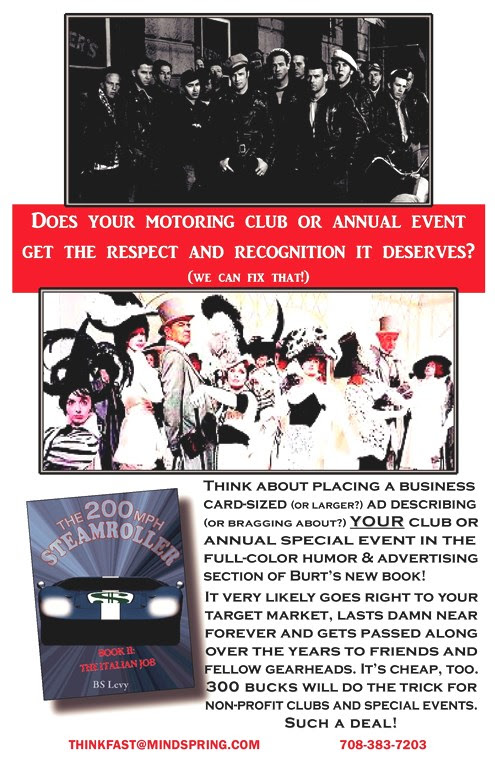 Place an ad (prices vary)
Below are the forms for the sponsorships (use the same one for the gallery pix or the club/special event deals, only it's $300 and y'gotta send me the picture or the artwork) and the ads.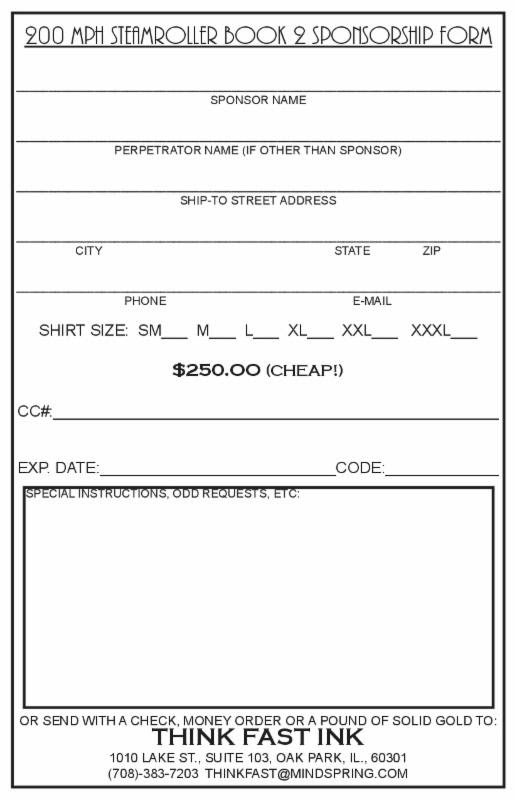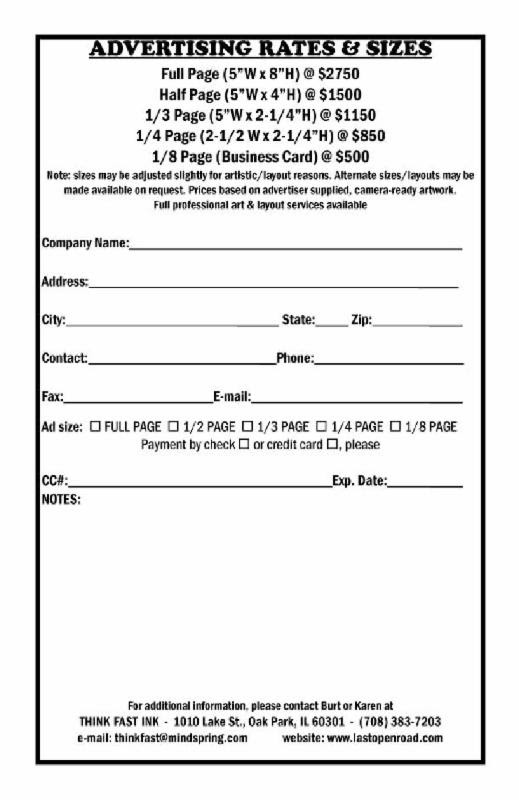 Questions? Concerns? Odd requests?
E-mail me at thinkfast@mindspring.com or call the office at (708) 383-7203.
I may even be there.
But whatever you do, do it NOW! The book is scheduled to go off to the printer July 10th. With or without you.
I'm just sayin'...