Okay, I've been good. Honest I have. Busy, too. I've been chained here to my computer, flogging away like mad on the new "Steamroller II" book (see below, although you can tell it's an older picture on account of the lack of gray and the hair on top) and I'm making great progress. Really I am.
But that also means I've skipped all the fun (not to mention potential ride mooches in magnificent race cars I could never dream of affording...see pix below from years past) at Brian Redman's always great Targa 66 deal in West Palm Beach, Fla. back in February: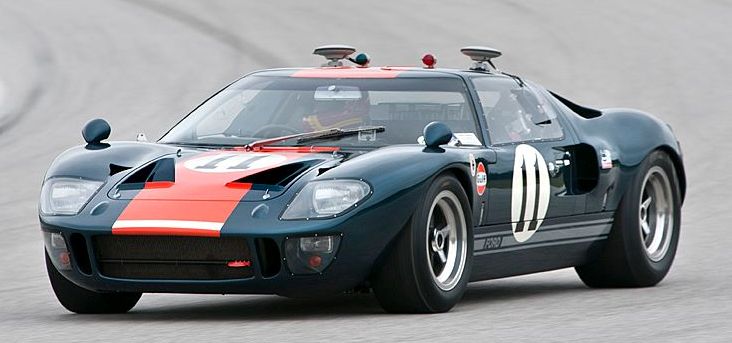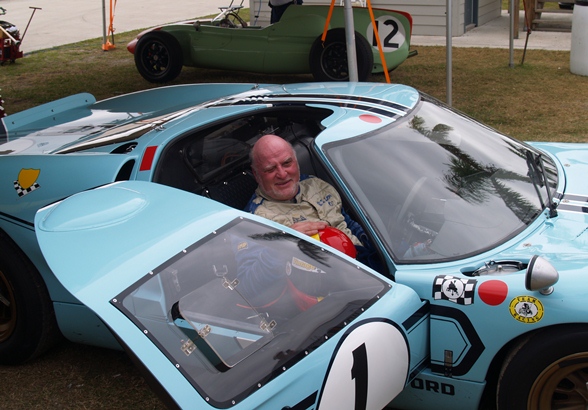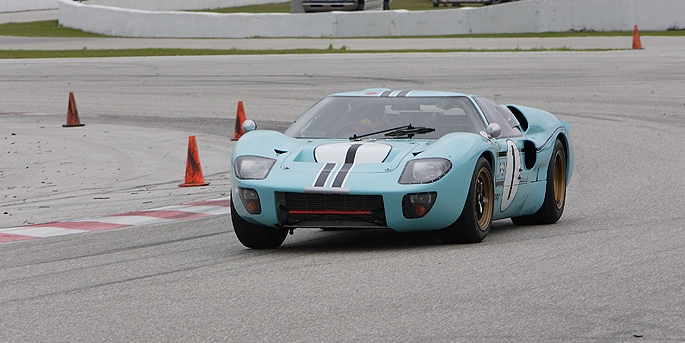 By the way, if you'd like to see a short video clip of me flogging the living shi...I mean, "experiencingand evaluating" this wonderful, race-winning (1967 12 Hours of Reims), 427 cubic-inch, 200+mph Ford MK. IIB from the fabulous Revs Institute Collier Collection in Naples, Florida, CLICK HERE
I also grudgingly took a pass on the Sebring 12 Hour in March (even though we coulda probably sold enough books there to more than pay for the trip to Florida in the middle of a truly cold, miserable & snow-encrusted Chicago winter) and I likewise missed out on my very favorite Concours d'Elegance ["car show" for youse who don't parlez-vous le Francais] of the year at Amelia Island.
That was a tough one, since Amelia always draws wonderful cars, enthusiastic crowds and lots of famous & fantastic motorsports/gearhead personalities. CLICK HERE to see pix etc. from this year's show. Plus we've been sponsoring a "Buddy Palumbo Award" down there for quite some time, which is given to someone who restored the car themselves (and I'm talking with their own two scarred, scraped, burned, blistered, bruised & disfigured hands here) and moreover drove the damn thing to the show.
I like to think it's a pretty cool concept.
Or, in plainer language: screw all those pampered, over-polished, way-too-perfect trailer queens....
Great motor cars wuz meant to be DRIVEN!
My accomplished friend Ted Wenz (better known as one of the top racing engine builders in the country...click on the name to visit his SAVANNAH RACE Â ENGINEERING
website) is also quite the talented and whimsical, weld-it-together-out-of-busted/blowed-up engine parts metal sculptor. He did our very first "Buddy Palumbo Award" back in 2007 (see below)
and this year he was kind and/or stupid enough to do it again. He came up with something truly wonderful (as always...see work-in-progress pic below, better pix coming).
And then, in my absence, my friend/event chairman Bill Warner's skilled, knowledgeable, well-qualified and hard-to-bribe judges made a great selection to receive it. They picked the Lane Motor Museum's recently completed replica of the ingenious, iconic, outrageous, intriguing, infamous and also somewhat nutty Buckminster Fuller "Dymaxion" of 1933.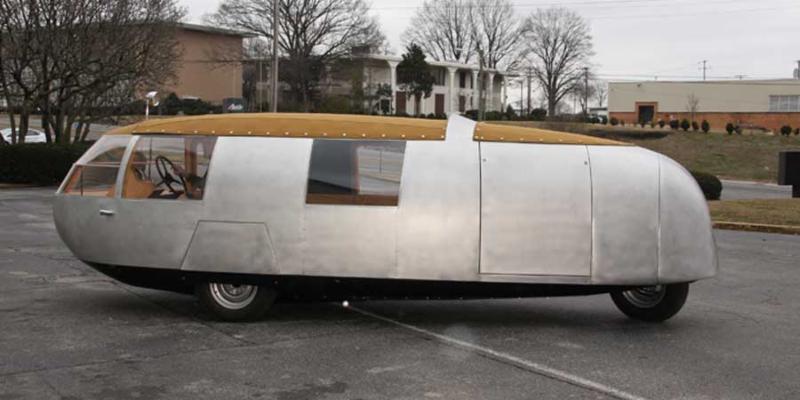 Now old Bucky Fuller was either an inspired, visionary, way-ahead-of-his-time, neo-futurist architect-cum-engineer-cum-inventor-cum-author-cum-systems theorist-cum-renaissance man or a loony, loopy, loose-cannon, tossed-out-of-Harvard-for-partying-with-a-blessed-vaudeville-troupe wack-job (depending on who is doing the describing). Bucky believed to the core of his very being in an evolved, enlightened, reason-driven and technologically-enhanced future that, well, might remind you just a wee bit too much of an H.G. Wells science-fiction novel.
Everybody knows Buckminster Fuller promoted and popularized the golf-ball shaped geodesic dome [see Epcot Center] as his lasting contribution to modern residential architecture (although you rarely see them represented these days on those home-makeover shows wife Carol enjoys so much) but he had some equally far-out notions about what we should be driving. Which he brought to life as the Dymaxion (see below, getting our award at Amelia)
Now the forward-thinking, aerodynamic Dymaxion made the offerings of the rest of the automotive world look positively midieval back in 1933. According to Bucky Fuller and his shadow-pack of acolytes, it could carry up to 11 human beings, cruise comfortably at a mile a minute and turn and park in heavy city traffic in little more than the length of its own wheelbase. And there were even plans for adding removable, inflatable wings so it could also fly....
I am not making any of this up.
Unfortunately, there were a few little technical details that would have raised eyebrows at any race shop or street-corner gas station on the planet. Starting with the startlingly unusual (!!!), 3-wheeler/front-wheel-drive chassis layout, which featured an ordinary Ford third member solid axle in front (just like what you might find underneath the BACK end a 1933 Ford sedan), a Ford Flathead V8 kind of sitting in the middle driving those front wheels and a single, tiller-style wheel in the back to steer the damn thing. Oh, the Dymaxion could turn on a dime and give you eight cents change, but the handling and road-holding were, umm, shall we say, "unconventional?" Sort of partway between a flat-front skiff with an over-sized outboard motor on the back and one of those carpet-covered-platform-and-brass-rails, bang-it-off-the-walls "caster carts" they give you to take your effing luggage to your room at a Holiday Inn.
Suffice to say that the very first Dymaxion (three were ultimately built) was involved in a very serious accident--with fatalities--early on in its career. But even so, its forward-thinking design attracted the interest of all sorts of trendy, upper-crust, high-society, intellectual/influential wealthy-dilettante types. Including bucks-up playwright Clare Boothe Luce (her husband published Time, Life and Fortune magazines) and socialite Dorothy Hale (who jumped to her death four years later off a Manhattan skyscraper after failing to make it as an actress). Those two adventurous ladies took an extended (and accident-free) trip around Connecticut in a Dymaxion in 1934 with Bucky Fuller's associate and project development engineer Isamu Noguchi doing the driving.
In any case, I don't think Karl Benz, Vittorio Jano, Dr. Ferdinand Porsche, Hans Ledwinka, Wilfredo Ricart, Colin Chapman, Smokey Yunick, Quin Epperly, Bob McKee, Bill Sadler, Bob Riley, John Barnard, Adrian Newey or even old Max Balchowsky (bonus trivia points if you know all fourteen of those guys without resorting to a google search) would have though very much of the Dymaxion's chassis dynamics. Nonetheless, it's kind of a monument to old-fashioned American ingenuity and a certain type of strange, science-fictiony theoretical conjuring. And I'm thrilled that my good friends at The Lane Museum decided to build a replica of it and put it on display where we can all see it, and even more thrilled that it won the "Buddy Palumbo" award at Amelia this year. And extra kudos to museum founder and sparkplug Jeff Lane, who [it says here] drove the damn thing down from Nashville himself.
And what a scary ride that must have been!
By the way, if you're ever passing by or through Nashville, I heartily recommend visiting the LANE MOTOR MUSEUM (click on the name to visit the website) as it is a fantastic collection of the fascinating, interesting, compelling and--most of all--odd and unusual artifacts and/or aberrations of automotive history.
You will not be disappointed!!!!