At the other end of the sportycar spectrum is the flashy and exotic new Ford GT supercar (see below) which is surely a quite fantastic machine and equally surely (I hope) destined for the racetrack.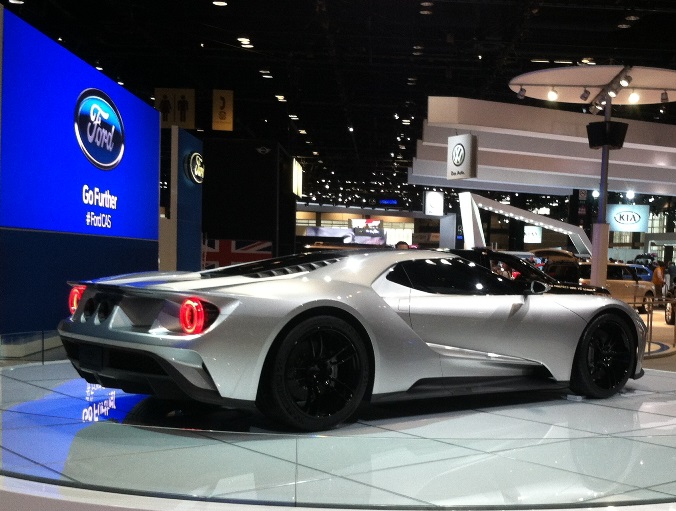 That said, the Ford people on hand kept going on and on about "lightweight materials" and "new technologies" in their multi-media presentation on the new car, yet they all played coy if you asked them point-blank how much the damn thing weighed? Or how much it would cost? Or how many they were going to build? Or where they were planning to race it?
Don't get me wrong. I think the new Ford GT is as cool as can be, and I hope they race the shit out of Ferrari, Porsche and the rest and win at Le Mans again. Hey, I'm both a Ford stockholder and the owner one of the company's fine automotive products. Or it was in 2006, anyway. But I don't much like the way they're toying with and teasing the enthusiast media.
Then again, that's how you get attention.
Ask Sally Rand.
Saw my old teammate P.D. Cunningham's new Acura racer from his RealTime Racing Team, and I doff my hat and reveal my balding head in respect. PD was always fast as stink...but there are a lot of fast guys out there. He's managed to make a genuine career, a business and a great success out of it (winningest World Challenge driver and team ever and a long-running deal as Acura's factory team here in the states). Good for him!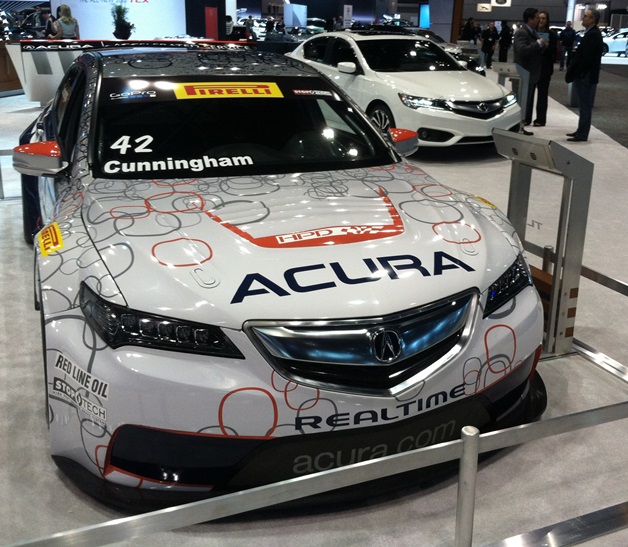 Speaking of racecars, Nissan had a show copy of their new Le Mans contender. It was designed by Ben Bowlby (the same guy who designed the tricycle-gear Delta Wing (see below), which has been referred to as "the lawn dart" by certain less-than-charitable motorsports insiders.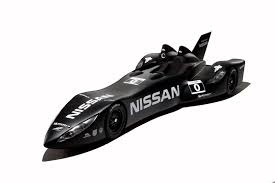 Now I must admit to being skeptical when I first saw the Delta Wing a couple years ago. I mean, it looked all wrong to me and like it would surely understeer like pig on roller skates. But it's turned out to be pretty damn fast (although it has yet to score a major result) and the drivers keep coming back, so it can't be too scary in there behind those tall, narrow front wheels.
Only now Ben Bowlby has gone equally radical in the opposite direction (with Nissan once again footing the bill) with this strange-looking, front-wheel drive hybrid Le Mans contender.

Once again, it looks all wrong to me. But, hey, what the hell do I know?
Of course there were a handful of stupid-expensive supercars on hand in a cordoned-off area attended to by leggy, bosomy models in Security Guard outfits (nice touch)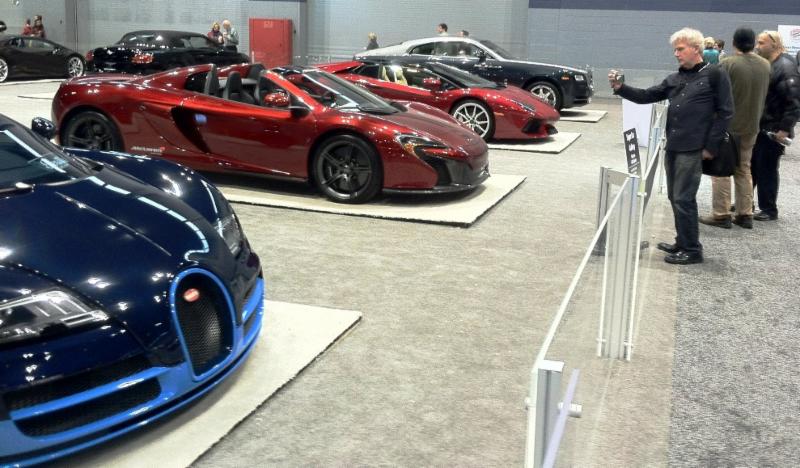 and Carol was frankly appalled that the Bugatti Veyron stickers out at...well, read it for yourself:
Now even a diehard enthusiast like myself finds this a wee bit obscene (especially in a world where there's so much hunger and deprivation and...you get the idea) and the only response I could muster up was my usual lame argument about how many people find gainful employment building, selling and servicing these things. I mean, think about all the folks who earned their daily crusts of bread building crazy King Ludwig's castles. Or any other blueblood's castles, for that matter. And the neat thing about today is that you don't have to be an aristocrat to buy one...just filthy rich! Movie stars, hip-hop artists (so-called), Russian gangsters, payday loan moguls, pimps and drug dealers can all get in line so long as they've got the ready cash.
We'll have a tent meeting later on "trickle down" economics....
By far the highlight of the show (for me, anyway, as a diehard Alfisti) were the three cars from the Alfa Romeo Museum in Italy that were brought over to grace the Alfa display. I kind of melted to the spot as I ran my eyes over the Tipo B (the first-ever single-seat grand prix car) and the dominating 158/159 Alfetta, just kind of soaking in their beauty, history, passion and genius.
By the way, Alfa's new 4C sports car is pretty cool, too. It's not for everybody and not especially practical, and Lord only knows how many people will actually front up the cash to buy one. But it's a hell of a sexy thing to drive (I thought it felt like a smaller-caliber Ferrari 458) and it'll turn heads anywhere.