That's what every high-schooler really wants to know....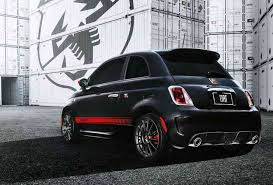 Speaking of hot Fiats, my great Healey friend Kaye Kovacs of excellent & even regularly exceptional Healey restoration mecca 
FOURINTUNE
 in Cedarburg, WI, sent me yet another link to a great, hilarious, why-the-heck-don't-we-get-these-over-here Fiat TV ad. Which I happily pass along to you. Enjoy!
Other Autobahn highlights:
I've always thought the new Jaguar F-Type was handsome as all getout, and a spin around the track in the hot-shit "R" model reinforced the notion that it's not just another pretty face. There's such a solid, quietly confident feel to the controls and the interior and exterior just ooze quality, class, breeding and refinement.
Did I mention that it goes like stink?
Now I don't know if it's "better" than the cash-equivalent Porsche or Bimmer or what-have-you, but to my eyes, hands and the seat of my pants it's a hell of a lot cooler, sexier and more exclusive-looking. It drives great, too.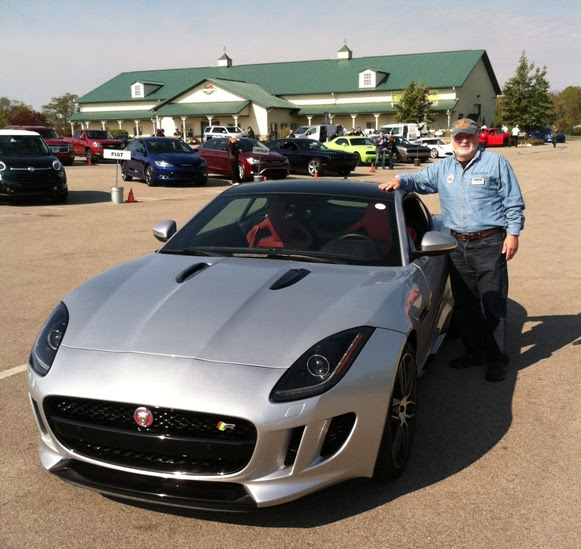 Sure, you'll probably take a bigger depreciation hit than on some of the German cars. But the price of admission is a bargain, all things considered. The styling both inside and outside are fabulous and the performance and handling are truly outstanding. Which puts it right in line with the heritage of some of the great Jaguars of the past. Dare I say it: The F-Type is, at long last, a worthy successor to the watershed XK120s and E-Types that made the marque what it is. And a lot of us Jaguar nutcases have been waiting to say that for a long, long time.
Speaking of performance, I was less than totally impressed with the hot new, 505-horsepower Camaro Z-28. Oh, it's bigtime fast, make no mistake about it. And it's got one hell of a good chassis (borrowed from beneath one of GM Australia's Holdens, which also supplied the underpinnings for the sorely under-appreciated 2004-2006 Pontiac GTO). But the Z-28's seating position is way down deep in the car (with no seat-height adjuster I could find) and the door sills and dash are way high and the A-pillar it thick. So its like you're peering out of a blessed cave when you're behind the wheel. Which doesn't make the sight-lines too great going around Autobahn's corners. And there's a tinny, cheap feel to some of the controls (at least on this early-production model) like the fore-aft seat adjuster and the steering-wheel height adjuster....
But it sure does GO!
More comfortable (at least to my ass) and more sympatico and unruffled on-track were the two new hot-model Mustangs on hand. Although the Chevy is probably faster against the clock.
Drove a stinkbug-green (there's no other appropriate word for that color) BMW M5 and, in spite of the garish hue, it was pretty damn nice. Fast, composed, well-controlled and beautifully balanced (especially for a big 4-door) and things got even better when highly accomplished Autobahn driving instructor/longtime track pal Tony Kester saw that I was in the Bimmer (and moreover right behind him in the Caddy CTS V coupe "pace car") and picked up the pace quite a bit so we could go play. Like until the rest of the folks were just specks in the mirror. To be honest, he was giving me a bit of a driving lesson, but I could kinda keep up because the Bimmer is just, plain GOOD. So's the Caddy. And I think it says a lot about the Cadillac that the Autobahn instructors tend to gravitate towards it when they've got to do pace-car duty for a bunch of scribes or take corporate types out for drives all day.
One of the big surprises was the current-issue Dodge Viper. I've always had a bit of a love/can't-quite-understand-'em attitude towards Vipers. When they were first introduced, I wrote that Vipers were like some hot-looking woman with a 50-inch bustline. Yeah, it's impressive, all right. But what the hell do you DO with it???? Only then I instructed at/participated in a couple Viper Days events and, even if some of those folks were a little numb between the ears, the rest of them were genuine enthusiasts who just happened to LOVE big, fast, burly-gorilla cars.
And the Viper was every inch a gorilla car.
Then I landed a "celebrity-driver" deal in a Lux Racing Viper ACR-X in the SRT Pro race at Road Atlanta (thank you, John Hammer & Cindi Lux!) and came to realize how far they'd come in turning that raw, musclebound early brute into a massively fast and impressive track car (as proved by multiple class wins at Daytona, Sebring and Le Mans).
Well, now they've come even further. Although I can do without the Orange Julius paint-job, the newest-edition Viper is a hell of a nice track car, and the way they've stiffened up the chassis, dampened and re-tuned the suspension, improved the feel of the steering (!!!) and just generally refined the whole experience impressed the heck out of me.
And it'll still flatten your eyeballs out when you tromp on the loud pedal.
Biggest surprise of the day was the Cop-issue Chevy Tahoe they had for us to try. I figured it was going to handle like a pickup truck full of plumbing hardware (only with waaaay too much horsepower under the hood) but I couldn't have been more wrong.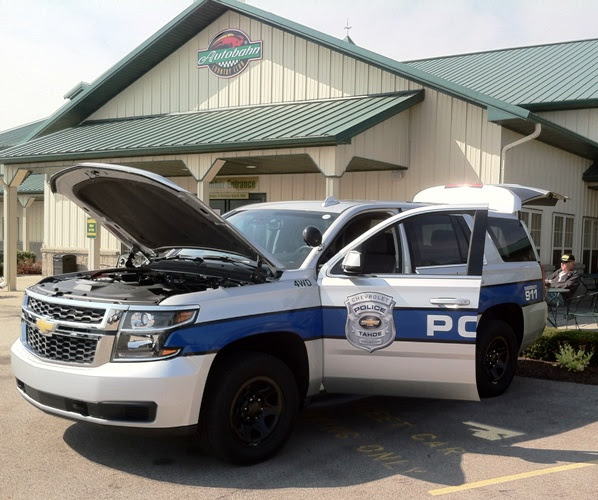 Oh, it's got (how did Rolls used to say it?) "adequate power". But the damn thing weighs something around 5000 lbs. even without a couple fat cops and a big bag of doughnuts in the front seat. So the acceleration is more "impressive" than "explosive." But, like the Chevy cop-car rep told me: "nobody outruns our radios...."
Point well taken.
The amazing part was what a smooth and comfortable thing this was to drive. It could carve around corners with surprising grace, and yet you could easily visualize spending extended shifts in it with all your cop gear and hardware.
Nice to see the world the way "the other side" sees it.
Not to mention what a treat it is to ride in the FRONT seat of a cop car for a change....
At lunchtime we got more free food provided by Chevrolet's Performance folks, followed by a numbers-laden show-and-tell about how awesome the new Corvette ZO6 is (it is) and how much better and quicker it is than the "old" one. And you do have to be impressed by the numbers. Only (and I'm not picking on just Chevy and their truly excellent new Corvette here) you get the idea that it's the marketing folks prodding and pushing the engineering types to come up with a better, more complicated mousetrap, when the actual fact is that most owners want that stuff more for cocktail-hour one-upsmanship than hot-lapping.
I like to use the analogy (and I'm including Porsche and BMW and Ferrari and Lotus and Audi and Lambo and every other blessed performance-car builder on the planet here) that the buyers are like the audiophiles back when I was young who'd babble on and on ad nauseum about receivers and amplifiers and woofers and tweeters and amps and ohms and fancy, diamond-stylus tone-arm cartridges and never, ever ONCE talked about the damn music they were playing....
But the new 'Vette is indeed cool and even more indeed fast and track-competent, and it's really cool that you can get it with a factory-issue, track-ready data-analyzer (now why would you want to depress yourself like that?) plus a Go-Pro-style camera so you can wow all your friends with your latest spins and incidents.
BMW brought their futuristic I8 hybrid, which I guess is a vision into a future loaded with eco-green technologies and PC-driven agendas (or at the very least ad slogans and sales jingles). And it is impressive in specification and gorgeous to look at. But I'm a little put off by the sheer, moon-shot complexity of it. Not to mention the skinny tires and those ham-slicer doors that don't seem to me to be much of an improvement over the old gate-hinge variety we've become accustomed to over the years. Plus who's gonna fix these things when, a few years down the line, some little brain box or electric circuit goes Tango Uniform in Dogpatch?
And at what cost....
Took a track run in the latest hot-shit Subaru WRX-STI, and while it's fast, capable and comfortable (and really an amazing evolution from the clunky, tough, tinny and inelegant "VW motor in the front/school-bus shifter stalk" Subies we used to work on at Mellow Motors back in the mid-1970s), you cant miss all that extra weight from the 4-wheel drive system. Light on its feet it is not. But, when the snow flies, it's probably the sports sedan you want to own. Also tried out Kia's latest hot hatch and, although it is (like the rest of the brand) a relative bargain, it's a little clumsy and unrefined even while circulating the racetrack at a pretty good clip. The Mazda 3's controls are ever so much nicer to fondle and so is VW's excellent GTI, which feels the most substantial of the lot by a solid margin. The amazing thing is that these hot-rod "econoboxes" are currently serving up what used to be considered sports car (or even supercar!) performance along with seating for four adults (as long as the ones in back aren't too big), plenty of versatile carrying capacity, long warranties and relatively rock-solid reliability.
As e.e. cummings once put it: "pity this busy monster, manunkind, not. Progress is a comfortable disease" 
In any case, the absolute highlight of my day had to be the new Alfa Romeo 4C, which is supposed to be leading Alfa's charge back into the American market. And, as a longtime Alfa addict, fan and racer (and several-time owner and onetime Alfa salesman, too), I'm really excited to have them back and hoping like hell they do well enough to make it stick this time. I think I can say with some authority that a lot of Alfa's problems in this country stemmed from poor product choice (I was selling them when the company decided they were going to take a big bite out of BMW's ass by letting their sportscars and GTs grow cold on the stove and concentrate on Alfetta and later Milano sedans) along with, in some cases--can you say "rust" or "stop fiddling with that damn SPICA fuel injection if you don't know what the hell you're doing"--just plain poor product. Damn shame, too, since the people who love Alfas really LOVE Alfas--warts and all--and, like me, they really want to see them back and thriving in the American market.
But the question on everybody's lips is: "Is this the car that can do it?"
Well, to be honest, I'm not sure. On the plus side, they've gone for light weight as opposed to big power (237 is the quoted HP moving something around 2700 lbs. ) to arrive at performance via the "power-to-weight" rather than "power OVER weight" path. And I'm all for that. Like Buddy Palumbo says: "horsepower helps you in a straight line, but light weight helps you everywhere!"
The 4C's chassis is genuinely magnificent: tight, taut, well-dampened, nimble, reassuring, damn near surgical when it comes to cleaving apexes...all those good things. And the exhaust note will absolutely send shivers up your spine.
Downside is that it reminds you of a Lotus Exige (not necessarily a bad thing, but Lotus Exiges have not exactly been flying off the showroom floors in huge numbers), the 4C is only available with a paddle-shift automatic (a very good and user-friendly paddle-shift automatic, but it's sure to put some of the purists off). And if you plan on taking anything much more than a toothbrush, some stick deodorant and a box of Kleenex with you on a road trip, you'd better think about ringing up UPS.
But, geez, is it ever cool to look at, wonderful to listen to and marvelous to drive. No question it feels like an ever-so-slightly scaled-back (and, therefore, much more usable) current-era Ferrari supercar. Which reminds me how we called Alfas "a poor man's Ferrari" back when I first started racing them on the bush-league-and-proud-of-it Midwestern Council circuit back in the late 1970s (me and my cheater Alfa won 5 club championships and enjoyed 2 undefeated seasons). So, yeah, I'm Alfa Queer (as my old friend and fellow Alfa nutcase Craig Morningstar used to say) and maybe, just maybe, this is the Alfa all of us stateside Alfistis have been waiting for? Only can the exquisitely sexy, svelte and even stunning (but somewhat out-of-the-mainstream and even oddball) new 4C find enough buyers?
Not to mention a solid dealer network and a reputation for reliability and resale value that, if not exactly stellar, is at least not embarrassing.
I sure as heck hope so....