I'd seen this particular car run several times in the hands of its original owner, Jim Froula, and so I knew going in that it was fast, well-sorted and generally reliable. So I was really looking forward to it. Plus it represented a great opportunity for a little--ahem--"further research" on the magazine feature on SCCA and IMSA racing sedans that I've been promising people I'm going to finish for the last five or six years. Particularly Brian Walsh, who is more-or-less the main sparkplug of the Small Sedan bunch on the vintage scene and whose Pinto I beat the living crap out of at VIR. Or at least until he blew it up anyway.
The test session went pretty well all things considered. I was reasonably quick without actually being fast (2:49 and small change) and Richard was absolutely right about the shift gate. But I caught it both times I accidentally selected 2nd instead of 4th on an upshift and didn't let the clutch out. Whew. I also managed to grab 5th instead of 3rd a couple times on a downshift from 4th. Remember that. Beyond that, I can't tell you how much fun that little buzz-bomb was to drive. Like all great racecars, it was simple, and while lots of folks set up their cars really stiff (and that makes them handle great on smooth, flat racetracks), I more and more like something a little softer, better dampened and more compliant, particular for your more "organic" and flowing racetracks. And the Bluebird was every bit of that. Plus it was straightforward and honest to drive, and with a really strong motor for just 1770cc. So I was really looking forward to our Enduro. Only then it clouded over. And started to rain. And it got colder, too. Lots colder. And then it rained some more. We didn't have any "real" rain tires in the trailer (Hoosier Dirt-Track skins are a popular & effective choice) and none of the Tire Guys on hand had anything that would fit. But Richard had some mounted, full-tread-depth Toyos, and that would just have to suffice. We had a brief team meeting where I outlined (through generally chattering teeth) the Top-Secret Enduro Strategy that has served me well over the years. Including back-to-back season championships in the old HSR Rolex Vintage Endurance Series co-driving with my late friend David Whiteside in his flyweight but feisty Lotus 17.
ME IN DAVID WHITESIDE'S LOTUS 17 AT LIME ROCK
The basic premise of this strategy is that any team that completes their mandatory, timed 5-minute pit stop under a full-course yellow (should there be such a thing, and there usually is) will invariably finish ahead of faster--even
MUCH faster--cars that perform their pit stops under green-flag conditions. So you leave the starting driver in the car as long as necessary to take advantage of any full-course yellows that may occur. If there's an incident that prompts an early full-course yellow, the second driver winds up with the bulk of the seat time. If there's no full-course yellow, the first driver takes it all the way to the last fifteen minutes in hopes of catching one. So, in that scenario, the second driver gets screwed out of seat time. But I'm utterly convinced it's the right way to play it and, with the wet, cold, lousy conditions (see below) I kinda figured somebody'd do something stupid (or ill-advised) and we'd get at least one full-course yellow. Only we didn't....
ACING IN THE RAIN AT ROAD AMERICA
CAN'T TELL IF THAT'S ME OR RICHARD IN THE CAR
I must say Richard did a heckuva job (especially considering that he hadn't had a single lap of practice) and was he running just ahead of Rob Davenport's Alfa, contesting about 6th or 7th overall plus a class win. Meanwhile Bart and I stood around in pit lane under a bleak, cold, drooling sky, looking about as happy as those caged, sad-eyed dogs you see in the Pet-Adoption commercials on TV.
Still no yellow....
So we waited until the Last Possible Moment, fifteen minutes from the end, and brought Richard in for fuel and a driver change. And Rob Davenport in the Alfa came in right behind us (like five or six seconds). We performed our pit stop perfectly (if I do say so myself) and I headed back on track EXACTLY five minutes after Richard had brought the car in. So imagine our surprise to find that Rob's Alfa had left pit lane the better part of a minute before....
Hmmmm.
Now the pit marshals are supposed to keep track of such things (Lord knows they do at Le Mans) but there weren't too many cars running by that point and it was cold and miserable and, hey, the prize money's the same for everybody, right?
In the meantime, I was busy just trying to keep it on the damn island. I hadn't been out in the wet during practice and ours were hardly the best option as far as rain tires go, and the last thing I wanted to do was wad the car up.
So I ran a handful of mostly lonely, wet, workmanlike laps--it was actually kind of fun--and brought the car home without incident.
Later on, we picked up a copy of the Official Results and were somewhat surprised to see ourselves listed in 7th overall and 1st in class. Only we should have been in the same bloody class with the Alfa (which they had finishing ahead of us, but in a different class) and we should have finished ahead of the Alfa on account of the somewhat optimistic timing of their 5-minute pit stop. They also had my pal Dave "Dr. J" Jahamiak's Devin-Chev finishing ahead of us even though he never made it to the checker on account of he parked the Devin in the Turn 7 guardrail a lap and a half from the end. And they had Lisa Hansen's always-fast 911 finishing second, even though it looked from our perspective in the pits like she ran away from everybody and smoked the entire field from green-to-checker.
Go figure.
But we didn't really care since it was a "fun" race with no championship points or prize money involved. And besides, everybody on both sides of the fences was cold and wet and miserable and sorely in need of a hot shower and a nice glass of something warming to drink. Not to mention that Richard and Bart and I know we finished 5th overall and won our class, and that's enough for us.
But there's more to the story.
Richard and the Bluebird came from the back of the grid to win the 2.5 Trans-Am sedan feature in beautiful weather 
on Saturday
 (after a pretty spectacular dice for the lead with another Datsun and a couple of Alfas) and he also got fastest lap...by 0.147 seconds! Hell of a drive!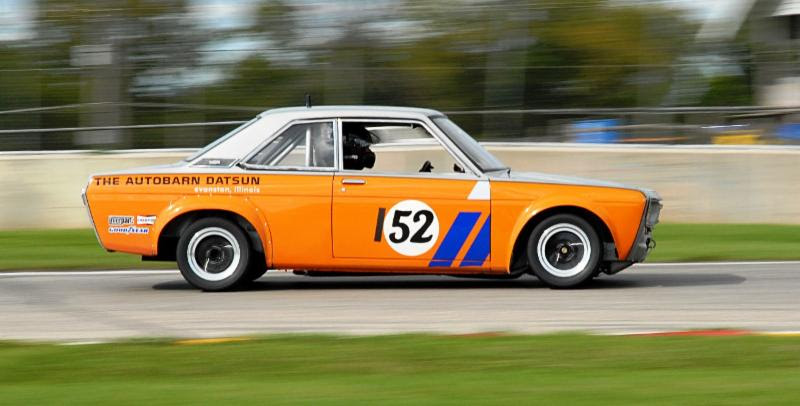 And then he kindly decided, since I didn't get much seat time at all during the Enduro, that I should drive the Bluebird in the Sheldon Cup race 
on Sunday
. What you need to know here is that these special VSCDA "cup" races are run like bracket racing at the drags. The "breakout" lap time for the Sheldon Cup was 
2:45
 (go faster than that and you get penalized), and I knew for sure that the Bluebird could do that. In fact, I was pretty damn sure it could go faster than that. Maybe even with me at the wheel. So I asked Bart to put a stopwatch where I could see and reach it on the steering wheel, thinking that I could check my lap times coming out of the last corner and pedal out of it if need be to keep over the breakout lap-time.
There was a better than decent grid of some 35 cars and I figured I was in with a pretty good shot because we were gridded in the top ten and the breakout time was right in the Bluebird's wheelhouse. But I was also new to the Datsun and desperately wanted to bring it home in one piece, and I knew the guys at the sharp end had been racing each other hard all weekend. In fact, most were the same bunch Richard had been up against in the U-2.5 Trans-Am race 
on Saturday
.
Well, my brilliant race got off to a pretty shabby start as I got a good jump and sliced between a couple cars on the run down to Turn One, then found myself about to wind up in the trunk of an extremely slow-moving Austin-Healey that had somehow wound up on the front row of the grid. Go figure. Well, I had no choice but to pedal out of it and let cars whiz past on both sides. Like when you pick the wrong lane on the freeway, y'know?
Shit.
But I got around the Healey on the run down to 3 and, as things sorted themselves out, I was at the tail-end of a lead bunch of 7 cars, and even though it was just the first lap, you could see that they were going at it hammer-and-tongs. To be perfectly honest, I didn't really have the confidence or comfort level yet to go mixing it up with those folks. Besides, they were going like stink.
Well, I screwed up my in-car stopwatch timing on about half the laps, but the ones I did get told me my pace was right where it should be. The Gang of Six up ahead had moved away, and all I really needed to worry about was George Balbach Jr. (a.k.a. "George Light") in his familiar and fast, Mark Eskuche-prepared #01 bathtub Porsche.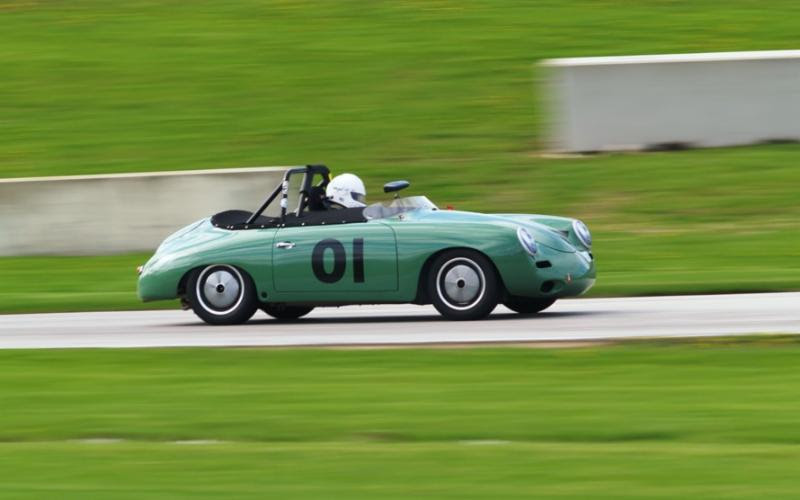 GEORGE JR. IN HIS EX-MARK ESKUCHE PORSCHE 356. AND I TOOK THIS PICTURE, TOO. PRETTY NICE SHOT, EH?
As the laps unfolded I could see him there behind me--sometimes a little closer, sometimes a little further away--but never really close enough to try a pass, and I was gaining confidence that I could hold him off to the end. I was also starting to think that those six folks up ahead had maybe, just maybe, gone a little too fast for their own good....
So it was a nice drive on a beautiful day on a great racetrack and the car was absolutely, positively lovely. But twice I grabbed 5th instead of 3rd on a downshift for a corner and had to kind of scramble to get things sorted out before George caught me and pounced. Eventually the starter on the bridge showed the well-known extended finger (no, not that one!) indicating one lap to go, and I must say I was feeling pretty damn good about how things were going. And it's precisely at moments like that when you are the likeliest to screw up.
Sure enough, that's precisely what happened! Braking into Canada Corner with something like a quarter-of-a-lap left to go, I managed to downshift from 4th to 5th instead of 3rd again. And this time, instead of waiting to get through the corner to put things right, I guess I got a little impatient (or lazy, or sloppy, or stupid...take your pick) and tried to grab the right gear on the fly. In the middle of the corner. In mid-drift. And when I put the clutch in and interrupted the drive to the rear wheels, the car snapped around backwards so fast I couldn't believe it.
Damn!
And I have to credit George Jr. here for not collecting me. I saw him coming right at me (through the side window, actually) with his brakes locked up solid and tiresmoke boiling off the right-front tire. But he eased off his brakes just enough so he could steer around me and made it past without putting so much as scuffing the wax job of either car.
But it was close....
Well, I did manage to keep it running and rolling and also managed not to get mired hub-deep in the gravel trap, but there was no hope of catching George again, and he beat me to the finish line fair and square. My fault. Damn. But we were well clear of the rest of the field, so I did finish behind him.
And then the results came out. And the other shoe dropped. As I'd surmised, those six cars up ahead had ALL broken out time-wise (one of them by more than five seconds!) and so they were all duly penalized and dropped to the back of the finishing order. So George and I had actually been battling for first overall!
And I handed it to him on a silver platter!
Double Damn!
But he did manage not to hit me when I spun it like an idiot right in front of him just three blessed corners from the checkered flag, and so I guess he deserved the win. Not to mention that neither he nor his dad smirked or laughed at me when I came over to say "nice drive...and thanks for not t-boning me."
But I would like to point out (just for the record, of course) that my fastest lap was a completely legal and within-the-regs 2:45.361 (how about that!)while George Jr. was credited with a slightly faster (but definitely NOTwithin the regulations!) 2:44.733.
Not that I'm complaining or anything.
I'm just sayin'....
So all in all, it was a pretty damn great weekend.
Sure hope Richard will let me co-drive again after he reads this.
I did tell you to shop at his dealerships, didn't I?