Well, staring them both right in the kisser is one of my infamous "WANTED" posters (see below) which I have taped up by the registration window as well as inside every mens room, ladies room, pissoir and porta-potty on the property.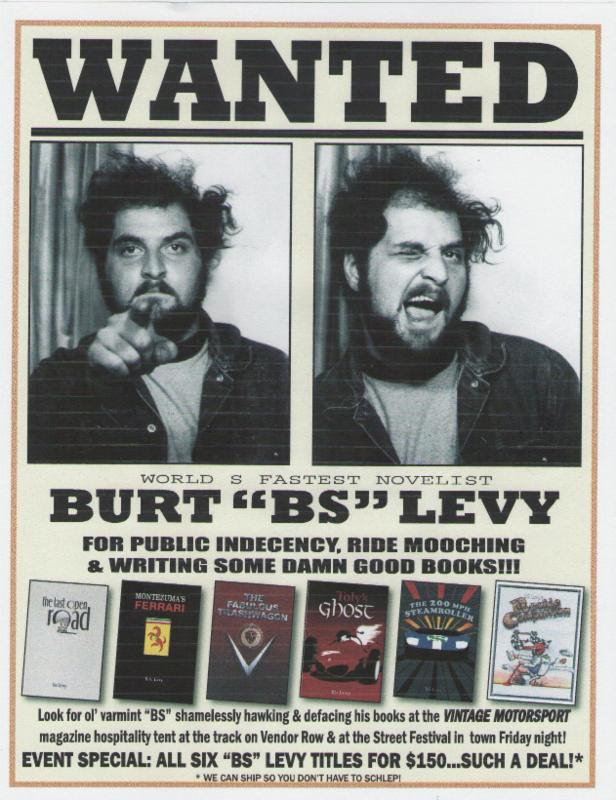 "Y'know," sez Tony, "I think I got just the guy for you...."
And that, dear reader, is how I wound up going from a pre-war, supercharged, solid-axle, cable-braked MG N-Type to a VERY sleek, modern & generally state-of-the-art Van Diemen Sports 2000 during the Glen weekend.
Wow.
Plus I had my friend and shooter par excellence Daniel Mainzer snapping photos of me in all the cars. Click here to check out all the excellent pix (maybe even of you in your car?) on his website at
http://www.mainzerphoto.com/ 
So my weekend got started with a session in my good friend Manley Ford's very fast, well-prepared & successful MGTD at 
1pm on Thursday
. What a NICE car to drive! Good power, very well-balanced, friendly, communicative and comfy as an old woolen sock. Plus it 
LIKES 
to slide....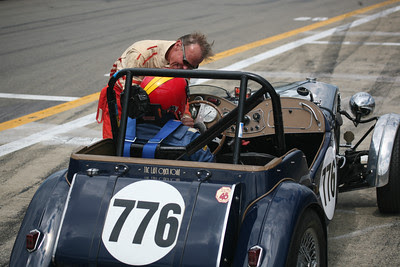 An hour and a half after I got out of the MG, I was getting strapped into Marc Adler's low, sleek & svelte Van Diemen S2. Talk about a Time Warp!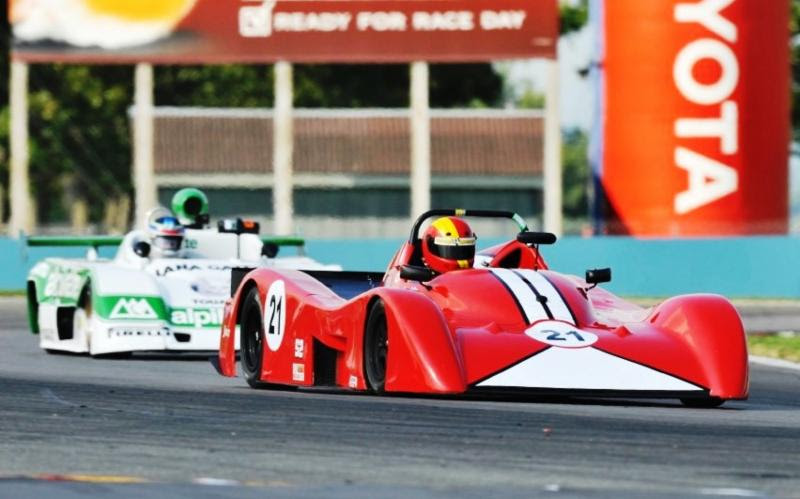 The contrast (and the similarities) between the two cars was so striking & fascinating that I wrote my column about it for the next ish of VINTAGE MOTORSPORT. So you'll just have to pick yourself up a copy and read it there. But the pic below sums up a lot of it: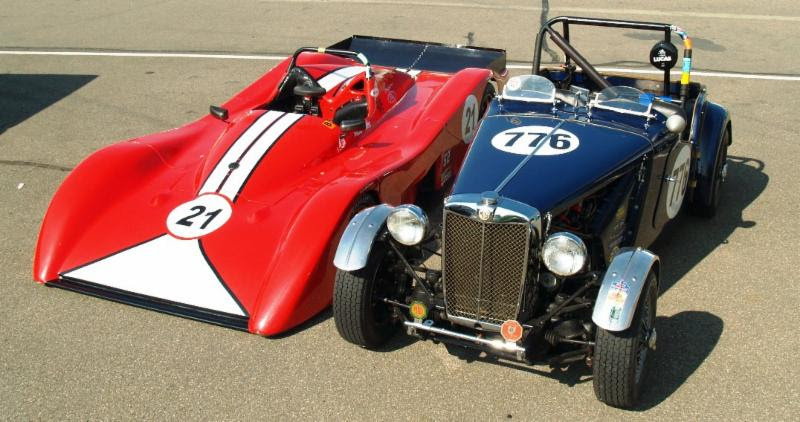 But wait: there's MORE!
Come 
5pm
 or so, current MG Vintage Racers head man, event sparkplug & doer of countless thankless tasks Chris Myers turns me loose for the first Group One qualifying session in his well-known & well-traveled #029 MGA.
Now I know this car because I raced against it once or twice back when my friend Skinny Joe Tierno owned it (or he was skinny back then, anyway) and it had been racing for a long, long time before Joe ever got his mitts on it. In fact, current-owner Chris thinks this particular "A" may have more accumulated racing miles than any other "A" on the planet. But some stuffy Brit is going surely going to argue the point, so why don't we just say "North America" and let it go at that?
This turned out to be great fun, as Chris's "A" is a really representative example and I got dumped out on-track in a busy, dicing-and-slicing stampede with several other As and Midgets of near-equal performance (Carl George, George Shafer, Joe Puma, etc.) and, as you can see from the shot below, it was quite a hectic scrum, and I was having a hell of a good time and feeling thoroughly at home in the old MGA.
Only then, out of absolutely nowhere, the engine note changed and I felt the power go soft. One cylinder had gone off-song, no question about it. But the oil pressure and water temp were still looking good, so I backed off, put my arm in the air in surrender and headed back into the paddock. Chris was unbelievably cool about it (you get the idea these things happen with a certain regularity around his MG paddock) and his initial, finger-in-the-air diagnosis was that it probably amounted to a blown head gasket. Or, as I believe he put it, "another blown head gasket...."
But, low and behold, once the engine cooled and Chris could do a little further investigating, he discovered it was just a tappet-adjustor screw that had backed off (as they are wont to do). So it was easily fixed. Not so easily fixed was the piston that either melted or fractured or both the very next session out. But at least I wasn't in the blessed car when that happened.
The cool thing is, Chris and his friends and helpers had a great time in spite of the busted racecar. And that's the way it's really supposed to be in the world of vintage racing, n'est ce pas?
Thanks to my friend John Welch, I was a guest at the really old MG-addict dinner in Corning that evening (meaning that the cars were old, not necessarily the owners) and it was very nice & gracious and the food & company were good and they even asked me to tell a story. Which I did, no surprise to anyone. Got a few laughs, too.
Friday is pretty much a work day for me at The Glen, as I hawked books alongside my great, long-suffering, couldn't-do-any-of-it-without-her friend & campadre Toni Cumbess of VINTAGE MOTORSPORT at the magazine's hospitality tent in the track's vendor village. Did that through lunchtime, then loaded everything up and headed downtown to set up for the Friday-night street-race re-creation & blowout festival. If you've never been, you really need to put it on your bucket list, as it's like Mardi Gras with wheels (
and
knockoff wire wheels
, at that!) and the support and enthusiasm of the locals is truly amazing. As are the music and historical speechifying and racecars growling and roaring and stomping and snorting through town and then a big fireworks display against the backdrop of the famous glen rock formations, which is really something to see. Followed by a walk over to the annual gathering at the justly world-famous 
MOTOR RACING RESEARCH CENTER
on Decatur Street. Only I didn't quite make those last two on account of I wuz busy packin' up the van again (how the heck did I fit all this crap in here before?) and truly done in.
But, as I headed back to my hotel through the dispersing crowd and the haze-and-smoke remainders of the fireworks display, I had to feel gratified--and, yes, thankful--about all the folks who'd come up and bought a book or told one of their friends to buy a book or had the sticker on their car or said how much they enjoyed the books or asked when the next one was coming.
Makes the whole damn thing worthwhile, really it does....
Come 
Saturday
 I got a turn in second qualifying in Reed and Linda Yates absolutely superb 1934 6-cylinder & supercharged MG N-Type. Now Reed is a great guy with a wonderful attitude and tremendous, grinning enthusiasm (he's been fooling around with this old MG stuff for a very long time and was presented with the Big Copper Bucket award for "Vintage Spirit" at the MG Vintage Racers' gathering at Hallett back in 2006) and he was genuinely eager for me to try his car. And to give me its history as well:
"This was originally a four-place MG touring car," he explained with self-effacing honesty, "but after I bought it, I had this pretty good old guy in England re-do for us as more of a two-seater sports car."
I looked him in the eye. "So this is what we in the motoring journalism business might call 'a bullshit car'."
The eyes twinkled. "I guess you could say that."
Reed went on to explain that the car was also prone to gremlins, glitches, fits of pique and occasional poltergeists. Like right now something and gone all wonky with the starter. He'd fix it and it would fire right up and then he'd button it all back together and then it wouldn't spin or fire again.
Like I said, poltergeists.
But I got in and he went over the controls with me. It was right-hand drive and had a Wilson Pre-Selector gearbox, which is something I'd read about many times but never experienced personally before. The shift lever looks more like an automatic gate with all the gears in a notched straight line, and you simply move the lever to the gear you think you want next and then, when the moment is right for it, you just dab the clutch pedal down and the Wilson Pre-Selector magically serves up the pre-ordered gear. Works like a damn champ, too! Amazing!
Even more amazing was Reed's reply when I asked him what I should use as a redline?
"Seventy-Five-Hundred" he answered without skipping a beat.
"S-S-S-Seventy-five hundred?" I sputtered back at him.
"Sure, 7500. She'll take it." He seemed pretty damn confident about it, too.
So off I went: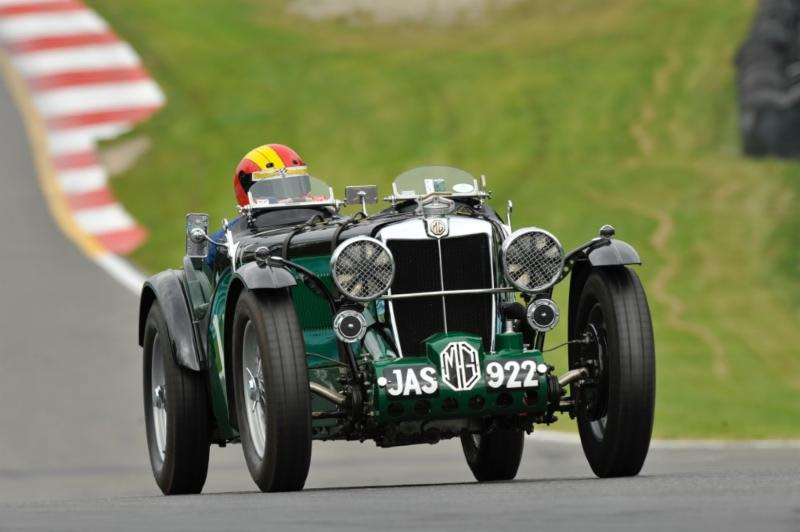 As you can see, there was no roll bar and, to be honest, I was a little uneasy about taking the thing around at speed. But the old MG won me over almost immediately. The power out of the engine (at least once the supercharger started coming on-song at around 4500rpm) was amazing. And damn if it didn't pull strong and solid all the way to 7500! I found the N-Type's chassis lively, sure-footed and frisky (although that solid-axle front end shook, danced, shivered and shimmied something awful over the EXTREMELY bumpy surface around the Toe of the Boot...they really need to re-pave that section!) and the brakes required a little, umm, "advanced planning."
But the thing I'd worried most about--that Wilson Pre-Selector gearbox--worked like an absolute charm. The changes were smooth, quick and graunch-free, with no weirdness, wonkyness or monkey-motion whatsoever.
Or at least that's the way it was until about my 4th lap, when I went to downshift from 4th to 3rd as-per-usual for the Heel of the Boot. Oh, I got the lever into the proper slot, all right. But when I went to dab the clutch to make the change, THE EFFING PEDAL WASN'T THERE!!!
I am not shitting you.
My toe searched around for it, but, far as I could tell, the damn clutch pedal had gone missing!
Well, I raised my hand again, slowed, and, as I motored gently off onto the grass, took a little looksee down around my feet. Sure enough, the pedal had flopped back over-center and was now lying horizontally against the floorboards, directly beneath my calf. Hmmm.
As you can imagine, the thoughts going through my head were thoroughly dark and unpleasant ones, and I was trying to wrap my brain around just how I wuz gonna explain this problem to the car's owner. "Reed," Iheard myself saying, "y'know that rare and expensive Wilson Pre-Selector Gearbox you gave me t'play around with?"
"I believe I recall it."
"Well, I believe I've turned it into a Wilson No-Selector gearbox."
"I'm not sure I've ever heard of one of those."
"Nobody has," I hear myself say like I'm trying to sell him a bum used car. "Why, I'm pretty damn sure you've got THE ONLY ONE!"
"Do tell...."
Well, the one thing I know for absolute sure is that I don't know a damn thing about Wilson Pre-Selector gearboxes. So I pretty much insist on a flatbed tow to get Reed's car back to the paddock.
And I've got to give the man credit, because he's still got that big, friendly smile on his face even as his N-Type trundles past on the flatbed. Then I tell him what happened with the clutch pedal while the towtruck guys are unloading his MG. He thanks them (as I do), then stares into the drivers'-side footwell.
"It's never done this before." he opines.
"Never happened to me, either," I tell him.
Then he looks at it some more, climbs in, prods the fallen-over clutch pedal with his toe, considers for a moment, and gives it one hell of a kick.
WHAP!
BONK!
Problem solved!
Everything's back in place and working like its designers and builders intended.
Like Reed warned me: "poltergeists."
Marc and I didn't run the 
Saturday
 enduro with his Van Diemen on account of the skies opened and it poured buckets about a half-hour before the start. He had rain tires, but Marc had never run in the rain before and I'd already come to the opinion that his car was sprung a little too stiff (and that's not really what you want on a wet track!). In retrospect, we maybe should have done it, as only something like a half-dozen cars showed up to race and it would have been a good learning experience for him. If a bit nerve-wracking.
Ace Porsche-pushers Frank Beck/Jim Cullen pretty much ran away with things in their GT3 Cup car, but ex-Minnesota-ice-racer Shannon Ivey put on a spectacular show of car control in what appeared to be an unsuitable-for-the-prevailing-conditions Chevy Camaro and came home third overall. Impressive. And a French-Canadian guy in a Mustang wowed the small crowd braving the elements at Corner One by spinning down the middle of the road, not touching anything and taking off again--pointed almost the right way--before the car ever came to a complete stop. In fact, he did it twice! Those Canadians....
The weather cleared to merely damp and soggy for the big track party Satuday night, and we were treated to plenty of good food & drink, reasonable buffet lines, a large, happy & convivial crowd of racers and one heck of a good band ("The Heavenly Chillbillies" out of Buffalo) who had some in the crowd--like me and the wife of one of Marc Adler's buddies--dancing their asses off. Good time. And then, a little later on, me and well-known racer & driving coach Pete Argetsinger and his lovely wife Skoujke stood around with a couple glasses of wine and swapped stories. Only theirs were better than mine. Like when Peter was trying to make a go of it as a pro driver racing formula cars in Europe, and they're hustling like hell to make the next race God-knows-where and Sjoukje is up front driving like mad and Peter's in the rig in back--as they're flying down some highway or other in the 2ayem dark--trying to re-assemble the damn racecar!
Like I said, their stories were better than mine!
Sunday I hung around to hawk books through lunchtime and watch the Collier Cup trophy races. Manley Ford and the TD I'd enjoyed so much on Thursdaydid what I expected them  to do in the Kimber Cup Race for T-series-and-older MGs, as they pretty much ran off and hid from the rest after Steve Konsin's Lester MG special (the only car in the same time zone as Manley's TD) fell out with mechanical ills. See pic of Manley & his TD below in victory circle.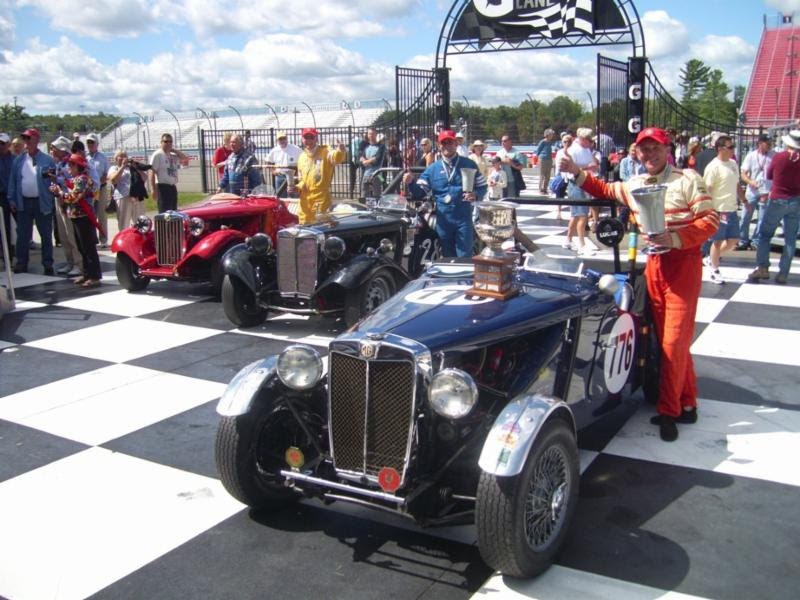 Also watched the Thornley Cup Race for later MGs from the grandstands (in the company of the lovely Dana Moreland and some other, not nearly so lovely MG aficionados) and it was a real barn-burner. My expatriate Brit hairdresser friend from Manhattan, Alan Tosler (whom I nicknamed "Tosser" at VIR for reasons that will shortly become obvious) was on the front row in his powder-blue #01 MGB (with full windshield and white fiberglass hardtop, as is the British custom)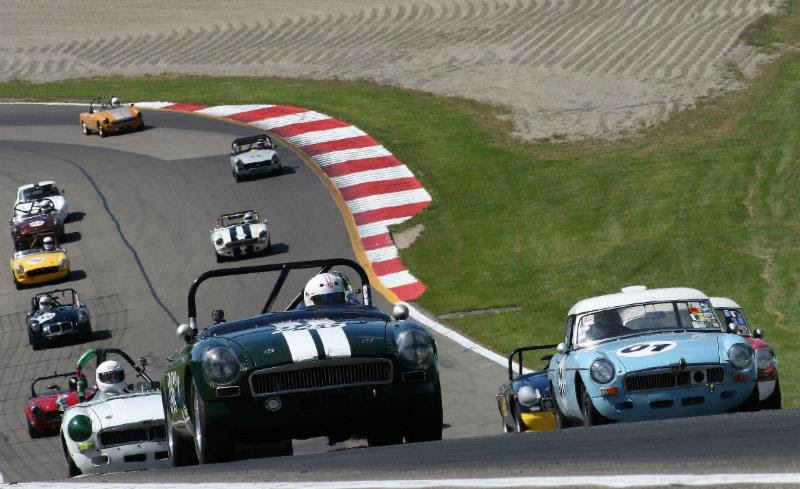 but he had one hell of a fight on his hands in the person of Jonathan Lane in another really quick "B" and the similar cars of my midwestern MGB racing buddies Dick Luening (I used to race my TR3 against him back in ze olt Midwestern Council dayz) and Scott Fohrman lurking close behind.
Now I should probably mention here that "Tosser" has TWICE offered me co-drives in his cars (his Lotus Elan at Road Atlanta this past April and the aforementioned MGB right there at Watkins Glen) only to back-pedal from his promises like a big-city politician after an election when the Big Day finally arrives. But, as I said, he's a New Yorker, so you learn to accept such behavior as par for the course....
And I can't really take away from the wisdom of his decision at The Glen, as it kept the car fresh for the Thornley Cup Race. He'd brought it expressly to win that race (along with the John Targett 612 Trophy for best-finishing 4-cylinder MG that memorializes our dear, late friend) and damn if that isn't precisely what he did. And it waren't easy, either. Jonathan Lane was "all over him like a cheap suit" the entire way (and even got by into the lead for a spell) but Alan fought back, re-took the lead, held on to the finish--under intense pressure--and set fastest lap in the bargain.
Well done, Tosser!
(you still owe me an effing drive)
After that, it was time to pack up the van again (God, that part gets old!) and head back home to Chicago. I had to stop for some shuteye around Fremont, Ohio (it's a bad sign when the personal-injury lawyers on those highway billboard signs start smiling, winking and talking to you) but I made it home in time to reacquaint myself with the beloved wife and dog, eat some dinner and then settle back with a nice glass of wine to watch my not-quite-so-beloved Chicago Bears take on the feared San Francisco 49ers 
on Monday
 Night Football. I fell into a deep, untroubled sleep by the time my Bears had fallen behind 17-zip a little before halftime....
Imagine my surprise when I read my paper the next morning and found out that they'd come back to actually win the game! Unbelievable! In fact, it made me blink a few times and wonder if this might not be another one of those classic Chicago newspaper blunders....