It's a really good car (Brian won the Group 5 race with it at Road America), and they're gonna let me loose in it on a test day at Autobahn later on this summer. I can hardly wait! And I'll make sure and pack an extra change of underwear....
Outside of that, the four of us mostly just hung out and enjoyed each other's company. Although Carol was slightly hobbled on account of she tripped over the vacuum cleaner hose, fell and banged the shit out of her knee while she was trying to make everything just a little bit better than perfect before the kids got in. It was really giving her a lot of pain, but we went for X-Rays (nothing broken, thank goodness) and a few chiropractic treatments (we've got a REALLY good guy) and by Saturday she could hobble around well enough that we went downtown and took a little trip down memory lane. We saw the cool old brownstone-style apartment building we lived in when Adam was a tot, went by where Mellow Motors and our first, one-room apartment used to be (both replaced by condo buildings now, dammit) and re-traced the walk along the lakefront and through Lincoln Park we used to take when we'd go down to have dinner with my folks on Friday evenings. Lots of reminiscing and a really nice time. Pix below.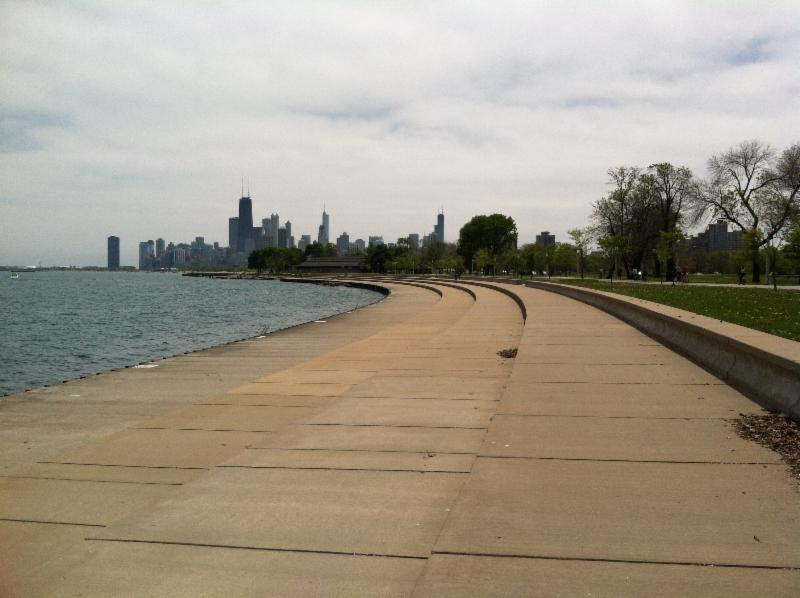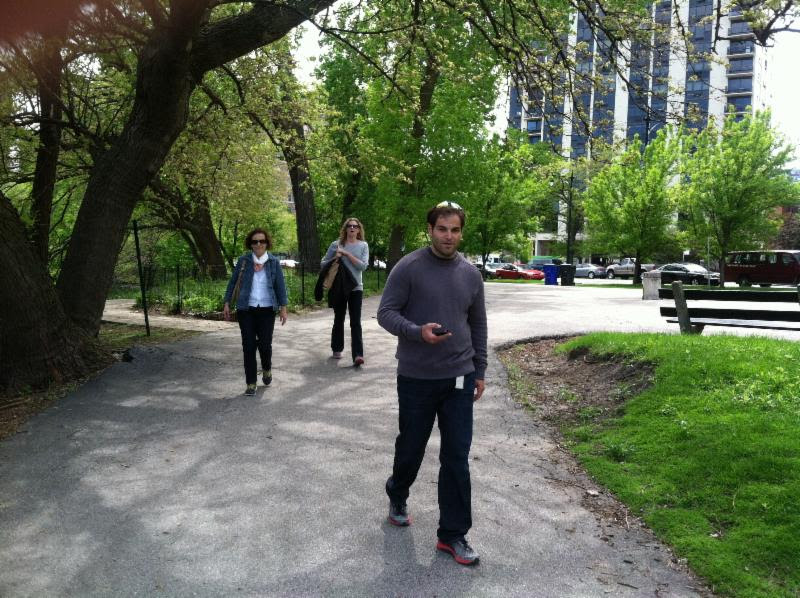 If you've never been here, Chicago's pretty damn nice for a big city. At least when it's not freezing cold and covered with dirty snow in the wintertime or blazing hot with humidity like a swamp terrarium in mid-summer. But in the spring, early summer and fall, it's awfully nice. At least if you stay away from where all the tourists go, like Michigan Avenue, for example. We found a parking place (no, really) and took a walk there on our way home, and it was just too damn noisy, busy and crowded. Would Jesus really approve of his apparently well-meaning (but also apparently self-appointed-and-anointed) spreaders of the holy gospel dressing up like carnival barkers and assaulting everyone's collective eardrums through a bull horn? Turned up to 11 (if you saw Spinal Tap, you get it)?
I think not.
And then there are the homeless folks and the beggars and the street performers and the musician with a guitar and a harmonica and a cymbal on his head (I am not making this up) who, I assure you, never went to Julliard. In fact, I doubt he even made it out of high school band.
Did I mention the line for Garrett's Popcorn, which went all the way around the corner? I admit, it's VERY good popcorn. But the only way I'm gonna wait in line for 45 minutes for popcorn is if it comes with a damn movie.
So we headed for home. But, fortunately, my Alfa Club buddy and nearby neighbor Steve Crowley was having his once-a-year SPAM SPECTACULAR that afternoon, which is basically a bunch of getting-to-be-old-fart sportycar types (mostly Alfa addicts, of course) sitting around imbibing beverages, swapping lies & shooting the breeze while consuming some of Steve's genuinely amazing Spam-based culinary treats. Including Spam tetrazzini, Spam salsa and his slightly spicy signature dish, Spambalaya. Good time!
Next morning (
Sunday
 the 25th) I was up at 5, had my bike out of the garage by 
5:30
, pedaled my way to the Forest Park train station, headed downtown, biked over to Grant Park, signed in and took off on the truly wonderful, once-a-year BIKE THE DRIVE pedaling party. See, they close off Chicago's scenic and famous Outer Drive from 
6am to 10am
, and something like 25,000 bike-minded area residents pedal their asses off from one end of The Drive to the other. Or they just dawdle along if that's more appealing. I did the whole route again this year, from Grant Park south past the Field Museum and Soldier Field and McCormick Place to the turn-around through the lot of the Museum of Science and Industry, then back north on the other side of The Drive all the way to where it ends with another turn-around at Hollywood and Sheridan and then back to where it all started at Grant Park. Great fun, the weather was absolutely fabulous and I did 42 miles all told (including the trip to-and-from the train station), averaged a record (for me, anyway) 15.3mph and got home in time to watch my recording of the Monaco Grand Prix (pretty entertaining considering it's just about impossible to pass, but at least you get to see all the opulent yachts, fancy restaurants and bistros and genetically modified young female companions you'll never be able to afford) followed by the good ole American Indy 500, which was kinda dull for the first 400 miles but got PLENTY exciting the rest of the way to the checker.
Speaking of Indy, the AARWBA (American Auto Racing Writers and Broadcasters Association) held their annual breakfast at Indy and once again announced their award winners for writing and broadcasting excellence. You may recall (ahem) that last year I had three of my VINTAGE MOTORSPORT magazine pieces entered and (add another "ahem") wound up with a first place for event reporting, a second place for feature writing and a third place for column writing. Or, in other words, kind of a trifecta.
I only had two pieces entered this year, but (add a third "ahem") I couldn't get a second or a third place finish out of it on account of I won both effing categories! No shit!
As you can see, humility is not one of my better-developed character traits. In other words, I'm done bragging!
COMING ATTRACTIONS: Weekend after next (
June 6-8
) I'm off to the storied and historic Indianapolis Motor Speedway for the first-ever Brickyard Vintage Racing Invitational presented by my friends at the SVRA, and all the racers I know are  absolutely thrilled at the prospect of racing at the famous "Brickyard". Kudos and a hefty dose of respect to SVRA president/CEO Tony Parella and his staff, who have amazed everybody by actually pulling this off, and the entry (over 650 cars at last count, with a couple hundred more turned away in the more heavily subscribed race groups) is reflective of the kind of excitement and enthusiasm this event has engendered. We'll be running our races on the newly revised Indy "road circuit" (which uses a portion of the famous oval) and there will also be "demonstration run" groups of genuine historic Indy cars running on the full oval. Better yet, like all vintage events, you'll be able to wander around the paddock and see all the cars "up close and personal" and talk face-to-face with the drivers and crews. And, again thanks to Tony and his staff, we'll have a lot of genuine-celebrity pro drivers on hand to participate in a special Pro-Am race (do the names Parnelli Jones, Al Unser Jr., Lyn St. James or Scott Goodyear mean anything to you). 
CLICK HERE
 to check out the full list of celebrity-pro attendees and all the event details on the SVRA website.
As for me, I'll hopefully be getting a little seat time abusing (er, make that "co-driving") my buddy Dave Burton's Vic Skirmants-prepared Porsche 356 coupe (pic below) which he has been kind enough to let me loose in on a racetrack several times before. I suppose you could call him a serial offender....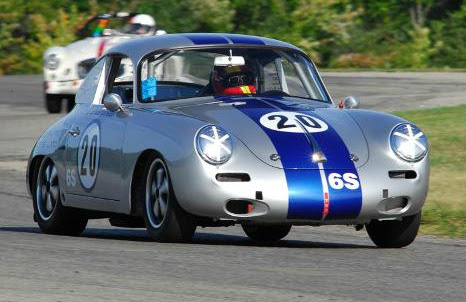 If you've got a minute or two to spare, you might want to check out the somewhat lurid video of me co-driving Dave's car in a Porsche Club of America enduro at Gingerman several years back 
(CLICK HERE)
 and ask yourself why on earth he's letting me get behind the wheel again?
Besides over-revving the engine and grinding up the synchros on Dave's car, I'll be covering the event for VINTAGE MOTORSPORT magazine (there's that name again!) and hawking books out of their sponsor booth in the garage area. I'll have all of my books, decals, logo shirts & doodads (of course) plus a box of signed copies of John Morton's book (see above) and also the one by his longtime partner, companion, best friend and topnotch writer Sylvia Wilkinson, The Stainless Steel Carrot. It's maybe the best job ever of relating the true-life challenges, effort, adventures and disappointments of trying to pursue a pro-racing career. I recommend both highly.
See you there?