I'm not saying that this thing works, but for sure you can feel the buzz (and the jolt when he switches on the Full Butch setting) and my feet and legs sure seemed better later on that afternoon.
I'm already thinking about buying one....
There were also swell parties featuring good food and drink plus 70s-ish rock music from a band called "The Steppin' Stones" (three kids who all looked to be about 12 years old) and lots of good weather and good racing. Sold a lot of books, too.
A weekend later I was on my way to Michigan to do a little speechifying at the Gilmore Auto Museum in Hickory Corners, MI (in the bucolic farm country NE of Kalamazoo) and this is a must-stop place if you're in the area. Dropped in on the VSCDA races at Gingerman on the way up, and I really felt at home with all the prole-level, old-crock Sprites and Elvas and MGBs and Volvo P1800s and such. Reminded me of my old days in Midwestern Council Racing back when I first started this nonsense some 40 years ago.
The cars on hand looked just like they did back then. Sorry I can't say the same about the drivers. But they still act the same, which is nice (if a bit retrograde). Tempus Fugits, don't you know? Wanted very much to stay longer, but had to move on.
Sunday morning I got up slightly early to take a little 12-mile bike ride (I found a pretty decent trail not too far away) and then it was off to the museum for my presentation. Had time to view some of the collection (everything from a Hudson Hornet racecar to Ford Model As and Bs to magnificent Franklins and Packards and Duesenburgs and Pierce-Arrows to Cobras and Corvettes and flame-job hot rods and damn near anything else you could think of), and I recommend it highly.
The speech seemed to go pretty well (I got some good laughs and nobody threw anything or walked out in disgust) and we sold a bunch of books afterwards, which was nice. Thanks so much to John and Frank and Ellen from food service who fed me a nice tuna salad sandwich in the legit, fifties-era diner on the museum campus. Great fun. And then I made truly incredible time coming home, as there was no typical Sunday Evening Backup heading into Chicago and everybody--even the old ladies and foreign students!--was blasting along at 80mph+! There is strength in numbers (hey, the cops can't arrest everybody!) and so I'm pretty sure I set some sort of record (minivan class) from mid-Michigan to home sweet home.
Last Saturday Carol and I went walking at Grau Mill (see last e-blast) and then came my great friends Lou and Abby Natenshon's annual car-freak open-house party up north. Rather than going on and on about all the good food and drink, fascinating lies and conversations and strange, interesting car people and their even stranger, even more-interesting cars (Hooper-bodied Bentley, Alfa 2000 Spyder, enormous Hudson sedan, T-series MGs, an Armstrong-Siddley drophead--no, really, there is such a thing--short-chassis Invicta,  BMW CSL, etc. etc. let me just show you some pictures:
note engine in Pantera below!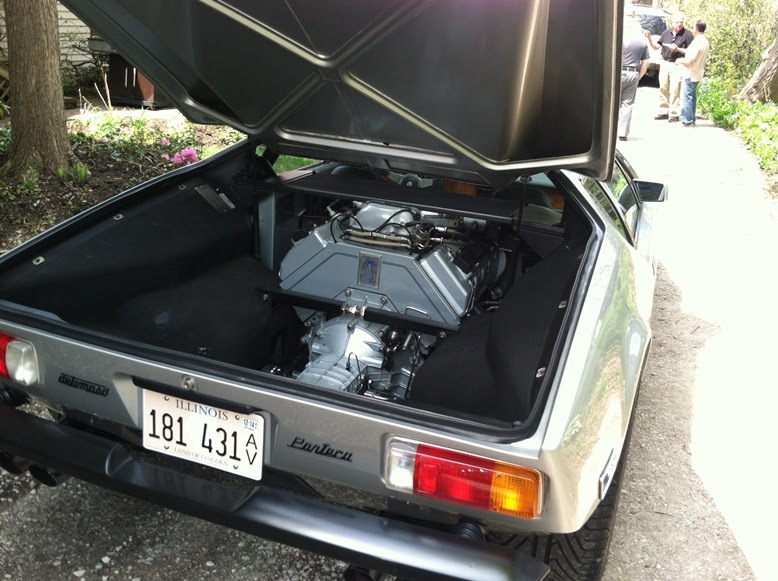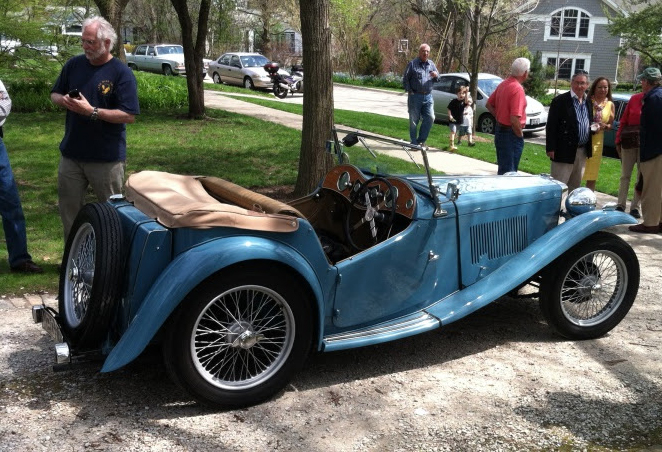 Below is the aforementioned Armstrong-Siddley drophead. I actually put a larger-diameter Girling master cylinder from an Armstrong-Siddley on my first TR3 racecar. I thought it would make it stop better, but I had one hell of a time trying to slow the damn thing down. At least it built my right leg muscles up to roughly twice the size of the left.
But that's another story for another day....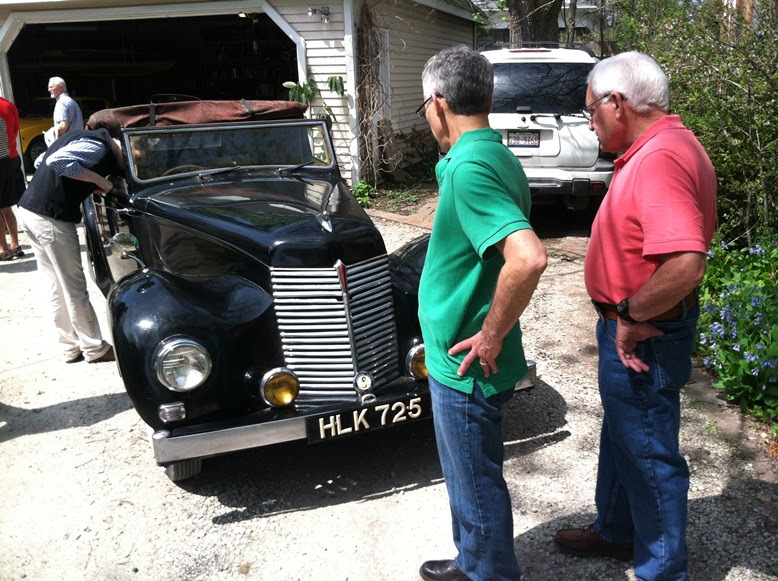 Come Sunday (Mothers' Day) I took Carol shopping for flowers to plant in our yard and window boxes (why she considers that "fun" is beyond me) while I wrote for a few hours and then went on a long bike ride to get out of her hair. I believe that must be one of the real keys to a long and successful marriage. Then I made her and best-friend Carolyn (she's the one who hand-paints our wonderful racing- and restoration-budget piggy banks) a nice dinner featuring my famous twice-cooked chicken and mixed root vegetables. And with a vase of fresh-bought tulips on the table, no less. I even cleaned up  afterwards while they chatted on about, well, whatever the heck non-car people chat about.
So I figure I'm about square for the rest of the year, you know?