This February the Fourteenth
is a pretty special day here around the old Levy household, as it is not only the day of candy hearts, mushy lace valentines and expensive chocolates we can no longer digest (not that it stops me from gobbling a few and then listening to my intestinal tract do a bubbly, gurgling impression of the La Brea tar pits an hour or so later) but it's also wife Carol's birthday as well as our (trumpet fanfare, please!) 40th wedding anniversary!!!
Really.
No question Carol is a shoo-in for first-round-pick sainthood (ask anyone) and, yes, it was damn devious of me to allow all three cherished occasions to arrive on the same date. Thereby neatly sidestepping the obligation of purchasing two additional gifts every year and likewise eliminating the nasty possibility of forgetting my wife's birthday or our anniversary. The folks at Fannie Mae candies, the flower shop and Hallmark Cards keep me well-reminded every year, and I thank them!

You may well ask what we do to celebrate such a splendid day, and we did much as we do on our Saturdays when I'm not off somewhere flogging books (or somebody else's nice race car). We got up early, went to bike class at the health club together (I'd arranged to have a cheap but impressive gift bag and some heart-shaped, day-appropriate helium balloons waiting on her bike when we arrived) and then we ran some errands and I walked the dog and she made breakfast and now I'm working (HAH!) in my study and she's cleaning the house. But we're going out to celebrate with a blowout, not-a-surprise-anymore Surprise Party tonight. Let me explain (and, if this sounds an awful lot like an episode of Everybody Loves Raymond, let me just say that I think it does, too):
Now when I'm not off traveling, Carol and I often go out to a quiet little Chinese restaurant we like 

on Friday

 nights, and my plan (yes, I did have a plan) was to pretend I hadn't thought of or done a damn thing, wait until the 

Friday

 night in question (Valentines Day, remember) and grumble something like "aw, why don't we just go over to Hua Ting like we always do?"
Where, of course, all of her brothers and sisters and their families and her best friends and such would be waiting (with their cars parked around back, of course) to holler"SURPRISE!!!" and knock her halfway out of her socks.
Good plan, eh?
Only we were having brunch at our favorite after-bike-class place a week ago Saturday (The Blue Max on Lathrop in Forest Park, free and well-deserved plug), and Carol asked between dainty bites of her disgustingly, almost inhumanly healthy egg-white, mushroom and spinach omelette (no cheese, toast or potatoes, of course!) just what the heck we were going to do to celebrate 40 years of marriage. When I pretended that I hadn't given it much thought (or, looking at it through her eyes, didn't give much of a shit), I noticed that a dark cloud seemed to descend over our table.
Dark enough to blot out the sun, in fact.
Well, I was caught on the horns of a signature, Ray Romano-style dilemma. I could stick with my original plan, knock her halfway out of her socks when the time finally came and endure two full weeks of her thinking I was the biggest heel since Bluebeard or I could spill the beans at this first hint of pressure and avoid two weeks of her needless suffering and me in the effing dog house....
Like I said, it's a no-longer-a-surprise party! And, since she already knows about it, we were able to move it to her master chef brother Vince's utterly excellent (but half-hour further away) new restaurant in Schaumburg. It's called ZEAL, and we had dinner there with some racing friends not long after it opened. The menu is both excellent and eclectic (not to mention reasonable) and its the only non-chain restaurant in the area.
The carrot cake dessert is to die for....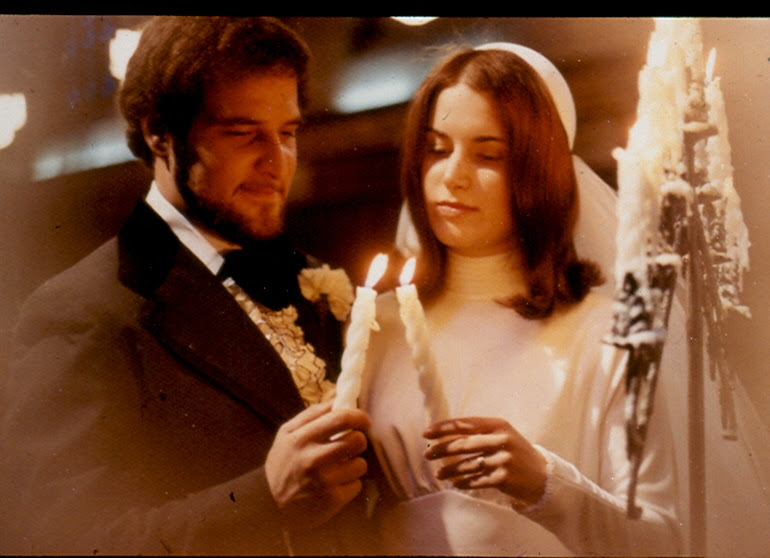 Burt & Carol 2/14/74
Besides the above, I want everybody to know that I'm working every day on the new book (no, really!) and will keep hard at it until I'm done. Am finally in rhythm with the project again and progress is coming steadily if not exactly at lap-record pace. I've tried a little something new with the structure to allow me a little more freedom and elasticity regarding time and the sequencing of events (you'll see) but I'm liking the way it's feeling and sounding, and am hopeful that regular readers (all dozen of you) will enjoy it when it's done.
Bad news is that this means I won't be traveling to any of my usual, get-me-away-from-this-damn-Chicago-weather February & March car-guy and racetrack events in Florida, and I will surely kick myself for passing up the opportiunity to track-test the Collier Collection Porsche 910 at Palm Beach International (I've been promised a rain check) not to mention the Amelia Island Concours (although I'll be there in spirit as our annual Buddy Palumbo award will be presented even in my absence) and of course the 12 Hours of Sebring, which is always a banner event and an over-the-top party as well. Please see "Surviving the Snake Pit" in my Potside Companion short-story anthology.
Only other news is that I went to the press day at the Chicago Auto Show and was both impressed and slightly saddened. Seems to me there's too much overlapping product out there and some very good companies making some very decent cars are going to find the sledding rough--maybe even impossible--in the not-too-distant future. Pity. Personal favorites/impressions? Well, although far from the most in-you-face flamboyant supercar on the floor, I thought the Aston Martin convertible was about the most beautiful, elegant and tasteful car in the building. Just the thing for slogging through our current spate of snow, ice, slush, sleet and subzero temperatures here in the American rust belt. Also rather liked the Jaguar F-Type convert (looks sleeker and less chunky in the flesh) but maybe I'm just showing my latent Limey-car tendencies. Still don't much care for the mega-fast and track-capable Lexus FLA (looks too much like one of those Transformer things to me) and you've got to be pleased with what Cadillac and Corvette have done both on track and in the showrooms. Made you proud to see all those Le Mans trophies lined up in the 'Vette area.
Liked the Fords in the "traditional American brand" category (good looking inside & out, but it's shocking to me that a decently equipped "regular American sedan" now costs as much as our first house!) and who'd of thunk you'd see a Mustang (albeit a pretty special one with performance doodahs and the late Carroll Shelby's name on it) stickering out at 46 grand? My my my.
Met Tanner Faust of TV fame on the VW stand (he's running a Global Rallyecross Beet  le next season) and the "retro" Fiat 500 was really neat!
Only other thing is that I'm FINALLY getting around to finishing the story on Beach racing cars that I've been promising John Rankin ever since he let me race the living whee out of his beautiful Beach Mk. V up at Portland a few years back (that's me flogging the crap out of it below) and I'm looking for any period photography anybody can find of Beach racecars "back in the day" (particularly their FV wins at Nassau and at the Daytona Runoffs in 1965). The magazine will pay a wee pittance for anything we use.
And now, off to dinner with my lovely, loyal, thoughtful and terrifically understanding wife....