Which means it was especially galling to take a pass on Brian Redman's always excellent & enjoyable Targa 66 event in West Palm Beach (where I was slated to get some laps in the Collier Collection's  Porsche 910...see below)
not to mention missing my friend great Bill Warner's fabulous Amelia Island Concours near Jacksonville. Bugger. But at least I was there in spirit (that's the part of you that has no fun and doesn't get sunburned) as the concours presented our eighth annual Buddy Palumbo Award, which is intended for an individual (and roped-in family volunteers, of course) who does most of his (or her) own restoration work and moreover drives the damn thing when he (or she) is finally done working on it. Not that you're ever really done with a restoration.
Anyhow, this year Bill found a truly worthy winner in retired Florida circuit court judge Chuck Arnold and his very nifty (not to mention hairy) 1967 Corvette Stingray 427 "bigblock" coupe. Below is a pic of Chuck & the car at Amelia with judge/presenter/famous car guy Pete Brock (yeah, that one) followed by more pix of the car undergoing restoration in Chuck's home garage and at the concours again with his grandkids inside.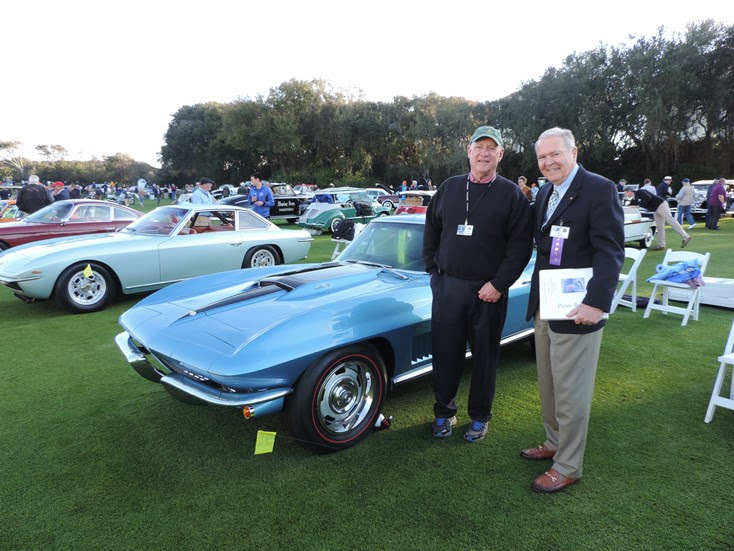 Haven't met Chuck face-to-face yet, but we've e-mailed (he bought a full set of books, G'bless 'im) and I love the way the whole family is involved in grandpa's serious case of the sportycar disease. I have an open invite to drop in and say "hi" next time I'm in the area, and I'm assured a quick spin in the 'Vette will be included (during which I intend to turn the rear tires into sticky-black, bubbly-hot goo).
Hey, ask any high school kid: that's what a bigblock is for!
Progress? 
New book is progressing nicely (if slowly) and thanks to all the folks who've shown interest/concern/impatience/disgust/anger etc. Still shooting for a late-July launch (and my ever-faithful proof readers seem to like it, which is excellent news) but there are days when I'll fret and fiddle over a paragraph or a lousy line of dialogue for hours and wonder if I'll ever come out of the damn tunnel. My wife reminds me that I'm always like this when I'm working on a book project (think taciturn, unpleasant, impatient, self-centered, borderline psychotic...you get the idea) but of course I can't see that because I'm caught up inside the damn thing and can't see any further than the end of my nose.
I'll buy her something really nice when it's all done.
Like restoration parts for the 100/4.
Or a full set of Snap-On tools.
Or a weekend at V.I.R.
If she hasn't shot me first....
Burt Sightings & Book Signings
I will be taking a wee break to peek out of my windowless story room rat hole a couple times over the next two weeks in order to meet friends, talk cars & racing and of course flog my books & associated merchandise (some things never change) at two excellent & perennial Chicago-area events as follows:
SATURDAY, MARCH 22, 9am-3pm
FERRARI CLUB of AMERICA's
36th Annual
ART, LITERATURE & MODEL EXPO
at CONTINENTAL AUTOSPORTS
That's the beautiful Ferrari/Maserati dealership at 420 E. Ogden Avenue, Hinsdale, IL. 60521 (just west of 294 on Ogden Avenue)
Me in the Collier Collection Ferrari 250LM
This is a fun, family-friendly event with all sorts of Ferrari-, motor sports- and gearhead-oriented books, models, logo clothing, Ferrari memorabilia and what-have you for sale along with a bunch of beautiful and evocative modern and classic Ferraris, Maseratis and such on display. Great place to take your kids if they love cool cars. Come. Enjoy. Buy a set of books or a wall poster or some of our fine logo clothing while you're at it! 
Click here for more info & directions.
SUNDAY

, MARCH 30th, 

8am-3pm
CHICAGO MG CAR CLUB's 18th ANNUAL
SWAP MEET & AUTOJUMBLE
Science Building, DuPage County Fairgrounds
Manchester Road east of County Line Road
Ferraris a bit rich for your blood? Then move a ways down-market for the Chicago MG Car Club's annual swap meet get-together. Aimed at anybody & everybody who likes racing or old British sports cars (not just MGs) you'll find two whole buildings & a huge parking lot full of cars, parts, treasures, rarities, books, clothing, fan gear, garage crap, go-faster goodies, restoration bits, nonsense, collectibles, memorabilia & outright junk at prices from high-end absurd to haggle-me-down ridiculous. A regular stop for cabin fever-afflicted Chicago-area racers & gearhead types every year. Family friendly & lots of fun. See you there?
Random Racing Bullshit 
Watched some of the 12 Hours of Sebring 
on Saturday
 (and wished I was there, of course!) and I must say the turnout was amazing on both sides of the fences and the organizers have done a hell of a job of uniting the two previous series into one. I can remember, not all that many years ago, when an overall or class leader would be a lap or two (or three or four, etc.) over its pursuers and most of  entries would have found their way into the dead car park long before the 12 hours was up. But now we have multiple cars literally in sight of each other and duking it out tooth and nail (in virtually all 4 classes, no less!) right up to the checker. VERY exciting & entertaining! And the job they've done at balancing the performance of all the different car types (particularly in the GTclasses) is nothing short of amazing. Well done!
You can bet your ass I'll be down there again next year.
With the new book, of course!
Then, come 
Sunday
, I watched the very first Grand Prix of the new season (or, more correctly, "watched my DVR recording of the very first Grand Prix of the new season," since I'm far too old and clever to stay up until 
1:30am
 just to see a bunch of overpaid, jockey-sized punks running around Albert Park in megabuck-sponsored F1 cars). But Australia was a damn good race, and especially considering it's a brand-new formula that's laden with green-sympathetic (or at least that's what the sport's spin doctors want us to think) hybrid engineering and all sorts of techno-whizbang mumbo jumbo. Hats off to all the teams (even the stragglers) in rising to the challenge, and it's great to see cars that really have to be DRIVEN for a change. Although the sounds are a little flat (who stepped on a duck?), these things are tightly wound, overpowered, hair-trigger and occasionally diabolical. Which means they're absolutely fabulous to watch (can you say "twitchy", "squirrelly", "opposite-lock" and "slideways motoring")? And US commentators Hobbs, Matchett & Diffey are marvelous, Posey's little pre-race precis are spot-on and I can even put up with the regularly wound-up breathlessness of on-site commentator Will Buxton. This could be a VERY good year for F1 fans.
Only downside (outside of the sound and the expected early-season reliability woes that sidelined several of the favorites) is the questionable beauty of the front-end treatments. Car designers (like my late, great friend and genuine renaissance man Brooks Stevens) have always considered a car's front end as its "face." Which makes me wonder why even one of the prettiest of the new crop (the McLaren MP4-29) looks an awful lot like a proboscis monkey to my eyes (see below).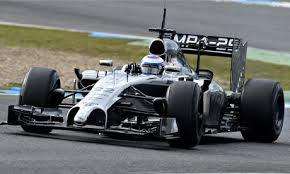 Last but not least, I'm going to be doing a separate little vintage racing blog for my ex-Milwaukee, now LA-based friend & 2nd-generation Triumph racer Steve Belfer, who is kind of a graphics, music & animation genius and forgot to step backwards when they asked for a volunteer to do the VARA (Vintage Auto Racing Association) website. I used to race with & against his dad back in ze olt dayz (Steve is currently campaigning that same TR3 out on the Left Coast) and we became good friends. I saw Steve grow up (he's got a nice family of his own now) and wound up saying a few words at his dad's funeral some years back. Tough duty, but a privilege nonetheless. Anyhow, with Steve's permission, I'll be forwarding along copies of the blog to my e-mail list (this means you!). It'll be on whatever I feel like writing about (so what's new?) and I hope you enjoy it. If not, just hit the delete button. That's what it's there for, eh?
The Belfers: dad Mike, son Steve & the TR3 way back when