In any case, I'd glommed an invite to the Grand Opening of the posh new Thermal track outside of Palm Springs, and I asked my famous, LA-based racer friend (and now famous LA-based author friend) John Morton if he wanted to tag along. For those of you who live under rocks or don't give much of a shit about road racing, John was an up-by-his-bootstraps/didn't-come-from-a-big-bag-of-gold pro-racer wannabe who did grunt work for Shelby American during the storied Cobra/GT-350/GT-40 years while attempting to launch his own racing career with stubborn desire, undeniable talent and the proverbial frayed-shoestring budget. He eventually got fired at Shelby, caught on with Pete Brock, got a break to drive and parlayed that into back-to-back SCCA National Championships in a BRE Datsun 240Z (1970-71) along with U2.5 Trans-Am pro championships in the team's Datsun 501 (1971-72) followed by a long and intermittently successful pro career.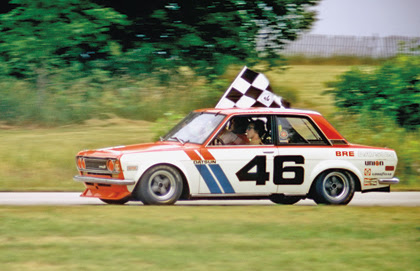 But the point is that John's a truly nice guy with a quiet, unassuming attitude, and I really got to know him a bit while mooching rides in some of the Collier Collection cars (under the thoroughly transparent pretext of "writing a magazine story about them") as he's one of the collection's regular drivers. Lucky bastard. Although I must admit I had a better time of it the last time I drove the collection's iconic Scarab/Chevrolet (shown below at a test session at Roebling Road Raceway near Savannah a few years ago)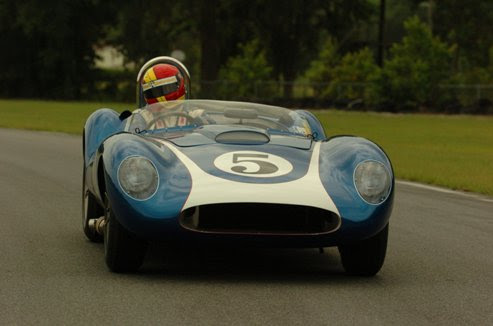 than John did at Monterey two years back when he wound up under the car (through, I might add, no fault of his own). And fortunately with no major damage to himself.
Two Februarys ago we both served as electrode guinea pigs for a highly scientific crew from the REVs Institute at Stanford University, who fitted us up with all sorts of wires and sensors (and did the same to the cars) in an effort gather data on the relationship between the driver's concentration, mental and emotional states and what the car is doing on the racetrack. Or that's what they told us, anyway. I personally believe they were trying to discern how loud a noise your asshole makes when it slams shut as you lose control and if it indeed makes your hair stand on end when that happens.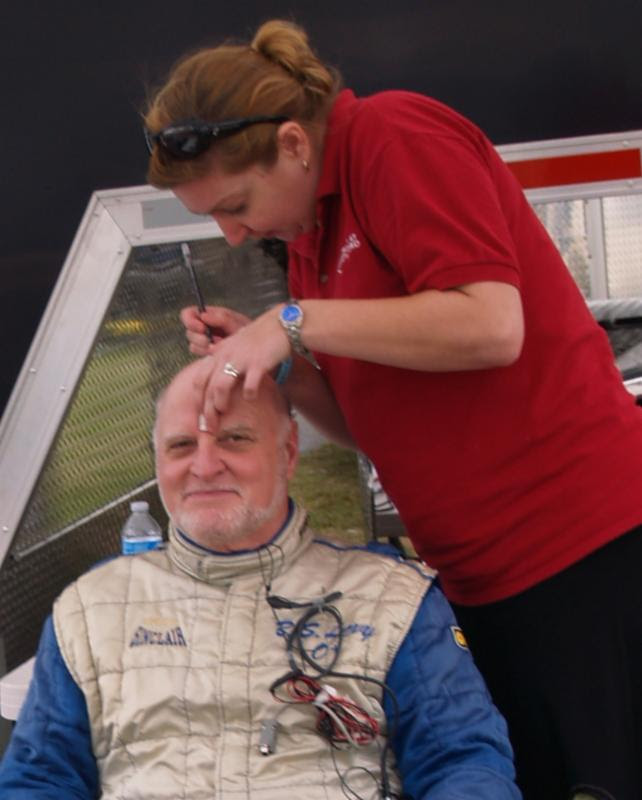 In any case, the electronic readouts indicated John and I should get to know each other better. Especially since his longtime partner Sylvia Wilkinson is a wonderful & successful writer and did a GREAT book on John's early career called THE STAINLESS STEEL CARROT, which is a must-read for anybody who loves the sport.
And now John's gotten his own fingers into the writing pie with the recently released
INSIDE SHELBY AMERICAN. I bought a copy off of him in LA and, quite literally, couldn't put it down. What an incredible look into the struggles, dreams and disappointments of a young racing driver trying to make his way as well as a disarmingly honest, first-hand, shop-level recounting of those historic days at Shelby American when the Cobra, GT-350, Sunbeam Tiger and GT-40 programs came to life. This is a MUST READ if any of the above means anything to you. Although it pisses me off that he's such a good storyteller. I mean, he's already a better *%$#@!!! driver than me....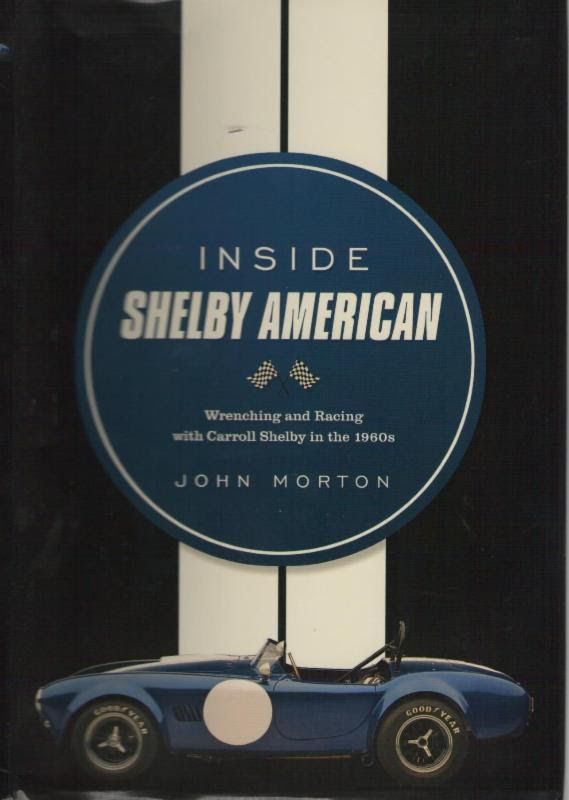 You can get the book cheap from amazon, but if you want a signed (or even personalized) copy, send a check for 32 bucks (includes shipping) to John Morton Racing, 514 Arena Street, El Segundo, CA. 90245-3016 and John & Sylvia will take care of it for you.
Anyhow, John agreed to head out to Thermal with me for their Grand Opening, and it turned out to be quite a day. First off, he suggested we take his Beechcraft Debonair instead of driving, and that turned out to be a lot of fun all by itself. The weather was perfect and, as you'd expect, John's a pretty fair hand as a pilot.
Then we spent the day schmoozing with an amazing selection of old and not-so-old racing chums who'd also turned up for the occasion (Tom Gloy, Boris Said, Butch Leitzinger, Craig Stanton, etc.) and bombing around the completed first section of the Thermal track in some excellent M-series cars provided by BMW. Can you believe it, they fed us, too! Watch for my full report on Thermal in an upcoming issue of Vintage Motorsport.Quite a good time, if I do say so myself! And did I mention the bosomy, LA-issue models doing the hospitality service?
On the flight "home" to LA, we were passed underneath by a P-51 Mustang (I missed it, but ground control assured us it was there) and came close enough to one of the Goodyear blimps to wave to the crew in the gondola. VERY cool!
Days like that should definitely come around more often!
Carol & I got back to Chicago on Tuesday, Dec. 3rd, celebrated my birthday on the 4th by visiting my brother and going to Bike Class together and then took off the very next day with faithful fox terrier Buddy to drive to upper NY state for my presentation at the International Motor Racing Research Center in Watkins Glen arranged by my good friend and fellow racer and author Mike Argetsinger. As everyone knows, Mike's father Cam really started the postwar road-racing movement in this country with his seminal street races through Watkins Glen in the late 40s and early 50s and was a pivotal figure in the creation of the permanent Watkins Glen race circuit, the emergence of professional racing in this country and the coming of top-level Formula One Grand Prix racing to its longtime stateside home to upstate NY.
It turned out to be a wonderful occasion, what with a big turnout (it helped that they were raffling off a Ferrari to benefit the center!) and Bob Millstien's handsome and historic Hansgen Jaguar Special on display (winner of Watkins Glen "open road" race in 1953). Bob let me drive it once at Lime Rock (to do a story, of course) and it just so happened that he had come to pick it up following its stint on the floor at the IMRRC and that his birthday was the very next day. So the Center presented us with a cake and a calorie-riddled time was had by all.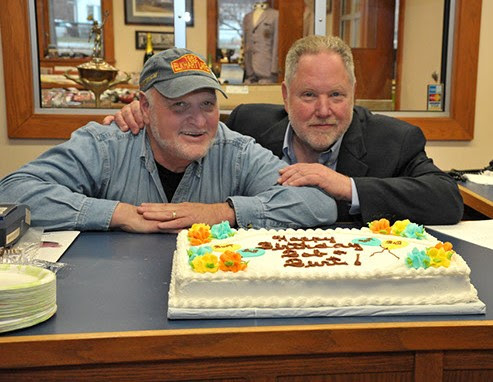 My presentation (held in the auditorium of the elementary school just across the parking lot from the Watkins Glen Library and the Research Center) went really well, and even wife Carol agreed that it was the best I've ever done. And she's been listening to my bullshit for over 40 years....
But do Jewish people really "talk with their hands?"
I'm happy to say the book signing also went well and I was re-connected with my artist friend Bob Gillespie, who is a wonderful painter and did the magnificent "Cunninghams at Stone Bridge" painting used on the dust jacket of the St. Martin's Press (3rd) edition ofThe Last Open Road. That's me & him below. Also me and somebody even more important in my life: 
The staff from the center (including Mike Argetsinger, his accomplished brother and center director J.C., Glenda who handles anything and everything , etc.) took us out for a nice dinner afterwards, and I can't remember when we've ever been treated so well. Got back to the motel in time to see Michigan State finish their victory over Ohio State to win the Big 10 Football title (which they did twice while I was a student there (or at the very least paying tuition).
It was a long Sunday's drive back to Chicago, but it gave us a chance to reflect on a truly amazing season. Can't really believe all the places I've been, people I've met or gotten to know better and wonderful cars I've been lucky enough to race or test drive. At age 68, I not real sure how much longer I'll be able to keep this up, but you can bet your ass I'm going to keep my foot down hard on the gas pedal for as long as I can!
Starting with the next book, which I PROMISE I'll be working on again (and FINISHING!) right after the New Year.
All the best to you and yours!
Burt
PS: You still have time to get signed books, etc. for Christmas presents if you ORDER NOW! Visit Finzio's Store on the website at 
www.lastopenroad.com
 or call my office at
But do it NOW! If you get voice mail, leave a message and we'll call you back.