Looks like "The Season" is finally upon us again after two-plus years of wearing masks most of the time & hiding under our beds from the dreaded COVID monster. And remember, folks, (lest we forget): just like at the end of your favorite Seething, Slithery Scary Creatures Plus Copious Quantities of Cavernous & Curvaceous Cleavage 1980s horror movies, the Awful Thing sprawled out on the floor in a pool of gore with (take your pick:) a stake through its heart, a railroad spike through its brain or a pitchfork in either its gut or its backside is definitely NOT full dead, and will startle and shudder itself awake once more, accompanied by horrific sound effects, and scare you so much you almost forget to stare, slack-jawed, at all that cleavage.
Almost...
But the point is we need to stay vigilant about COVID even as we begin to, once again, return to life as we once knew it and ease on down the road. Or racetrack...
'Nuff said.
Which brings me to:
TRAVEL PLANS, COMING ATTRACTIONS & HARD-UP FESTIVALS
APRIL 28-MAY 1: I will once again be hawking/signing books (hopefully somewhere up on the infield Vendor Midway?) as well as covering the event for VINTAGE MOTORSPORT magazine and maybe, just maybe, co-driving in an Enduro or two at the HSR's SttVRS (Seminal to the Vintage Racing Season) Walter Mitty Challenge at Road Atlanta. Love the event, the environs, the participants and the racetrack, and I can't resist reminding all the people I'm endlessly trying to impress that I wrote what I believe was America's FIRST EVER VINTAGE RACING FEATURE STORY about an event OTHER than the MONTEREY HISTORICS. Happened at the selfsame Walter Mitty Challenge back around 1983 or 4. It was printed/presented over several highly absorbent pages in the old, tabloid-edition version of AutoWeek (motto: "all the motoring news fit to wrap fish or line the bottom of a bird cage") and I even got paid for my efforts. Although I later got fired by then-Publisher Leon Mandel (it's hard to get fired as a freelancer, but it CAN be done!) following a wee disagreement. Then again, Brock Yates once assured me that getting fired by Leon was a major Rite of Passage in the motoring-scribe trade, and that I should consider it a badge of honor. To which I curled an upper lip menacingly and replied: "BATCHES??? I DON' GOTTA SHOW YOU NO STEENKIN' BATCHES!!!"
But I digress...
The Mitty is a swell & awesome event on both sides of the fences and (weather co-operating, of course) a splendid and oft-spectacular kickoff to your vintage racing season. Hope to see y'awl there.
I've gotten into some pretty cool cars at The Mitty. Including this utterly stupefying CanAm missile (add 950-some horsepower to roughly 1200 pounds, light fuse and hang on!):
This is of course the selfsame Shadow DN4 that won the last REAL (read: "unlimited") CanAm championship in 1974. Same year wife Carol and I were married...make of it what you will.
A memorable drive & year for sure!
More my speed are these More Manageable Mitty Motorcars that I've managed to mooch rides in over lo, these many Mitty years: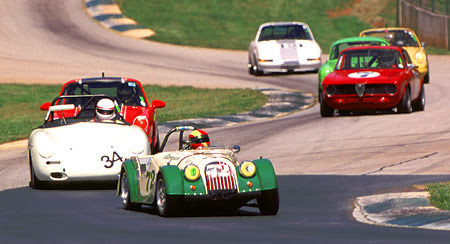 BTW, I don't own ANY of the cars shown above. Which amounts to a stunning testament vis-a-vis the generosity, largess, camaraderie, sportsmanship and sheer gullibility of an awful lot of folks who own & campaign vintage racing cars. There's more, too (only I got tired of thumbing through old pictures, as you do), including some actual race wins and podiums. Honest. But my very favorite Atlanta race was a soaking wet Enduro in the car pictured below. You'll know why when you look at the result sheet (please note Brumos' Bob Snodgrass and Hurley Haywood in the "914/6 from Hell" Porsche--and a lot of other cars--behind us)...