The season winds down and The Holidays beckon...at last!
Well, it's been a few weeks since my last e-blast, and general consensus was that, while it wasn't quite as long as War and Peace, it was pretty damn long and should've come with an intermission or two. Or at least a couple of Red Bulls to help you through it (and I'm sure hoping Dieter Mateschitz notices the free plug and decides to send me a wee check). In any case, I've resolved to either make these things more frequent & timely or just not run on so much.
But that wouldn't be like me, would it?
Hey, why tell the short version when most publications still pay you by the word?
So it's only be a couple weeks since my last e-blast and the first part of that was spent recuperating from my back-to-back weekends at the SCCA Runoffs at Road America and the SVRA's weather-blessed and wonderful VIR Gold Cup at, of course, VIR. Love that place. But I came home kinda sick and actually had to bail on my good friend Lou Natenshon (that's me in his P.O.S., Ford flathead-powered "junk formula" Inydcar below)
as we were supposed to be traveling to the massive and storied AACA (Antique Automobile Club of America) field meet in Hershey together so's he could sell/buy/dicker over assorted bits of garage clutter and I could do a book signing alongside a bunch of other motoring scribes in the AACA hospitality tent 
on Friday
. Only I was feeling like last month's creme brulee (but with a headache) and had to beg off. I felt bad about it, too, since I kinda left Lou scrambling to "make other arrangements," and I hated missing the show since Paul Lashbrook of the AACA had been kind enough to invite me and moreover since I'd been hearing about this Hershey thing for years--hell, 
decades!
--but had never been there.
Damn.
So I sent Paul some signed books, took two more yet Tylenol (or was it Advil? Or Aleve? Somebody's missing out on one hell of a product placement deal here!), washed it down with a half-pint of Robitussin and went back to bed.
And guess what?
All my fellow motoring writers duly showed up at the AACA tent as scheduled on Friday, Oct. 11th, for what promised to be the most massive, afternoon-of-a-thousand-stars car-guy book signing extravaganza in recorded human history.
Only it...RAINED! And I'm talking a real, old-testament, biblical-issue, build-a-boat-and-gather-up-two-of-every-living-creature sustained deluge here.
So the turnout of potential book buyers could most charitably be referred to as "sparse" (sounds so much better than "non-existent") and, as my friend and fellow car-guy author Tom Cotter (Cobra in the Barn, Hemi in the Barn, etc.) put it: "I bought more books than I sold."
So I guess I got lucky after all.
Got better, too, after more down-time in bed than I'm used to.
Friday, Oct. 18th found me flying Southwest again both direction-wise and airline-wise (I really gotta get something going on the product-placement side) headed for Sin City, USA. Or, in other words, Las Vegas, where all that is tawdry turns treasured, all that is garish becomes glamorous and all that is venal is venerated.
As you can tell, I'm not a huge fan of Las Vegas (although I have dear friends, relatives & acquaintances who absolutely love the place and wouldn't even dream of spending their vacation days anywhere else). Go figure. But I was headed away from the storied Vegas "Strip" just minutes after landing, heading west on Highway 160 through the picturesque Spring Mountain Range towards the town of Pahrump, NV. Which, besides being home to some wide open spaces, big billboards and two totally legal, state-approved, only-government-inspected-meat brothels (no, I didn't visit), is also where John Morris and his partner bought a struggling, hardscrabble 2.2-mile racetrack surrounded by scrub desert wasteland and a handsome (if somewhat prehistoric-looking) mountain-range backdrop back in 2004. You should see it today!
The Spring Mountain Motor Resort and Country Club is, simply put, the most thoroughly realized motorsport country club I've ever seen. Full story/review is coming in the next issue of 
Vintage Motorsport 
(
CLICK HERE
to visit the VM website)
,
 but suffice to say the place knocked my socks off. The clubhouse, condos, pool, health club, garages, indoor shooting range, staff, food, infrastructure and amenities are on a par (pardon the pun) with an exclusive golf club. Not that I've ever been to one, but I've seen 
"Caddyshack"
 a bunch of times. And there's more coming, what with a 10-acre lake in the works with swimming, paddle-boarding, JetPack rides (if you don't know what that is, 
CLICK HERE
), a shopping mall, a private air strip to handle Gulfstreams & the like (smaller private planes already land on the front straight) and a gated, residential resort community.
Wow. And the track is downright amazing, what with over 7 miles of beautiful, smooth-as-a-baby's-ass racetrack (which can be set up in over half-a-hundred different configurations!) and much more racing pavement yet to come. Spring Mountain is also home to Ron Fellows' official, GM-blessed Corvette Driving School, Cadillac's new Driving Academy and Spring Mountain's own Radical school. Not to mention Radical West, which sells more Radical racecars than anyplace on earth. That's me below, enjoying a little Radical relaxation of my own at Spring Mountain.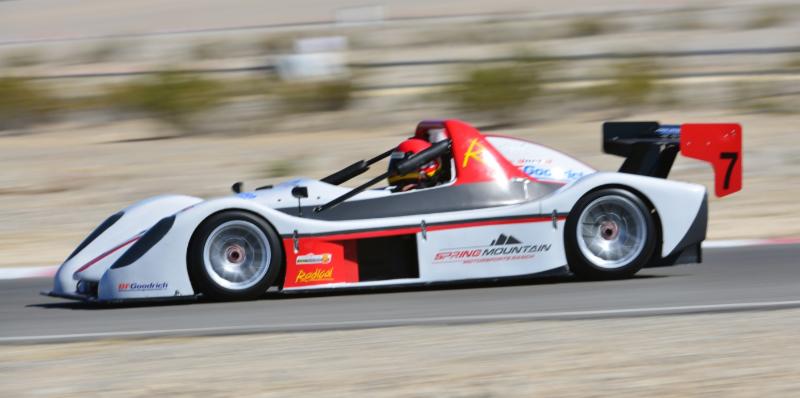 Is this a great job or what????
Two days after returning from Nevada, I was headed Southwest again (this should at least get me a free in-flight cocktail, right?) to serve as PA announcer with my friend Ed Conway at the SVRA's inaugural "Vintage National Championships" at the thoroughly amazing--even stupefying--Circuit of the Americas honest-to-goodness Formula One Grand Prix circuit in Austin, Texas. Full report coming in the next issue of the magazine, but let me say that the circuit, tower, buildings, show arena, tower, media center and garages are beautifully done and the staff is exceptional. But COTA is also an example of the new-style, safe, technical, professional, state-of-the-art-infrastructure, sit-in-a-grandstand "video-game" tracks that are all the rage in F1 these days but still leave me a little cold compared to old-time, old-fashioned, oft-rustic "natural" road circuits like Watkins Glen, Road America, VIR, the old Road Atlanta, Sears Point, Mosport, Mount Tremblant, Lime Rock...I could go on.
Then again, I'm at that delicate age where change of any kind represents both a threat, a worry and an unholy corruption of the natural order of things. So maybe I'm not the best person to judge.
There are LOTS of corners (20 of them, in fact) with blind entries, dramatic elevation changes and and a deceptive, blind, ever-tightening and almost endless series of left-right-left-right-right-left-right-left-left esses between turns three and ten that had most racers totally lost during their first sessions and merely confused in their second. It says a lot about the track that, even at 3.5 miles, it's a place where my friend Fritz Seidel's 3.0-liter Porsche IROC RSR could not only beat all the rumbleguts, big-V8 Corvettes, Cobras, Camaros, Mustangs etc. in the Group 6 feature race 
on Sunday
, but take fastest lap as well. Then again, my buddy Steve Steers' musclebound Echidna/Chev ran away with the Group 3/4 races both days, but he flat 
loved
 the place. 
"I can't believe it!"
 he grinned 
on Saturday
. 
"I'm sliding ALL THE TIME!" 
Downside is I wonder how you can have a so-called "National Championship" with no points series leading up to it and also if "National Championships" are really what Vintage Racing should be all about. Then again, that kind of thing sells spectator tickets, and you need as many bums on seats as you can get at an expensive-to-rent-and-run facility like COTA. I heard a figure like "55 grand a day" mumbled in a few quarters, but I really don't know for sure.
On the plus side, the COTA people were absolutely great and the 
Saturday
-night "Texas-Style Barbeque" was phenomenal, with music provided by famous Texas rockers The Edgar Winter Group 
("Free Ride", "Frankenstein", 
etc.).
The music was great and you should've seen all the old farts and fartlettes who used to GO to those concerts back when they had hair that wasn't gray or missing during the late sixties and early seventies. Made them want to jump, jive and effing DANCE, you know?
So I did. And, no, I have no idea who the lady with the long legs and the orange top is. But I do know she was tall as a giraffe, flexible as Gumby and did the splits--right down to the effing floor!--during one particular dance move. Hell, if I ever tried something like that, my testes would come shooting out of my ears...one on either side, in fact.
In any case, it was a great party and we were all thrilled to see our own vintage racers on a real, world-class, modern/professional Grand Prix track (and I'm glad to say most behaved accordingly). Also noticed that the "new regieme" SVRA is taking a wee bit closer look at the cars and the "period-appropriate" state of their preparation. Cars were regularly directed from pit-in to the official scales for a quick weight check, and I think this is a step in the right direction. Then again, I believe I won a few Midwestern Council championships back in the mid-70s simply because our club didn't own a set of scales.
Couldn't make the Hilton Head Concours this weekend thanks to family stuff and catching up at home ("why do we have to clean out the damn garage, it's just going to get dirty again") and, except for a few side trips to some country-club tracks, my season is pretty much over. Which fills me with both a sense of sadness and an even deeper sense of relief. It's been a long haul this year, full of long-distance travel, wonderful places, great things to do and not really enough snap-back time in between. So I'll be finishing up some work for the magazine over the next couple weeks (I'll be written well ahead by then) and I absolutely PROMISE that I'll be hard at work on the new novel again by the time Carol and I head out to LA to spend the Thanksgiving holiday with our kids. Best guess (nobody throw anything, OK?) is that it won't be done in time for Amelia Island and Sebring in the spring, but a launch at Road America in July (where, incidentally, all the other novels have debuted) looks like a doable, realistic proposition.
Then we'll move on to the audiobook versions I've been promising and getting the rest of the series and the short-story anthology up as e-books alongside the first three.
Thanks to everybody out there for your help and support over the years. The greatest thing a writer can hope for is an audience that likes his work. To get to know you and have many of you as friends puts me in a very special, very lucky class indeed....