One of my very favorite events every year is the MAMA (Midwest Automotive Media Association) annual SPRING RALLYE, which was moved to the fall this year thanks to COVID concerns. But at least it happened. The basic idea is to bring a large gaggle--you might even say a small herd--of automotive journalists, bloggers, TV/radio types and "Influencers" (translation: someone who thinks they're a hot-shit and engaging online expert but has yet to find the cash drawer on their laptop or Iphone) up to Elkhart Lake and Road America and turn them loose, both on-track and on the lovely, woodsy, scenic, sylvan and bucolic surrounding country roads, in a mouth-watering selection of the very latest automotive offerings from many of the top manufacturers. Did I mention we also get put up at a posh hotel (The Osthoff) and are fed delicious meals and snacks and evening libations until we need our lips and guts stapled shut plus a month or two with a personal trainer.
There is also a rugged, muddy and demanding off-road test track where we get to wring out the latest 4x4s (sponsored by Jeep, BTW), and the Jeep folks will be happy to know that their Rubicon was my favorite (although, to be fair, my previous favorite--and far pricier--Land Rover was not in attendance this year), and I can't tell you how much fun it is to go trampling all over Mom Nature on big, knobbly tires...
You may wonder at the source of all this perk-y automotive largess, but the bottom line is that is easier and cheaper for the manufacturers to let us sample their hot new products and hear their pitches presented professionally (and en masse) rather than to try to do it all-over-the-lot piecemeal by shuttling unaccompanied test cars thither and yon in the Press Fleet. This year was a bit odd thanks to both the Pandemic and the fact that the fall date meant that many of the new models hadn't debuted yet. Oh, well.
Some quick thoughts on some of the cars I sampled:
I've always been "Alfa Queer," and in spite of the make's oft-whispered and perhaps unfair stateside reputation re: maintenance/service issues and resale value, I love the blessed things. And the fact that the 1976 models started rusting on the boat ride from Italy...well, that was a long time ago. Bottom line is that a bunch of my friends have bought ther new Giulias and Stelvios and adore them. And they sure are fun to drive! Plus no serious complaints! Not particularly wild about the Junk Jewelry Gold color on this one, but it's a sweet ride from behind the wheel!
Not quite so enamored of Toyota's new(ish) Supra. I know a lot of folks love it, but the styling reminds me of something that might come up from the bottom in a trawler net. Then again, beauty is in the eyeballs of the beholder, and just over 100,000 people bought Pontiac Aztecs. So go figure.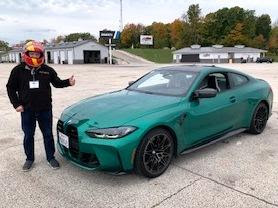 By far the most Track-Capable/All-'Round-Athlete car was the new BMW M4 Coupe, which is a truly amazing piece of kit. But, in stark contrast to the svelte-yet-elegant BMW styling decisions of the past, the front end of this thing looks like some mechanized, outer-space monster from a Japanese sci-fi film. Yes, it's aggressive and even brutal. But pretty? I think not. Hell of a thing to drive, though!
Speaking of neat things to drive, the new, hot-shit Mustang Mach 1 is simply astounding. Particularly the brakes, which haul it down from 150 with incredible force and yet sublime sensitivity. Quite an experience. And great handling, too. What fun to wheel around at speed!
In answer to The Question Nobody Asked ("why would anybody need a Dodge Durango SUV with over 700hp?"), I give you the Durango SRT with full "Hllcat" treatment. Believe it or not, they let us take it out on-track at Road America (accompanied by a professional driving instructor with hopefully paid-up medical and life insurance). Well, it may weigh as much as a rail car, but it's a rail car full of fun and surprises. And what's wrong with a tow car or lumber hauler that can do elevens in the quarter mile? Plus the brakes and suspension are up to the task, and I reckon it could lap faster than any of the so-called "sporty cars" from my formative years.