As you may recall, I had done my level best to cripple myself whilst walking out of a crowded & noisy bar/restaurant in Lake Geneva, WI, on the late evening of July 10th (and that's after driving straight-through from South Bend, IN, where Carol & I had been signing books and serving as Honored Gusts at the Studebaker Museum's excellent Concours at Copshalholm all day long) on account of I got distracted by the small, almost inaudible band playing one of my favorite Van Morrison songs, and it had nothing whatsoever to do with the girl with the silky black hair and impossible-to-ignore cleavage sitting near them at the bar.
Honest.
But the point is that my attention was momentarily diverted, and that's when/why I went falling and flailing over the steep step dropoff I had no idea was there and landed HARD, JACKHAMMER IMPACT on my knees--right, then left in quick succession!--on a brutally solid marble tile floor, doing myself no good whatsoever.
The pain and the timing could not have been worse. After all, Carol & I were about to embark on our Big Summer/Fall Book Tour Extravaganza with the brand new Steamroller III book that we didn't even have yet. As you may recall, we were backed into printing softback, emergency "PREVIEW" and then "PREVIEW II" editions (at great expense, I might add) so we'd have something to sell at our already planned, and mostly already paid for, I might also add, Book Tour events.
Thankfully, the new book proved to be a hit, with several early readers plus two reviews I know about and even a couple of my own blessed proofreaders calling it my best book ever. And that's quite a relief, since most folks tell me "I just LOVED your first book. It's my absolute favorite!" which is lovely as praise but, critically speaking, doesn't make the author (that would be me) feel like he's making much in the way of artistic progress.
In any case, I had no idea how badly I'd messed myself up, and pretty much hobbled my way through our big, not-quite-debut "Preview Edition" weekend at Road America, signing lots of books alongside now friend/longtime hero David Hobbs, judging at the concours, covering the event for Vintage Motorsport Magazine etc. etc. and wondering why my knees weren't getting any better. In fact, they were getting worse. The right one, in particular...
So then it was in to see the ortho sawbones the following week, where I was summarily clamped into a hip-to-ankle leg brace that I hated with a seething, fiery passion and went about my ensuing Book Tour business hobbling around like the Dennis Weaver "Chester" character in GUNSMOKE.
As a result, had to sadly take a pass on The Pittsburgh Vintage Grand Prix the following weekend (a favorite event that usually conflicts with the big July weekend at Road America), not to mention IMSA at Road America the weekend after, Monterey/Pebble Beach out west and the Automotive Heritage Foundation awards at M1 in Detroit. And don't even bother to ask long-suffering wife Carol what I was like during that period, as she has assured me repeatedly and with great conviction that I was thoroughly awful.
But things improved--slowly and with difficulty--we took a try at the garage Open House at friend John Saccameno's excellent Sport and Specialty Cars shop in Durand, IL., on August 21st and setting up our book pushcart (pop-up, actually) at The Geneva Concours in Geneva, IL the following day. I was still somewhat hobbled (!!!) but we made it through all right and even sold some books. John's shop is eclectic, organized and squeaky clean, and I particularly loved the wonderful and more-than-slightly sinister Jaguar Mk IV (license plate "CRUELA") with impressive fold-down tool kit in the trunk. Like you would ever need a tool kit if you owned a Jaguar...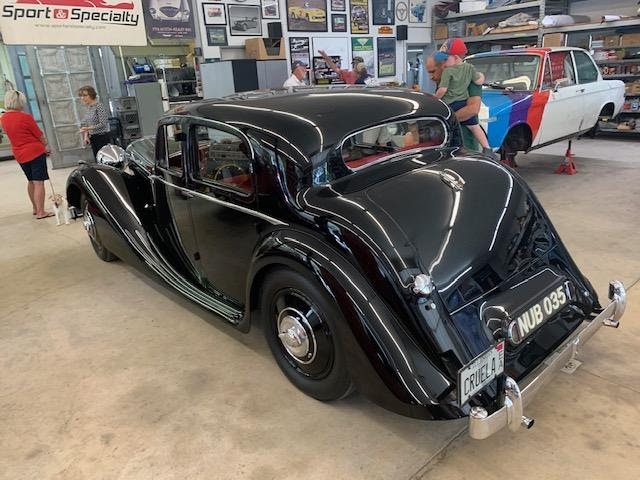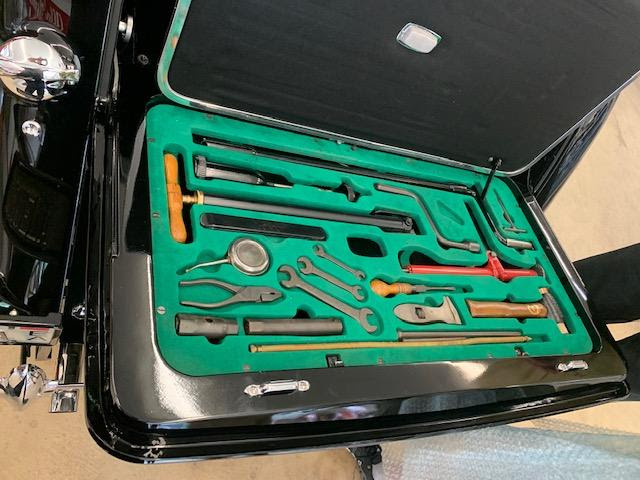 And here's John himself with a just-painted Alfa Giulietta that is sure to pluck at the heartstrings (OK, and purse strings, too) of some happy Alfa owner & enthusiast!