The cars and bikes were cool (to say the least!) but the old-time, steam-powered power generators (including the one with the immense, perfectly balanced multi-ton iron flywheel shown at right) were great glimpses into the quickly emerging "age of the machine" that spun the world around on its axis around the turn of the century. Wow!
Spent a wonderful couple weeks with the kids after that, just going out for too much good food and going hiking up the hills and high ridges of Fryman Canyon. It's a neat view, looking out over the steep, ragged, forest-covered hills and the hazy expanse of The Valley below and all those amazing mountaintop mansions with all their glass and brick and steel that make you wonder how they got all that stuff up there in the first place? Then again, Mad King Ludwig built his famous Neuschwanstein castle on top of a mountain in Bavaria back in the late 1800s before there were Caterpillar earth-movers, motorized cement mixers or Chinook helicopters to drop a few tough, bulky items neatly into place. 
And if you've never read up on old Mad King Ludwig of Bavaria or his incredible castles and hunting cabin or the intrigues surrounding his mysterious death (or murder?) or why there never would have been a famous German composer named Richard Wagner without him, let me suggest you take a half-hour and do a little web-searching. It's pretty amazing stuff.
See what happens when I'm light-headed and my brain starts to wander?
Where were we?
Oh, yes, hiking down out of Fryman Canyon with my family. Right past George Clooney's house, in fact (it appears he's done rather well for himself) and, a little further down, the place where the Kardashians live. I kid you not. It's amazing what ordinary white trash can do with entirely too much money and a lot of plastic surgery....
The kids made a point of taking us to far too many good restaurants in and around LA (that's everybody but me in front of a lovely oceanfront place called Geoffrey's in Malibu where I ate too much). But I ate too much everywhere!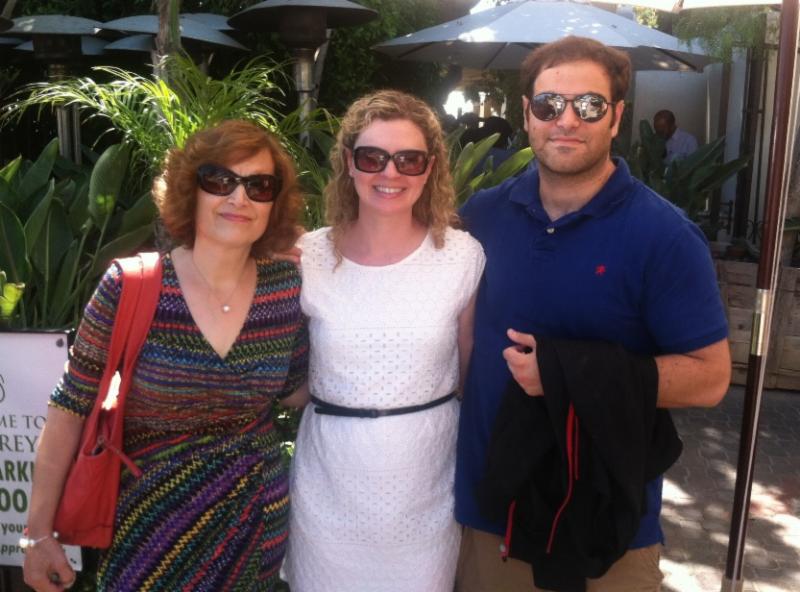 In an effort to keep my girlish figure in spite of a raging onslaught of California calories, Carol and I went to Adam's personal trainer a few times (she and her husband run Chainfitness on Cahuenga Blvd. in Toluca Lake--highly recommended--and they train a few mixed-martial-arts fighters as well as thoroughly kicking the ass of any old folks who happen to wander by). I also actually BOUGHT a used bicycle (the same one I've been mooching for free from Brooks Smith of 
AUTOBOOKS/AEROBOOKS
 in Burbank every time I come out). Had to do a little wrench work on the old Centurion (snapped a couple spokes & blew a tire on my first ride, etc.) but I got a lot of nice riding in, including the path along the LA Drainage Ditch (er, pardon me, make that "River") a few times, where I got to see a fine selection of native waterfowl plus far too many homeless folks in their natural habitats. Also had a fantastic run down & back up the Pacific coastline from the end of Topanga Canyon clear down to damn near LAX and back. Met another bike-rider about my age who turned out to have worked as a character actor on the same blessed movie I worked on as a 2nd-string stunt driver back when THE BLUES BROTHERS was shooting in Chicago. Small world, eh?
The other curious thing from that ride (outside of the sunburn!) was trying to fathom how so many tattoo-and-piercing parlors can co-exist side-by-almost-side on the seedy, carnival-atmosphere promenade along Venice Beach. Are there that many young shoulders, tongues, belly buttons, backsides and bosom creases still in need of tacky decoration?
One hopes not.
Oh, and speaking of bike rides, I have a "Damsels in Distress" story (involving a Jaguar E-Type, no less!) from just south of the confluence of Lankershim and Cahuenga Boulevards at the entrance of Universal City. Now picture this: I'm just pedaling along, listening to old Doo-Wop music and minding my own business, when I come across a silver-blue Series One E-type roadster with a blue racing stripe down the middle, a racing number on the deck lid and two very California-looking blondes (but with British accents) standing next to it looking a tiny bit perplexed. The car is in the center lane but decidedly not moving, and one of the blondes has already liberated an orange rubber traffic cone to put behind the decklid so some text-messaging kid in a slammed Civic won't run right into it. And if you don't believe me, see below (that's me with the hundred-dollar used bicycle and the excellent legs on the right, just asking if I can help out):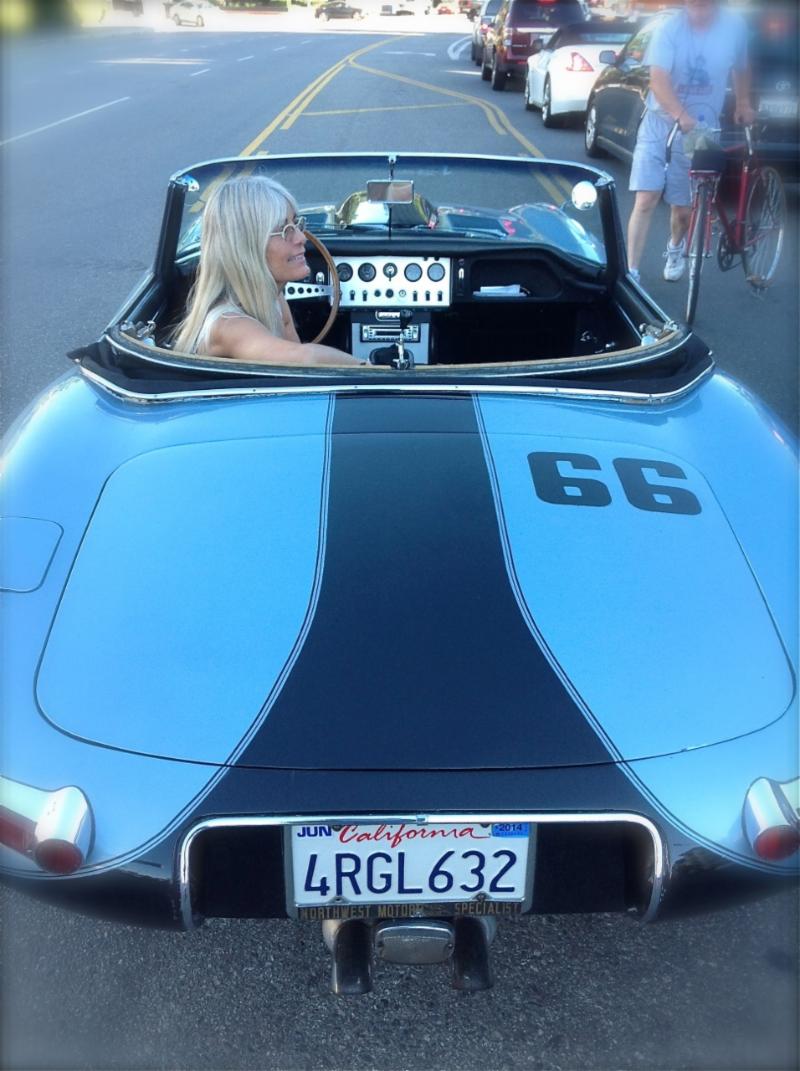 Well, it turns out the presumptive driver of the car is one Lisa Boses (shown above), and she and her husband are total E-Type geeks (they used to own the one-off, Raymond Lowey-designed E-Type show car (see bottom of story) and she and her almost equally blonde sister have just picked the car up from the local Jaguar specialist (he's paid me a small fortune to keep his name out of this) where some brake work had been done. And, as best as I could suss out, whoever was spinning the wrenches failed to leave any free play on one of the master-cylinder actuating rods, with the net result that the brakes dragged ever so slightly, caused the fluid to get hot and expand and then--PRESTO!--they locked up solid and brought the car to a screeching and ignominious halt. To be honest, I felt a little smug about the whole thing until I remembered all those calls from stranded and occasionally angry customers that I had to receive back when my wife and I owned our infamous Mellow Motors shop on Chicago's soon-to-be-trendy near north side. In any case, the Jaguar guy showed up with a couple wrenches and the net result was that they all headed back to his shop where the E-Type was admitted for further attention (and charges?) while I biked myself the rest of the way back to my kids' apartment for a hot shower and a really nice meal.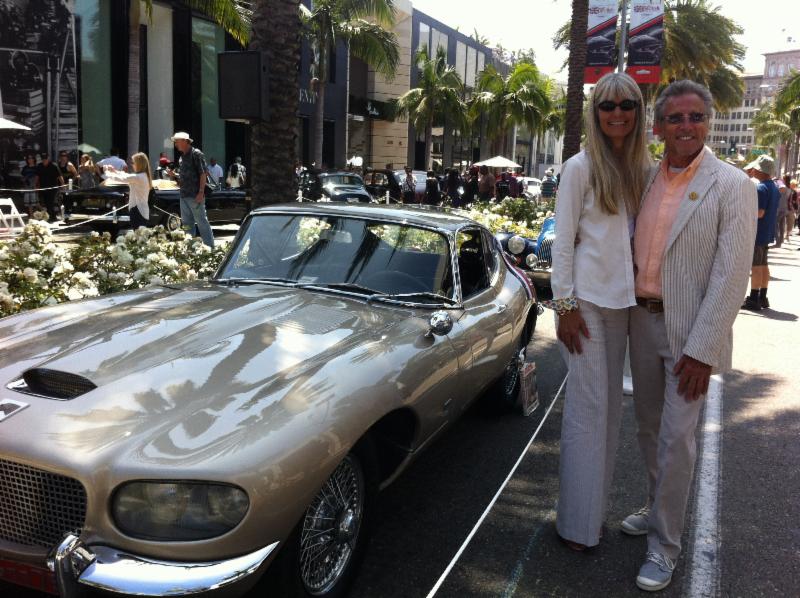 Of course there had to be some other, planned-ahead car-nut stuff mixed into our trip, so I once again dropped in at Bob's Big Boy in Burbank 
on Friday
 night for the weekly cruise-in (I'm beginning to see that a lot of these folks are regulars, and I'm afraid I still don't catch the magic of bringing your REALLY cool car to a damn parking lot just so's you can sit around all night in a folding canvas lawn chair and talk about how godawful fast it is). Did fall in love with some of the stuff there, though.
And then I ventured out to the Irvine, California, edition of Cars and Coffee 
on Saturday
 morning (y'gotta get there early, on account of it starts at 
5am
 and breaks up by 
9am
) and got completely blown away. It's held in the parking lot of the Mazda US corporate headquarters (shared with Ford on the opposite end of the lot) and you would SIMPLY NOT BELIEVE the cars it draws. There were Corvettes from every series (including a fabulous black '57 Fuelie) and Ferraris and Lambos and turbo Porsches with intercoolers the size of a six-flat air-conditioning condensor and Vipers and Cobras both real and imagined and bunches of Bimmers and Benzes and a VW camper and a long-wheelbase (if such a term is actually applicable?) BMW Isetta and a Delorean that actually looked damn good in white and a couple immaculate 356 Porsches and ditto T-series MGs and the ORIGINAL John Morton Trans-Am U2.5-winning Datsun 510 right next to the Horst Kwech Alfa GTV it fought tooth-and-nail for the title and a whole early history of Nissan (including the first ever Datsun, I think, which was an Austin 7 built under license in Japan and cute as hell to boot) and what HAD to be a replica (didn't it?) of the short-tail Porsche Salzburg 917 that won Le Mans in 1970 (Richard Atwood/Hans Herrmann) and a brand-new Superformance GT40 replica from South Africa painted up just like the real 1st in class/6th overall Thompson/Ickx Grady Davis car from the Collier Collection that they let me drive at Palm Beach International a couple springs ago and...well, just look at the pix below: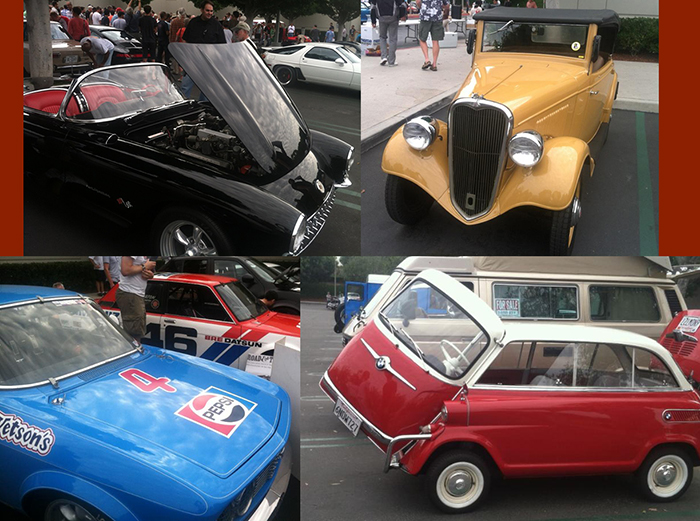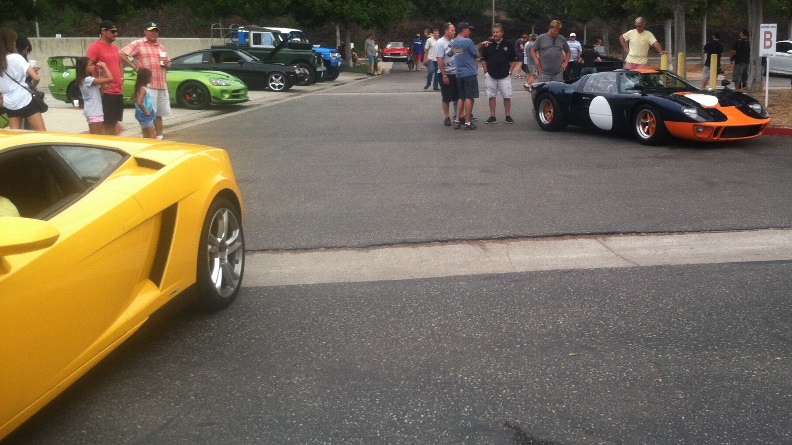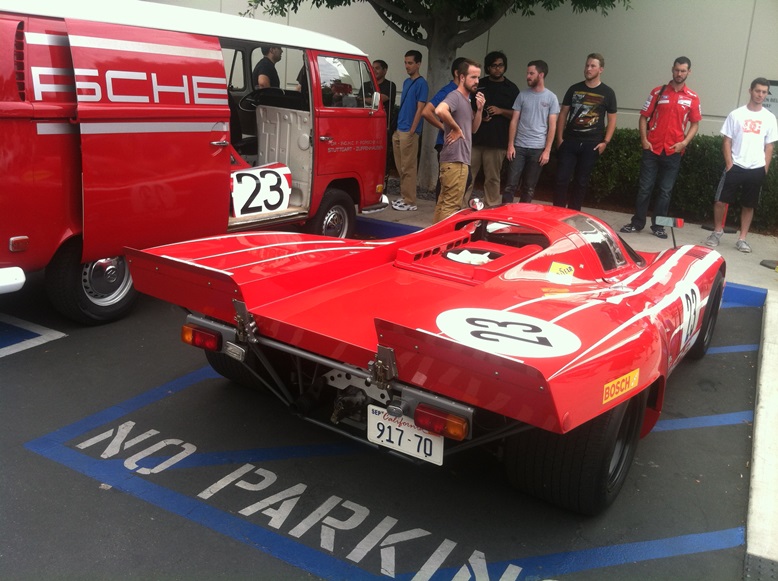 The amazing part is that it's all free (except for the coffee, that is) and friendly police officers are on hand to help participants and spectators alike get in and out. By the way, the spectator cars fill up an entire parking garage!!!!
Wow.
Didn't get back to Chicago until the day after Labor Day (which meant I missed Murray Smith & Co.'s always excellent Lime Rock weekend) but I was up to Road America the weekend after for reporting/book shilling at the VSCDA's unbelievably great Fall Festival. Features for the weekend were steerage-class heroes Triumph & Formula Vee, lots of track time (!!!), real F1 cars that made the hairs in your ears stand on end when they went by, a tour of the old course, a lovely car display on the Osthoff lawn complete with superb live music from W. S. Thompson's Swing Time Big Band, etc. etc. My full report is coming up in the next-but-one issue of VINTAGE MOTORSPORT, so I dare not spill the beans, but suffice to say that it was a great event for the Little Guys who rarely get center stage, and they made the very best of it. Kudos to all the participants, VSCDA organizers and legions of ad-hoc volunteers like Jason Ostrowski who made it all happen!
Which reminds me: after several years of stupid schedule conflicts, the SCCA Runoffs are on their way away from Road America next year and, much as I love that event, it will allow vintage racer-types with the necessary T,E & M (Time, Equipment and Money, of course) to do Lime Rock, The Glen, Road America, Road Atlanta and VIR on successive or near-successive weekends. That's quite a package for you California/PacNW folks or those from overseas who'd like to sample some of America's very best racetracks along with our colorful (or occasionally colorful language-inspiring?) fall weather.
Two weeks later I was back at Road America once again (I should really have a house up there...all I need is a movie deal) for the 50th SCCA Runoffs mentioned above. And what a deal it was! The SCCA pulled out all the stops (as well as lowering the entry standards a wee bit) in order to attract about the biggest damn field of cars and drivers ever seen anywhere (see below as I pose overlooking 700+ cars and drivers gathered on the front straight for a helicopter fly-over photo shoot).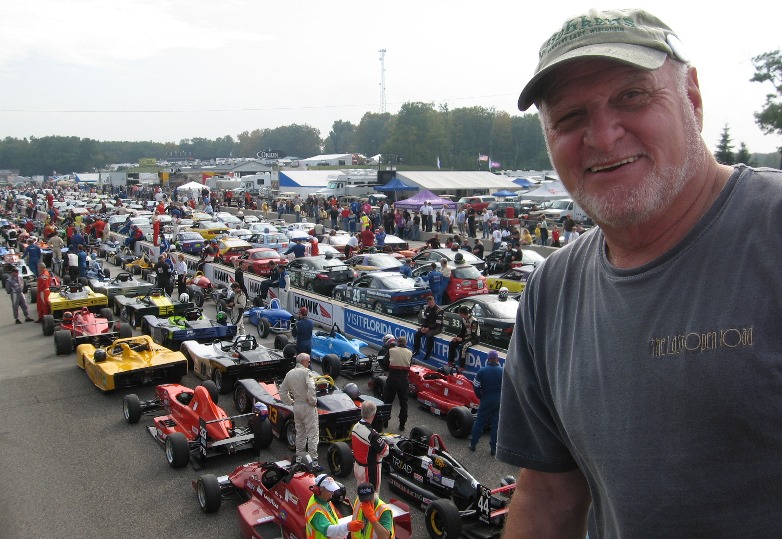 Past champions were invited to participate, and we had Jim Downing (who qualified on pole for his class at the very first Runoffs) and my friend & '70-'71 champ John Morton had a beautifully prepared, fresh-out-of-the-box 240Z to drive--very similar to the BRE car he drove to those titles--thanks to truly tireless effort on the part of Steve Bonk and a bunch of spirited volunteers. And then there was Mike Rand, who brought his old Crossle FFord out to do battle, in somewhat Quixotic fashion, with all the younger lads in newer equipment. Plus we had past champs like Sam Halkias (TR6) and Jeff & Jason Miller (C and D Sports Racers) and Kent & Jesse Prather (MGA and a plethora of Miatas) who have never been away and are still eager to get that next notch in the old seat belt. I'm working on a "returning champs" story for VM so I want to keep something in the bag, but suffice to say the racing was great, a few too many cars got wadded up (welcome to The Runoffs!) the atmosphere was welcoming and friendly and there was the usual smattering of protests, disqualifications and penalties. All part of the game on that level, I guess.
A week after The Runoffs I was off to VIR, which pretty much brings this E-blast back to where it started. Except for one thing. Every now and then somebody will e-mail me a picture that they think I might appreciate, and this one really hit home: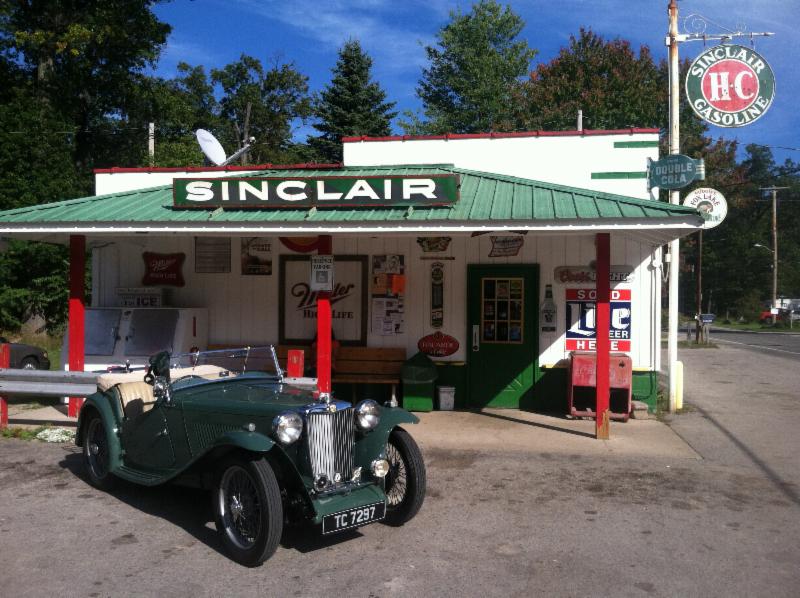 They say a picture's worth 1000 words but, in my case, I think I'm over by a few hundred thousand. At the very least....
And speaking of ze olt dayz and Finzio's Sinclair, just look what my good buddy Jamie Goffaux did to (or should that be "with"?) one of his shop customers. Now Jamie works at a place called
AUTOFAB RACECARS
 (click to link) in Elkridge, MD, and they can make you just about anything. Jamie also serves as crew chief/head wrench/full-time head-scratcher and occasional driver--along with yours truly--of Kevin McGovern's well-prepped trio of Lotus X180R Turbos (see photos below, where I briefly lead a couple over-stimulated Porsches at Road Atlanta and belch out flames from my rear end. Wait, maybe that didn't sound just right....).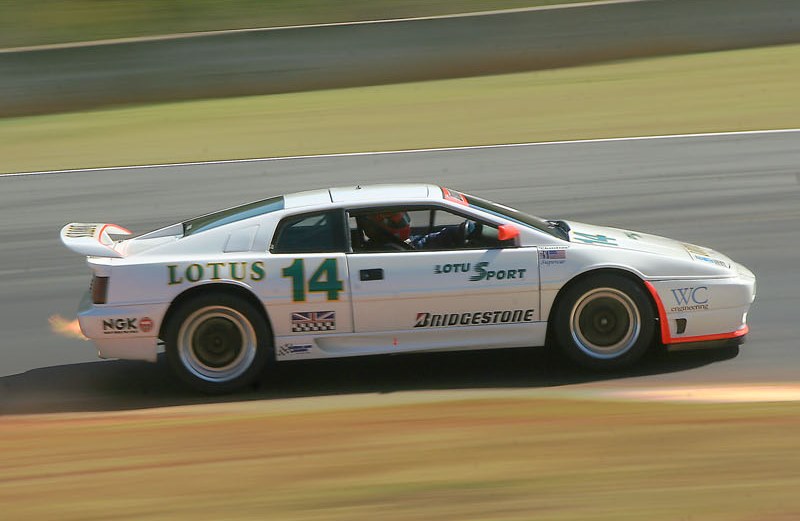 By the way, Kevin's thinking about selling one of the three cars, and they're beautifully turned out, nice to drive, occasional class winners and they ARE the last factory-built Lotus racing cars to win a professional championship (say, maybe I should open up a used-racecar lot?)
In any case, one of Autofab's customers by the name of Scott Stone (whom I had never met until last Saturday at VIR) brought in a partially finished hot-rod pickup project that he wanted to finish in the popular rat-rod style. Jamie took a long look at it, pocketed the deposit and asked for "full creative freedom." Which Scott granted. And then Jamie called me up and asked for a copy ofTHE LAST OPEN ROAD autographed to "Scott and Linda."
The rest, as they say, is history. Just LOOK!!!!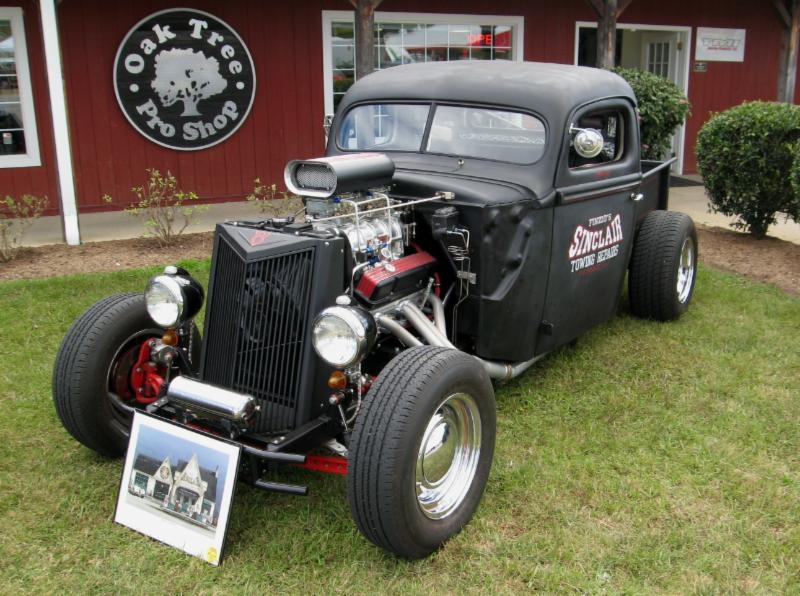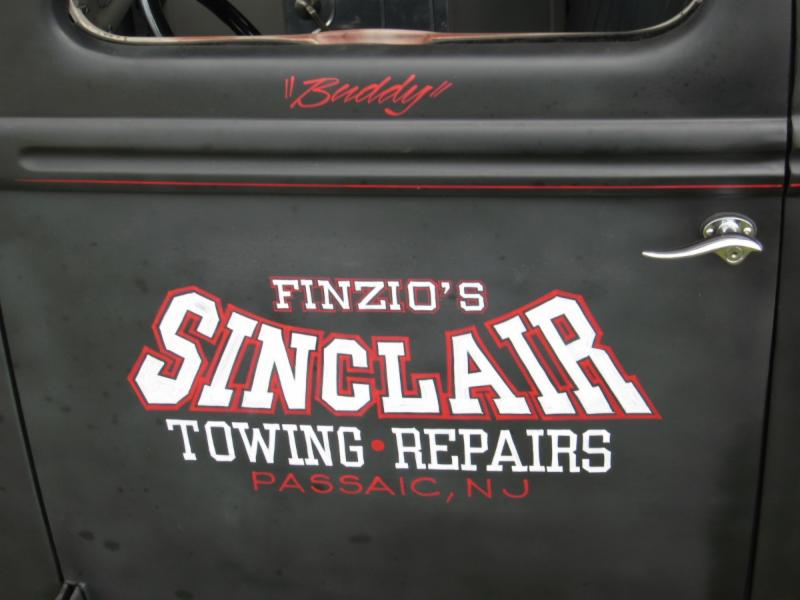 Don't really know what to say except "WOW! COOL!"
And "Thanks a whole bunch," too!
So that's about it. If I'm feeling OK, I'm going to head out to Hershey, PA for the big AACA swap meet/car show next week, and I've been asked to do a book signing (along with a bunch of other automotive writers) at the AACA Hospitality Tent on the Orange Field from 
11:30-4pm on Friday
. Do stop by. Also hope to be set up earlier in the week (I've never been before, so I want to spend some time rooting around through all the junk & treasures) at booth CW32 along the fence on the South Chocolate Field. Not that I have any idea yet where that might be....
After that I'll be doing a few days at the Spring Mountain country club track near Las Vegas for a VM review, followed by the SVRA National Championship event at COTA in Austin, Texas the following weekend. I'll be hawking books out of the VM booth, doing air time on the PA with my friend & co-conspirator Ed Conway and hopefully mooching a ride or two in the enduros. Hate to miss the HSR Hutchinson Island event the same weekend, but when they tell you they're gonna have over 600 cars at COTA (plus it's vintage racing's first-ever crack at America's new Formula One track) I gotta be there.
After that, I'm burrowing into my hole to work on the new book. Honest. Probably won't have it ready for Sebring and Amelia Island, so I guess we're shooting for Road America in July (that's where all the previous novels have launched, and I guess I'm a little superstitious about it).
I will venture out to do a hopefully entertaining/amusing PowerPoint presentation/book signing at the International Motor Racing Research Center in Watkins Glen on Saturday, Dec. 7th (that's Pearl Harbor Day, George Wright!) and I'm tempted to do the VDCA event at Roebling Road raceway near Savannah the weekend after simply because I had such a grand time flogging the whee out of Gordon King's Royale and eating pig meat and oysters there last year (pic below).