Oh, and here's the to-die-for, Tom Kovacs-restored Florida Green-over-Cream Healey 100/4 LM that melted all the judges hearts on Saturdaynight and Colin Comer's ex-Cunningham Team Lister Jag that did the same to all of us old-fart racers on Friday night.
Carol and I barely got back to Buddy the dog and bike class before yet another weekend rolled in. But this was an easy one, as my only commitment was a book signing at the informal and utterly amazing Fuelfed "Coffee and Classics" gathering in my old hometown of Winnetka, Il. I'd heard about these "Coffee and Classics" deals and wrongly surmised it was a bunch of car-waxing wankers with "Magnum-issue" Ferraris, late-model Vettes & Bimmers and entirely too many glistening Porsche 911s. Was I in for a surprise! The variety was astounding, as was the laid-back ambiance, and I have to thank  Arthur Frank of Round Table Books for letting me set up my little vegetable stand in front of his place (see below).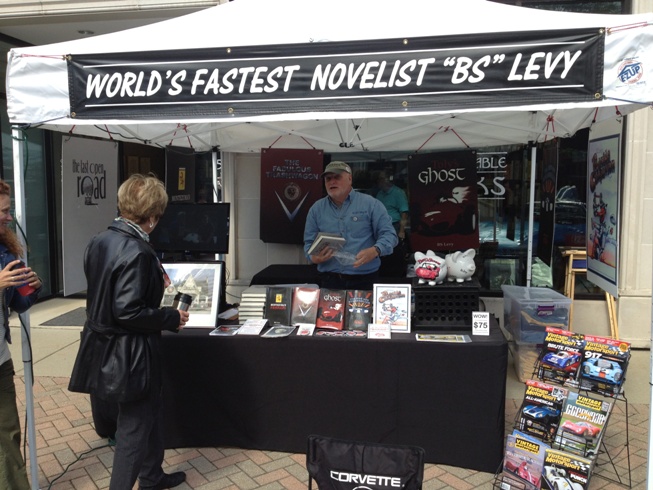 I was busy enough explaining myself to potential readers/customers and processing credit cards that  I missed a lot of the cars, but it was a good day for book sales and my old go-karting buddy from high school, Ted Sachs, took some pictures so I at least found out what I was missing. There was a little bit of everything on hand (see below) and you can bet I'll be back. Coffee and Classics in Winnetka runs from 9-11am on the last Sunday of the month, and it's surely worth the mileage. Good places to eat around there afterwards, too.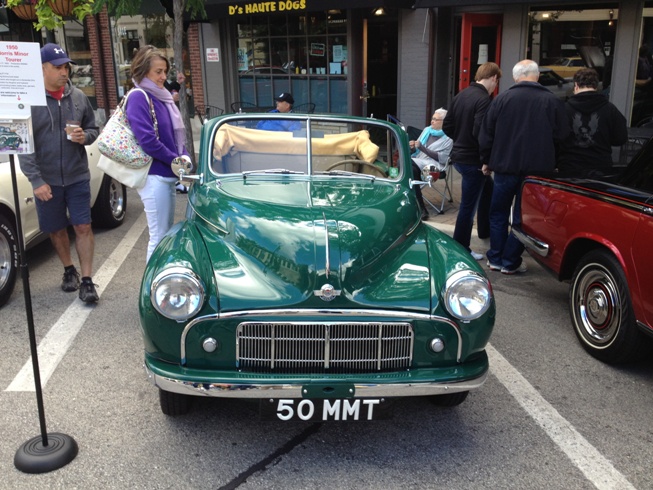 So now we're up to last weekend, where I served as a coach/instructor (and flogged books, of course) at the absolutely gob-smacking Ferrari Club of America 50th Anniversary gathering at Elkhart Lake and Road America. It was the biggest damn Ferrari meeting anybody had ever seen, and beautifully produced and presented by my home boys from the Central States region.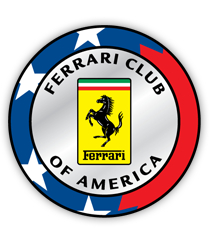 No doubt I'll be doing a column on it for VM, but it was really something. Sure, we had a few gold-chain Charlies, arrogant rich guys and craggy old farts with lissome and/or voluptuous trophy wives (isn't a breast supposed to give a little when something bumps into it?) but by far most of the folks in attendance were genuine aficionados and truly enthralled & excited by the cars. The drivers I worked with were universally receptive, cooperative & appreciative, and although a few cars got wadded up over the weekend (hey, these are fast cars and Road America is a genuinely serious racetrack) most people drove decently, had a good time and maybe even learned a little something. For me, the real heart-throb cars are the older Ferraris like the 500 Mondial shown below during the "street" concours in town
and the highlight moment for me was riding around Road America at a pretty good clip in "the old family TDF" (pictured above) with a nice guy from St. Louis named Fred. The TDF has been in the same family since it was just an old, used-up, who-wants-it/past-its-sell-by-date racecar back in 1968, and Fred was definitely enjoying it the way Old Man Enzo surely intended. Good fun!!!!!!
We also had an enormous number of "modern Ferraris," and they just don't do that much for me. Oh, they're stylish as a set of seven-inch stiletto heels and I know they're faster and better (or at least more complicated!) than ze olt carz, but some of the boy-racer electronic stuff seems a bit artificial to me and more than one suffered unfortunate brake annoyances. Plus the hushed, near-religious reverence for the marque's mystique can become a wee bit over-the-top now and then. Particularly the way certain latter-day Ferrari owner/enthusiasts confuse genuine icon status (SWB Berlinetta, GTO, 250LM, etc .) with the more-or-less manufactured corona on some specific examples of the current cars (or, as one Ferrari newbie gushed excitedly in my ear: "the factory only built 12 white ones, and only two of them were left-hand drive....")
But I'm probably just jealous. And who would blame me?
In any case, it was a wonderful time in unbelievably perfect weather and I met some great old friends and made some new ones. And the Central States Region did a cracking job of organizing, presenting & producing. Well done!
Had to skip the combined Grand Am/ALMS weekend at Road America in order to take care of yet another computer meltdown at the office (don't ask!) and pack for our trip to California. We'll be staying with our kids in Studio City (always a great time) and I'll be taking a solo side jaunt to Monterey next weekend for the Monterey Historics (I'll be hawking books out of the VINTAGE MOTORSPORT magazine booth in the vendor area across the bridge from the paddock at Laguna Seca) and also doing a second book signing in the evenings at the first-ever World Class Automotive Film and Arts Festival (
http://automotivefilmfestival.com/
) at the Golden State Theater in Monterey. Should be a nice alternative to the auction scene, and I'm really looking forward to seeing Steve McQueen's iconic 
Le Mans
 on the big screen again 
on Saturday
 night! But then it'll be up before dawn come 
Sunday
 to take in what my late, great friend and collaborator Art Eastman always believed to be the very best of the Pebble Beach Concours (when the cars are first wheeled out onto the lawn through the early morning fog and mist). As Art always said: "By 
10 o'clock
 it's nothing but assholes & elbows." And by that time I should be on my way back to Laguna Seca for another book signing at lunch time.
See you there?