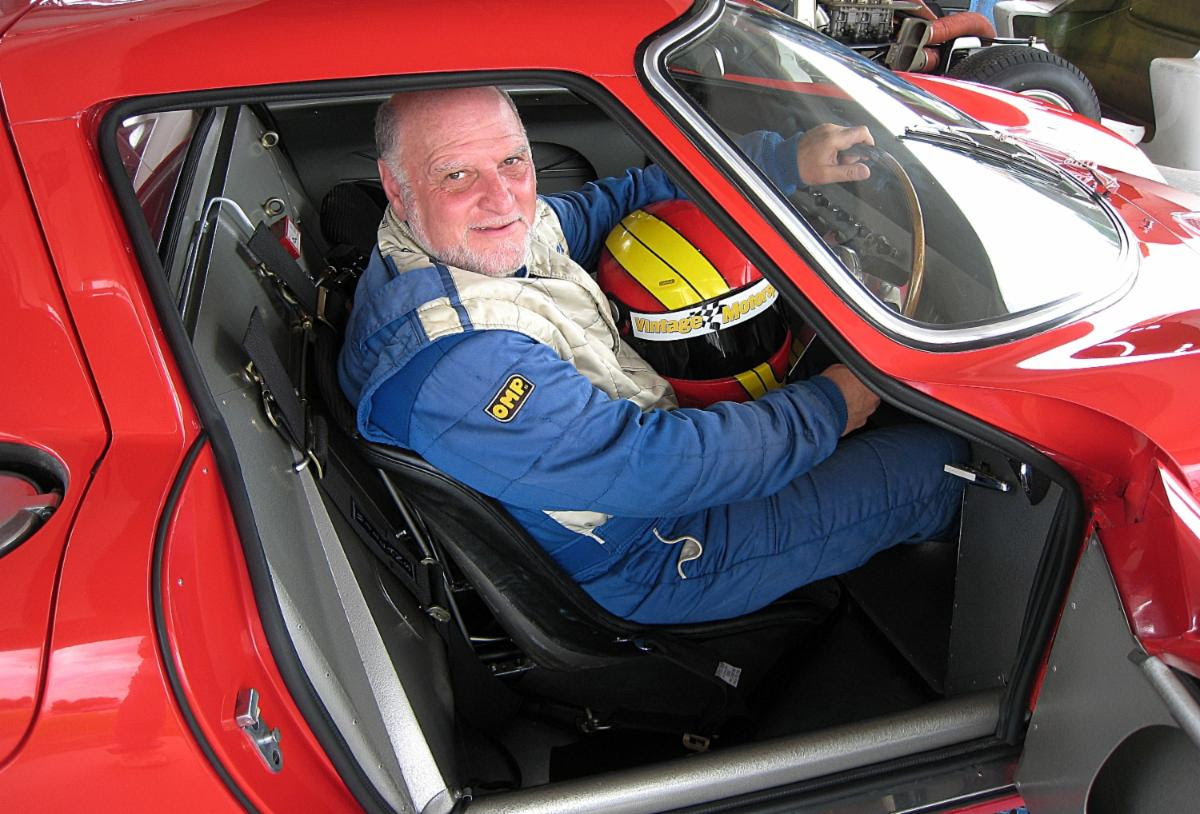 One Last Thing Department:
The Midwest Automotive Media Assn. ("MAMA" to you) ran a "Member Spotlight" about me that you might (or might not?) want to peruse. It's mostly the usual, self-serving "BS," but it does include a little seminal ride-mooching history plus a section on my experiences, such as they were, as an ad-hoc, fill-in stunt driver when "THE BLUES BROTHERS" movie was shooting in Chicago. Anyhow, here it is:
Member Spotlight: 7 Questions for Burt Levy
Most of us know Burt Levy as a friend, fellow colleague and, of course, MAMA member. He was even one of the driving instructors for the MAMA Track Driving School, hosted by Dodge. However, many of us weren't aware that Burt was a stunt driver in the Blues Brothers movie, for example, or that he has penned multiple award-winning books on racing – one of his strongest interests. We sat down (virtually, of course) with Burt to get his full story (though, deep down we know this doesn't even begin to scratch the surface!).
Q1: You were a stunt driver in the Blues Brothers movie. That is incredible! How would you best summarize this experience?
BL: A hoot. Didn't get the gig by anything but serendipity (and some flinty-eyed bean counters in Hollywood!). The producers had the problem of finding enough experienced, high-speed drivers to put in all those seats. They sure as heck didn't want to pay union stunt money for that, so they asked around and were steered to local car and racing clubs. I'd been racing pretty successfully and serving as a race-driving instructor for our local amateur clubs and it sounded like fun, so I went to the tryouts at the Dixie Square Shopping Mall, which was used in the movie. The whole idea was you got in one of these wheezy, wobbly old cop cars with one of the stunt coordinators and he told you "do what I tell you to do when I tell you to do it and don't do anything until I tell you." And then he'd tell you to aim for the far side of this chunked and broken parking lot and floor it. They were tired & beat up but they did have the big, cop-car engines, so pretty soon you're motoring along at 80 or so—foot still to the floor and the front end hammering and hunting all over the road (not to mention the tree line on the far edge of the lot starting to loom very large indeed!) but if you kept your foot planted until he said "OK, you can back off now," you were in!
Q2: You helped out as an instructor at the MAMA Track Driving School. Many MAMA members received instruction from you...what is your top advice for novice track drivers? 
BL:  Calm down, don't hold the wheel in a death grip and RAISE YOUR EYES! One of my instructors many years ago was the late Jim Fitzgerald, who was Paul Newman's great friend and teammate. He always said that race is more like dancing than anything else, and he was absolutely right. When you're doing it right, it all becomes a sort of rhythmic flow—not all jerky—and you see far ahead and everything feels like it's happening in slow motion. I always tell my students it's like music: the track is the piece of music you have to play and the car is the instrument you play it with. When you're "in the zone" and you have a really good racecar under you, the car becomes almost invisible and it's just you and the track…  
Q3: What race cars have you driven, or even owned?
BL:  I haven't owned many, but I've driven and raced a LOT. Started out in 1971 in a real P.o.S. series of self-wrenched Triumph TR3s. Bought a lot of "trick" parts and go-faster goodies from California and wound up with TR3s that went faster and faster for shorter and shorter periods of time. Rarely finished a race. But, I learned, and when I switched to an Alfa Romeo Spider built out of an insurance total, I started winning races and championships. With some backing from the dealership I worked for at the time and Alfa Romeo in New Jersey, I switched to a different Alfa for SCCA National racing in 1983. We ran eight races, won four of them, set two lap records and qualified for the National Championships at Road Atlanta. By then, I'd realized that I couldn't really afford to continue.
By then I'd started writing for AutoWeek and On Track magazines, and they'd offered me a gig covering pro races in the Midwest. I told them "no, I'm a RACER, not a writer." Only I called them back again after the car got rolled into a ball and asked if the correspondent gig was still open? Had no idea how or where I'd ever go racing again. But covering races was a way to stay involved and I made a lot of lifelong racing friends in the pro ranks.
Did some pro racing of my own thanks to a surprise call from PD Cunningham, who offered me a share of the driving in some endurance races for a fledgling team out of Dayton, MPS Motorsports.
Serendipity again: Joe Marchetti (who, along with his brothers, used to own and run the famous Como Inn Italian restaurant in Chicago, and also traded in exotic and racing cars…mostly Ferraris) was running a fledgling vintage racing event at Road America (called then the Chicago Historic Races) and wanted me to write a driver's-eye-view of Road America for his race program (I'd won a few races there and held a lap record). So, I did. And, in return, he put me in a classic 1960 Ferrari 250 SWB (Short WheelBase) Berlinetta at a race at Road Atlanta. I wrote my first "ride mooch" story about the experience for AutoWeek. That led to drives in other classic racing cars, a gig as a track-driving instructor at the Ferrari National Meet and a series of occasionally award-winning stories and columns about racing and test-driving other people's wonderful cars…the great majority of which I could never dream of affording!
Q4: How many different tracks have you raced on? Which was your favorite, and why? 
BL: I have raced at almost every road-racing circuit in the United States plus several in Canada and three in the Bahamas. For the sheer joy of driving, I love the flow and elevation changes of the Virginia International Raceway, Road Atlanta and Mount Tremblant in Canada, the scale, sweep and scenery of Road America, Watkins Glen and the fun of Mid-Ohio. If I had to pick a single favorite, it would have to be my home track, Road America, because of its grandeur and presentation, its unique synergy with the surrounding towns and countryside (which I've written about in my books) and the way the track management and board keep pouring profits back into the facility to improve and upgrade it. That just isn't happening anywhere else.
Q5: How did you become a book author? What books have you penned?  
BL:  I'd been writing for the magazines for a while and had this urge to write a novel about racing just because I hated all the fiction about racing that I'd read or seen on the screen. I thought about it for quite some time. I remember I was sitting around the pool one morning with a massive rum hangover during the 1986 Grand Bahama Vintage Grand Prix (where I was driving for Joe Marchetti) and just started hunting and pecking away on my laptop. It took me eight years because I really had no idea how to write a book and I kept giving up or setting it aside when racing season rolled around. It was a coming-of-age story about a 19-year-old New Jersey gas-station mechanic getting sucked into the glamorous, dangerous and occasionally decadent world of open-road sports car racing during the Eisenhower fifties.
I finally finished it and sent The Last Open Road off, unrequested and un-agented, to just about every major fiction publisher in New York. They all turned it down. A few of them liked it, but told me "There's no market for 'car' fiction." Or, as one particularly rude and arrogant Manhattan publishing executive told me: "THOSE people don't read…"
But I thought she was wrong. So, my wife and I took out a second mortgage, formed a company, published it ourselves and debuted it at the Road America vintage weekend in July of 1994. It earned wonderful reviews in the motoring (and even some of the mainstream) press here and abroad and garnered tremendous word-of-mouth support on the motorsports and collector-car scenes. That book is now in its 10th hardcover printing, is used in several high school and college-level English classes and is on the recommended reading lists at many libraries and book clubs. It's also spawned five (soon to be six) sequels: Montezuma's Ferrari, The Fabulous Trashwagon, Toly's Ghost, The 200mph Steamroller Book One/Red Reign and The 200mph Steamroller Book Two/The Italian Job plus a short-story collection, A Potside Companion. 
Q6: If you could do it all over again, what would you do differently? 
BL: Don't stop me now, I'm on a roll… 
Q7: Any advice for MAMA members who may want to follow a similar path to yours? 
BL:  Follow your dreams and don't be afraid of falling down.