I been busy, see. And doing waaaay too much traveling. Sure, I've been having a little fun along the way (see pix below) but since January I've been signing books, shooting my mouth off, mooching rides (and writing the magazine stories that of course have to go with them if I want folks to keep lending me neat cars) etc. etc. as follows:
1/27-29: Rolex 24 at Daytona: book signing with Vintage Motorsport plus feature story for same about my friends from Predator Racing and their grueling, quixotic and occasionally valiant effort in the Daytona Prototype class.
2/3-5: Speechifying and book signing in Minneapolis
2/24-26: Wonderful Brian Redman Targa 66 event in West Palm Beach, where I signed a few books and drove the Collier Collection's excellent and historic Ford GT40 (1st in class/6th overall at Daytona in 1967) and their even more excellent and race-winning 427 Ford Mk. IIB (last-ever major race win for a Mk. II and the only win on record for a Mk. IIB at the 12 Hours of Reims). Hey, it's a tough job, but somebody's got to do it….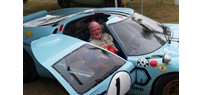 3/9-11: Book signing and presentation of our 6th annual "Buddy Palumbo" award at my friend Bill Warner's fabulous Amelia Island Concours. The "Buddy" award goes to an entrant (usually someone with messed-up knuckles and an iffy bank balance) who does most of their own work and actually drives the blessed car!
3/16-18: Book signing, PA mouthing-off & attempting to avoid self-injurious behavior at the rightfully notorious 12 Hours of Sebring. Need I say more?

4/12-15: "Celebrity-Guest Driver" gig in a 650hp Lux Performance Viper ACR-X in the highly competitive Viper SRT Cup race (think "Spec Miata meets Godzilla!") race at Road Atlanta. Cindi Lux and her crew were absolutely great, and my teammate was famous and immense Atlanta Falcons NFL player-cum-professional wrestler & movie actor "Goldberg." Big Guy! Big Fun! Big Power! Big Speed! Big Scary a little bit, too!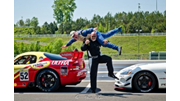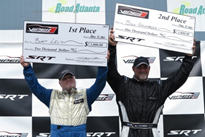 4/26-29: Walter Mitty Challenge at Road Atlanta. Signed a bunch of books, saw a lot of old friends (then again, ALL my friends seem to be old these days), did a little color announcing on the PA and mooched rides in a bunch of Triumphs (for a story, of course!) and one of Dennis Olthoff's excellent, South African Superformance GT40 clones. Can't really recommend hopping out of George Wright's fine TR4 and directly into a Ford GT40 replica. It's hard on the brain.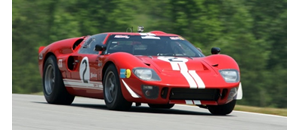 5/11-13: NARRA event at Road America. Didn't get to drive. Am I losing my touch?

5/18-20: Books on Sunday only (family crap) @ Spring Vintage at Road America.
5/21: Instructed at the Lotus Corps track day at Blackhawk. Good time as usual. Nobody scared me too much and not too many of the many Lotus cars on hand broke down.
5/23-24: MAMA (Midwest Automotive Media Association) Spring Rallye at Road America. Got to thrash the tar out of a whole bunch of neat new cars provided by the manufacturers' press relations people, lotsa great free food, open bar w/music at Siebkens, off-roading in 4x4s, go-karting (I performed impressively against a highly suspect field of non-racer journalists) etc. Automotive writing may not pay very well, but it's sure got its perks!

5/26-27: Supposed to drive Jack Bartlett's Lola Formula Ford at the MCSSC race at Blackhawk again, but there was a stupid communication mixup and neither of us made it. So I did 30 miles of the amazing "Bike the Drive" event on Chicago's handsome & historic Lake Shore Drive.

6/15-17: Hawking books at Road America's 4-Mile Merchant paddock gift shop during the June Sprints.

6/22-24: I was supposed to be signing & co-driving at SVRA Mid-Ohio, but some family stuff came up and the car I was supposed to drive wasn't ready. So I wound up signing books Saturday & Sunday AM at Road America again for the ALMS/NASCAR Nationwide dual meet. Observed several fascinating & occasionally amusing differences between the rank-and-file ALMS and NASCAR fan types. Buy me a beer sometime and I'll tell you all about it....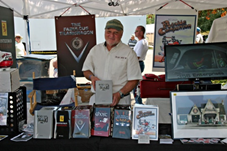 6/29-7/1: Flew to Seattle for the Northwest Historics in Kent, Washington. Great time. Sold a bunch of books. Did a little color announcing. No enduro so I didn't get to drive. Flew home.
7/6-8: Flew back to the Pac NW three days later for the Portland Historics. Also a great time. UPS shipment of books didn't make it (many agitated phone calls and much gnashing of teeth), but at least we had some leftovers from Seattle. Took orders when we ran out of The Last Open Road. Got to drive & race a little bit in John Rankin's lovely little Beach sports/racer. Nice car! Nice guy, too. Story coming.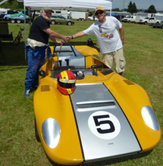 7/13-15: Huge "Hawk" summer vintage meeting at Road America. Sold books with People Kars, schmoozed, judged racecar concours on Friday night, etc., etc.

7/20-22: Pittsburgh Vintage Grand Prix. Books & color announcing at one of the most interesting & unique venues in North America. Through-the-streets racing. Big car show, great backdrop & stunning sections and with major elevation changes. Lotsa stuff to hit, too (curbs, phone poles, Jersey barriers, trees, statues, monuments, reflecting pools, other cars, a conservatory, etc.) but everybody behaved. Put it on your bucket list for sure!

7/28: Car-people party at Peter Pentz's house. Food, drink & socializing around a Cortina on a spit (in the garage, not on the grill) on a lovely summer evening.

8/9: Flew to California with Carol for ten days with our very favorite people (son Adam & daughter-in-law Tara) including Friday-night car show at the original Bob's Big Boy in Burbank, book signing at Autobooks/ASerobooks in Burbank, another visit to Jay Leno's amazing garage and a solo side trip up the coast to sign books with People Kars at the Monterey Historics and be awed & amazed (as per usual) at Pebble Beach.
8/21-22: Carol and I take the Amtrak back from California (her idea). Got a lot of catch-up writing done & we generally enjoyed it, but not much of the scenery was truly scenic and neither of us could sleep very well since our wiseguy engineer kept blowing his damn whistle all night long! We got the top-of-the-line sleeping room, but the sink (which looked as big as Buckingham Fountain on the web brochure) was more like the size of a cereal bowl. John was like a nice, clean porta-potty with a showerhead on the wall. And you could hear the one next door every time it flushed! Food was three small steps up from high-school cafeteria (but we got to sit with new people at each meal, which was fun). In a nutshell: a long train trip is something everyone should do...once!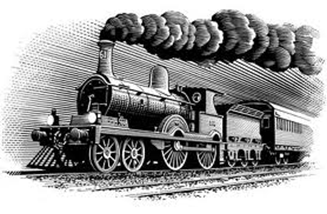 8/24-26: Keynote speaker Friday night and book signing Sunday at the very lovely Geneva Concours in Geneva, IL. Nice event (although rain came down in buckets at the end).

8/30-9/9: Carol and I take big driving trip East. Labor Day weekend books/PA announcing at Lime Rock Fall Vintage Festival (great event with highly competitive racing plus a marvelous and eclectic concours all the way around the track on the Sunday!). Then a stop at the magnificent Monticello Motor Club on Wednesday for a ride in Monticello President Ari Strauss' flyweight, 450hp and ground-effects Radical V8. Wotta ride! Talk about GRIP! Still trying to get my stomach lining peeled away from my ribs.
Then on to Watkins Glen for the Glen's fabulous vintage weekend. Carol & I climbed the famous & incredibly beautiful staircase trail in the Glen State Park (LOTS of stairs!) plus book signings at the track & in town at the big Friday night street party followed by a nifty party at the Motor Racing Research Center. Crappy & genuinely threatening weather on Saturday, so we battened down the hatches, skipped the enduro & went back to the hotel. Sunday was nice again, and we sold & signed a LOT of books. Another bucket-list must-do for those who have never been.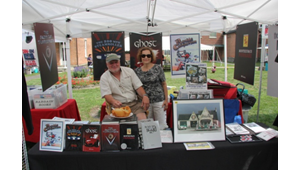 9/14-16: Glenmoor Gathering Concours in Canton, Ohio. Nice show. Good book sales, too, and we made contact with a lot of new people. Carol and I rented a tandem bicycle for a lovely ride along the river on Saturday afternoon. She's never liked the way I drive, but we're getting one anyway.

9/18-20: Drove back home to Chicago just in time to do a couple loads of laundry, pick up Buddy the Fox Terrier from doggy day camp and head off again on a drive to Michigan to pick up the much-needed first few cases of our eighth (!!!) printing of The Last Open Road from the printer and then on to the Ohio shoreline of Lake Erie where we caught the ferry to the re-creation/celebration of the through-the-streets sportycar races at Put-In Bay. Lotsa fun. Great party at the oldest building on the island (now an excellent B&B). Sold some books, too!
9/21-23: Went straight from the Wed.-Thurs. thing at Put-In Bay to the SCCA Runoffs at Road America. Great racing (as always) and sold & signed a buncha books at the 4-Mile Merchant. Met a lot of old friends, too. But the Thurs.-Sun. racing format is kinda horseshit. Plus the continual re-alignment, re-configuration & proliferation of SCCA rules & racing classes makes it damn near incomprehensible to the folks on the fences. Not that there were many of them. And most of the entrants pulled out as soon as their races were over, so the paddock looked like a damn ghost town come Sunday morning. Not the way things used to be at all....
10/5-7: Co-driving my friend Gordon King's sweet & sensual little Royale RP4 sports/racer at the VIR Gold Cup. Wonderful car, great event and probably my all-time favorite racetrack. PA duty, book signings and appearing as a freshly out-of-work Replacement Referee at the Gold Cup's traditional and fun black-and-white party on Friday night. Hey, it's almost halloween, right?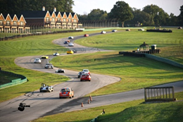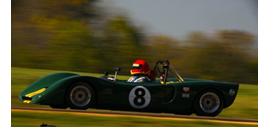 But all that's over now, I'm written ahead with the magazine and I PROMISE I'm hard back on it with the new Steamroller book.
Really I am.
Honest.
Best guess is we'll have it off to the printer late this spring & introduce it sometime during the summer of 2013.
Really we will….