So have I got your attention?
Good.
That's the whole idea.
Because I gotta talk to you about some real important stuff. Starting with how it's coming on towards The Holidays and you should therefore be buying copies of the new THE LAST OPEN ROAD audiobook for everybody you know. Even people you don't really like. We've got plenty. The whole thing runs some 20 hours and it's done with professional voice actors, sound effects, period music, authentic car sounds (I went all over the whole blessed country recording REAL Jag C-Types & XK120s, early V12 Ferraris, a Caddy Eldorado, lots of MG T-series, a period correct Cad-Allard and, thanks to Fred Simeone of the Simeone Foundation museum in Philadelphia, one of the three actual Cunningham C4Rs on the planet) AND:
MYSTERY CELEBRITY GUEST VOICES
in many of the supporting roles. Including (ahem) famous, ex-pat Brit racer/motorsports TV commentator David Hobbs, fellow Brit 3-time F5000 champ and team driver for the Porsche, Ford, Ferrari, Chevron, BMW and Aston Martin factory teams Brian Redman, NASCAR hall-of-fame crew chief Ray Evernham, famous American racing champions Tommy Kendall, Patrick Long, John Morton, "PD" Cunningham (he was once my teammate...really!) and Spence Pumpelly, Amelia Island Concours founder and chairman Bill Warner, multiple national champ, Lime Rock Park owner and racing-school founder Skip Barber, past Mazda Motorsports director/now IMSA president John Doonan and his son Alex, Scottish IMSA & European racing star Marino Franchitti, "Cars, Yeah" podcast and TV host Mark Greene, Lime Rock Park track announcer Greg Rickes, pro racer and driving coach Mark Hamilton Peters, celebrated Indy 500 crew chief and bespoke road-racing car-builder Bob McKee, auction expert Andy Reid, Road America Paddock Shop manager Julie Sebranek, my own self (yep, I "did a Hitchcock), long-suffering wife Carol (who can actually act...she used to be with Second City. Really.) and many more. You may wonder why so many motoring icons were willing to participate in the project? Simple. They like the books, liked the concept and wanted to be a part of the production. Lord knows I wasn't passing out fat checks...
BTW, we don't exactly reveal which part each of these motoring luminaries play. That's on purpose. Wouldn't be surprised if there isn't a wee contest somewhere down the road to see who can identify them. Or most of them, anyway...
Yep, it'll really take you back to how things wuz. And the early reviews and responses (hopefully more to come in more conspicuous places) have been more than encouraging. Like fr'instance:
From Sharon Spurlin, editor of Automobilia magazine:
My girlfriend Lisa (visually impaired) went crazy over it. She's read (listened to) thousands of audio books, and says this is the absolute best she's ever read. Loves the sound effects, the different voices and learning about all the cars from that era. Seriously, she is ecstatic, and is listening to it for the 2nd time already!
Quite an endorsement from a non-car junkie. She is exposed to classic cars a bit through me (not much), but just loving learning about them through your book. "That era and those cars come alive."
From Doug Stokes at LACars.com:
Listen and laugh...funny, sardonic, clever, fun-filled, noisy, cheeky, irreverent and entertaining!
From Tom Stahler in Vintage Motorsport magazine:
For the past quarter-century, countless readers have enjoyed the exploits of Buddy Palumbo, Big Ed, Cal Carrington and their fellow travelers in BS Levy's self-published The Last Open Road. Many of us, through reading, had become friends with the characters-part of the gang-as we vicariously journeyed with them to so many historic moments in racing. Now in 1950's radio-play format, the entire first installment of the series is acted out, bringing to life the words that have so profoundly driven fans to not only read all the books in the series, but put the iconic, art deco-font decal on our race cars and street cars.
The most fun is hearing the bit parts read by many icons in their own right, including David Hobbs, Brian Redman, Patrick Long, Tommy Kendall and Ray Evernham, to name a few-and Levy himself painstakingly traveled the country to record authentic engine sounds to match the many period racing cars in the story.
From Patrick Utt, CEO of Racequip:
I have not seen you since I received my beautiful, leather bound USB drive with the audio book. Very nice presentation, by the way. I had a long car trip right after I received it and listened to about ½ the book so far. One word to describe it...AMAZING!  After all you had told me about the effort it was taking to produce such a project, I was unsure how the final product would actually turn out. I promise you, you did not oversell it. Every detail is spot on and the actors and sounds were excellent. You should be very proud of what you created.
From Stephen Page, CEO of Racing and Cars.com:
I'd read The Last Open Road when it first came out and it's always been one of my favorite "car" books: an innocent trip down the world of exotic car repair and racing and all the wonderful characters therein. The new audiobook makes Burt Levy's wonderful characters come alive. I listened to the book's twenty CD's as I drove to and from work for a month. I found myself sitting in the car park many times, engine running, in order to finish a chapter. It's both enchanting and delightful, and the magnificent professional voices and sound effects bring the story alive. The Last Open Road audiobook would make an awesome gift for anyone who loves cars and racing.
We're going to have some online ads coming up in various places (see ideas below) and we're eager to find ways to reach out to the larger motorhead audience. Must be cheap (free is even better) and suggestions are greatly appreciated.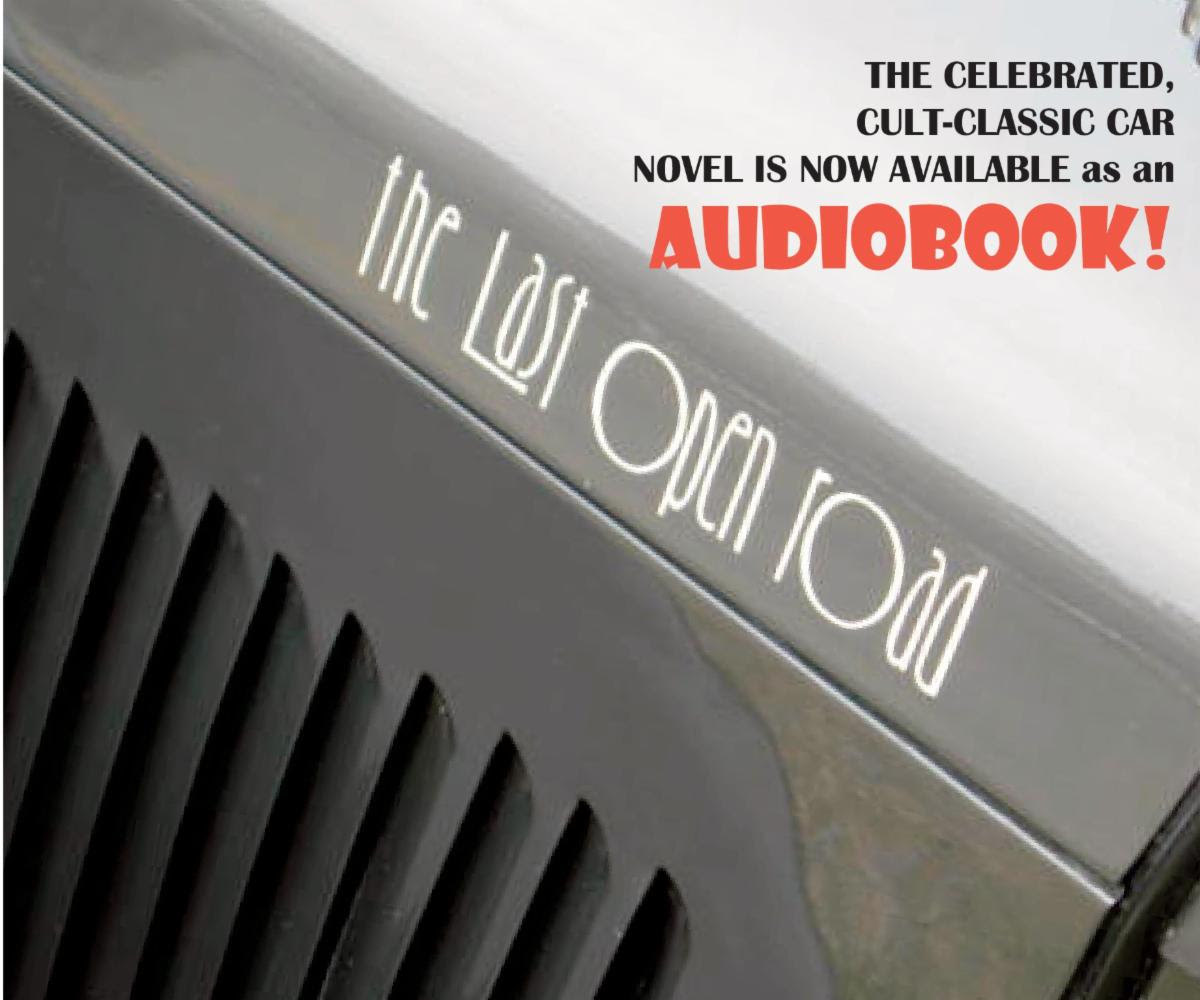 Quick Trivia: Identify the blue car above.
Have also put together a wee Point-of-Purchase counter-top display for our retailers at racetracks, parts stores, specialty shops, etc. We have an attractive dealer program. Honest we do...
Pretty cool, eh?
That's all for now, but keep your eyes out for our upcoming THE LAST OPEN ROAD GEARHEAD GIFT CATALOG, which will be filling your email inbox this coming weekend. But there's one item you might want a jump-start on: our incredibly cozy and insider Finzio's Sinclair Holiday Cards (OK, OK, Mr. President, make that "Christmas Cards" ...Lord knows you've got plenty of other things to worry about). Looks like this: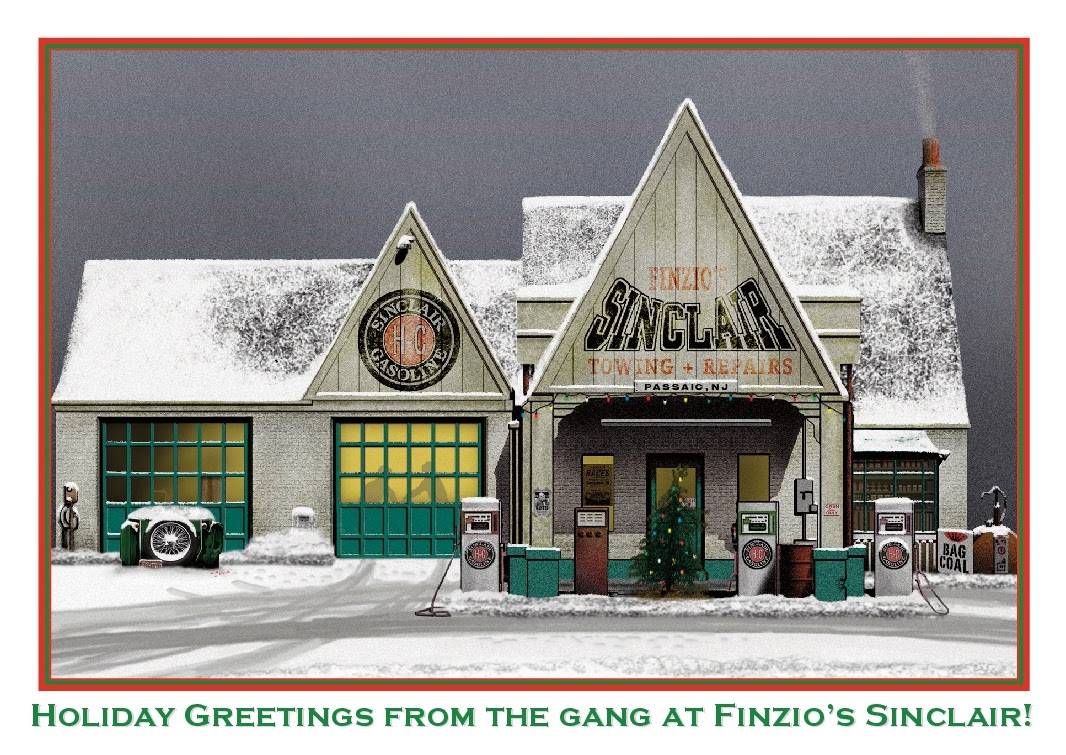 And here's the inside: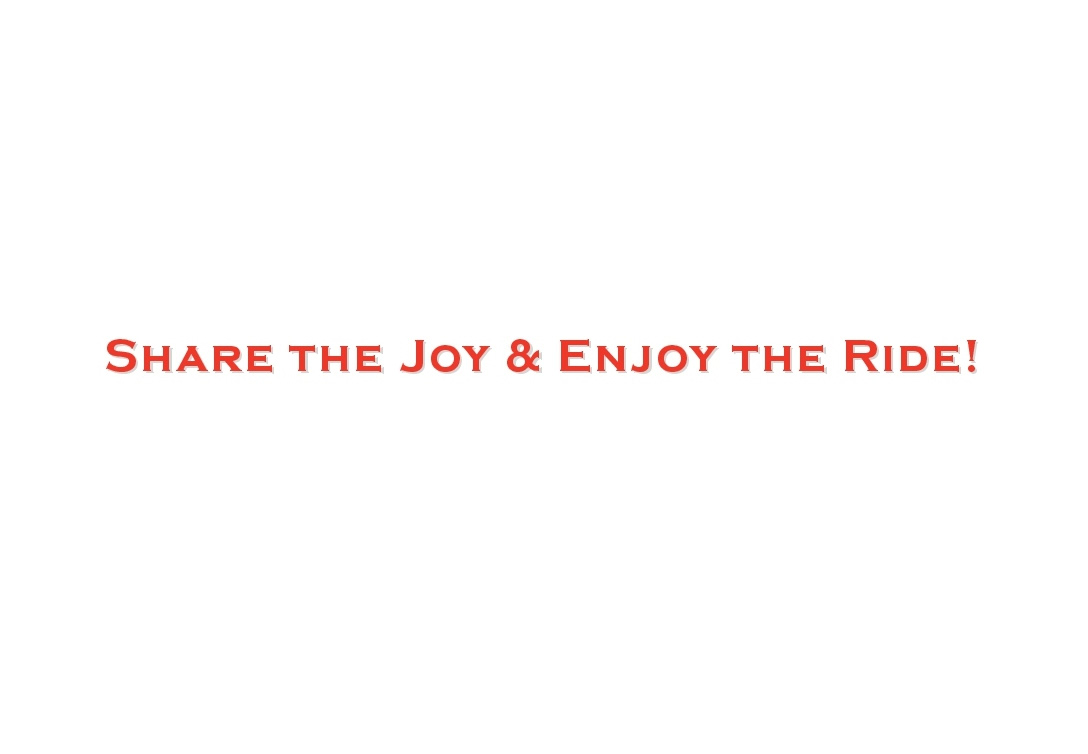 More anon...