Hawked books at SVRA Road America the following weekend, but turnout was low, the weather was borderline shit, I couldn't land a blessed co-drive and we didn't sell many books. Oh, well.
Back at Road America the following Wednesday for the Midwest Automotive Media Association's annual Spring Rallye, where journalists, media types, manufacturers' reps, etc. get together to listen to the latest PR buzz about the new crop of cars and then proceed to flog the crap out of them around Road America, tour them on the surrounding scenic back roads, eat all sorts of wonderful meals, autocross a bit and race go-karts. The new Acura NSX was extremely poised and impressive,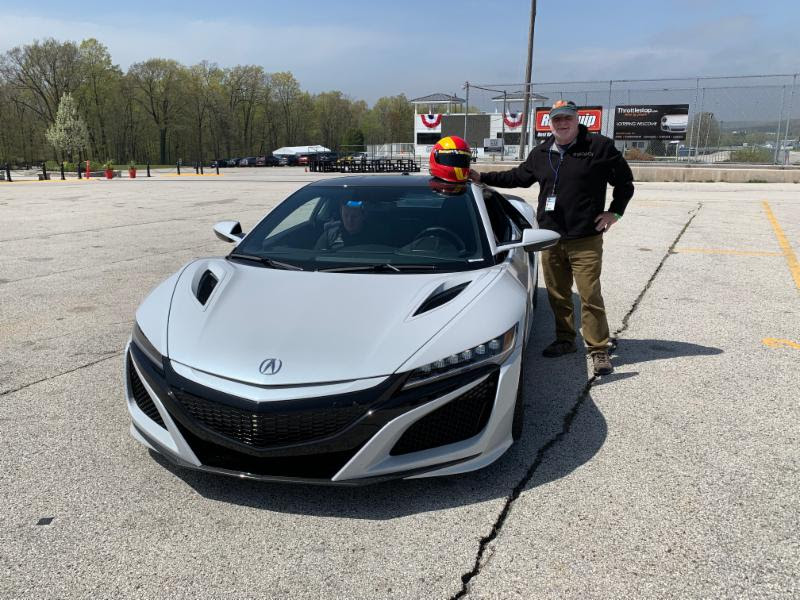 the VW Jetta understated, under-appreciated and refined, the BMWs taut yet supple (but a bit heavy) and the Monster-Power Dodge Hemi-powered Hellcats awesome in a highly American, red-white-and-blue sledgehammer sort of way. Have to say I was gratifyingly quick in the karts (particularly for an older guy), but ran consistently second to my friend/VW rep Mark Gilles, who is a highly accomplished and experienced racing driver, speaks with a genuine, unaffected British accent, has won races at Goodwood and elsewhere in prewar cars, is younger than me and BTW weighs about as much as a canary. Not that I'm making excuses. We did have a bit of fog the morning of the first day:
What a great event. Drove a lot of wonderful new cars and am constantly and continually amazed by not only how good they are and how well they perform,  but also by their amazing stamina and durability. Try this same event 50 years ago with MGBs, Stingrays, Jaguar E-Types, Olds 442s, Plymouth Superbirds and Pontiac GTOs and nothing would've still been running come lunchtime.
Come Saturday it was Spamstock time at my neighbor and fellow 
Alfisti
Steve Crowley's house (Spam: you can turn it into as many different dishes as the parts of the pig it's made from) which is always great fun.
Weather looked wet and grim Sunday morning, so Carol and I took a pass on our annual Bike the Drive charity pedaling pilgrimage to the Chicago lakefront and so I worked on the audiobook (really I did) and watched a bunch of racing on TV. 
Following weekend I was Honorary Grand Poobah/Guest Speaker at the Champagne British Car Festival in Bloomington, Illinois, and Carol's brother Tony and wife Debbie (who live in Bloomington) joined us for a really good time. The speech went OK, too. And the check cleared!
Hawked a few books at Fuelfed's Cars&Coffee in Dundee, which attracted some cool stuff I'd never seen before:
LOVED this Jensen!
Then, the following Saturday after bike class, I stumbled down the dark, narrow basement stairs of my brother-in-law Vince's soon-to-open new restaurant (Mancinis on Lake Street in Oak Park...you will NOT be disappointed!) on my way to see his effing gelato machine. Banged the living shit out of the Achilles tendon of my left ankle (there's a big, fat nerve running down the back of that thing that you REALLY don't want to mess with!) and I've been hobbling ever since. Thing swelled up to about the size of a cantaloupe and hurt like hell. Which made things highly problematic a few weeks later when I took my Texas Formula Vee friend/"Bigger Hammer Racing" team-owner Bill Griffith up on his offer to drive his semi-antique Autodynamics Formula Vee at the VSCDA's annual, Fathers' Day Blackhawk Vintage Fest. Turned out to be great fun and a great challenge, too, since the first time I got in the car and tried to push down the clutch, I saw stars. And comets. And it hurt like hell. In fact, on the Friday I only used the clutch to get rolling and shifted without it for the rest of the sessions. But I shouldn't complain, since team-leader/Vee guru Bill had a tank accident in the Army and wound up with a prosthetic left leg that they have to rubber-band to the blessed clutch pedal (and he still wins races that way!).
Don't want to go though all the dramatic, fascinating & oft-humbling details of the weekend here (Vees aren't as easy as you may think!) since I'm writing it up for my next column in the magazine (do buy yourself a subscription toVintage Motorsport and find out!), but here is a fine Bill Nesius pic of me arm-wrestling with the Vee after I got my swolled-up foot all tangled up in the damn pedals. I did go off, but fortunately didn't hit anything.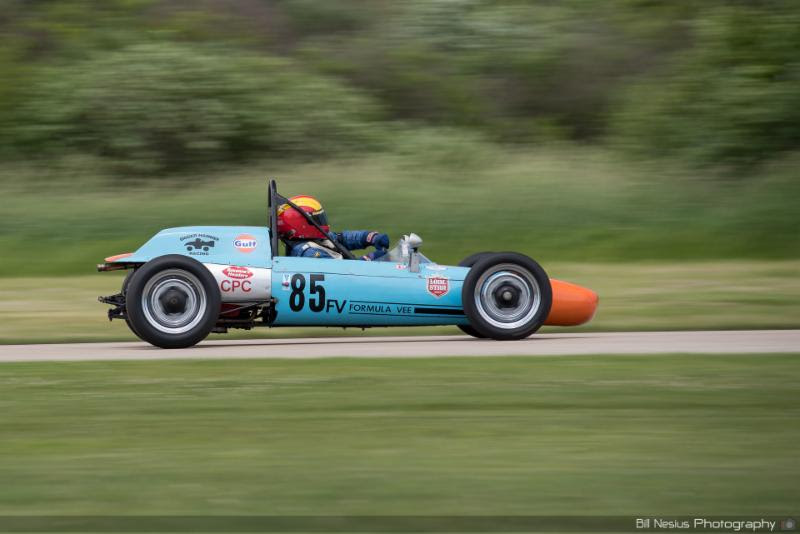 It was a truly fraught weekend with LOTS of folks to race with (see below)
and, by the end of the day Sunday, I'd met a bunch of wonderful new friends and gained a whole new respect for Vees and the people who race them.
Had a whole lot of fun, too.
Hobbled around hawking books in The Paddock Shop at Indycar Road America June 21-23. What a fabulous, competitive race series! In effwun, the cars tend to qualify two-by-two by team, like the animals heading up the gangplank to Noah's ark. We've been blessed by some really storming GPs this year, but running up front is still so bloody car-and-team dependent. In Indycar, by contrast, you may have a dozen drivers in with a decent shot (maybe even more!) on any given weekend. And they're NOT ALWAYS THE SAME BLOODY FOLKS! Makes it pretty damn interesting to watch and follow. And speaking of watching and following North American pro racing, I am just SO thrilled that my great friend John Doonan's Mazda Prototype team finally closed the deal and won a race. No, make that TWO FREAKING RACES IN A ROW! And up against Penske, Honda, GM and all the rest. I've known John since he was in knee pants since I used to race with and against his dad (albeit in different classes) back in the old Midwestern Council days, and he is just about the nicest, straightest, most honorable, enthusiastic, hard-working and dependable person I've ever met in my life. Talked to him last week when he was, on one of his very rare weekends off, on a church mission with his son and daughter building stuff and helping out for people who can really use the assistance.
BTW, son Alex Doonan is an aspiring actor/song-and-dance man, and does an excellent job playing "Young Buddy" in our new audiobook!
Signed a few more books/took a few more pre-orders alongside now-habitual motoring author/sidekick (oh, wait...I think I'M the sidekick!) David Hobbs at Linda Daro's MiRPA Cars and Coffee in Dundee on Saturday the 6th, and then, last Friday, journeyed up to the fabulous and yet still insider-secret Millers at Milwaukee event at the storied Milwaukee Mile racetrack at State Fair Park. Used to race there a couple times a year in the old Midwestern Council days, but for this event they run the oval (as it should be) and you wouldn't believe all the amazing old front-engined Indycars that show up. See pic below: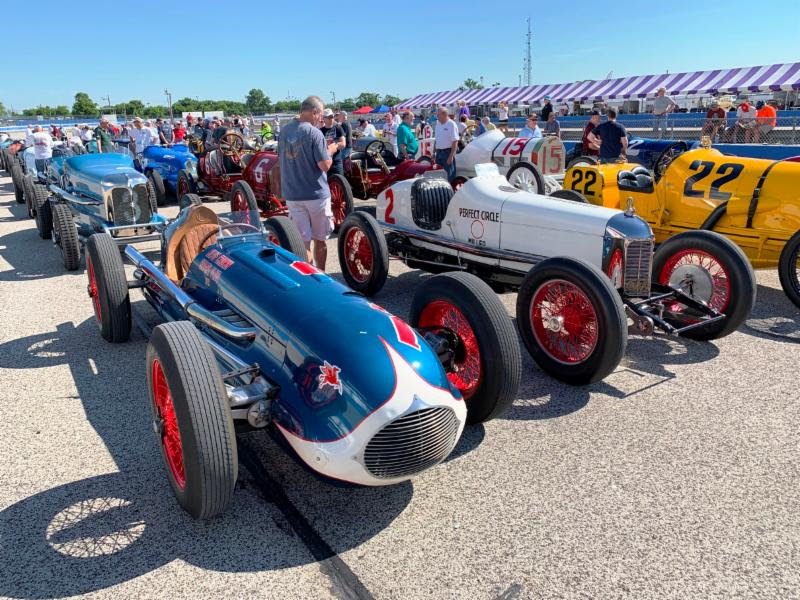 Wonderful time! And (eat your hearts out, fellow racers) I actually got to hot lap at pretty decent speed in (ahem):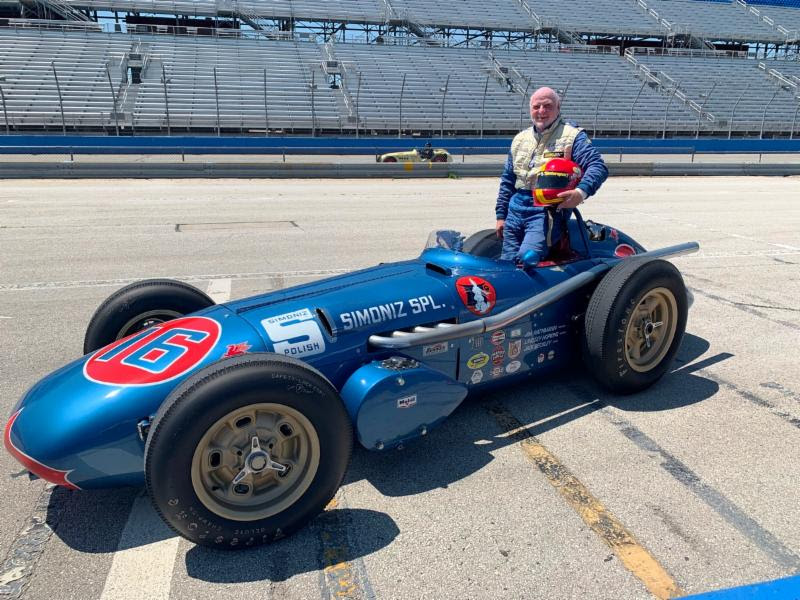 The #16 Simoniz Special Watson/Offy roadster that Jim Rathmann (who was actually Dick Rathmann, but that's another story) took to second place in the 1959 Indianapolis 500. Thanks SO much to owner/regular driver Larry Pfitzenmaier and to my great old buddy Sam Smith, who talked him into it. Fabulous thing to drive (although the brakes were not what you could call "confidence inspiring") and surely worth a story in the magazine. And if that wasn't enough for one day's fun: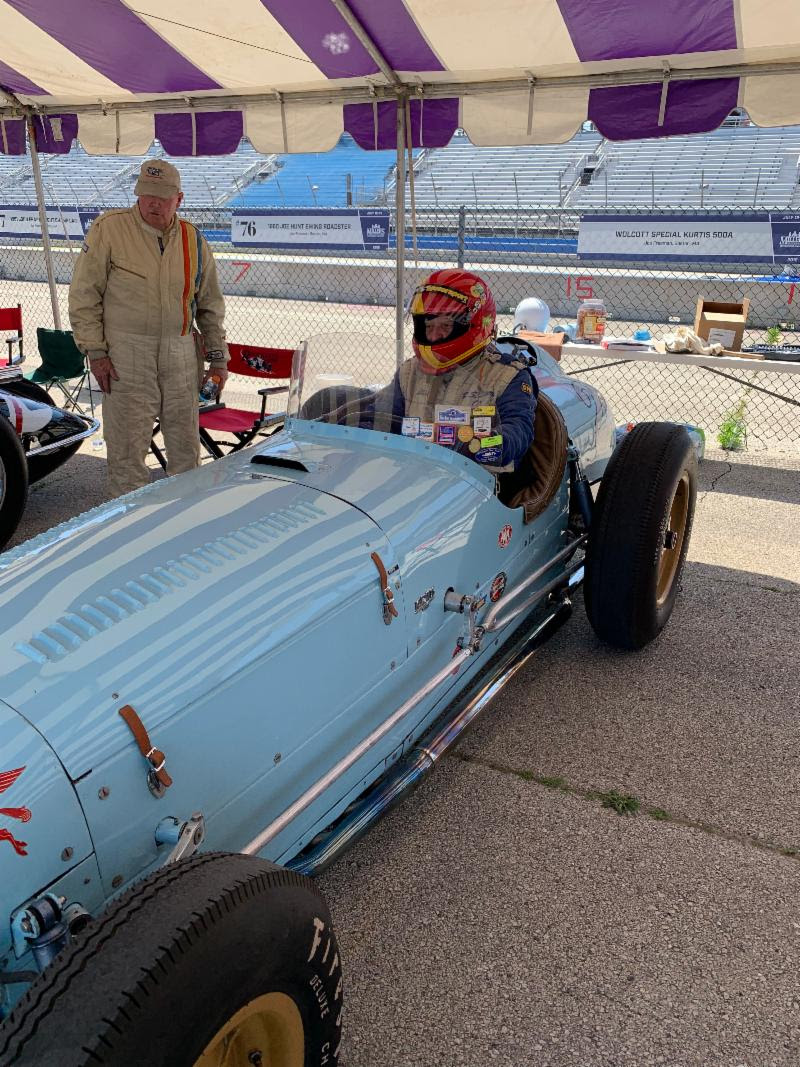 That's me getting comfortable in Jim Freeman's Hilborn-injected, Chrysler Hemi-powered Kurtis 500A. Jim Freeman (on the left) runs Racemaker Press and publishes all those great books that have a small but rabidly appreciative enthusiast audience. And the car is a wonderful story. Seems the rulesmakers, in an effort to get the Detroit manufacturers (and their MONEY) involved in Indycar racing, decided to accept modified, pushrod production V8s of up to 5-1/2 liters to run against the 4-1/2-liter pure racing engines (read: "Offenhausers") that were filling the entire grid at the Indy 500. The car above was built to that spec. Only then there was an entirely too-public test where the Hemi-powered car proved waaaaay  to fast and powerful. So the rulesmakers, as they are wont to do even today, did an abrupt about face and said: "We were just kidding about the extra liter of displacement. Sure, you can run the Hemi engine, but you gotta bring the engine down to 4.5 liters (275 c.i.), same as the Offies." Since the Hemi V8 was a lot heavier than the Offenhauser straight 4 and would be hard-pressed to make equal power, all the air leaked out of the deal right there and no suce car ever ran in The 500.
But, jeez, what a great thing to drive! Tons of torque, really nice, stable handling and superb brakes. I was having so much fun I had to stop myself after a dozen laps or so, as I didn't wish to venture outside the intent of the event. Or good judgment. But I'd love to drive that thing again...
So that's what I've been up to besides flogging away on the new audiobook. NOW IT CAN BE TOLD!