because he's gonna try to sell you a whole arm-full of books! Or maybe even a $250 sponsorship in the next one that he's been promising for two whole years already but hasn't even finished yet!
(so what's new?)
ANYHOW, HE'LL BE SHAMELESSLY HAWKING BOOKS AND HUSTLING SPONSORSHIPS IN THE COMING WEEKS AT THE FOLLOWING EVENTS:
AUGUST 31-SEPTEMBER 3
LIME ROCK HISTORIC FESTIVAL
where he'll be at his usual, highly privileged spot on the deck between the paddock and the spectator hill alongside fellow author/racers David Hobbs and Lyn St. James (either of whom could whip him in a racecar any damn day of the week, but who probably require mundane things like editors and publishers when it comes to the authoring business). Also on hand will be the co-authors of the much-ballyhooed new Lime Rock book, which will be making its debut on the weekend.
SEPTEMBER 6-9
US VINTAGE GRAND PRIX at WATKINS GLEN
where he'll be signing books/soliciting sponsorships with friends Tom and Ute at THE VELOCITY STACK SHACK tent in the vendor area at the racetrack and also in front of the courthouse in town (he's seen the inside of that building as well!) during the in-town Grand Prix Re-creation Street Festival Friday afternoon and evening. God and the moving parts willing, he'll also co-driving Marc Cendron's lovely little Tojeiro-Climax again in the Vintage Enduro Sat. morning.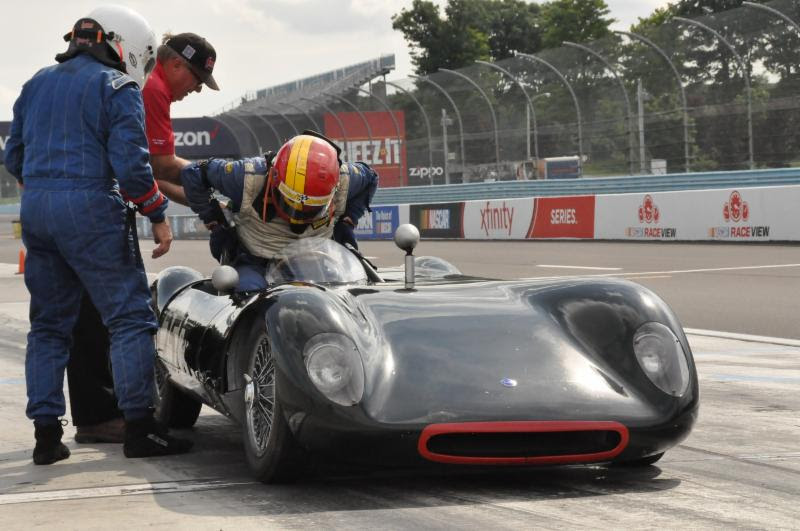 SEPTEMBER 13-16
VSCDA FALL FESTIVAL AT ROAD AMERICA
Burt's home club and one of his very favorite events. And now that he's said something nice, will somebody please offer him a drive in something? A Sprite would be nice since it's the featured marque and we'll all be celebrating the fun, frisky and oh-so-affordable (at least until you start trying to race one!) Austin-Healey Sprite's 60th year! I understand the track is laying in an extra skid or two of Oil-Dri for the occasion! Burt will of course be signing books during lunchtime etc. at the permanent LAST OPEN ROAD SHOP display in the amazing, air conditioned and weather-impervious RA Paddock Shop!
At all three events, Burt will be telling anybody and everybody who'll listen about how the exciting new, 1950s Radio Play-format 
THE LAST OPEN ROAD 
audiobook project is progressing. WOW! Wait'll you hear it!!! Planned launch will be back-to-back weekends at Amelia Island and the 12 Hours of Sebring in March (and that's one of the big reasons why the last Steamroller book has been taking so damn long!)
HOPE TO SEE YOU AT THE TRACK!