BURT'S MOTORING ADVENTURES:
OK, so let's see. Last time I sat down to do one of these things it was right after The HSR Mitty Challenge at Road Atlanta (see my full report in the new issue of 
VINTAGE MOTORSPORT
and for gosh sakes click on the VM title link and get yourself a blessed subscription if you don't already have one). Since then, I've been mostly locked in my garret writing, but I have snuck out a few times to feed my itchy right foot and near-insatiable ego. Speaking of which, may I not-so-humbly boast that my memorial piece   Instructed for the VSCDA at Gingerman 
May 4th
 (had a really good student, too), enjoyed the heck out of the yearly Car Party at dear friend, sometimes ride-mooch enabler and damn near perpetrator (or at the very least accessory) in a manslaughter rap with me as the unwitting victim Lou Natenshon's house on 5/12. See a glimpse of Lou's garage below, with his school bus yellow/bilious green MG TF/Ford Flathead mongrel (more anon) in the middle of the top pic:
Devoured a LOT of delicious lox at Lou & Abby's house as many of his car-addicted guests are culturally and/or ethnically deprived and simply don't know how good it is (and those same folks will gobble down sashimi like it's going out of style...)
Signed a few books but kept a generally low profile at SVRA Road America 5/18-20, then came back up mid-week for the MAMA (Midwest Automotive Media Association) "Spring Rallye," which is by far the best media event on the calendar. Maybe even the planet. See, it's a pain in the you-know-where (not to mention a logistical nightmare) for car manufacturers to try and get their wares into the hands and minds of every automotive writer, blogger or talking-head broadcaster of note, and the Spring Rallye affords them an opportunity to address them all in one swell foop. And there's nothing automotive writers, bloggers and talking-head broadcasters like better than to be put up at a fancy joint like The Osthoff, fed all sorts of fabulous food and free drinks and get to hot-lap Road America and beat the living whee out of (pardon me, make that "test drive") a stellar representative sampling of everything from 700+ horsepower Dodge Hellcats, a poised and potent BMW M5s and a track-monster Mercedes GTR coupe (can we go around again? And again after that?)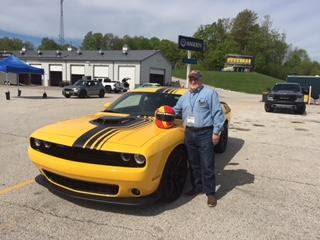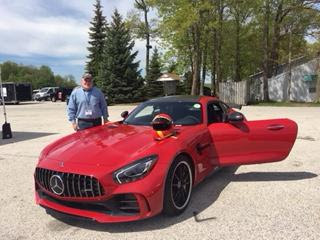 to things like VW's restrained but fast and beautifully dampened GTI and Golf R and Honda's somewhat over-styled (can you say "Transformer-inspired") but amazingly capable Civic R-Type.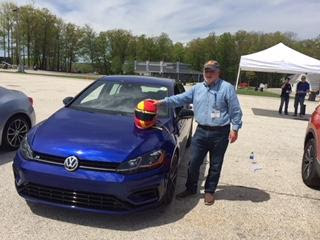 And for those caught up in the "I still don't get it" Marlboro Man/Soccer Mom SUV infestation, we had an Alfa Romeo Stelvio Quadrifoglio (loved it) and Mazda M5 (son Adam has one and loves it as well). Plus touring rides on the local twisty roads in everything from a Mazda MX5 (will always be a Miata to me) and its Fiat 124 semi-sibling to all sorts of "sensible family cars" like the new-ish Subaru and Volvo SUVs and Chrysler Pacifica minivan. All very nice and a fur piece engineering, reliability, value and quality-wise from what we had back when I was a wee tad. But also a LOT more complicated ("Open the pod door, Hal...")
And after that we all went go-karting on the Road America Kart Track. Lots of sly handicapping beforehand as to which was the fastest kart, and I think I can say without fear of correction that I showed some of them young "auto writer" whippersnappers a thing or two. Although, to be honest, VW's Mark Gillies beat me with disheartening regularity simply because he's younger than me (who isn't?), weighs probably 75 or 80 lbs. less, is a highly experienced and effective vintage racer (he's won at Goodwood, for gosh sakes) is a bloody Brit by birthright and has a bit more skill and talent. If not for those things, I would've creamed him...
The evening brought a sumptuous feed at The Osthoff followed by a short trek over to Open Bar Night at Siebkens ("Danger, Will Robinson!") and an unsteady walk home if you weren't too careful.
Next day a big breakfast and then your choice of autocrossing assorted nifty cars on the Kart Track or some fantastic off-roading on courses hidden away on the far side of The Carousel hosted by Land Rover. See me learning new things below: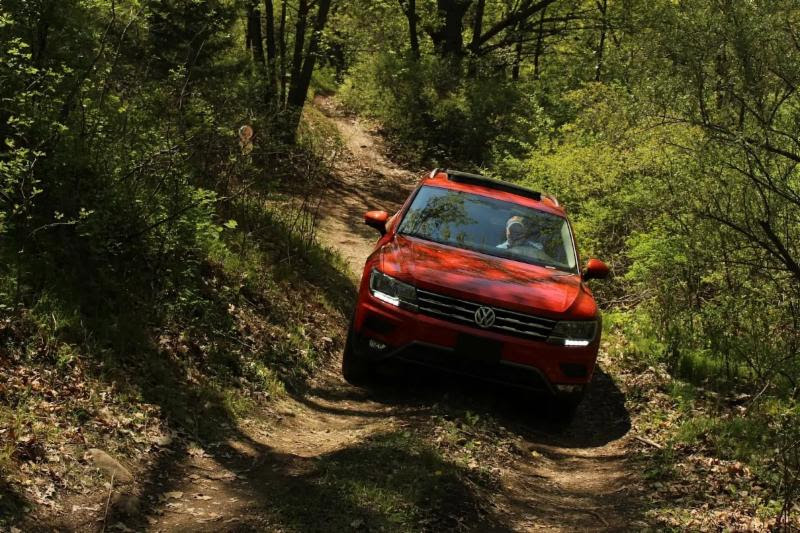 Enjoyed it, but I'm really more of a racer type (see me below on the autocross course in the Mazda MX5)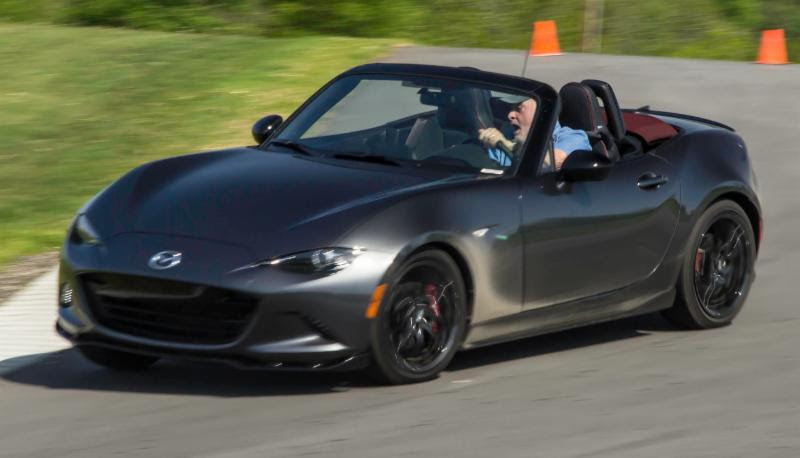 By the way, the open mouth is a time-honored motorsports facial expression (see Augie Pabst, Roger Penske, etc.) although in this case I believe I'm singing along with Fats Domino (or maybe Elvis?) on the radio. Still think the Miata/MX5 is the best damn affordable sports car ever built and its balance, poise and fun factor are off the charts. But it wasn't the quickest. That honor went to the comparatively enormous but wonderfully adroit and magnificently engineered BMW M5. In fact, the three quickest times were all set in the M5. And I'm semi-proud to say I got third-quickest out of the forty-some journalists who tried. And the two guys who beat me were, simply put, better at it than me...
So that was a memorable couple of days, and certainly helps keep me up on what's new, different and exciting in the non-vintage automotive world.
Instructed at the Lotus Corps track day 5/21 (always a good time) and the Alfa Club same (ditto, but with lap times taken) on 6/9. In between on Saturday 5/25 was friend, neighbor and fellow Alfisti Steve Crowley's annual Spam cookout. Lots of fun, neat cars and conversation, plus a plethora of dishes all based on Spam. And before you turn up your nose at a food product made largely of pig's noses and other parts you might not initially think of as appetizing, let me assure you that Steve's Spam Tetrazzini and "Spambalaya" are worthy of an exalted place in the pantheon of tasty cuisine. Especially if you've had a few drinks first. Below is the fine centerpiece crafted by Chicago-area Alfa racer/preparer extraordinaire and marque mechanical expert Mike Besic. Captures the spirit of the event perfectly:
Once again passed up a likely press pass at the Indy 500 so's Carol and I could once again do Bike The Drive in Chicago on Memorial Day 
Sunday
. Chicago's famous and scenic Outer Drive is closed to car traffic for several hours so an unbelievable swarm of something like 30,000 cyclists can pedal their hearts out. Everything from toddlers on meandering tricycles to would-be Tour de France types going at Warp Speed. And everything in between. A little warm this year, but we each made the full 30 miles.
I of course did my home VSCDA club's Blackhawk Classic 6/, and although it was again a bit warm (see, I can do understatement!) it was a lot of fun and I managed to land a book-signing spot in the air-conditioned Pit Stop gift shop. We sold a few, too. Better yet, I got to drive. My friend Lou once again turned me loose in his Ford V860-powered MG TF, and the car is really starting to come around and will be a Force to be Reckoned With in VSCDA's old car/old geezer Group One if it ever decides to run all day long. Lou said to keep an eye on the temp gauge (like I said, it was HOT that day!), and the car and I were doing fine together until I saw the needle on the temperature gauge start to drop...
Yes, I said "drop!"
Well, as an experienced old hand at the racing game who has broken, burned and blown up a lot of equipment in my time, I knew that when a temperature gauge starts to drop, it means that coolant is escaping somewhere, the system is running dry and there's no blessed water for the sensor of the water temperature gauge to read. Just steam. There was also this funny, tinny little squishing noise, like a robotic mouse spitting through its front teeth...
So of course I backed off and brought it in, and ace wrench Mike Alexander (who pretty much takes care of things for Lou and some of the other Group One types) noticed water squishing out around one of the head bolts with every other engine rotation. Hmmm...
As you can imagine, I felt terrible and we all figured Lou's TF was donw for the weekend. But then, out of lack of anything better to do (or anything at all, if you want the unvarnished truth of it) we decided to pull the offending cylinder head. We expected to find at the very least a blown head gasket (or a cracked cylinder head, or a cracked block, or...it just got uglier from there) and, believe it or not, I actually helped with the mechanical work. Got my hands filthy and everything. And I've got to say it felt pretty good. Hell, I used to do this for a living once upon a time.
And now comes the clinker. We got it all apart and we couldn't find a damn thing wrong! No blown head gasket, no cracked cylinder head and the block seemed straight, flat and true as measured with the knife-edge of a feeler gauge (are we high tech or what?). There wasn't much else to do but stand around and scratch our heads. And then Mike came in early the next morning, put it all back together, re-torqued the head and it ran fine all day long. And the next day, too.
Go figure.
In the meantime, new friend Lester Niedell from Tulsa asked me if I'd like to drive his absolutely gorgeous 1933 Plymouth dirt-track racer in the afternoon race?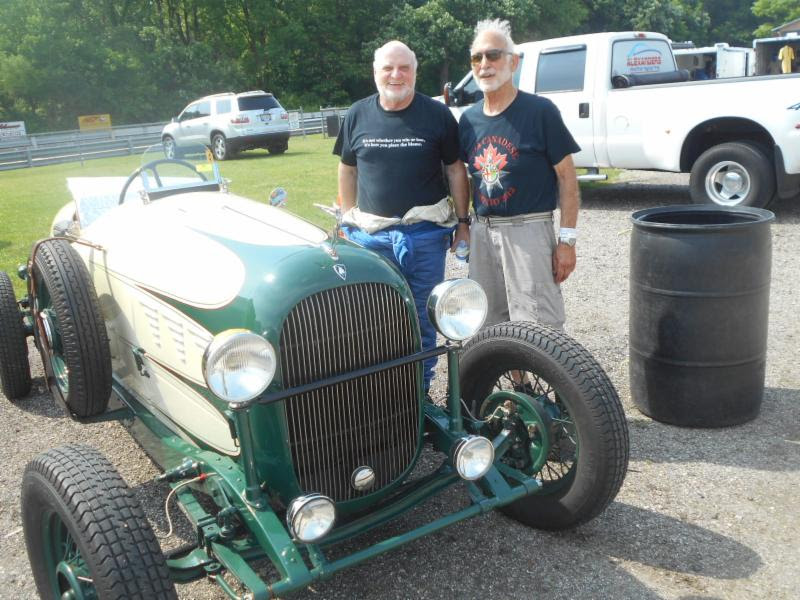 Don't think I have to tell you the answer to that one!
I decided to start at the back since I'd never driven it before, and I had a hell of a great time. Oh, there was a dead spot in the steering from about 
10 o'clock to 2 o'clock
 and you had to pump the brakes a bit and it sure as hell didn't like it if you lifted off in the middle of a corner, but what 
FUN!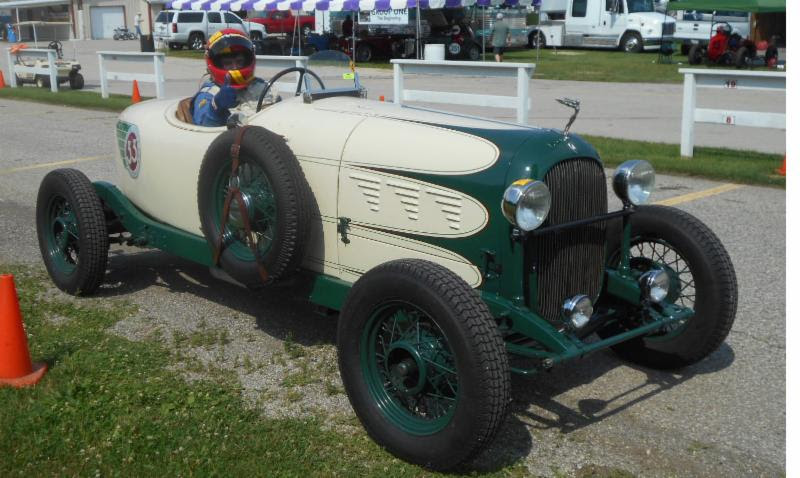 Full story will be coming up in the next issue of VINTAGE MOTORSPORT magazine.
Have had some issues with my leg plumbing that required a bit of a rotor-rooter job on a few veins, but I'm happy to report that it was apparently a success and everything is improving and almost back to full normal. Thank goodness. Also on the health front, long-suffering wife Carol has been bugging me damn near forever about going to yoga class with her (we already walk outside and do bike classes together several times a week) and I always pooh-poohed it because, frankly speaking, I thought it was a load of bullshit. Or, at the very least, not for me. I should also mention that I had developed some occasionally painful lower back issues over the last few years and had even taken to now and then wearing one of those big, wide "back support" belts that make you look like a bloody kitchen appliance delivery man.
Without eating too much crow (mind the feathers) may I simply say that either because of unexpected and miraculous divine intervention OR the stretching, balance and muscle work in our yoga class, I am now lower-back-pain free, feel better overall and I now look forward to those classes as much as my beloved bicycling and cardio.
There. I said it. Now get me a beer...
Oh, and I still got this thing in my garage. Thinking something like $19,000 as is/where is. Restored ones have been going for some crazy money of late:
Q2: And while you're at it, Bob et al., tell me everything I ought to know about the pic above.
Several people had correct answers to some or most of the above (including my friend Peter Pentz, who is also a fine host and driver) but, once again, the pedantic and insufferable Bob Allen wrote a damn treatise on the whole lot, proving beyond a shadow of a doubt that he needs a hobby of some sort to occupy his time. I have reprinted it below in its overpowering, even avalanche-like entirety. You can read it through if you've nothing better to do:
Q1. What? Where? When? And who drove?
The What? and the Where? were easy; clearly it is one of the Auto Union's "mini-Thunderbirds", the DKW 1000 Sp and it is rounding the Karussell on the Nürburgring's Nordschleife, aka The Green Hell. But the When? and Who drove? took a bit of thought. However, I believe it to have been the example owned and driven by motoring journalist/writer/racer Eckhard Schimpf (a German Burt Levy?) who raced, rallied and hill-climbed it in the early '60s. This photograph appears in an article he wrote in January 2007 for the Frankfurter Allgemeine which describes the fun he had with it in 1960 and in which he says he won the "... touring car class up to 1000 cc in the six-hour race at the Nürburgring ..." on 15th May 1960, but I'm blowed if I can find any reference to that meeting.
It can't have been the Nürburgring 1000 km because a) that took place on the 22nd (granted he could have mistakenly been out by a week), b) the winner of the smallest GT class (up to 1300 cc, not 1000) was the Elite driven by Peters Lumsden and Sergeant and c) there were no 1000 Sps listed as entered, neither under the Auto Union name, nor DKW. So I'm guessing this was a national level race for smaller cars and a relatively unknown event outside of Germany; I certainly can't find any other reference to that particular event. He also mentions that it was in the Audi Museum Mobile but it isn't shown as one of their exhibits now so if it had been, it has moved on in the last ten years. Well, that's my guess anyway.
Q2 was a lot easier. The still comes from Federico Fellini's classic La Dolce Vita, considered by many to be greatest film ever made but I have to be honest and admit I've never seen it. That also dates from 1960 so we see a theme here with Q1. The TR3 is being driven by the character Marcello Rubini, played by Marcello Mastroianni, and sitting next is, I believe, Emma played by Yvonne Furneux.
The chap with the shades on is the actor Walter Santesso who plays Paparazzo, a character based on the Italian photographer Tazio Secchiaroli, and from whom we get the term paparazzi; it is suggested that this comes from the Sicilian word for an oversize mosquito, papataceo, because Fellini reputedly said "Paparazzo suggests to me a buzzing insect, hovering, darting, stinging.", although this is disputed. The other girl in the back with Paparazzo is unknown to me and I just can't identify her, so I've fallen down on that one I'm sorry to say.
The Triumph itself is rather more interesting because in June of last year it was rediscovered by chance. Apparently Italian ex-senator and classic car nut (well, that just goes with being Italian) Filippo Berselli had recently bought it for €30,000 (≈ $34,000), thinking it was just an old Triumph TR3 from the late 50s when he first saw it in Pesaro. He soon discovered that it had been owned by production house Riama Film, run by Angelo Rizzoli one of the producers of La Dolce Vita and, after more research, found that the original license plate number was Roma 324229, registered on 15th July 1958, which made it the car driven in the film. Apparently it was "... in horrible condition and needs a complete restoration" but no doubt any money spent on it will pay dividends now that the provenance is known.
Sadly, I also can't say what brand of cigarette Rubini is smoking so that's about all I have on the photo!
If any of you are still awake, let me just say ta-ta until next time...