SEEMS SOME OF YOU OUT THERE HAVE BEEN
UNABLE TO APPRECIATE THE INCISIVE INSIGHTS,
POETIC PANACHE, SLY HUMOR, SHAMELESS
SELF-PROMOTION AND TOUCHY-FEELY SENSITIVITY
OF THESE SPORADIC E-EPISTLES ON ACCOUNT OF
THEY ARRIVE ON YOUR HOME COMPUTER SCREEN
WITH THE EFFING RIGHT-HAND EDGE CHOPPED OFF.


I'M WAY TOO OLD, DIM AND CANTANKEROUS
("YOU KIDS GET OFF MY LAWN!!!") TO FIX IT ON
MY END, BUT I'VE BEEN ADVISED BY SOMEONE
YOUNGER AND SMARTER THAT IF YOU CLICK ON
"VIEW" ON THE BAR THINGIE UP AT THE TOP OF
YOUR SCREEN AND HIT THE 75% BUTTON,
EVERYTHING WORKS LIKE IT'S SUPPOSED TO
(ASSUMING YOU CAN READ THE SMALLER TEXT
WITH YOUR RAPIDLY AGING EYEBALLS OR
HAVE YOUR READING GLASSES HANDY...)
WE NOW RETURN YOU TO OUR USUAL, WIDE-SCREEN
FORMAT AND HOPE YOU CAN TAKE IT ALL IN:
Had a wonderful time at the VSCDA's traditional Blackhawk Classic on Fathers' Day weekend (see my full report in the upcoming issue of 
VINTAGE MOTORSPORT
magazine...click to order a subscription) as I did my first-ever drivers' school at Blackhawk shortly after the left-hand thread was invented and I greatly enjoy both the track and the way the club runs its race weekends. Plus it was extra-special in that it was also this year's Kastner Cup race for Triumph addicts, diehards and aficionados. As a one-time Triumph racer and longtime Triumph loyalist, booster, fanatic & apologist, it did my heart good to see so many of them in attendance and racing the crap out of each other. Or being repaired in the paddock, as that's also part of the TR racing experience. Or pick any other British sports car.
Mind you, in spite of their sales success in the fifties, sixties and seventies (followed by the "thud" heard 'round the entire British automobile manufacturing business) Triumphs are rarely mentioned in the same breath as timeless motoring classics like Ferraris, Mercedes, Bugattis and Renault Dauphines. But they have always been fun, frisky, rugged (not to be confused with "reliable"), straightforward and willing, and moreover attainable by ordinary, lunchbucket types without large inheritances or questionable import businesses. This  made them exceedingly popular.
You could say they're the quintessential "Everyman's Sports Car" from an era when England was hungry for export dollars (most particularly American greenbacks) and happily discovered that they could package up wonky old sedan bits in a rorty, 2-seat roadster body and sell the living crap out of them to American enthusiasts who simply didn't know any better. But they were fun to drive! Sure, the Triumph 4-banger was a wee bit agricultural (it descended directly from a postwar British farm-tractor motor!) but it provided enough urge to top the magic, 100mph "ton" on a particularly long and level stretch of highway (at least without a headwind, and better still on a slight downgrade). Plus you could reach your hand down over those cut-down doors and skitter your fingernails along the pavement! Try THAT in a 250 Europa or Aston DB4GT. And they made a far more evocative noise than a kazoo or a fart in a bathtub (see any Porsche 356).
I loved my first-British-sportscar TR3 (or, more accurately, my dad's first-British-sportscar TR3) in spite of the Druid-issue, sticks-and-animal-skins weather protection, epileptic windshield wipers, the lingering odor of gasoline after every fill-up and the many times I attempted to kill us both in a kind of high-speed/late-night automotive murder-suicide. It also taught me my very first in an overwhelming (and as-yet incomplete) collection of important home-mechanic lessons. Like how it was both easier and cleaner to adjust valve-rocker clearances WITHOUT the engine running...
You should have seen my clothes.
Not to mention the firewall, radiator and inner fenderwells.
Or my dad's driveway...
But I digress. The point is that Blackhawk provided a lot of great racing and brought back a lot of wonderful memories. Old friend Shawn Frank of Continued Legacy (he's a sick Triumph Spitfire/GT6 man, owns several, edits their newsletter, etc.) and new-friend ace photographer Bill Nesius took some wonderful pictures, a few of which are displayed below.
Above: Lining up for the start of the all-Triumph Kastner Cup race. Below: Hard-working Kastner Cup host/volunteer Jason Ostrowski flogging away like mad on his GT6 (busted U-joint) in time to take his hard-earned third spot on the grid. It was in the thick of things until it blew up four laps later. Some days it don't pay t'get outta bed. Shawn Frank photos. 
The whole bunch on display with Kas Kastner himself front and center (is the entire silo full of Oil-Dri?)
Shawn also got the touching shot below:
Driver is Mark Alexander, middle entry in patriarch/Friends of Triumph sparkplug Joe Alexander's THREE generations of Triumph racers (BTW, I was Joe's driving instructor when he first started out in the same TR4 his grandson now races).
Poor Mark has just run shy of brakes (easy to do at Blackhawk, as they get quite a workout) and tapped the tire wall with his dad's extremely rare (think they only made three complete cars), TR3-based Ambro Special. The only damage was a little cracked fiberglass and they were able to get it repaired and back in action, but at this moment he's feeling pretty damn low and daughter Kensington has come over to try and make him feel a little better. It's a lovely picture, and really captures the family aspect of club racing beautifully.
C'mon, all together now: 
"Aaawwwwwwwww..."
A few excellent Bill Nesius pix below (you can find lots more on his website at WWW.BILL NESIUS.COM)
Past SCCA National Champ Sam Halaikas in his "bringing an Uzi to a fist-fight," SCCA-prepared & race-winning TR6 (although the Kastner Cup was awarded to longtime friend and fellow hell-raiser Jeff Snook, below)
Here's some more from Bill (non-Triumph types can scroll down until they see something more interesting)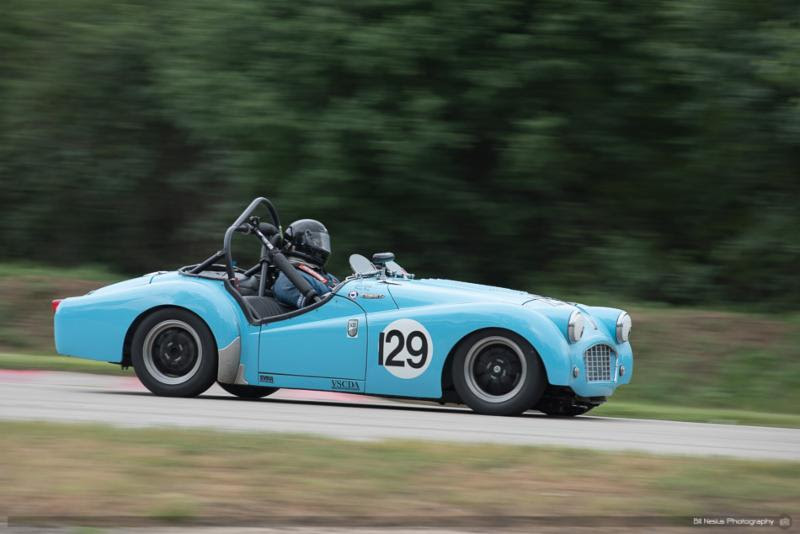 Henry Frye in the infamous, ex-Bill Dentinger "Beady-Eye" TR3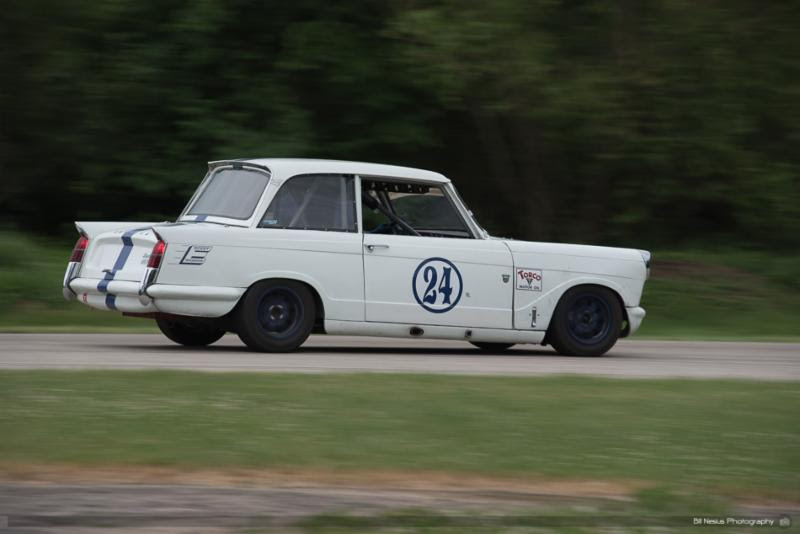 Past Kastner Cup winner/ride-mooch enabler Jerry Barker in his unusual and indecently quick Triumph Herald with "school lunchbox-inspired" styling. I was supposed to drive it 
on Sunday
 but ate something with a few too many miles on it Saturday night and took a rare pass. Jerry has promised me a rain check.
Bill also got some fabulous pix of the Group One "Prewar and T-Series MG" antics (most of the cars have aged far more gracefully than the drivers):
Marv Primack having fun in his familiar Lester MG.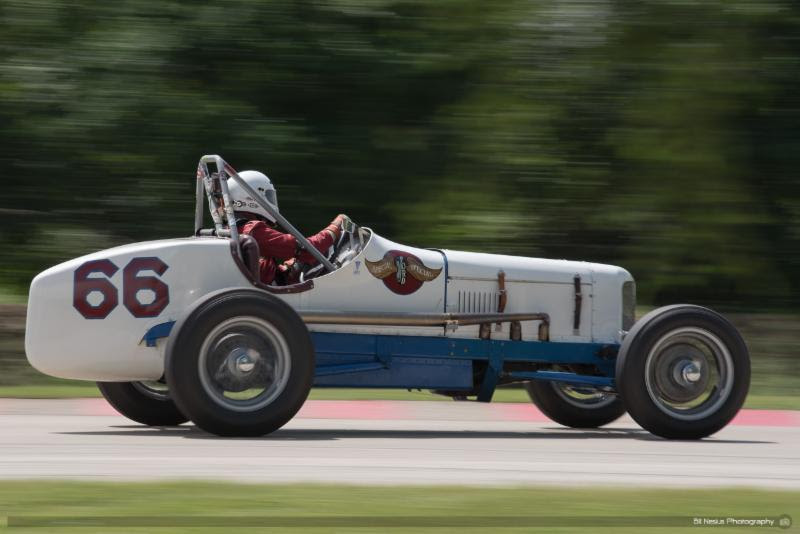 Above: Rex Barrett exercising Lou Natenshon's ancient anvil of an Indycar at speed. Below: Rex exercising his sphincter muscle and muttering "WHOOPS! WHOOPS! WHOOPS!" through clenched teeth in the same car at Turn Six:
Below: Friend and fellow health-club bike-class regular Jeff Powell approaching the speed of sound in his MG TC: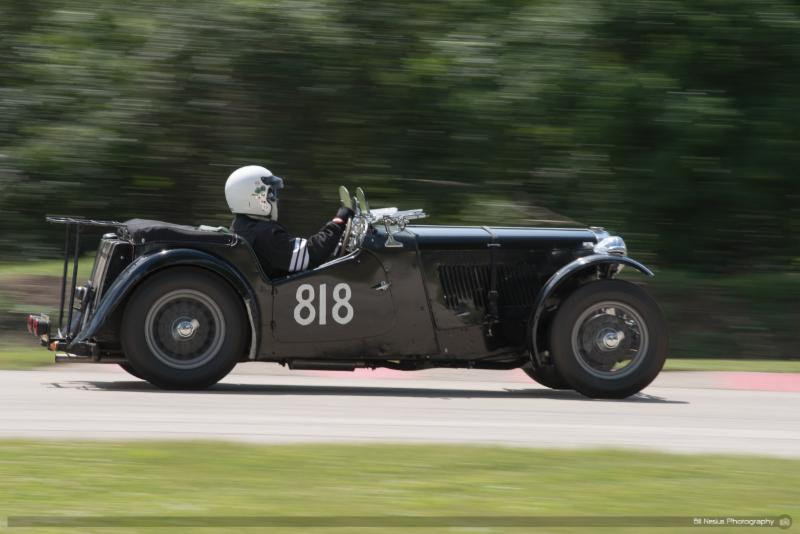 Below: Friend, MG stalwart and occasional ride-mooch sucker Mark Brandow assumes the re-entry "recliner position" in his well-traveled MG.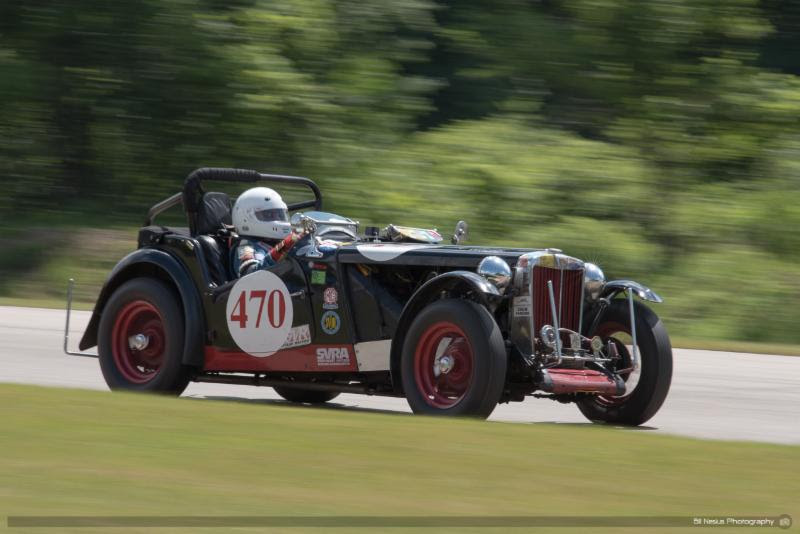 From other groups: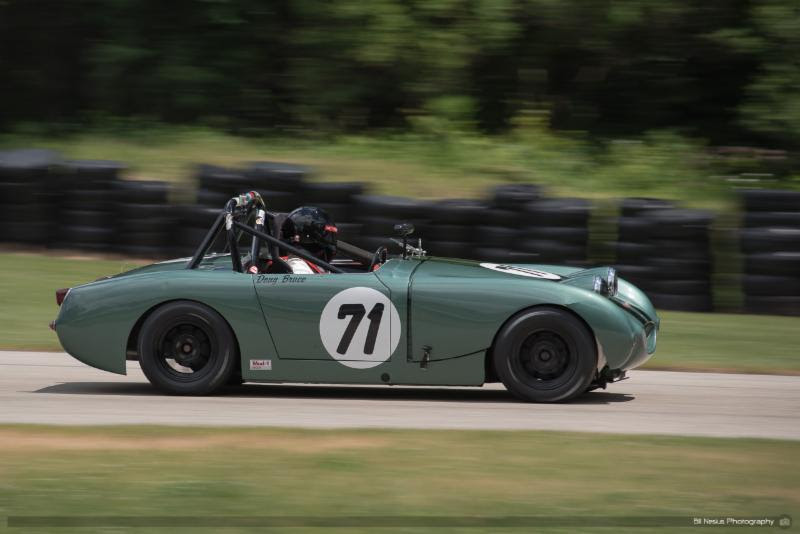 Age & Treachery Racing friend Doug Bruce's Sprite is not really this fast (must be trick photography!)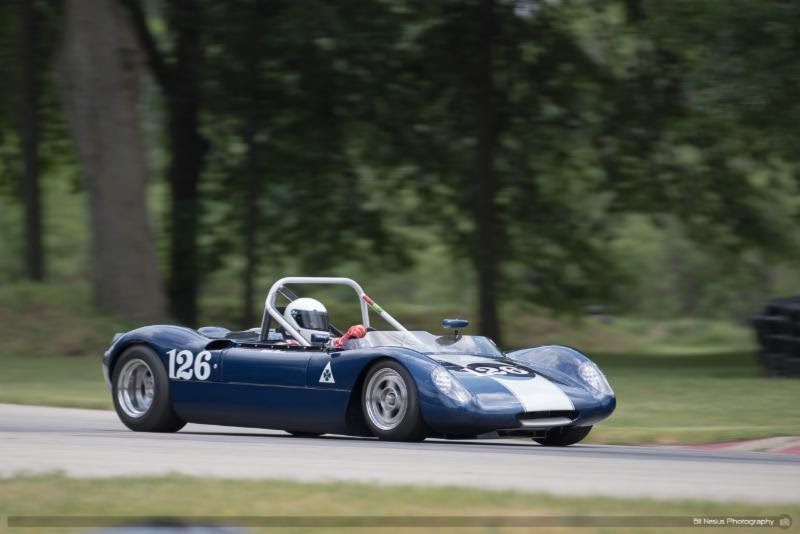 Mike Besic in Bert Baurle's freshly restored, lovely and locally grown (his father originally built it) LaBoa/Alfa. I really want to drive that one!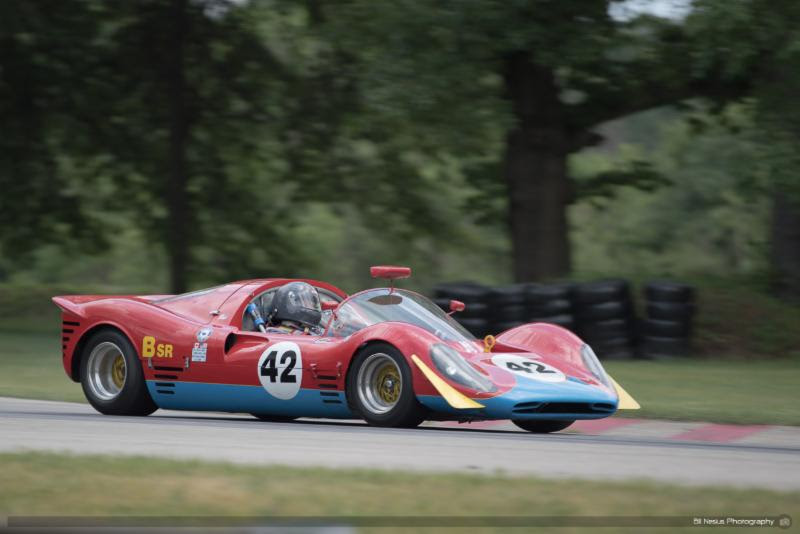 Mike Kaske in the very unique, Porsche flat-6-powered Causey Special that I've been lucky enough to co-drive a few times (including a satisfying overall win in the enduro at Grattan and a "we wuz winnin' till we lost" second at Autobahn after we ran out of gas on the last lap...phooey!) 
Norb Breese approaching takeoff speed in his Lotus Europa!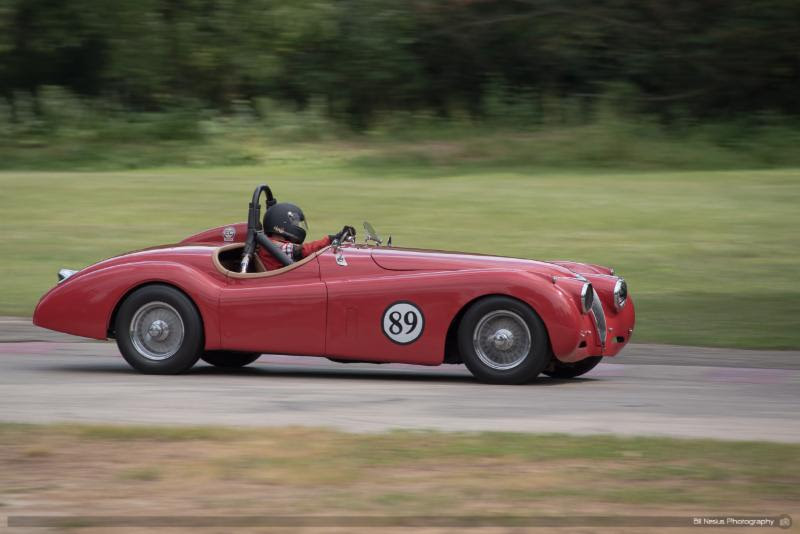 Chuck Ryberg in the same blessed Jag 120 he took through drivers' school (with ME as his instructor) back when dinosaurs roamed the earth...
Pal Scott Fohrman won his group going away in his blue MGB, but also enjoyed a more leisurely white-knuckle experience in his 1932 MG J2. Looks like something some lucky kid might find under his Christmas Tree...
Good fun and a great weekend. Well done all!!!!