One of the things I look forward to every spring is the MAMA (Midwest Automotive Media Association) Spring Rallye at Road America, which amounts pretty much to:
1) an opportunity for car manufacturers, their PR people, occasional engineers, support crews, hired-gun ride-along folks (would you want that job?) and spin doctors to access a moderate horde of media types en masse to show off their latest offerings.
2) an opportunity for a moderate horde of shameless freeloaders (pardon me, make that "media types") to stay in the lovely Osthoff Resort on Elkhart Lake, get fed like it's a blessed North Shore Bar Mitzhah, listen to some very pleasant & accommodating people who would ever so much like you to write nice things about their cars and drive an amazing selection of the world's latest, best and brightest on-track at Road America, on the surrounding & scenic country back roads, go bouncing and teetering over a hilly, woodsy, challenging & highly hemmed-in Off Road course (4x4s and the like only), run an autocross in some of the handier little coupes and roadsters currently on sale and do a little go-karting just for fun. Plus enjoy a very nice dinner (prime rib? shrimp and scallop pinwheel? a little more chocolate cake?) along with sneak peeks at some brand-new models, an open bar before & during dinner & yet another open bar along with a lot of incessant car chatter at Siebkens later on.
As an longtime Alfisiti, old and even somewhat successful Alfa racer and onetime Alfa salesman (during one of the marque's more, ahh, distressed periods here in the US of A) I REALLY wanted to like the new Guilia sedan. Lord knows they've spent a real Trump Stack on advertising (how much is a Super Bowl TV ad anyway?) and all the magazines, mavens and pundits have been going ga-ga over the Guilia since it first appeared (Alfa corporate pic below, as it came out lots better than mine):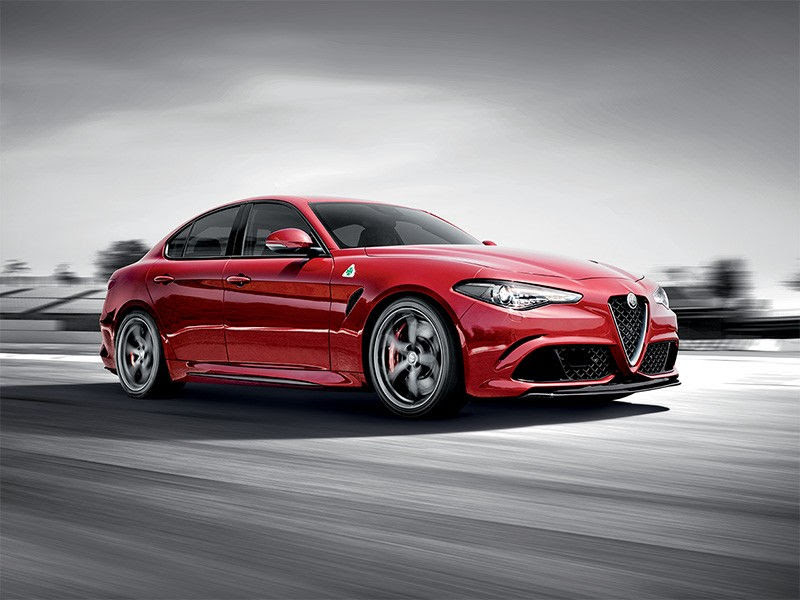 Well, I don't know how many they're going to sell, but let me tell you this: I absolutely fell in love with the thing. And in the right way, too. The qualities that illuminate the Alfa experience have always been sensual, visual and emotional...not some agate-type numbers on a spec sheet (although those are plenty impressive, too). And this new Alfa delivers. It looks great, drives great, is sexy as all getout and seems well put together to boot. But the best part is that it's interesting and exciting and involving. Sure, it looks good from the outside. But it also feels good from the inside. Plus it doesn't feel like anything else, and that's rare there days, even among the aristocrats.
I hope they sell enough of them to pay for the blessed TV ads!
Other impressive rides?
Well, the enthusiastically received Ford Focus RS (scratch any "automotive journalist" and you'll find a wannabe racer lurking beneath!) is a righteous little hooligan of a machine. Great fun! And just the thing for attacking a twisty racetrack, drifting around a vacant parking lot or berserking your way around a housing development on your way home from the market (although the blueberries are going to wind up all over the carpeting and you may well scramble the eggs right there in the shopping bag). The Focus RS reminds me of the great college friend everybody seems to have had who was always egging you on to "have another" or "mash harder on the gas" or do something a wee bit crazier that whatever you originally had in mind. It's a bad influence in the very best way!
By contrast, The VW Golf Type R is more mature and refined in its madness. But it also goes like stink (it set all 3 of the 3 fastest times at the autocross) and actually feels like a real car rather than an amusement-park ride. Speaking of refined, there were a pair of Rolls-Royce Dawn convertibles to ooze around in (but quite rightly not on the racetrack).
The Subaru BRZ "performance pack" is a nice handling and thoroughly underrated package, and the Mercedes C63 "S" Coupe was downright incredible (incredibly good, incredibly poised, incredibly competent) and reeked of performance, quality and breeding. I liked that one a lot!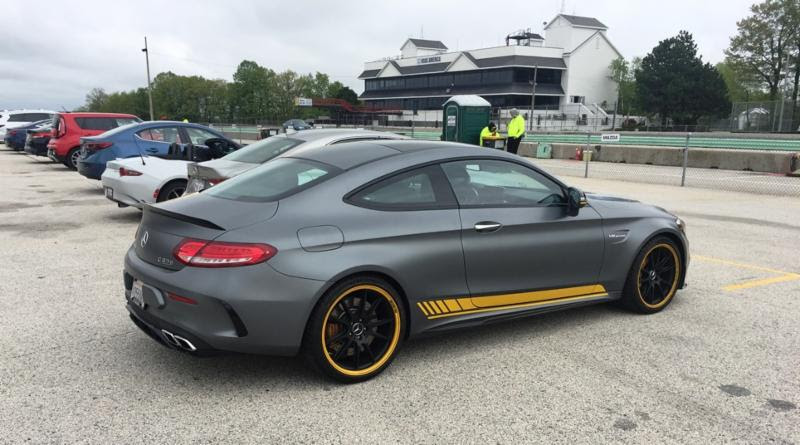 I was conversely impressed but not exactly enthralled by the various Lexus performance models (RC F, GS F and the handsome new LC 500), which go very fast and tick all the appropriate specification boxes, but lack the Mercedes' all-of-a-piece feel and composure.
Just so you don't think this is some leftover "anti-Jap car" sentiment from the the sixties, let me say that my overall sweetheart pick was still Mazda's re-imagined and rejuvenated MX-5 (nee "Miata") which is now lighter and handier than the previous edition and available with attractive new "folding-metal-roof" hardtop convertible model for those of us who live outside the sunshine-always 908-whatever zip codes or wish to make it tougher for lowbrow thieves to swipe whatever you left inside.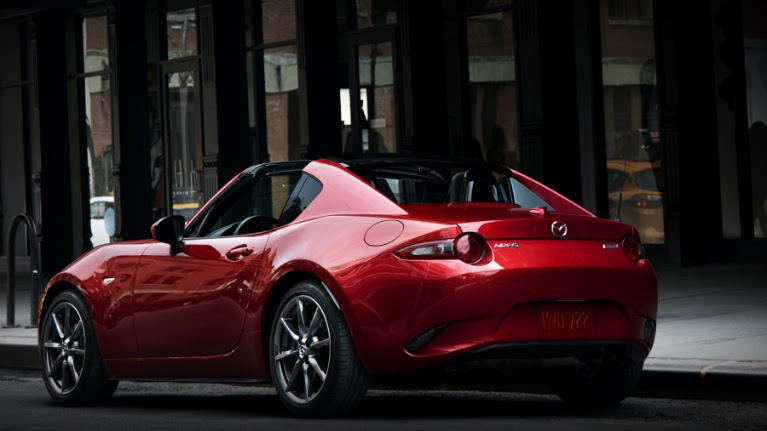 The MX-5 is the absolute Gold Standard of what an affordable sports car is supposed to be all about (light weight, good looks, nimble handling, willing engine, forgiving nature, lovely driving experience, a snick-snick manual stick shift, truly usable real-world performance, easy to live with, rugged as a plow horse, reliable as a 10-lb. sledge & within the reach of those without trust funds, lottery windfalls or shady import businesses). You can't help loving it.
Tried the Fiat version of the same car (Fiat 124) and most of the journos I talked to are evenly split between the Mazda and Fiat interpretations. Personally, I prefer the MX-5, but a lot like the Fiat's turbo engine (lag be damned) and suspension tuning. At least this is one Fiat 124 that won't be saddled with the old "Fix-It-Again-Tony" tag line. Our old shop worked on a lot of Fiat 124s back in the day (mid-1970s) and we liked them a lot. But (and this kind of sums them up) there was this little temperature sensor in the radiator that told the electric fan when to turn on, and they needed to be replaced with such regularity that the local dealer kept a plastic bucket of them up on his parts counter. Like candy, you know?
THE MAMA OFF-ROAD EXPERIENCE!
Off-Roading was never of great interest to me, but the rugged, affable and oh-so authentic-looking crew from Land Rover (who set up MAMA's "off-road" Rallye experience every year and do a stellar job of it) have really brought me around. It's fun and challenging--even if you aren't going very fast--and it takes a certain feel and finesse to do it properly. Neither of which I have, by the way, since I always seem to be wanting to do it faster rather than better.
Hey, scratch a racer and you'll likely find somebody who's not much good at anything else! 
Couldn't get around to more than a few vehicles in the available time, but I did manage to traverse even the toughest stuff in Nissan's appropriately named and Moby Dick-sized Titan pickup (comes complete with multiple cameras to show you where the front wheels are pointing, since you seem to be sitting about three stories up) and came away much impressed. But it was all far easier in the much handier & wonderfully refined Land Rover Discovery, which has benefited from generations of off-road development and feels effortless in even the roughest terrain.
Although I still can't figure out why so many suburbanites who never go further off-road than their own drivers buy the blessed things?
Which brings me to the "concluding statement" every motoring journo tries to put at the end of each piece in order to put things into perspective for John Q. and Fred Average. But I must say I'm at a loss to figure out what consumers can be thinking these days. The top of the market is clogged with cars whose price point, eyeball-flattening performance and "don't-you-put-that-wet-dog-in-here!" interiors are well beyond what's practical for everyday life. It's like you're buying into a tribe or a belief system (you can call it "a brand" if you want) because of what you think (or at least imagine) it says about you.
SUVs are selling like hotcakes thanks to some TV-instigated Crocodile Hunter/Marlboro Man imaging impulse. Even though they offer far less real carrying capacity than a minivan (still the best and most flexible people-and-assorted-crapola-hauling automotive concepts of all time). Not to mention tippy, high-CG handling deficiencies, poorer gas mileage and less visual security for whatever you happen to be carrying...
I could go on.
It's not like I dislike the current popularity of street-bound SUVs, it's that I flat don't get it.
I don't understand why salmon swim upstream to spawn, either.
I also don't get supercars like Ferraris and McLarens and Lamborghinis and Aston Martins (although I'd love to have one if you happen to be throwing one out with the rubbish) because just where the hell are you going to USE the damn thing? If the whole idea is simply to impress parking-lot attendants and dewy young things, I'd suggest buying a puppy. One with big, sad eyes and a fluffy tail. You'll do better (or at the very least no worse) for a lot less money. Plus you'll still have a friendly, loyal, lovable little companion by your side after those dewy young things have gotten wise to your game, called you a Dirty Old Man and threatened to call the cops..