First off, I want to thank all you folks who told all your friends and helped spread the word about our once-in-a-lifetime, bargain-basement, can-you-effing-believe-it 99-cent e-book promotion on The Last Open Road. 
Conventional wisdom in the publishing world (hey, what do those people know anyway?) says that the shelf life of a novel is about six months. MAYBE a year if you get a bunch of [mostly paid-for] publicity and are really on a roll.
In the meantime, I'm working hard on Pt. II of the Steamroller series, but it's still a couple months away. Seems the magazine has been giving me a lot of events to cover of late (and that usually means I get to drive the piss out of somebody else's neat old racecar), and I'm damned if I'm gonna pass that up at this stage of my so-called career.
But all I can answer is: Have patience. I'm old and I don't move (or think) as quickly as I used to. In fact, it seems like these days it takes me longer to do everything.
Except for one thing, that is....
In any case, I'm working on it (honest!) and I think you're gonna be pleased and surprised when you see where the narrative goes. And remember: I WILL SELL NO WHINE BEFORE IT'S TIME!
TRACKSIDE UPDATE
Okay, so maybe I have been screwing off a little. But can you blame me? Since our last e-blast (we've got to stop meeting like this!) I had the opportunity to go to Mid Ohio to cover the SVRA's Mechanics Bank Vintage Grand Prix for VINTAGE MOTORSPORT magazine (click to go to the website and buy yourself a blessed subscription already) and, as you might expect, there was a ride-mooching adventure in the offing thanks to my ever-easygoing friend from Virginia, George Wright. Those of you who have been paying attention (and you'd better, as we may spring a pop quiz at any moment) will recall that I've driven his very quick & nifty yellow TR4 a few times (see below) and you should also know that it's currently up for sale at a veryreasonable price and is one hell of a decent racecar. Would have been just the weapon for the MG/TR Challenge thing up at Mosport in June....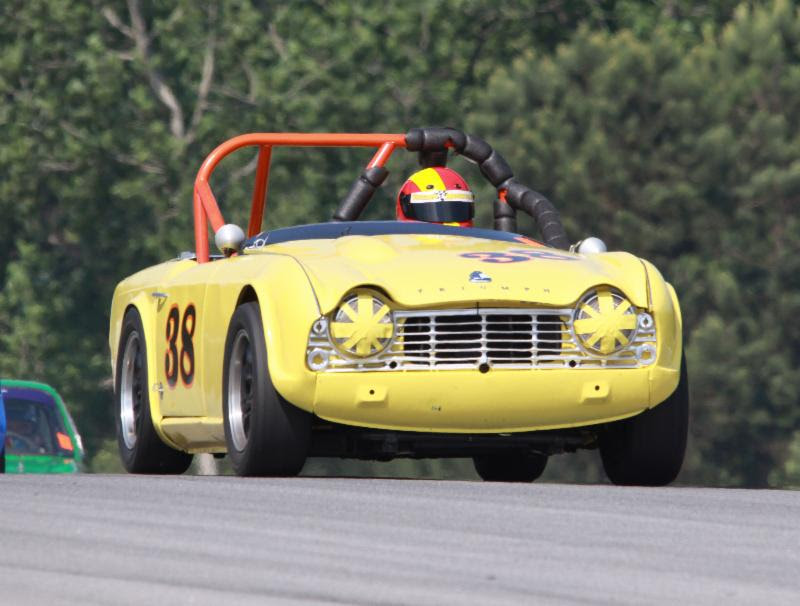 But George has moved on to a beautifully prepared and typically immaculate Datsun Z-car (see below) and it looks great and runs like stink. When it runs.
Only I think the TR4 is maybe feeling a little pissed off about being replaced by a later, faster model (I understand wives react in much the same way!) and has put some sort of evil-eye curse on the Z-car. And particularly where me driving it is concerned.
All I know is that I got sick the first time I was supposed to co-drive the Datsun at VIR. And then it turned on its owner at a subsequent race at VIR when a brake line chafed through at an inopportune time (not that there is ever a really opportune time to have your brake pedal go to the floor) and sent him flying off in the general direction of Washington, DC.
Only there was some Stuff To Hit in the way.
But George got it straightened out and was kind enough to ask me (or maybe it was me asked him?) if we could maybe try again at Mid-Ohio. And that Datsun musta known I was a-comin' because it did everything in its power to keep me out of the damn driver's seat and away from its steering wheel. First it broke a brand new universal joint coupling in its rear end. But George and his crew scrounged the necessary parts and spent most of the day 
Friday
 flat on their backs getting it fixed. And meanwhile the generator on George's fancy and nearly new Winnebago motor home crapped out. A whole bunch of us tried to figure out the problem (leafing through no less than THREE thick owners' manuals full of mostly stupid safety precautions ["WARNING!: DO NOT SUCK ON THE TAILPIPE WHILE THE ENGINE IS RUNNING!"] and densely worded legal disclaimers) but it was our good friend Mike Zappa who finally located the blown fuse (it was underneath the blessed radiator cap...I am not making this up!) but then the generator started smoking until the new fuse blew (it didn't take long) and so now George has a service appointment with the nice Cummins people who supply their wonderful generators to the nice folks at Winnebago when he gets back in town.
And meanwhile things were going equally to shit with the racecar. We'd agreed that George should take it out 
Friday
PM after the rear end repair--just to make sure everything felt right--and our plan was for me to take it out the following morning, since the enduro was scheduled for the end of the day 
on Saturday
.
So George donned his helmet and pulled out on the racetrack, and it sure looked like that Z-Car was running sweet, sharp and strong. Or at least it was until George uncharacteristically missed a shift (to be fair, the current shifter setup is a little vague), zinged the motor to an unmentionable number of RPMs and brought it back into the paddock with an ominous-sounding miss. Which turned out to be a stuck valve and a broken camshaft, so we were done. Before I ever got in the damn car, no less!
At least Carol wouldn't have to wash my racing suit....
Naturally I felt terrible for George. And it was big of him to own up to making a wee mistake. A lot of guys would just blame the car. Or the guy in the other car. Or the phase of the moon or the current administration or the medical condition that makes their feet freeze up now and then when the gas pedal is already on the firewall. But George is an upbeat, easygoing and resilient type, and he knows that race weekends occasionally go Tango Uniform on you and there's not much you can do but chalk it up to experience and add it to your repertoire of "can you top this?" beer-time stories.
Speaking of which, we enjoyed a FABULOUS 
Friday
-evening steak-and-fixins dinner thanks to master outdoor cookout chef Bob Huffnagle, who hangs out with Pennsylvanian racer Paul Stinson (Lotus Super 7) and really knows how to rattle those pots and pans! His grilled pineapple boats with cinnamon were wonderful. So was the tenderloin. And the farm-fresh green beans. And the garlic baked potatoes. And...
My full Mid-Ohio report will be in the upcoming issue of VINTAGE MOTORSPORT magazine, and although I didn't get to drive, neither did I have to pay to fix anything or face an early, long and mostly silent drive home in a generator-less Winnebago that was going to need $ervice attention and with a bu$ted-motor racecar moreover tied down in the trailer behind.
While that was going on in poor George's world, I worked my vendor booth (we sold a LOT of books and merch!) and filled in on the tower PA with my friend John Fippen and our buddy Rusty Bell out at the esses. Suffice to say it was a good time and the hard-fought and utterly hilarious, 48-car Mini Challenge feature race was worth the price of admission all on its own.
Should also mention that the SVRA's current crackdown on, umm, "imaginatively updated" cars and stupid-ass driving was quietly but firmly in evidence. Regarding car modifications, I can understand people getting their noses out of joint on both sides of the issue. Racer "A" is upset because he believes he's running his car "the way it used to be" while Racer "B" isn't, while Racer "B" counters that he's been running it this way for years and that other vintage sanctioning bodies accept it gladly and blah, blah, blah. And I can understand both points of view, really I can. Sadly, the one thing I know for certain is that putting a sanctioning body in the position of interpreting and moreover enforcing car specifications and prep rules on a huge (and hugely diverse) discombobulation of makes, models, sub models, performance kits, sanctioning-body class rules and production years can turn into a VERY slippery slope (one strewn with regulations, procedures, tech-shed tear-downs, disqualifications, appeals, etc.) that can take a lot of the fun out of what are supposed to be fun weekends. I hope it all works out for everybody involved. Although I'm pretty sure it won't....
As to the loose nut behind the wheel, I'm in full agreement, as dumb moves and bone-headed driving are bad for the sport (not to mention the other participants) and I'd really like to see our vintage guys do what the Viper Pro series does: every car HAS to carry a camera! So when there's an incident, the first thing the officials do is grab those little Go-Pros and have a looksee. It doesn't get rid of all the bullshit, but it sure eliminates a lot of it.
Speaking of the Viper Pro Series, I was fortunate to score a "celebrity drive" in it a few Aprils ago at Road Atlanta, and I only mention it here on account of Erik Amerika just posted a pic of me and my "celebrity teammate", NFL defensive player and WWF Pro Wrestling star GOLDBERG....
As you can see, he's a bit bigger than me (!!!) but I had quite a bit more on-track experience (see below)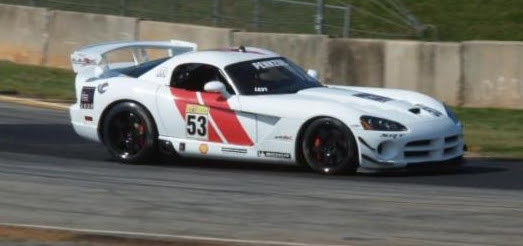 and so it wasn't to surprising when I finished ahead of him.
and I suppose you'd have to say he took it pretty well once the initial anger, fury and vindictiveness melted off.... 
after which it was all hugs & giggles:
(I really just wanted to run those shots of me and Goldberg again, really)
Last Thursday I filled in as a so-called "driving instructor" for my local (Chicago) region of the Alfa Romeo Owners' Club track day at Blackhawk Farms, and it was a pretty cool deal. The weather was perfect, there was TONS of track time, not too much traffic, I had some pretty decent students and (you knew this was coming) I got to drive a REALLY cool car (see below).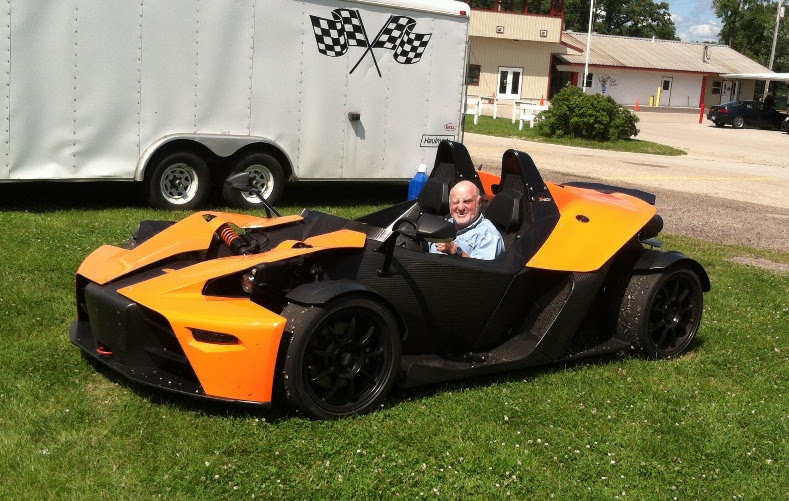 That's me in Michael Kopper's KTM X-Bow (Crossbow) which is built in Austria by one of the top (if not THE top) dirt-bike manufacturers on the planet. They're rare here in the states (in fact, this may be the only one?) but all the magazines have gone ga-ga over them as engineering marvels and track-day berserkers.
The X-Bow is carbon-fiber light (1500 lbs.), has big, fat, sticky tires with enormous Brembo brakes inside and is powered by a turbocharged, 2-liter Audi engine pumping out something like 250 horsepower and feeding through a 6-speed transmission. It's also kinda street legal (although not in this country) if you don't mind getting wet when it rains, roasted when it's sunny or cold when its chilly. Owner Michael and wife Michelle took it on an extended road trip through damn near every buttonhook switchback mountain pass in the Alps, and they both said it was a fantastic experience. Then again, there are people who enjoy jumping out of perfectly good airplanes....
In any case, it was indeed a privilege (not to mention a certified blast) to get out on track with this thing. Oh, the shifter's a little wonky and you have to anticipate a little and keep it on the boost if you really want to come rocketing out of the corners, but is it ever a hoot to drive! 
Only downside is that, like a lot of the current generation of modern supercars with huge, sticky tires, the X-Bow doesn't like to be tossed around, thrown around or power-slid through corners. Nope, you've gotta be precise and damn near surgical if you want the best out of it. The problem is that those big, soft tires have so much grip that they just scrub off speed when you try to run them, as my old Mini friend Bob Tarzwell used to say: "slideways". And it gets even more problematic when you've got a car that's damn near as wide as it is long and carries a near critical-mass low polar moment of inertia. But the X-Bow is very user friendly, beautifully built and fast as stink. Not to mention so ungodly ugly that it's beautiful.
Pretty good way to spend an afternoon at the racetrack, no question about it!
FUTURE SHOCKS!
I'll most likely be tiptoeing up to 
MILLERS AT MILWAUKEE
next Friday
 (click for link to the website) with helmet in hand. And if you've never been, you should really make a point of it. Lots of old Indycars running around the famous Milwaukee Mile (oldest continually operating racetrack on earth, I believe) and a great place to wander at will, watch and schmooze. Come 
Sunday
 (and possibly 
Saturday
afternoon/evening as well?) I'll be coaching/instructing for
HOOKED ON DRIVING
 (click for link) on the full, 3.6-mile "long course" at Autobahn Motorsports Country Club in Joliet. Think they've got some special pricing going on that deal, too.
And of course the following weekend is 
THE HAWK
 at Road America, where I'll be mostly hawking books out of the VINTAGE MOTORSPORTS booth on the main drag in the racing paddock, covering the event for same and judging in the 
Friday
 night racecar concours in town on account of I haven't found anybody stupid enough to give me a racecar to drive. 
You know anybody in need of a past-his-sell-by-date sportscar chauffeur-cum-motorsports writer?
I work cheap.
I'll also be (ahem) "doing research" on a VM feature story on Cheetahs (which are having a kind of reunion at The Hawk). I've driven three of them already (see me scaring the crap out of myself a couple years back at RA below)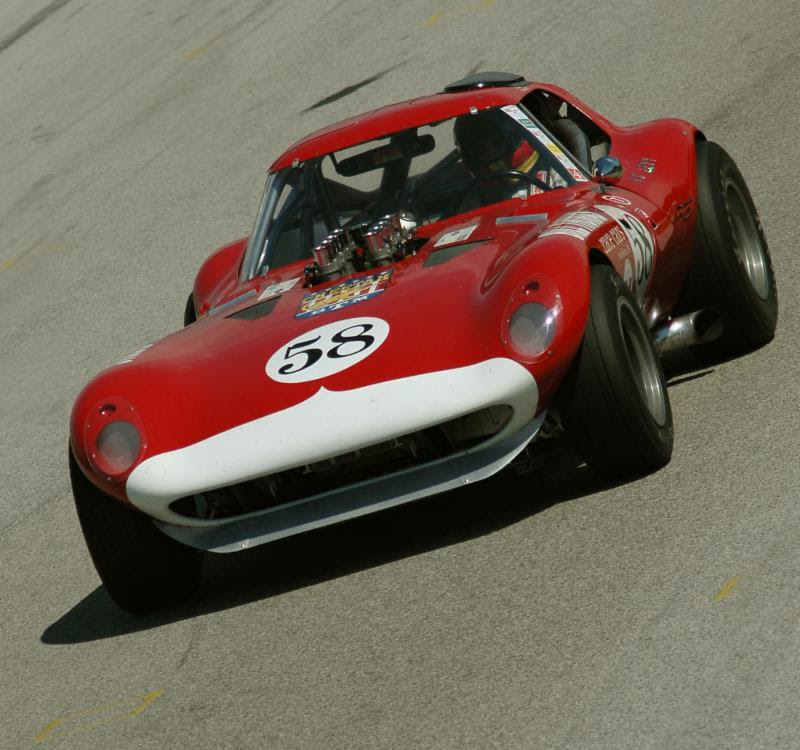 I have a track day lined up with Ron Keck's well-developed clone of the open-top Cheetah Cro-Sal Special that Salyer used to run. Brian Garcia is the regular driver, and he really goes well in it, so I'm for sure looking forward to it. And the Cheetah story is absolutely fascinating.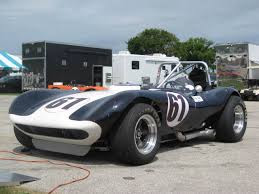 Then I'll be getting back to the new book.
Really I will....
IT'S HARD TO BE HUMBLE
when people are saying nice things about you. Hell, I'm so delusional I tend to think I'm special even when folks are telling me to shut the f**k up and go away. But the point here is that Zeva Allen of the very cool
 Auto Track Day Monthly
 webzine wrote an unbelievably long and flattering article about my so-called racing and ride-mooching career (click 
HERE
 to find out how wonderful I am) and just followed that up with a Part 2 that's mostly about my books and the writing process. Click 
HERE 
if your TV is broken and you've got way too much time on your hands.
All I can say is "pshaw, t'waren't nuthin'".
Speaking of Part IIs, it's probably time to get finished with this self-serving e-blast and get back to the second installment of THE 200mph STEAMROLLER!
Okay, everybody who guessed (or knew) that the "mystery movie" from the last e-blast was Stanley Kramer's brilliant, thought-provoking and decidedly non-zombie/no-superhero post-apocalyptic epic ON THE BEACH wins, well, the honor of feeling smug and looking down their noses on those who had no clue. And maybe a free order of fries if we're ever in line at Mickey D's together.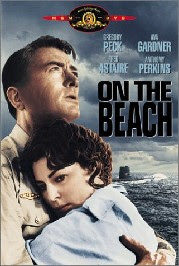 The movie was based on a novel by Brit/Aussie author Nevil Schute, and the interesting thing is that neither Kramer nor Schute could be pigeonholed or categorized during their careers, as the topics, themes and point-of-view of their various works were all over the lot.
Maverick producer/director Kramer's list of movies includes (as producer) 
High 

Noon

, The Wild One, The 5,000 Fingers of Dr. T 
(which Carol and I absolutely LOVE!) and
The Caine Mutiny, 
while he directed such films as 
The Defiant Ones, On the Beach, Inherit the Wind, Judgment at Nuremburg, It's a Mad, Mad, Mad, Mad World
 and 
Guess Who's Coming to Dinner?
  Quite a diverse CV!
Schute was a prolific writer and an exceptional storyteller, and his book "No Highway" was made into one of Carol and my favorite movies, "No Highway in the Sky," starring Jimmy Stewart, Marlene Deitrich, Glynis Johns and Jack Hawkins. If you've never seen it, give it a try!
And, since our first movie quiz was so well received, let's do another. And let's try to make it a little tougher this time. Hints are below:
1. Jimmy Stewart is also in this movie. But he's not the hero. In fact, he's anything but!
2. It's one of a series of movies that I'd have to say are my wife and my all-time favorites. We've seen them so many times that we know every line by heart, and yet we still put them on time and again to watch while we're falling asleep.
3. Here is one of Jimmy Stewart's co-stars: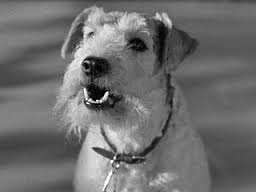 OK, name the movie.
And the leading man and leading lady.
And the name of the characters they play.
And the dog's name.
And the part Jimmy Stewart plays.
And the name of the last song in the night club scene....
See y'all at Road America.
Or you left-coast types at Monterey....